- A Nigerian couple have cried out for help over their inability to cater for their six children
- According to the husband, they didn't plan to have more than three children in order to be able to take care of his family
- The complaint is coming after LASTMA officers impounded their vehicle which is believed to be their only source of livelihood
A Lagos couple are currently faced with the burden of catering for 6 children without a proper means of livelihood after LASTMA officers seized their Toyota Sienna in the Ajegunle area, a vehicle which served as the family's means of livelihood.
53-year-old Ifeanyi Amadu, husband and father to the six children including a set of triplets, revealed that he had lost his job in 2015 after the triplets were born and things sort of took a spiral downwards.
Ifeanyi stated that the family has basically been feeding from hand to mouth as he has struggled to take care of his family. Speaking with Punch on why he fathered more children than he could cater for, he had this to say: "We have had three children before now – Ruth (13), Chibueze (10) and Ebube (eight). We stopped giving birth to children. We just wanted to have fun that day when it turned to a pregnancy. We met a doctor who told us that she was pregnant with triplets.
READ ALSO: Nigerian man surprises his girlfriend with a proposal during NYSC POP in Enugu
I was afraid; we didn't expect it. I decided not to run away because of the love I have for my wife. Moreover, if I ran, who would take care of her?"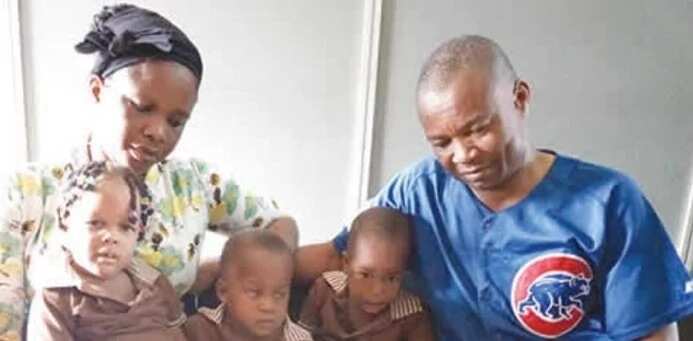 "She was delivered of the babies through caesarean section. When the children were born, the girl had medical problems because the two boys rested on her in the womb. She could not eat. That again drained our resources as we sought medical help. During that period of taking care of mother and children, I lost my job at Idumota," he added.
READ ALSO: Nigerian lady gives birth to baby girl after 13 years of being childless, says thank you Jesus
Wife to Ifeanyi, 40-year-old Precious, said her husband was the family's vehicle for menial jobs when the minivan was impounded by LASTMA officials. She had this to say:
"Some of my relatives took me and the babies to the village so that my husband could concentrate on using the vehicle to make some money. I was in the village in December 2017 when he called me and said the vehicle had been seized by LASTMA. I later learnt that the vehicle had a fault and he gave it to a mechanic, who parked it by the roadside where the LASTMA officials took it.
When I returned from the village this year, we tried to get the Sienna back, but we were asked to pay about N70,000. We were told that the vehicle was in the LASTMA yard at Mile 2. We don't have money to feed our children; where are we going to raise that kind of money?I tried to get a job, but the money they are offering me as an NCE holder is ridiculous. One private school proprietor that decided to help after listening to our predicament offered me N15,000. What will a family with six children and a husband without a job do with that?"
Precious begged that the vehicle be released on compassionate grounds. She further called out to Nigerians to help her husband with a job.
The Public Affairs Officer of LASTMA, Mahmud Hassan, upon hearing their story, asked the couple to write a letter to the agency. He said:
"Based on your story, the vehicle was parked at a place where it was obstructing free flow of traffic and it was seized from the mechanic; it was not seized from the family. As an organisation, we will not allow anyone to violate the state traffic law because he is a third party.However, we also have human feelings in our organisation and we can understand what the family is going through. Ask them to write a letter to us on the matter and we could consider their plea."
PAY ATTENTION: Read best news on Nigeria's #1 news app
Would you rather have money or be poor and have a good family? on Legit.ng TV:
Source: Legit.ng