New Nigerian lace styles in 2018
If you have already been searching for new lace styles for some time, you have probably noticed that they are numerous and diverse as can be. If you are still searching for nice lace design ideas, you have found the right page. Below, you will see a range of lovely styles and plenty of beauty!
What are the latest lace designs?
Fashion experts have named lace the major fashion trend in 2018. Catwalks are packed with see-through dresses and every woman is happy to get a thing that will make her a fashionista. Up to the recent time, lace has been a part of underwear hidden from the eyes. Now, cord lace and guipure are a real trend!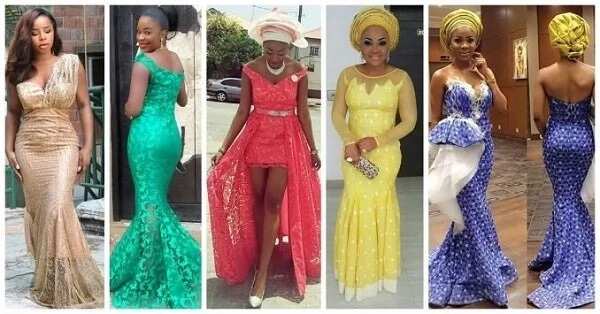 READ ALSO: Best Ankara designs for skirt and blouse
There are several major tendencies for the lace in 2018:
Colors: the color scheme of lace items has become extremely wide. Black lace is the leader because it slims the body down. However, festive items made out of ruby red, emerald, deep blue, and sunny yellow lace are extremely popular!
Textures: the most beloved lace is the transparent thin fabric that seems to be weightless
Combinations: lace is successfully combined with other fabrics like taffeta and silk
Modesty: lace dresses are not completely see-through, only arms or decollete area are exposed through the lace while the rest of the body is covered by a solid lining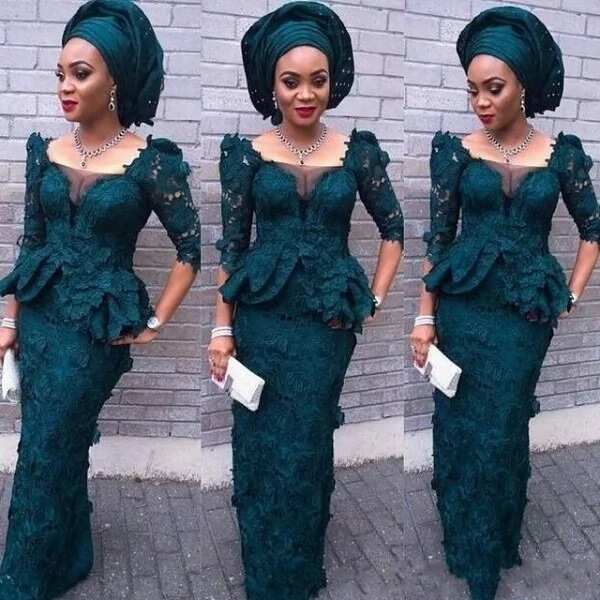 Lace in 2018 is used mostly for dresses. Yet, you should never set any limitations to your imagination. Lace skirts, blouses, and even jackets will look fabulous in any case. If an item completely made out of lace is too bold for you, a lace scarf or a neckerchief will be an interesting eye-catching accessory.
A detailed look: latest Nigerian lace fashions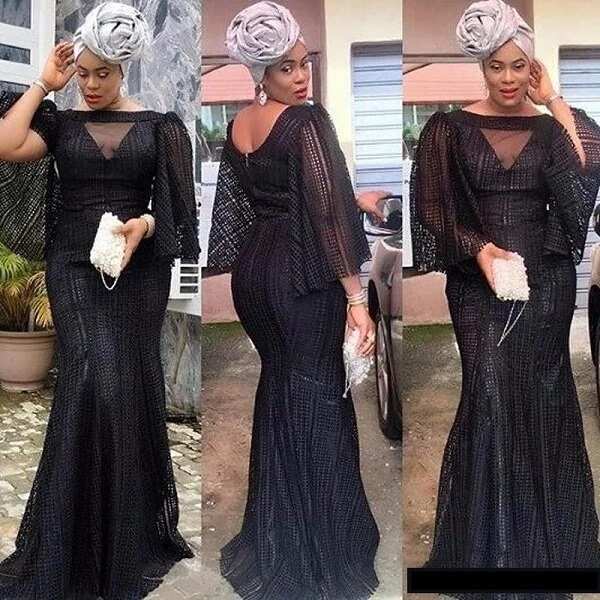 No matter what the global tendencies of wearing lace are, Nigerian ladies have their own vision of how, where and when lace should be worn. Let's figure out some of the local fashion tendencies regarding the types of lace and ways of wearing it.
Nigerian women love long dresses especially the ones that are tight around the body and thighs down to the knees. The bottom part of such skirts usually creates a shape that reminds of a mermaid's tail. This style is absolutely leading when we speak about lace dresses for festive occasions.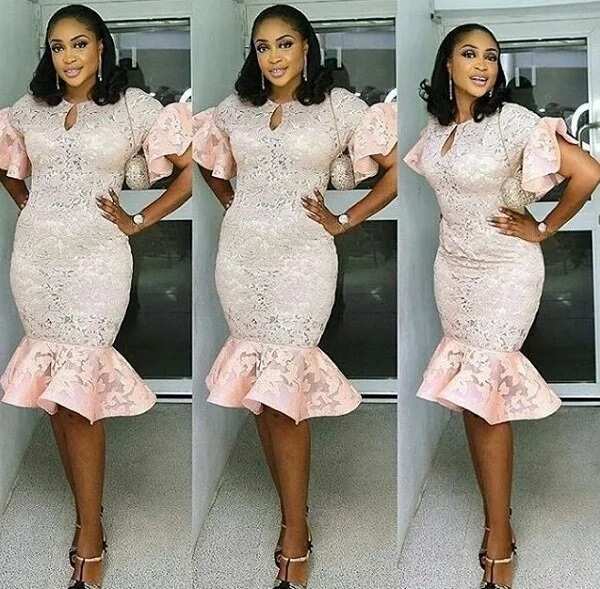 Younger Nigerian women give preference to short everyday dresses that are made out of lace. These dresses usually reach knees and can be both skin-tight and loose or have a voluminous skirt. Such dresses look especially lovely when they are boldly combined with sneakers or other casual shoes.
However, lace is a fabric that's great not only for dresses. Traditional Nigerian combinations of lace blouses with wrappers look magnificent! Such a look is great for any occasion starting from work and ending with a romantic date or a day with friends.
Now, let's take a closer look at the available variety of styles within every group of Nigerian lace designs.
Best Nigerian lace styles for wedding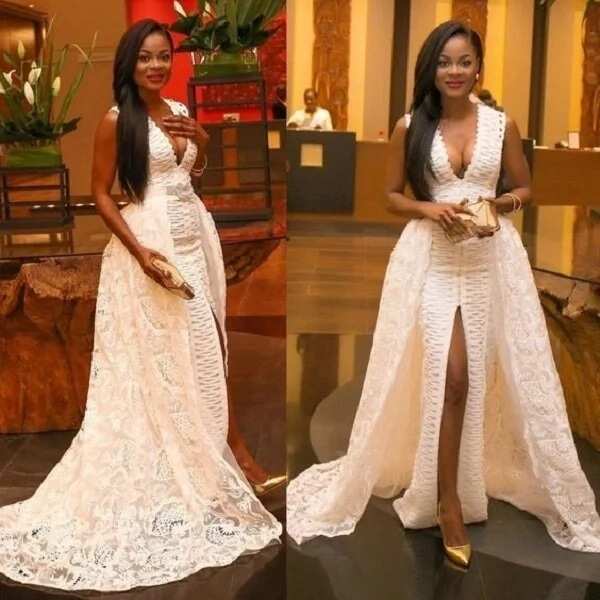 A lace dress is a great wedding idea no matter whether you are a bride of a guest. A long dress made out of shiny lace with a delicate pattern or flamboyant decorations, of a rich color and texture will turn you into a star at any party.
This style is one of the major choices for Aso Ebi lace styles 2018. However, if the wedding is not oriented at traditional looks, bride's girlfriends will also look perfect in short lace dresses of the colors that either match or contrast the bride's gown color.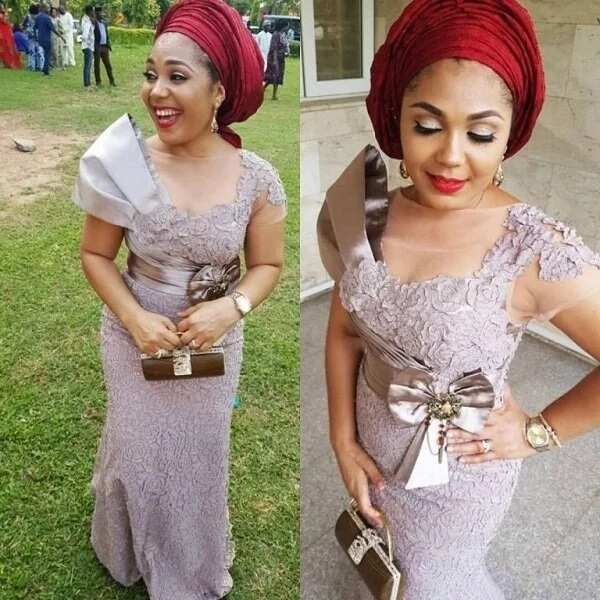 Lace dresses for wedding occasions look especially interesting when they combine lace and other fabrics. For instance, a lace dress with a shiny belt with a bow will be a sensation at any wedding party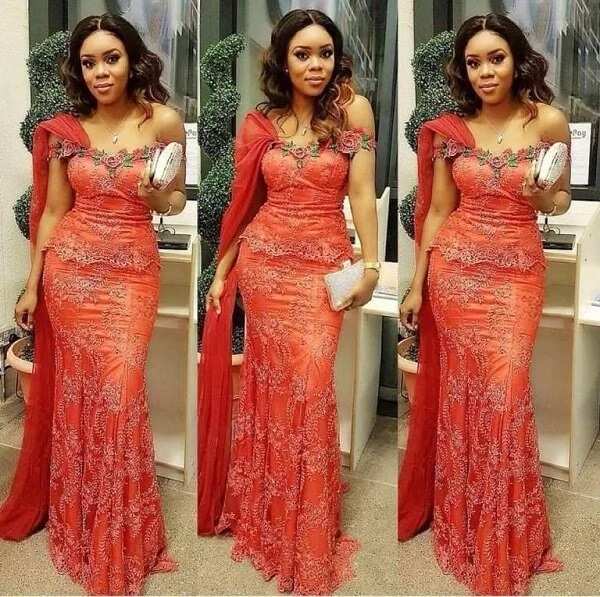 A gorgeous open-shoulder dress with a delicate scarf that matches the tone of the lace will attract all the eyes of the guests at the festive occasion you are visiting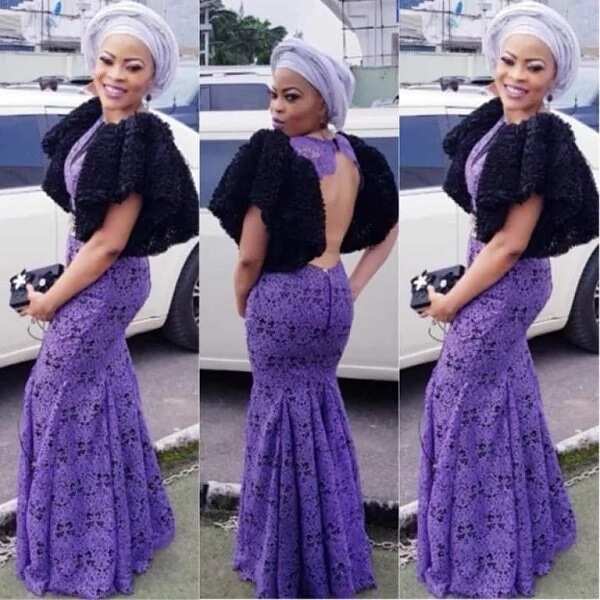 A lace dress of a perfect lavender color with incredible sleeves of a very interesting cut and of a different color will create a stunning effect on the audience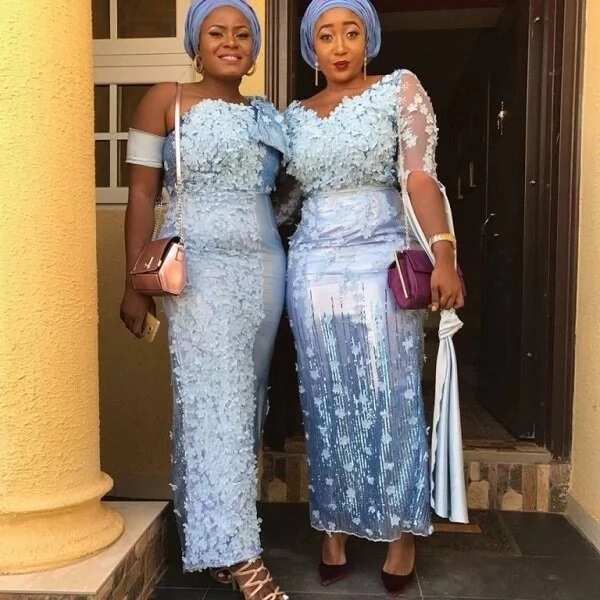 After all, nobody says that all the dresses are supposed to be similar to the minute details. The same color and details made out of the same sort of lace will create the effect of similarity even if the designs are pleasantly diverse
If you are thinking about a lace dress for a festive occasion, you should not limit your imagination. If there's an interesting idea on your mind, don't hesitate to bring it to life with the help of a piece of beautiful fabric and a talented tailor.
Nigerian French lace styles: luxury and beauty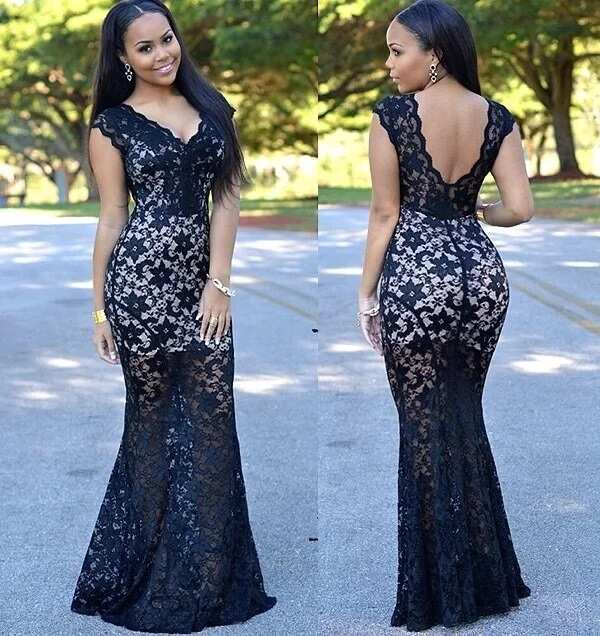 Nigerian women love French lace very much. It's the first choice when it comes to making a beautiful item of clothing for a special occasion. It's shiny and pretty but, at the same time, durable enough to retain shape and color through intensive wearing.
French lace is used to make dresses but not them alone. This fabric is a perfect option for a lovely blouse that's suitable for both everyday and occasional wearing. Pale colors, a modest texture, and a lovely cut will guarantee an attractive appearance.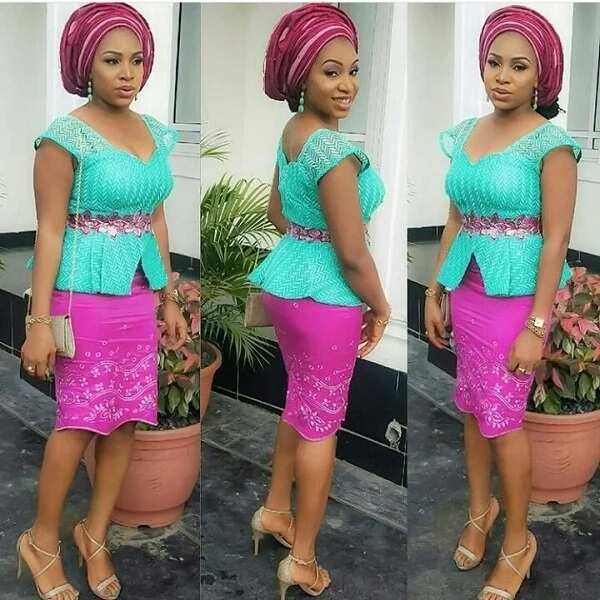 Due to its durability, French lace is often used as a material for skirts. Accompanied by a solid lining, this firm lace will retain its shape for a long time and emphasize the bodily beauty of its wearer.
Nigerian lace blouse and skirt: traditional vs modern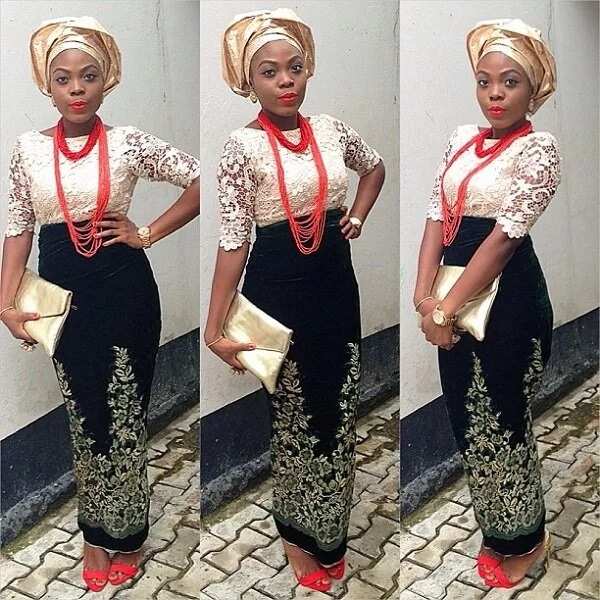 A skirt and blouse are a traditional combination of formal women's looks. These items are usually worn for work, studying, or other official occasions that demand a modest but neat appearance. However, if your blouse or a skirt is made out of lace, the situation may change.
A lace blouse on a Nigerian woman is a shiny luxurious item that shows all the beauty of its wearer. Depending on the occasion and the woman's style, such blouses can have open shoulders or sleeves, stick to the body tightly or be quite loose.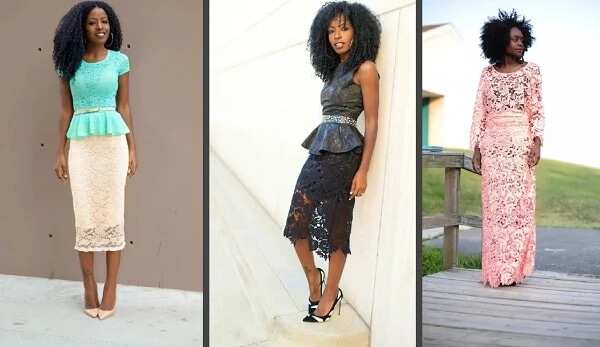 One of the most traditional combinations is wedding ensemble that includes a lace blouse and a skirt, which is made of either lace, too, or a solid material. Such blouses usually have a frill at the waistline and emphasize the shape of the woman's body.
Skirts that accompany such blouses in a wedding combination are usually long and narrow to complete the elegant look. However, if you are not afraid of stepping away from the tradition a little, you may give preference to a pencil skirt.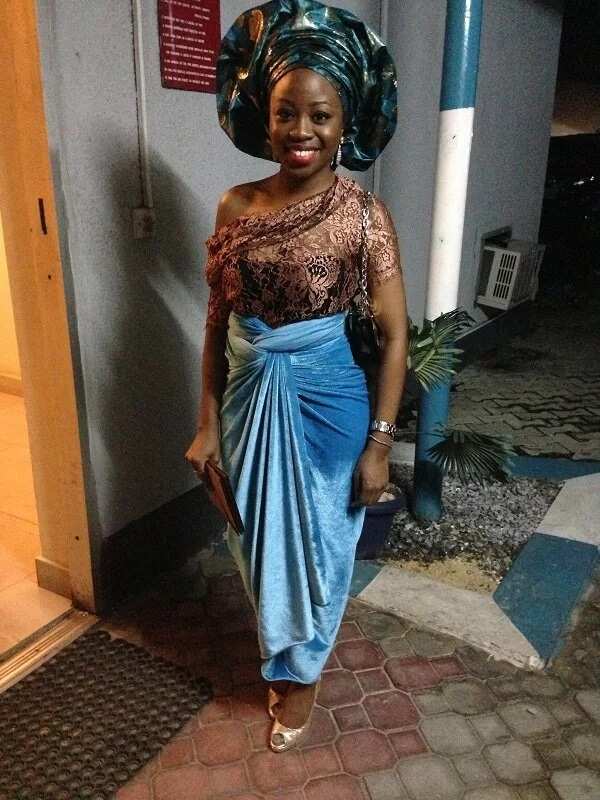 Besides this combination, lace blouses are often worn with traditional Nigerian wrappers. Wrappers always look stylish and fashionable because ethnic looks are never completely out of trends. However, if you don't want to look excessively ethnic, it's recommended to combine wrappers with modern accessories.
Well, this is what you should know about the most recent trends for Nigerian lace dress, blouses, skirts, and their combinations. Unleash your imagination, create your own fashion trends, and always look fabulous in everything you wear.
READ ALSO: Funke Akindele latest ankara styles
Source: Legit.ng