- A robbery suspect has disclosed how a SARS officer used him to swindle unsuspecting victims
- Akeem Popoola had been handed over to the officer for discipline; however, the officer made him swear an oath and then carry out the criminal activities
- The suspected robber was made to sell stolen phones to suspects who would then be arrested and made to pay bribes for their release
- The suspect has been detained, and the police command is now searching for the implicated officers
One Akeem Popoola, a suspected robber, has said that he was being used to swindle unsuspecting victims by a police inspector attached to the Special Anti-Robbery Squad of the Lagos state police command, Punch reports.
The 21-year-old suspect said before his arrest, he had worked for the policeman, identified as Inspector Festus, aka Ijaya, for about four months.
Legit.ng gathers that Popoola, who is also a carpenter, was arrested for robbery and burglary, and is currently in custody at the Agbado division. A mattress and speakers of a sound system were reportedly recovered from him.
READ ALSO: 2019: No one has the right to tell Buhari not to run - Lawmaker
He said he also used to collect phones from the inspector, which he would later sell. Afterwards, he said the officer, and two others – Abbey and Aluko – would then arrest the buyers and accuse them of purchasing stolen items. He said to secure their release, the victims would then pay the officers between N120,000 and N150,000; out of which, he would be paid N5,000.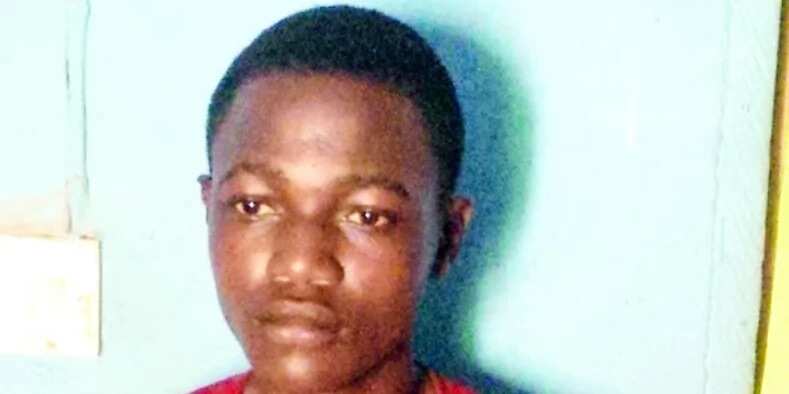 Popoola stated: "In November 2015, one of my father's tenants and I fought. When my daddy came back home on that day, she reported me to him and he handed me over to Inspector Festus at the state police command headquarters, Ikeja. He told him I was too troublesome and wanted him to discipline me. But he (Ijaya) did not. He took me to a beer parlor at Alakuko and gave me N5,000. I was very surprised.
"Two days after, we met at another beer parlour around Agbado, where I was made to swear an oath. He brought out a gun and put some gin inside the barrel. He drank from it and gave me the gun to do same. He said he would be sending me on some errands. He gave me a mobile phone and drove me in his Toyota Camry to POWA complex in Ikeja.
"He told me to sell the phone inside the complex which I did for N20,000. After an hour, he handcuffed me and took me in his car with his boys – Abbey and Aluko – to the man that bought the phone. He arrested the man and told him to pay N200,000 if he did not want to be taken to the station. The man raised N150,000 among his friends in that complex and gave him.
READ ALSO: Exclusive photos show scene of Offa bank robbery attack
"When we left there, he removed the handcuffs and gave me N5,000 and we departed."
He said his second deal with the corrupt officer was an iPad which was also sold to an unsuspecting victim who was then arrested and made to pay N150,000 bribe. He also got N5,000 from that operation.
The suspect stated that Ijaya refused to allow him quit when he wanted to, pointing out that he had sworn an oath, and would die if he backed out or revealed it to his dad.
However, his father stated that Akeem had been stealing even before he handed him over to the policeman. He, however, regretted the action.
The Ogun state police command spokesman, DSP Muyiwa Adejobi, disclosed that a manhunt was underway to locate Ijaya and his accomplices. He said the matter had now been transferred to the command's Special Anti-Robbery Squad.
However, the spokesperson for the Lagos state police command, SP Dolapo Badmus, denied that Ijaya was a serving officer with the command. She said: "We don't have a policeman bearing Festus or Ijaya in the command."
PAY ATTENTION: Install our latest app for Android, read best news on Nigeria's #1 news app
Meanwhile, Legit.ng previously reported that a Nigerian writer and businessman, James Ibe-Anyanwu, took to Facebook to call for help, while hiding from SARS operatives, in the toilet of a Zenith Bank branch at Ago Palace-Way, Okota, Lagos state, on Monday, April 9.
In the post, Ibe-Anyanwu narrated how he was humiliated and accused of being a fraudster, by the SARS officials. He further claimed that the security operatives seized his phone, as he called the spokesperson of the Lagos state police command.
Are Nigerian policemen the worst in the world? - on Legit.ng TV:
Source: Legit.ng