- A fan recently posted an insensitive message about the career of singer Dr Sid
- This fan said his career died with his late father
- The popular musician wasn't going to take such a comment lightly as he responded immediately
The internet has given rise to a group of people who call themselves fans of musicians but in the real sense, they aren't.
A recent example is that of one Instagram user who insulted popular Nigerian musician Dr Sid. This fan wrote that his career died with his late father actor Justus Esiri.
"Are you still an artist? As your father died, he died with you career too," the errant fan wrote. Usually, Dr Sid doesn't respond to posts like this but because his late father was brought into it, he had to respond.
READ ALSO: BBNaija contestant Nina breaks up with her in house boyfriend Miracle
"Everyone 1ce in awhile an idiot like u comes along and seeks attention by saying something disrespectful, usually i'd ignore u and use the block button but i will never condone u referencing my late father. u don't respect me, thats fine but remember u sef go die 1 day. FOH"
One would think the fan would be sory for such a distasteful post but she wasn't. She continued by saying: "But its true na…he's father died with his career shuu!!! Am I lying. Shutup is Dr sid an artist tok true….he's a wasted soul. Now I feel so much pity for u."
See a screenshot of their interaction below: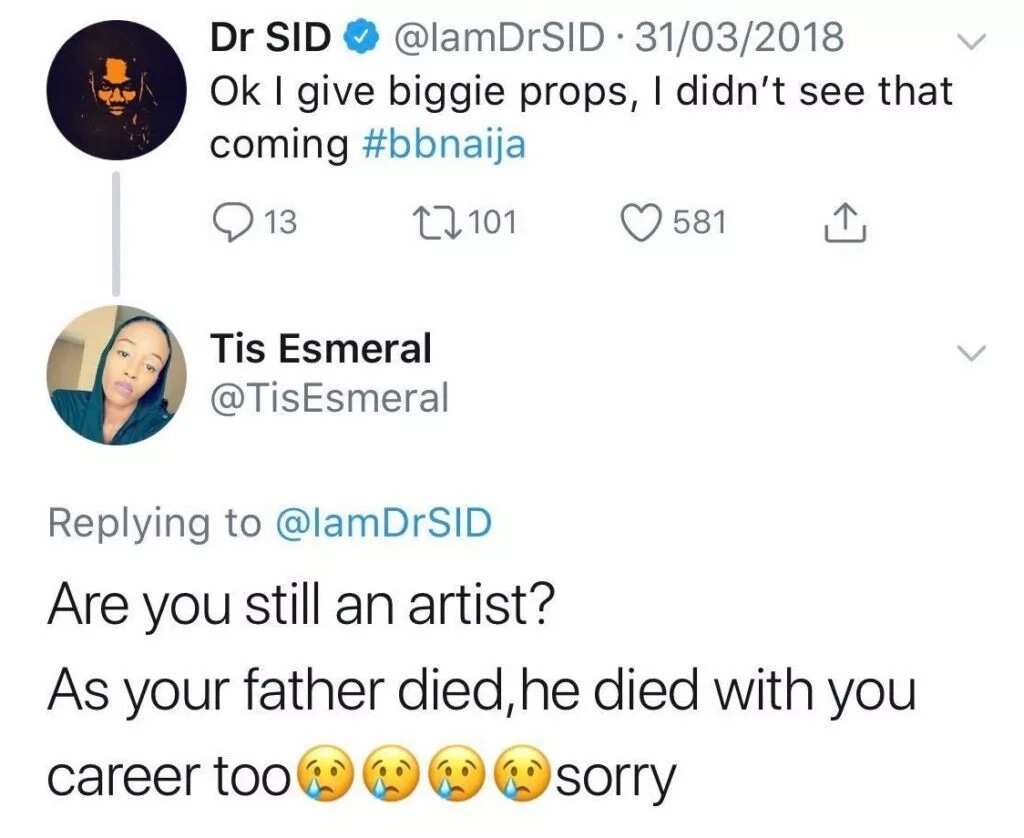 PAY ATTENTION: Install our latest app for Android and read the best news about Nigeria
Why I left Geology for music - Rising dancehall singer Squeeze Tarela reveals on Legit.ng TV.
Source: Legit.ng