How to pack natural hair in different styles
How to pack Nigerian natural hair? This issue worries every Nigerian woman. It's no secret that African hair is the most stubborn and the most beautiful too. Sometimes you just want to pack your natural into into different styles, below are some simple ideas for you.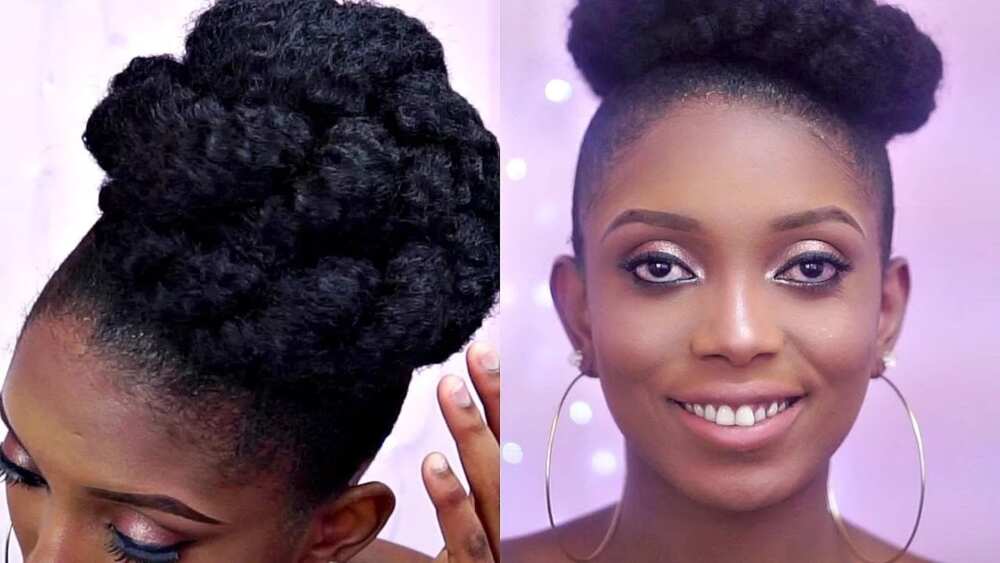 There are many interesting ways how to pack natural hair. You can also choose other hairstyles that will help you to look stylish. But a lot of them are based on hair extensions. We do not recommend you to spoil your hair. In addition, most of them take a lot of time. And your main goal is to pack natural hair easy and quickly. That's why, we give you a list of simple Nigerian hairstyles.
How to pack your natural hair in a bun
This is one of the easiest and stylish hairstyle in Nigeria. It looks great for long hair but some girls make it for short hair too. The height of the hair style allows to highlight your beautiful eyes and visually lift your face. For this simple and nice hairstyle you need few hair pins and a big sock bun. Brush your hair carefully and make a ponytail. smooth the rough edges of your hair with a thin comb and hair spray. Tie your ponytail with a sock bun. Then divide your hair into equal parts and apportion it around a sock bun. Finally, roll strands of hair and secure hair with pins.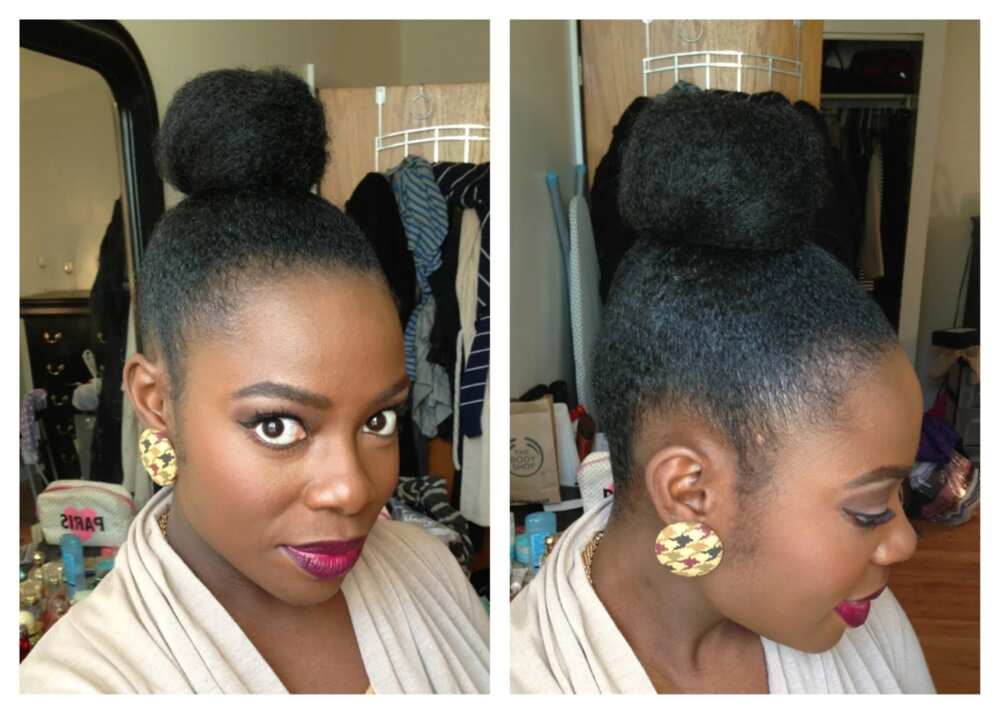 Milkmaid braid
This type of hairstyle allows to create charming and innocent appearance. If you want to look younger and nicer, make milkmaid braid. As you can see in the image below, main features of this hairstyle are two free strands of hair in front. And on top of your head there two wrapped braids. These front strands make your look charming and highlight your features. And two nice braids finish this look. It's great for every woman.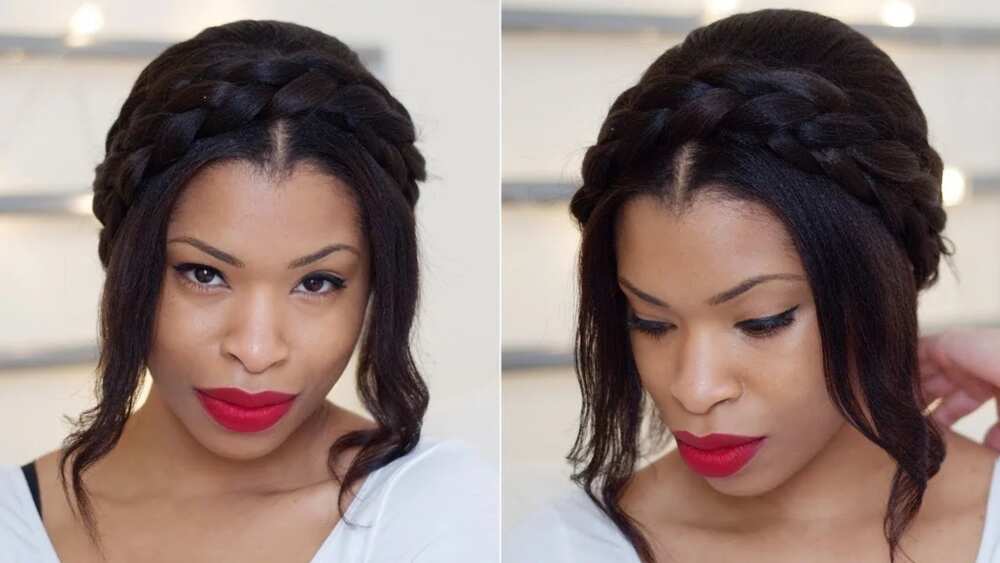 READ ALSO: Top short bob braids hairstyles
The Mohawk
How to pack my short natural hair? Have you ever asked yourself about it? Then this hairstyle is exactly for you. However, you should be brave enough to make this extravagant look. This style is excellent for independent rebels who are always full of energy and inner strength. It consists of little braids on the sides and Mohawk on the top of a head. It may be difficult to make it at home. That's why we recommend you to go to the salon. If you still want to try it at home, watch the video below this article with step-by-step guide.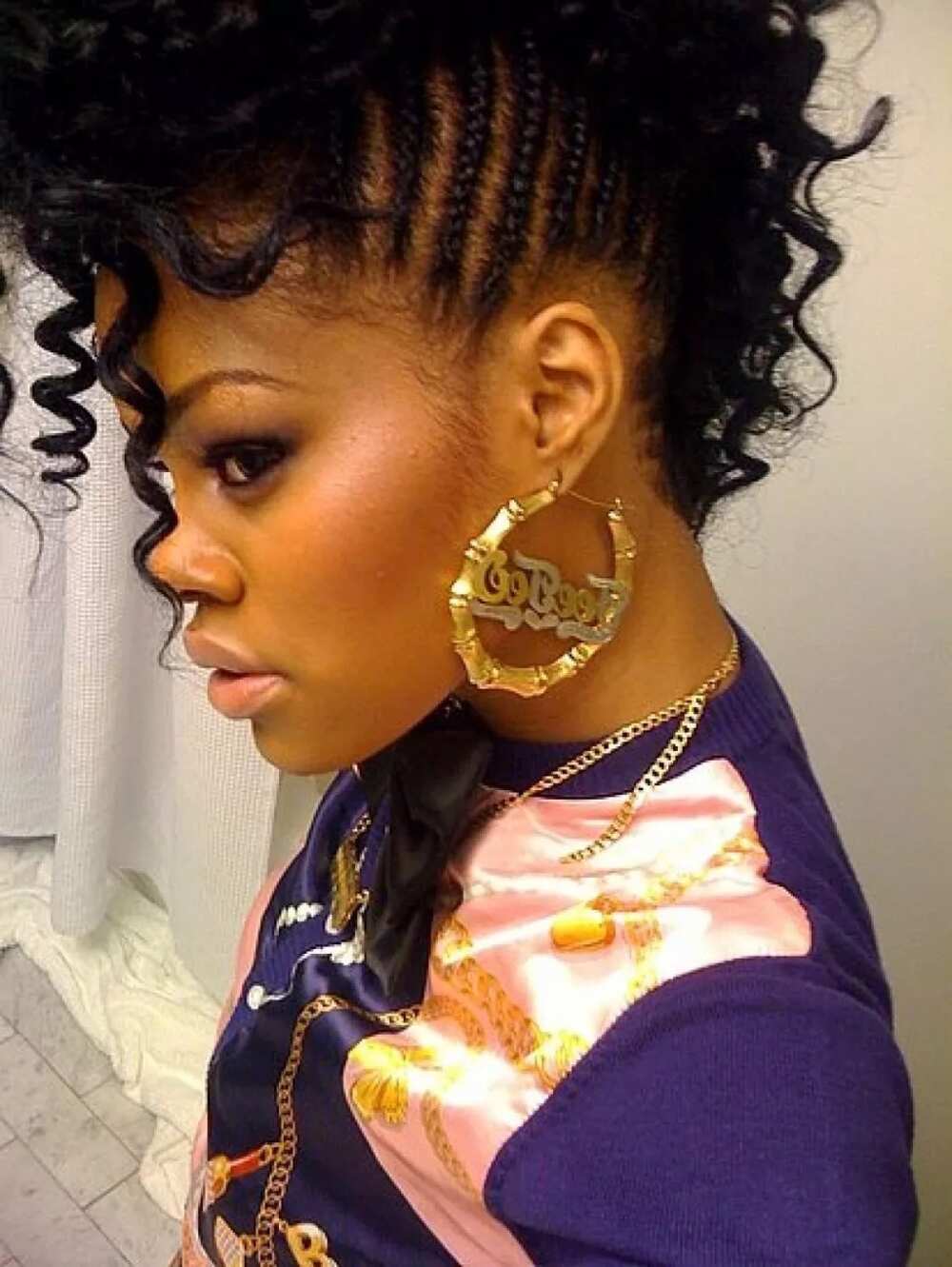 Curly afro
This is not about how to pack your hair, but curly afro is one of the ways to give your hair an amazing look. Probably, this is the best hairdo for natural Nigerian hair. There are different types of afro hairstyles. You can choose this style without fear and doubt. It remains relevant to these days as in 70s-80s. To make curly afro you need moisturizer for hair to become freer and softer. However, don't use hair products in large quantities.
Braid and tuck
This type of hairstyle looks simple and tidy. You can make such hairstyle every day going to work, university, meeting with friends and so on. It's not difficult. You just need to make two braids in the front. The next step is a tucking the rest of your hair under these braids. You can also use pins to tuck your hair.
You see , it's not difficult to be beautiful and stylish. Now you know how to pack your natural hair in different styles. All depends on the power of your imagination and desire. There are different types of hairstyles that you can choose. They are based on woman's character, features, kind of appearance and so on. And we've offered you just some of them. Choose!
READ ALSO: 10 stylish haircuts for black men
Source: Legit.ng