Power Oil, the Nigerian No.1 healthy cooking oil has recently extended one of its annual consumer health awareness activities tagged "Power Oil Pay with Calories" to Rivers and Anambra to further encourage more Nigerians to maintain healthy body fitness and promote general healthy living.
The activation which began exactly five years ago is an open to all activity especially for consumers who are willing to work out with the aim of trading calories in exchange for gifts on the spot. The idea is to engage consumers in a series of exercise on the treadmills and cyclers to burn some calories, of which will eventually be rewarded with amazing gift items depending on the amount of calories being able to burn within a specific time.
The events which held respectively at the famous Onitsha Mall, Off Awka road and Port Harcourt Mall, Azikwe Road, created an exciting platform for the brand to interact with its consumers in a fun, rewarding and most importantly healthy manner. Various sport oriented gift items were laid out for consumers to pick from as per calories burnt within a specified time.
Speaking on the activity, the Brand Manager, Power Oil, Miss. Amisha Chawla, said that the experiential campaign was borne out of the necessity to encourage Nigerians to further become mindful of their heart health by making efforts to maintain good body fitness and possibly eliminate unhealthy consumption habits, as these factors are important to lowering the risk of blood pressure and heart-related ailments.
Pay With Calories in Onitsha
"The activation is simply to promote healthy living by encouraging Nigerians to pay more attention to their body and be cautious about the quality of what they consume in order to maintain a healthy heart. We also make it a point of duty to advice Nigerians against the consumption of low-quality or sub-standard cooking oil, which on the long run puts consumers at risk of heart related diseases and other health issues" she said.
Pay With Calories in Port Harcourt
According to Mrs. Omotayo Abiodun, the Public Relations Manager, Power oil Pay with Calories activity had always been held in Lagos, Ibadan & Abuja in the last couple of years. However, in order to have more Nigerians especially from the eastern part of the country benefit from the health awareness campaign, it was recently being extended to 2 more states; Rivers and Anambra.
Pay With Calories in Port Harcourt
The consumer engagement activation was extended to more states with the strong believe that it will motivate and encourage consumers to understand the importance of leading a healthy life for themselves and their family.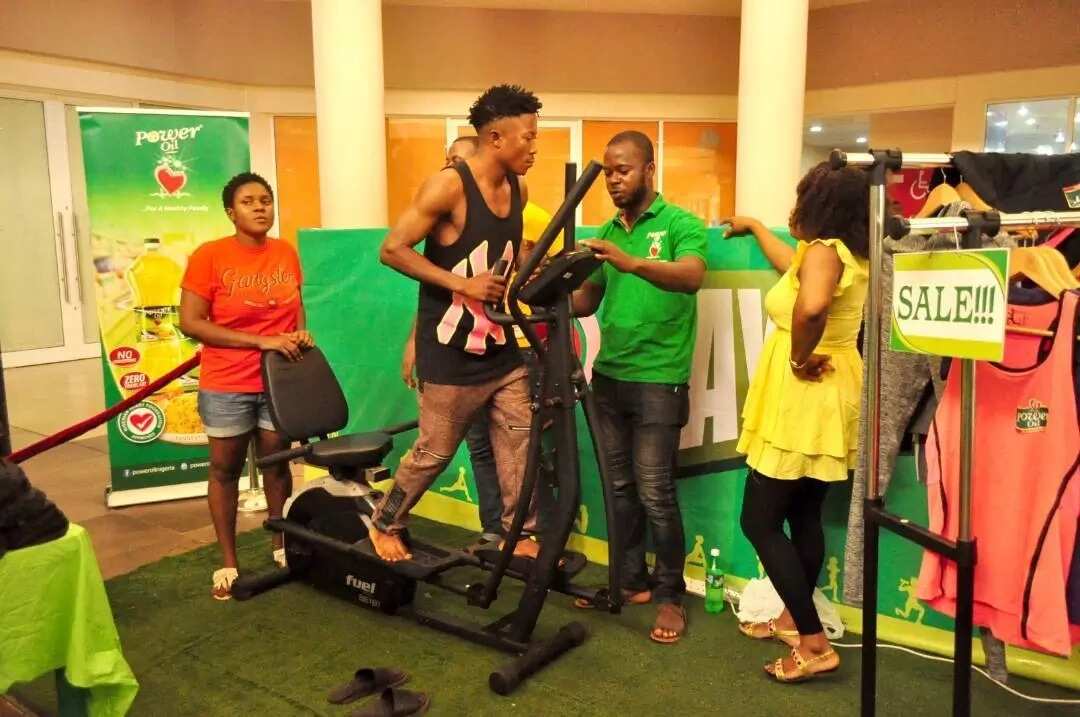 Pay With Calories in Onitsha
Mrs. Ngozi Ibekwe, a participant in Onitsha who lost up to 30 calories and got rewarded with a tummy trimmer, she commended the brand for its unflinching efforts in encouraging Nigerians to live a healthier and better life through their various health friendly activities.
Pay With Calories in Port Harcourt
Mr. Tony Chris, a participant in Port Harcourt who also burnt 53 calories said "we had so much fun while getting rewarded for that made it more interesting, I applaud the Power Oil brand for bringing the event to Port Harcourt, and we shall be looking forward to another edition."
[Sponsored]
Source: Legit.ng