- The Inspector-General of Police has been petitioned by a journalist identified as Wale Odunsi
- In the petition, Odunsi said his life was threatened by Edward Onoja, chief of staff to Kogi state governor, Alhaji Yahaya Bello
- The petition was submitted to the police headquarters on Monday, April 9
Wale Odunsi, the deputy political editor of Daily Post, an online newspaper, has petitioned the Inspector-General of Police (IGP), Ibrahim Idris, claiming that his life was threatened by Edward Onoja, chief of staff to Kogi state governor, Alhaji Yahaya Bello.
In the petition seen by Legit.ng, Odunsi said Onoja called him on Sunday, April 8, and threatened to kill him over a story published on Daily Post.
Several media houses including Daily Post had reported that Onoja was involved in an accident with his family along the Lokoja-Abuja highway.
"The rumour is purely a satanic tales by moonlight, a fiction penned by a prevaricating mephistophelian author and shared by gullible minds," the Kogi state government had said in reaction to the story.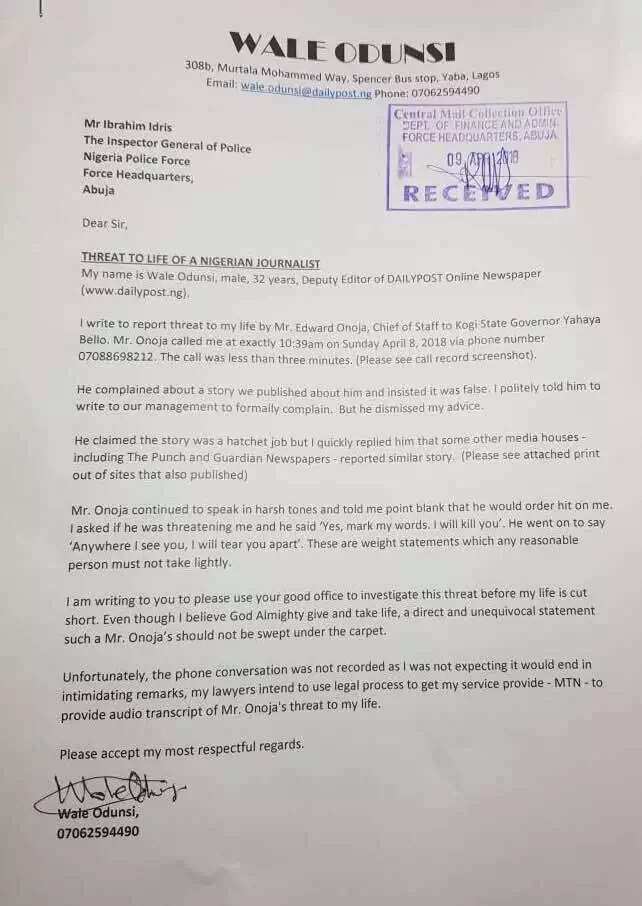 READ ALSO: Gov Bello approves 300% increment and payment of bursary allowance to Kogi students nationwide
Part of Obunsi's petition reads: ​"Mr. Onoja called me at exactly 10:39am on Sunday April 8, 2018​ via phone number 07088698212. The call was less than three minutes. (Please see call record screenshot). He complained about a story we published about him and insisted it was false. I politely told him to write to our management to formally complain.​ ​But he dismissed my advise.
"He claimed the story was a hatchet job but I quickly replied him that some other media houses ​- including The Punch and Guardian Newspapers - ​reported similar story.
"Mr. Onoja continued to speak in harsh tones and told me point blank that he would order hit on me. I asked if he was threatening me and he said 'Yes, mark my words. I will kill you'. He went on to say 'Anywhere I see you, I will tear you apart'. These are weighty statements which any reasonable person must not take lightly.
"I am writing to you to please use your good office to investigate this threat before my life is cut short. Even though I believe God Almighty give and take life, a direct and unequivocal statement such as Mr. Onoja's should not be swept under the carpet."
PAY ATTENTION: Install our latest app for Android, read best news on Nigeria's #1 news app
Reacting to Odunsi's claims, Onoja told Legit.ng via a phone call on Tuesday, April 10, that he did not threaten anyone. He said the media report was a hatchet job targeted at his aged parents, adding that they were both hypertensive.
His words: "How can they say an unconscious man that is threatening an able-bodied man. It's all a lie and you know the only way to cover your lie, is to cover the first lie so that it can fizzle with it. My lawyers are already writing to the agency in charge of media regulation to take the matter to court.
"The story was targeted at my aged parents as they are both hypertensive. I have never traveled with my child in the same vehicle since he was born in January. My vehicle official has never hit anything since it was given to me too.
"They should shut their operations and go for six months training from their editors to their reporters."
When Legit.ng reminded him that Odunsi was the not author of the story in contention, he simply said, "Daily Post is Daily Post. They are unreliable and untrained."
READ ALSO: Governor Bello not hospitalised - Aide dismisses rumour
Kogi West senatorial district to recall senator Dino Melaye from the Nigerian Senate on Legit.ng TV
Source: Legit.ng