- Regional director, World Health Organisation, Africa, Dr Matshidiso Moeti, visited Toyin Saraki on Monday
- Mrs Saraki, wife of Nigeria's Senate president, is the founder-president of the Wellbeing Foundation (WBFA)
- Moeti hailed WBFA's partnership with midwives who she said were very key to solving the issues of maternal mortality
The wife of Nigeria's Senate president, Toyin Saraki, on Monday, April 9, received the regional director, World Health Organisation, Africa, Dr Matshidiso Moeti, in her office in Abuja.
Saraki, who is the founder-president of the Wellbeing Foundation, was recently appointed by Dr Moeti as a special adviser to the Independent Advisory Group (IAG) of the World Health Organisation (WHO) Regional Office for Africa (AFRO).
Legit.ng gathered that the visit was part of a strategic plan for health development within the African region.
More importantly, the overall objective of the courtesy visit is to discuss the terms of partnership for implementing health strategies within Africa, and sharing learning and advisory for improvement and scale-up of existing programs.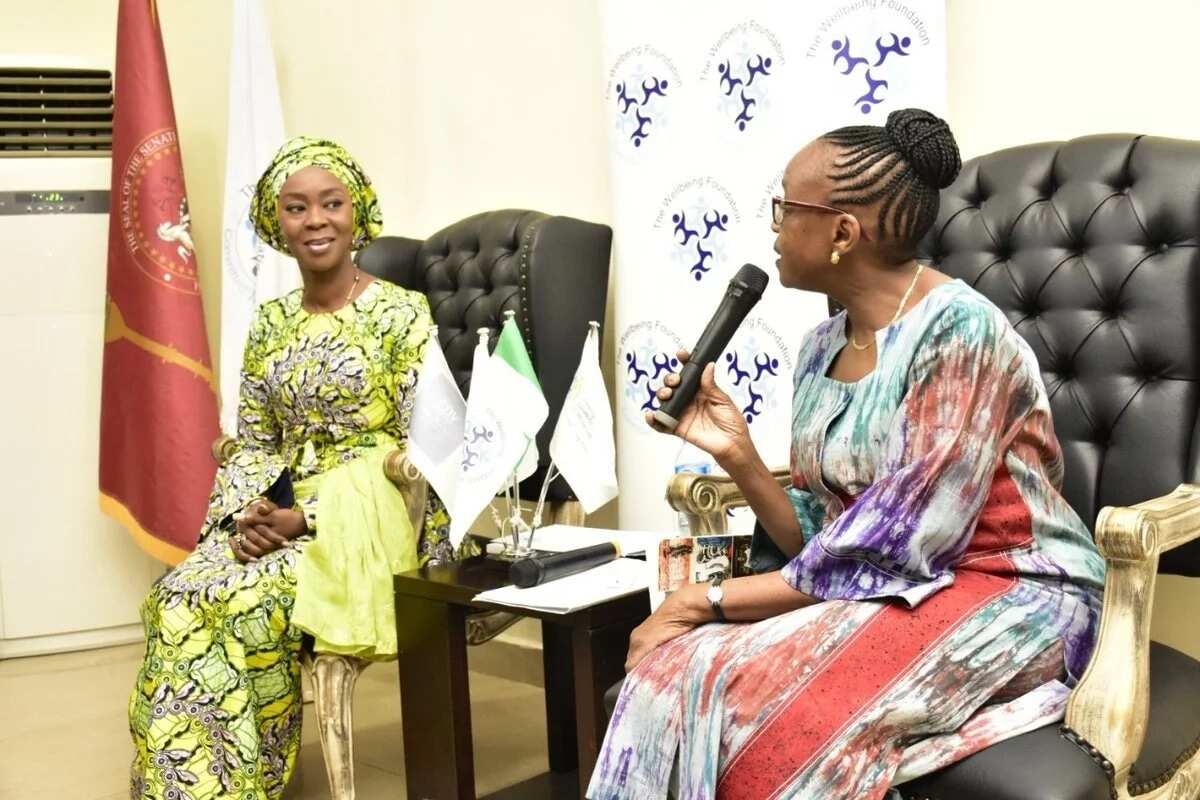 READ ALSO: Toyin Saraki celebrates 1st birthday of Abuja triplets
WBFA has been on the forefront of providing accessible healthcare for all, especially though its mamacare antenatal and postnatal education classes, which takes important health education to expectant mothers irrespective of where they are located within states in Nigeria, wherein the program is being implemented.
Speaking during her visit, Dr Moeti stated that WHOAFRO is elated to be in partnership with the WBFA, and are particularly interested in strengthening midwifery education in Nigeria.
She particularly hailed WBFA's partnership with midwives, stressing that they are very key to solving the issues of maternal mortality.
PAY ATTENTION: Install our latest app for Android, read best news on Nigeria's #1 news app
We are amazed at the work you are doing and we want to engage your foundation in the work that you do and we seek a partnership to address the shortcomings.
She lamented that Africa's health systems are not up to the task with no adequately trained and qualified attendants in the health sector, but expressed optimism that the proposed partnership with WBFA will promote affordable health insurance for low income earners.
"Part of our responsibility is to look for what works, and have it adopted to mirror what we hope to achieve. We'll like to document your best practices," she said
Responding, Mrs Saraki said she used the opportunity of her trips to several countries across the world to model good health initiatives working in those countries and adopted it in Nigeria.
She noted that she observed that training given to doctors and senior health workers was not trickled down to midwives and nurses, hence WBFA's focus on them.
"We hope you will be honest with us to call our attention to areas that need improvement in our work.
"We are hungry to adopt the best practices in countries under your purview," she said.
READ ALSO: Saraki celebrates women on international women's day
Last month, Mrs Saraki was named "Health-for-All Champion" and one of four women making waves in global health by Devex, the international development media platform and social enterprise.
Upon receiving the accolade, Saraki canvassed for improving health outcomes as well as reducing poverty, driving economic growth and promoting gender equality around the world.
N1,500 for health of Nigerians on Legit.ng TV
Source: Legit.ng