Pablo Escobar wife, son and daughter
Pablo Escobar - one of the most famous narco-dealers in history. A great criminal, and one of the richest people from the Forbes list. But this time we will tell you about Pablo Escobar wife and children. The fate of these people was very difficult. Are you ready to know the details?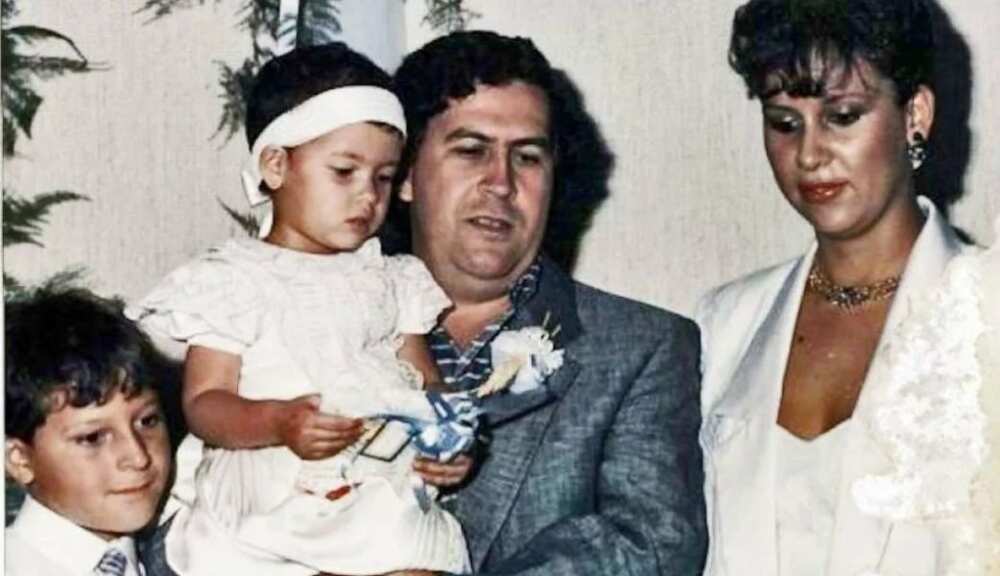 The life of Pablo Escobar
"El Patron" was a boss of the most powerful narco cartel that ever existed. In 1989, according to Forbes magazine, he took 7th place in the ranking of the world's richest people, with a personal amount of $ 25 billion. 24 years ago, a sniper shot became fatal for one of the most influential figures of criminal business in the world.
According to some reports, he killed 10 thousand people. The gang, created by Escobar, earned a huge amount of money by selling illegal substances. Pablo considered himself as Robin Hood and spent part of the criminal money to help the poor people. In many areas of Colombia there are still his portraits on the streets with the signature "Saint Pablo".
READ ALSO: Eddie Murphy's 9 children
The biography of Pablo Escobar became known several decades after his death thanks to the photo archive, which was created for years by his former classmate Edgar Jimenez. By the age of 22 Pablo became the largest criminal authority in Medellin town. At this time Escobar begins to sell illegal substances. Very quickly, he managed to win the leading place in the illegal substances industry throughout the country, and then across South America.
Pablo Escobar wife
In 1974, when Escobar was 24, he began dating 13-year-old Maria Victoria Henao Vallejo. Her family did not approve their relationships and the couple fled to the Palmyra city, in March 1976 they married.
Throughout his life, Escobar had a huge number of extramarital affairs, but despite all the adventures of her husband, Maria Victoria supported him, and stayed with him until the very last day of his life. No one really knew any details of their relationships.
Having fled to Argentina, the widow of Escobar changed her name to Maria Isabel Santos Caballero. Together with children they lived a quiet life of the average family in a small apartment of Buenos Aires. This quiet life lasted only 5 years.
In 2000, Maria Isabel and her son were arrested because of falsifying documents, conspiracy and illegal money laundering. They said that in Uruguay, Escobar's wife received part of the Escobar's money. They were imprisoned in Argentine prison for 15 months, (it is noteworthy that they spent more time in prison than Pablo himself), but afterwards, on the basis of insufficient evidence, they were released.
A whole team of lawyers tried to incriminate them a lot of crimes, including illegal drug trafficking, but, in the end, because of the lack of facts, they were released.
Pablo Escobar son
Juan Pablo Escobar inherited not only father's name, but also similar features of faces. A dangerous combination if you try to start life from a scratch. Having fled with his family to Argentina, he became known as Juan Sebastian Marroquín Santos, but this did not help him to hide his true identity from the eyes of undesirable public.
Huang was born in 1977 in Medellin. He loved his father and they were always very close. Up to 12-13 years old, he had no idea what his father was doing. By his nature son was a pacifist and never agreed with the brutality and violence that Escobar professed.
It was because of the telephone conversation between father and son the US and Colombian special agents discovered the location of Escobar's hideout. After moving to Argentina, the young man entered school, his dream was to become an architect. He enjoyed a new life, slow and free, where there were no shooting and constant fear.
In 2009 a documentary film entitled "My Father's Sins" was published. It was a movie with the participation of Marroquín, his mother and two victims of cartel's terror. In this movie, Juan address to the victims of Pablo Escobar and the entire Colombian people, he asked for forgiveness because of his father's actions. Currently Escobar's son lives in Buenos Aires with his wife and daughter.
Pablo Escobar's daughter
Manuela Escobar - beloved daughter of Escobar, she remained even more mysterious figure than her brother and mother. Manuela completely evaded the public eye. Today, almost nothing is known about her, we know just some facts about her childhood, before the death of Escobar.
Father was ready to spend any money for the presents. When she had a milk tooth, the "tooth fairy" left a suitcase with $ 1 million near her crib, supposedly in exchange for her tooth. It is said that Escobar forced one of his mistresses, who became pregnant from him, to have an abortion only because the illegal substances lord had promised Manuela that she would always be his only daughter.
She was born on October 6, 1984 in Brownsville, Texas, USA. She lost her father at the age of 9. According to the memories of close people of the family, all this brief time Manuela grew up as a very spoiled child, the center of attention, the little princess of her father. At 10 age-old, she moved with her family to Buenos Aires and changed her name to Juana Manuela Marroquin Santos.
Since then, she was completely closed for the public. In 2000 her mother and brother were arrested. All we can assume is that the 31-year-old Manuela Marroquin still lives in Buenos Aires, perhaps she has another name.
Pablo Escobar son and daughter became hostages of father's bad reputation. The family of drug lord passed through many trials. Now these people try not to disturb the past, and live a new life.
READ ALSO: 10 facts about Nelson Mandela
Source: Legit.ng