How to check my JAMB result with registration number
These days a bit number of Nigerian citizens is still into the madness of checking their JAMB achievements. The exams were conducted in March, so there is now plenty of time to understand if you are safe to be admitted to your dream alma mater or have to worry still. We will share a walkthrough on how to check my JAMB result with registration number.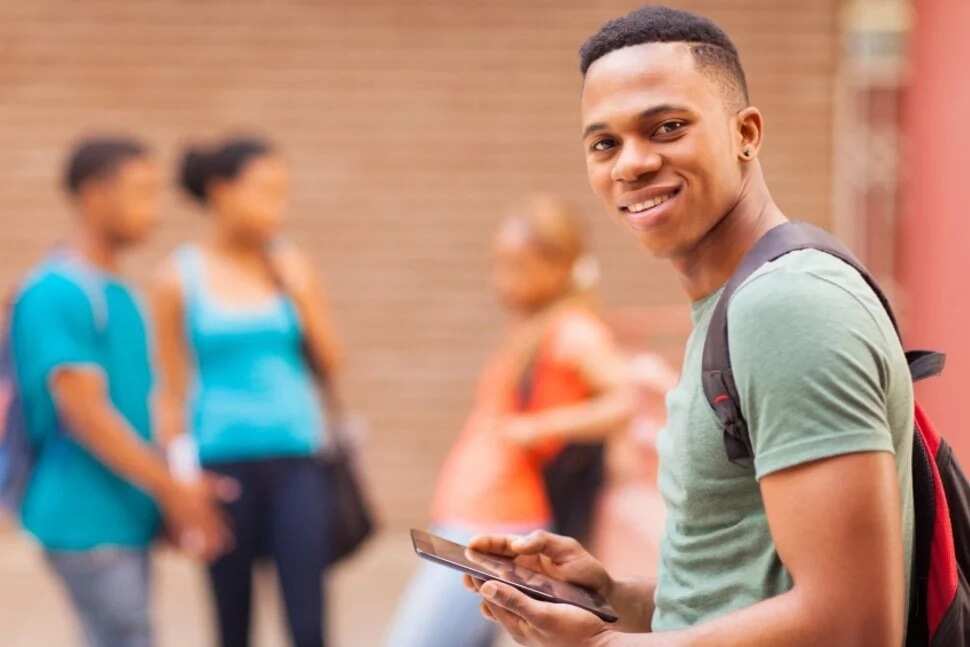 The popular and quick-to-use JAMB result checker is a completely no-charge service you can perform for yourself. Since Joint Admission and Matriculation Board is officially in charge for these tests, it is simple to attend JAMB portal (from your handset or PC) and figure out your performance and academic excellence.
How to check JAMB result
Each future student who took part in JAMB should have his or her registration number. This is enough when the time comes to using JAMB result checker online.
It used to be so that Joint Admission and Matriculation Board sent you a text message with your results or an electronic mail with your achievements several days after the exam date. No one will report or share your results with you, your friends or anyone else. This is something only you can perform.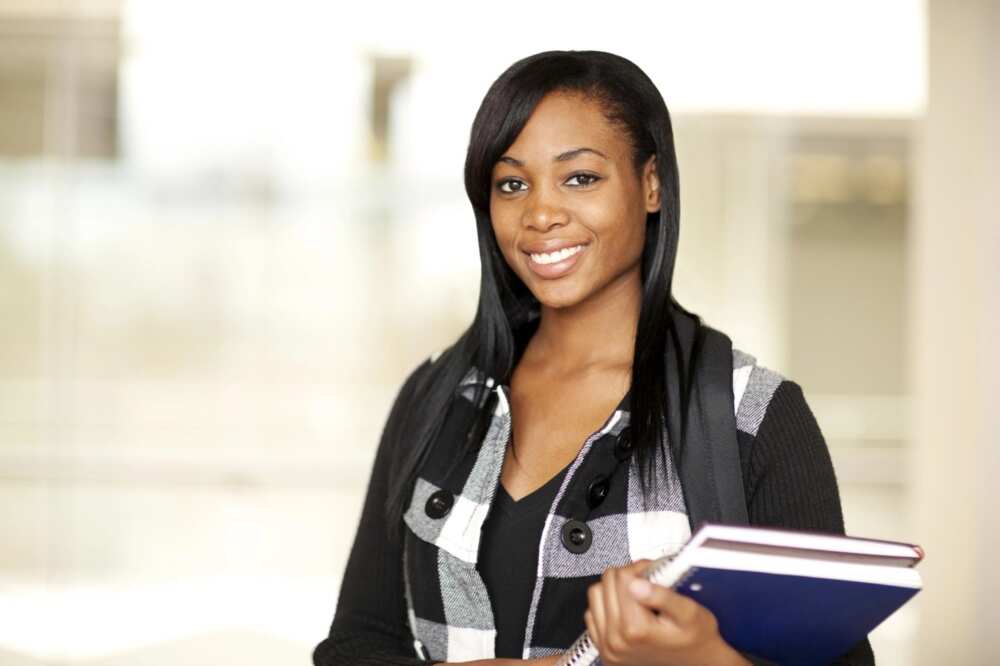 It is entirely your task to check JAMB result with only registration number or by printing a slip with your successes. You can perform it and see your excellence right now:
Step 1. The scheme is easy-to-follow. The first task to complete is to visit JAMB portal as only it offers the legit and official JAMB result checker option for all candidates.
Step 2. The site that knows all JAMB result looks like this http://www.jamb.org.ng/. Once you have double checked that your internet connection is active, you can start any browser and visit this link.
READ ALSO: When will JAMB result be out?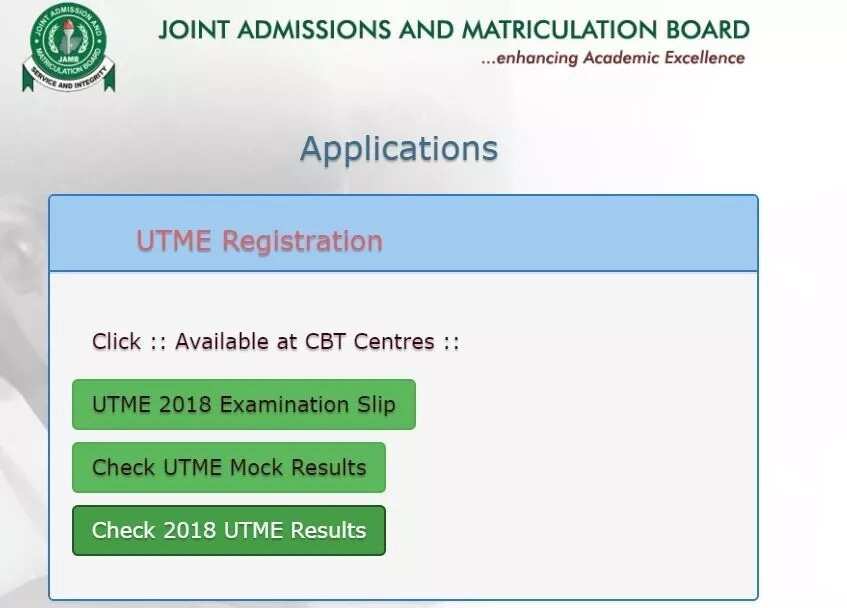 Step 3. Press on the green option. This phrase is written on it 'Check 2018 UTME Results.' This is enough for a student to run the checker with only registration number.
Step 4. Each candidate should now be redirected to this webpage http://www.jamb.org.ng/ExamSlipPrinting3/CheckUTMEResults (you can use the direct links if you don't want to perform Steps 2 and 3).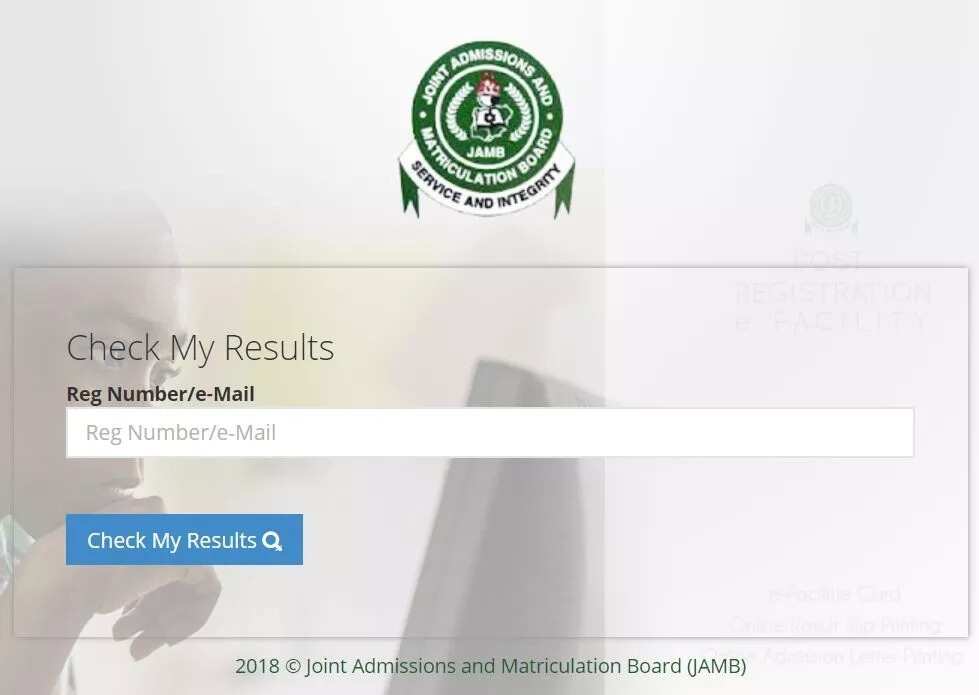 Step 5. The only field you can see here asks you to provide some information. For example, you can enter your email if you already have an account with Joint Admission and Matriculation Board. Users who didn't have time to register a profile can enter their JAMB registration number only.
Step 6. Click on the only blue button you can see on the webpage. It clearly says 'Check My results.'
Step 7. As a candidate, you can be informed about your achievements this way. You will see how you did and can compare your results with the best JAMB points ever scored.
Over a million citizens of Nigeria participated in Joint Admission and Matriculation Board's tests in 2018. Most students have already checked their score. Others assure that they ran the checking service and saw results, which have later disappeared.
In case you use a registration number to get your scores but don't find your results, you are advised to repeat attempts every day. You will see how you have performed during the examinations, once all possible issues are fixed (if any problems occur while checking).
READ ALSO: Best JAMB result in Nigeria
Source: Legit.ng