Ankara high waist trousers: best designs
We have gathered for you the best designs of Ankara high waist trousers. Nigerian ladies have an active lifestyle. It's no wonder that apart from the feminine skirts and dresses they should have several models of trendy pants. Ankara high waist trousers allow creating convenient and unordinary images for every day.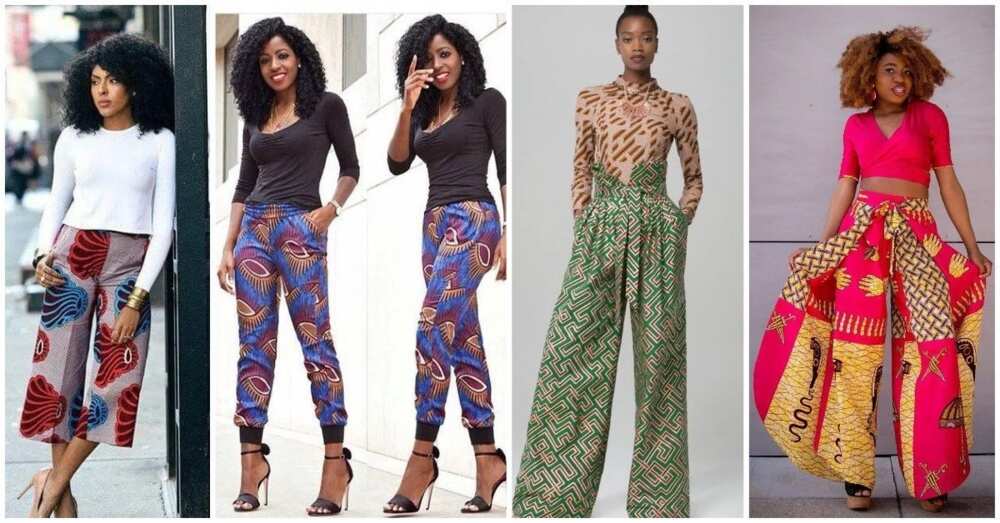 The understated waist and even standard height of the female trousers go back to the past, making room for the high waist pants. Designers focus attention on the woman's slender waist and smooth bending of the hips. So the legs visually seem longer, the figure becomes more proportional, and the silhouette is taut.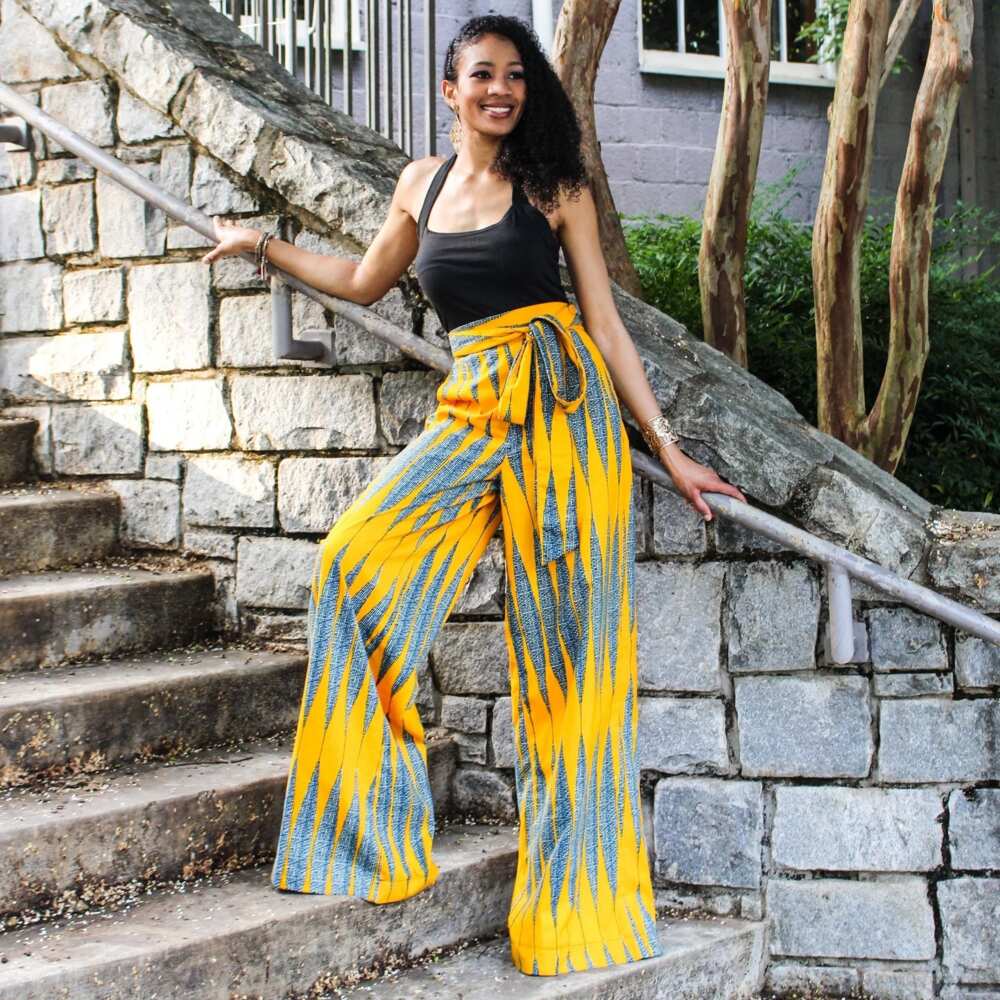 Trendy Ankara high waist trousers are as feminine and practical as possible in this season. Fashion gurus decided to avoid stunning experiments in 2018. The wide models are still in trend. Besides, culottes are popular with many fashionistas. Gradually flared trousers and breeches come into vogue. Moreover, trousers with various floral motifs and reptile prints are in fashion too.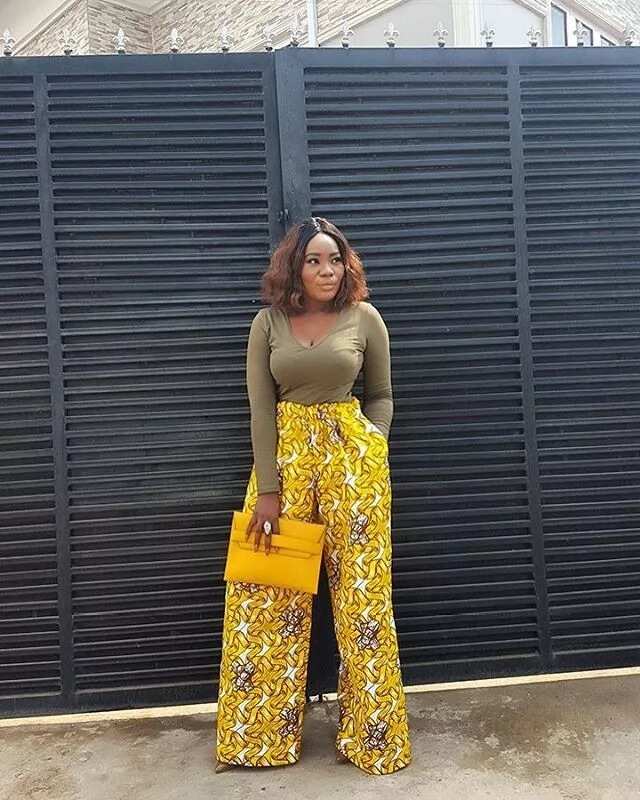 In addition to all this diversity, Nigerian designers offer their variations on the theme of total look and the bright combination of Ankara female trousers with a dress.
In this season the trendy colors for pants are all tones of yellow and golden gamma: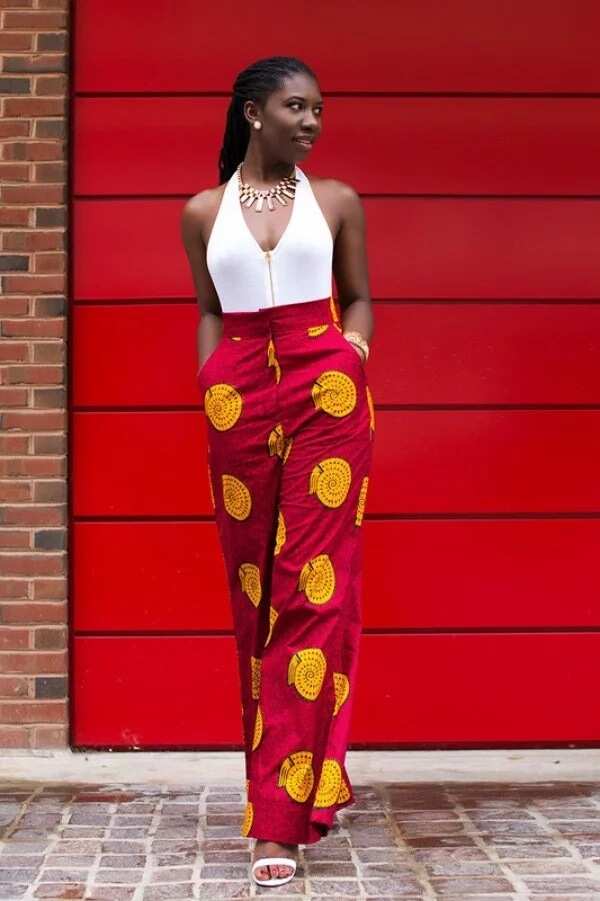 and also
Let's start our review with the classic options of Ankara trouser styles for ladies.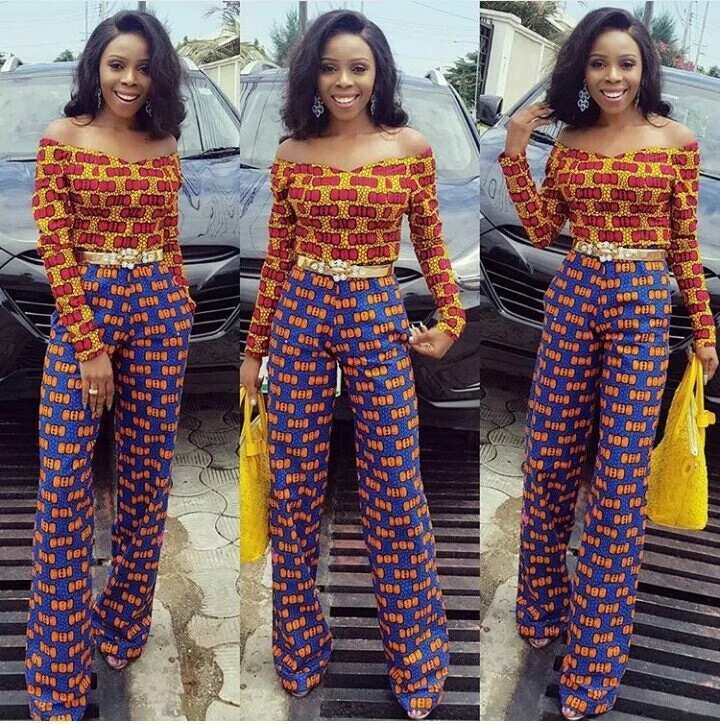 Classic Ankara high waist trouser
Despite the variety of strict skirts' designs, the basis of the woman's office wardrobe is the trousers with the classic tailoring. Thanks to the latest trends classic pants began to play with new colors. Now they are slightly shorter. Their length is slightly higher than the ankles. Due to the original methods of cutting, they began to look much more interesting.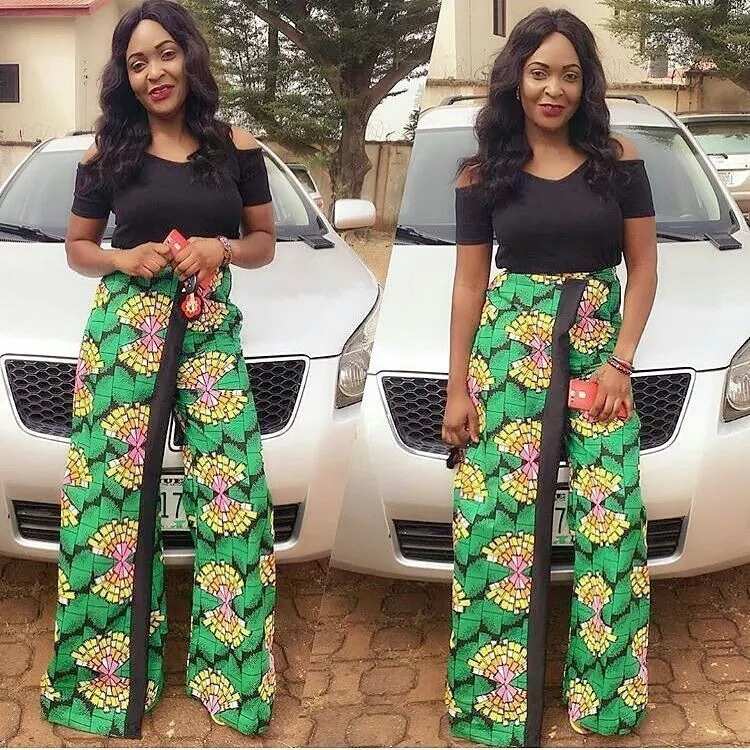 For example, classic trousers may have an asymmetric cut at the bottom or coquette and crease-wrinkles on the hips. Such design techniques bring the classic style to a free casual style.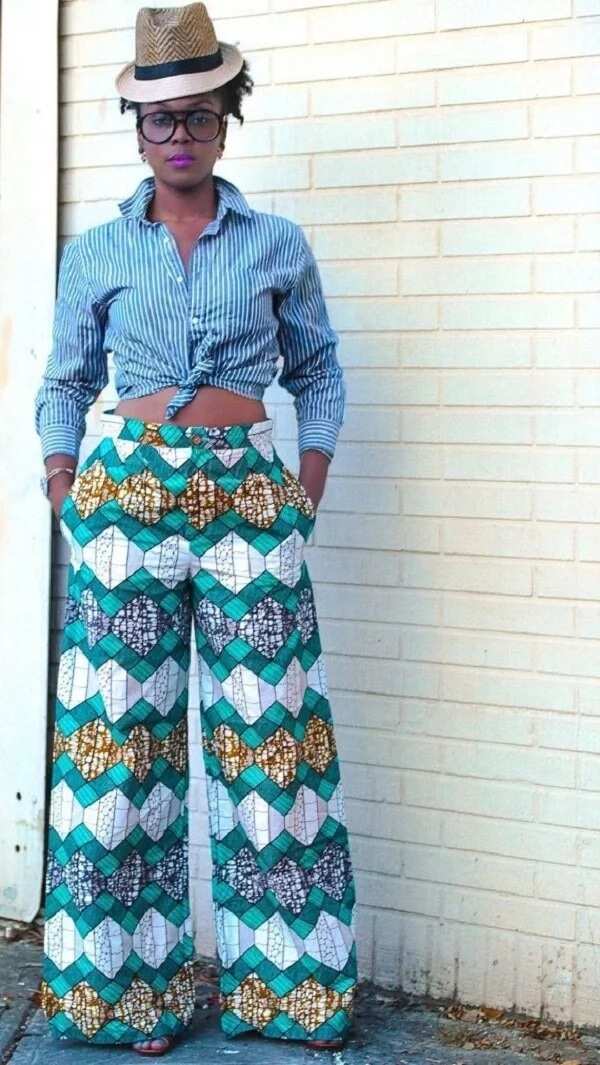 In 2018, we can see unusual for classic style colors:
powder pink
light blue
fuchsia
In this case, Ankara patterns for such models should be very delicate and gentle.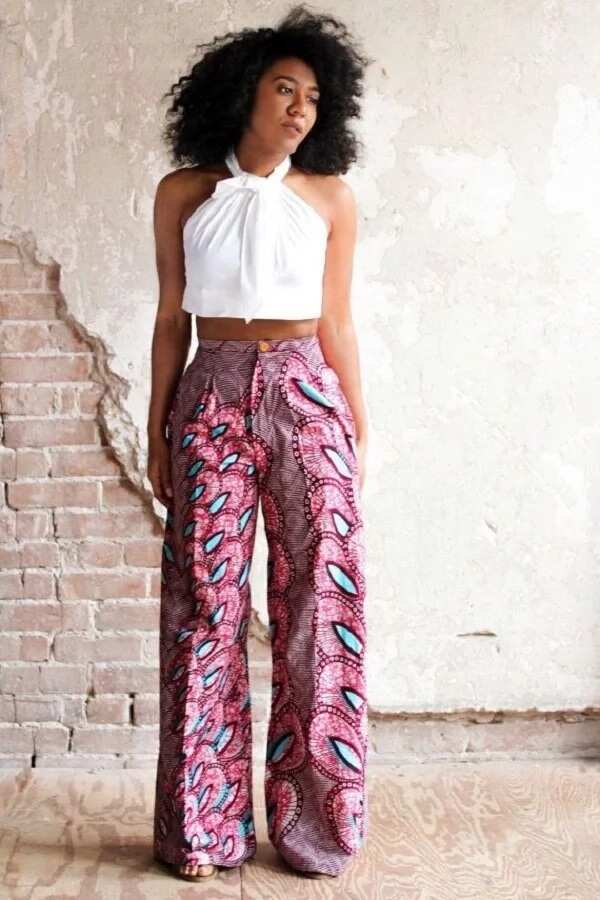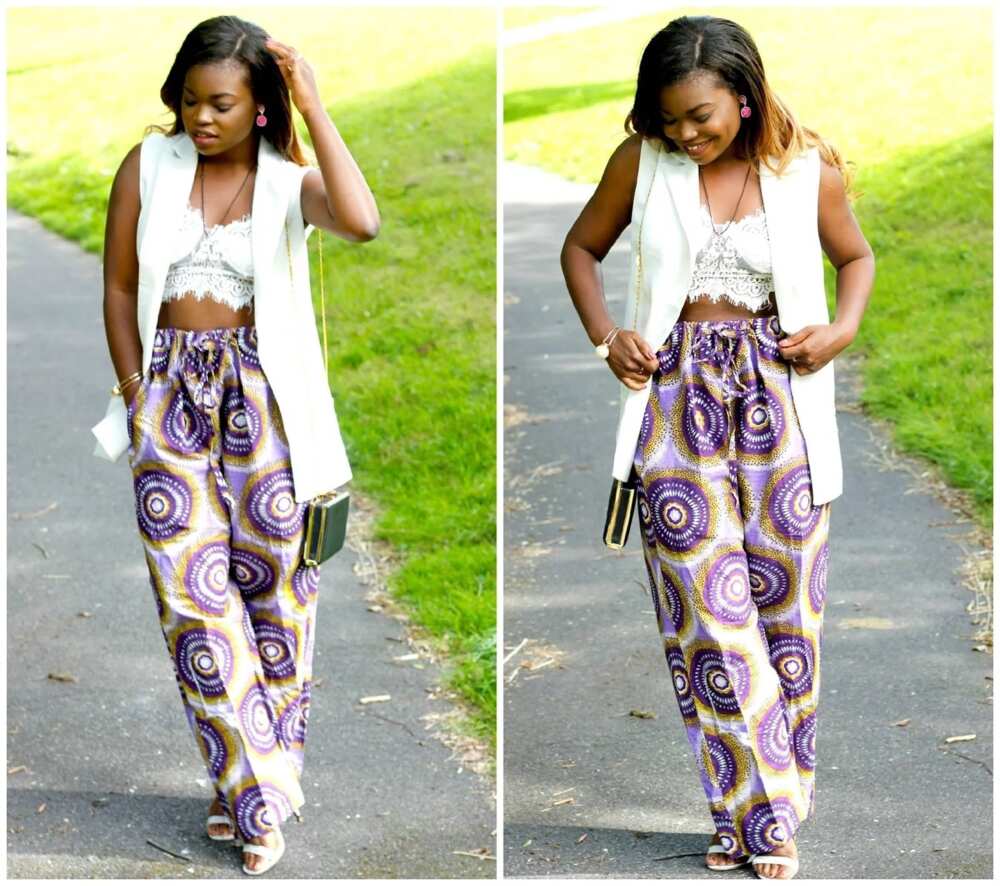 Wide Ankara high waist trousers
Undoubted hits of 2018 are wide trousers-pipe of maxi length and voluminous culottes. They are the most stylish versions of Ankara high waist trousers. Wide trousers-pipe should be very long and close the footwear.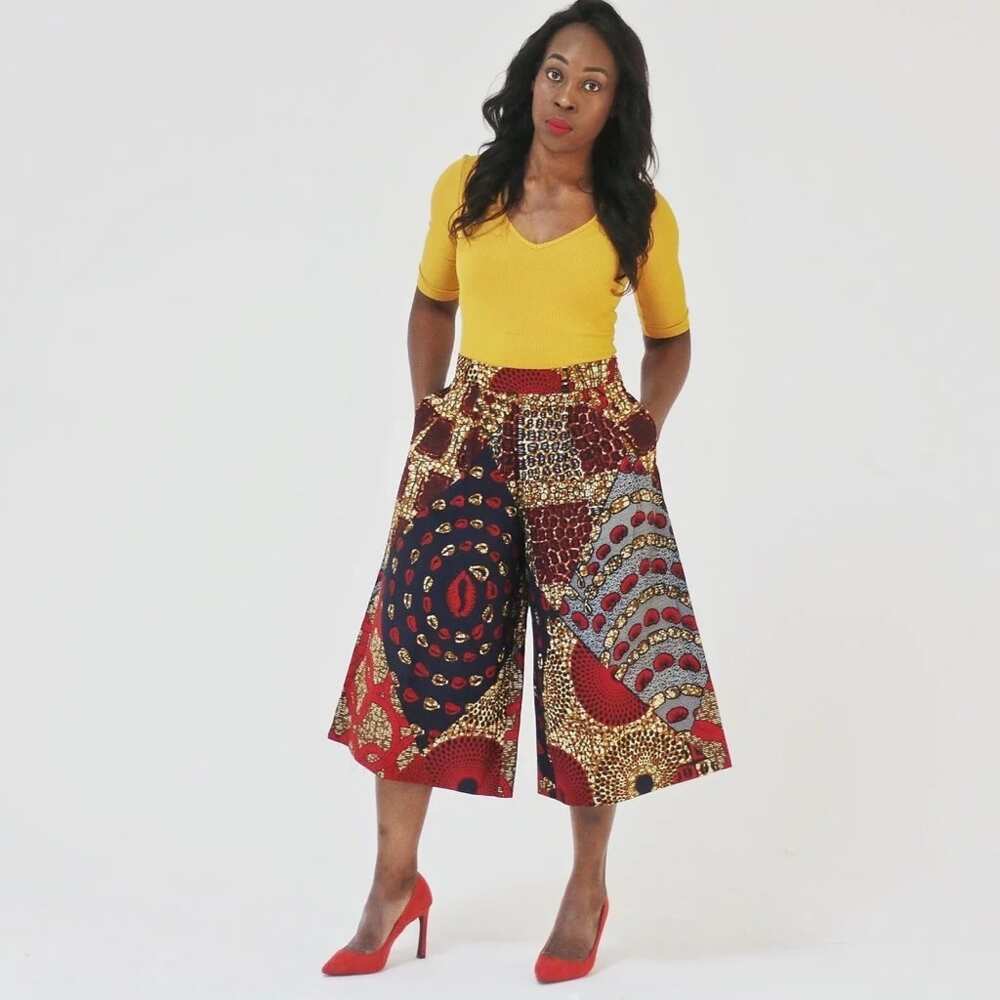 For the hot weather, you will not lose, if you pick up flared culottes. It's an ideal decision for the image in casual style. Some models are made with cuffs as they stay relevant this season too.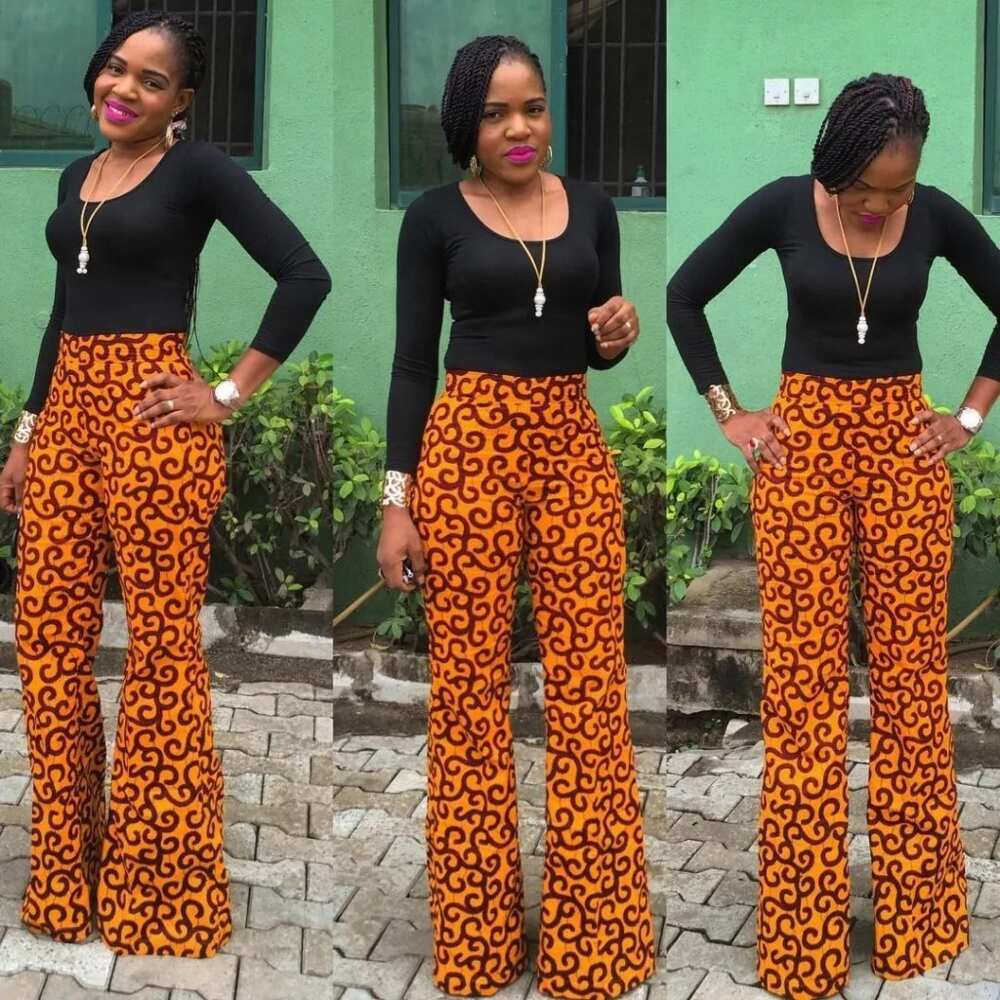 Flared Ankara high waist trousers
Flared pants, newly appeared on the fashion podiums a couple of years ago, didn't get wide distribution. But today they have some interesting details in their tailoring:
multilayer folds
chiffon inserts
lateral incisions (from the ankle to the knees)
READ ALSO: Ankara trouser and top styles for ladies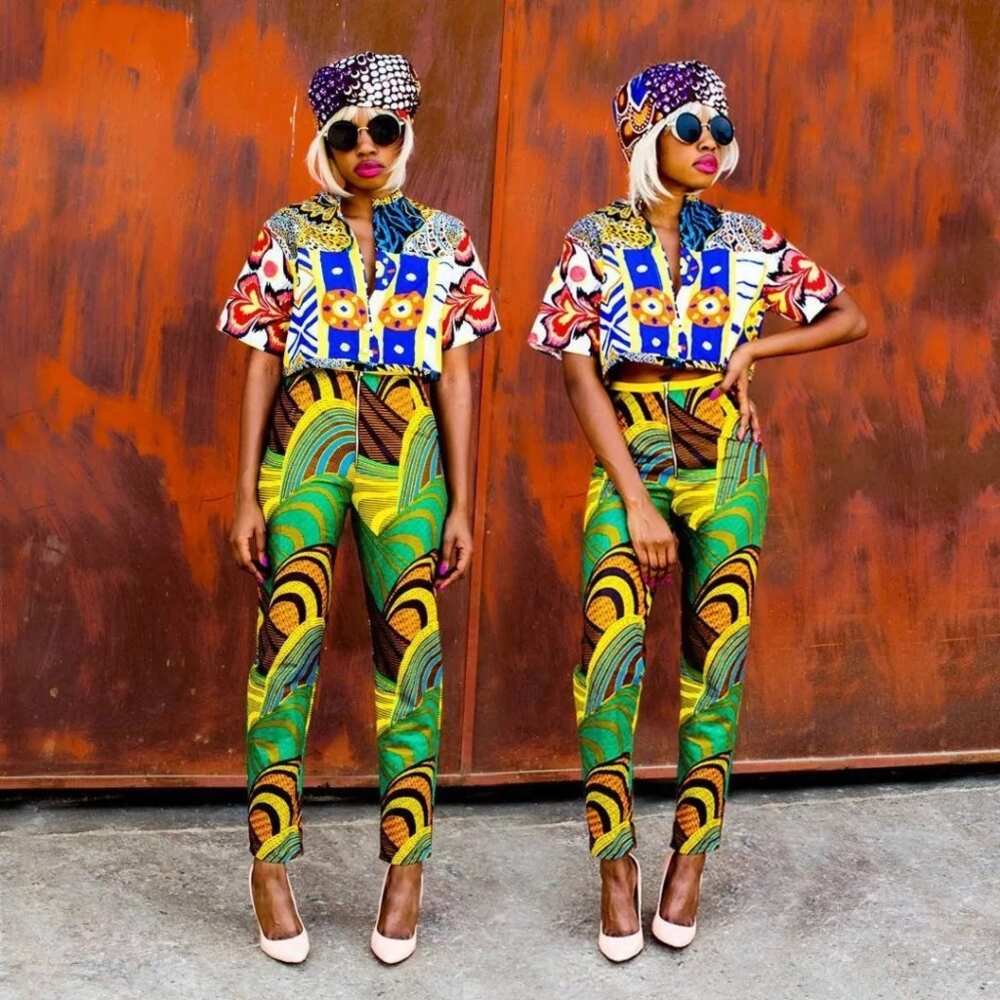 Ankara narrowed pants
The love of all street-style fans is a skinny fit. Bright, colorful narrowed pants are still on trend. Though the skinny slowly move into the male's fashion, following the trend towards gender neutrality.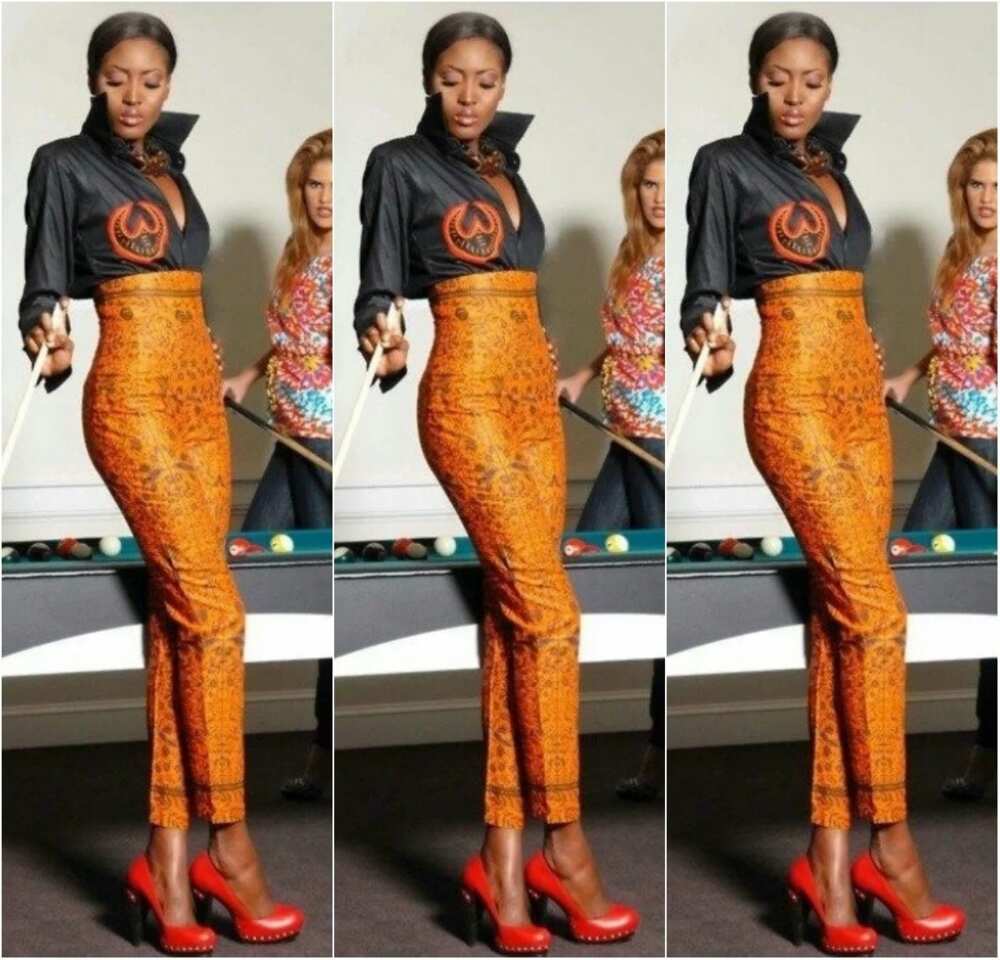 Ankara shortened trousers
One of the eternal trends is the pants with an open ankle. It's a vivid example of trends' moving from year to year. The length 7/8 is found in almost all styles from the skinny to sports and even retro models.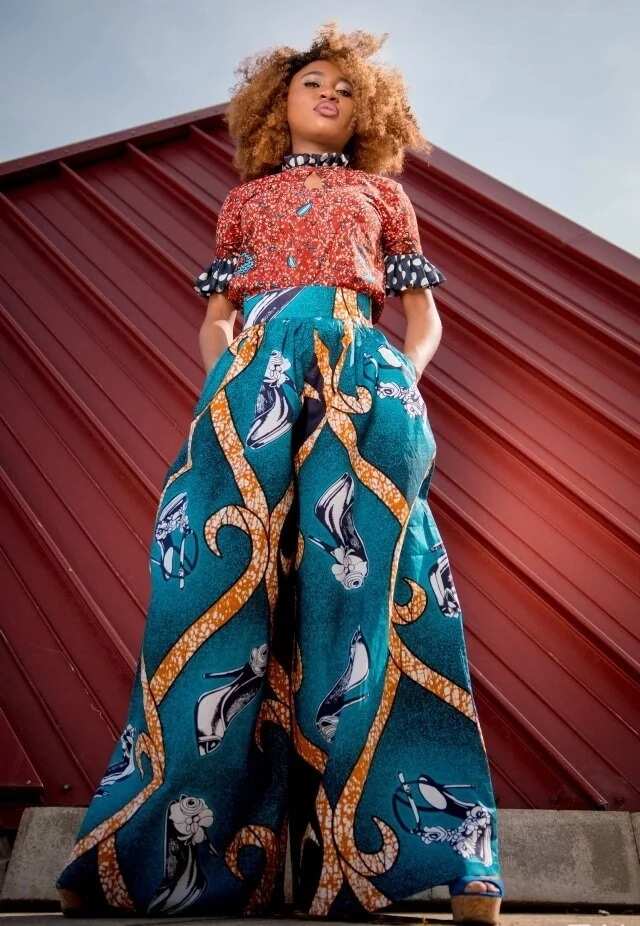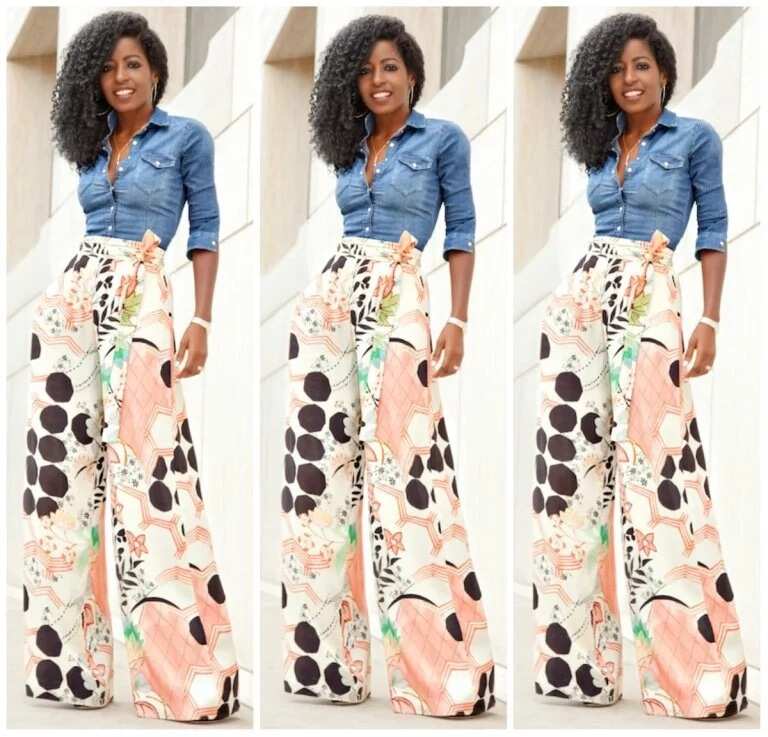 Palazzo trousers made with Ankara
Since the end of 2015, these wide and skirt-looking pants have gained popularity. And now they are on the crest of glory. Ankara palazzo trousers may have classic tailoring. Otherwise, they can be decorated with an abundance of folds, creases, and trims. The fashion critics predict that palazzo pants will be in vogue for at least a couple more seasons.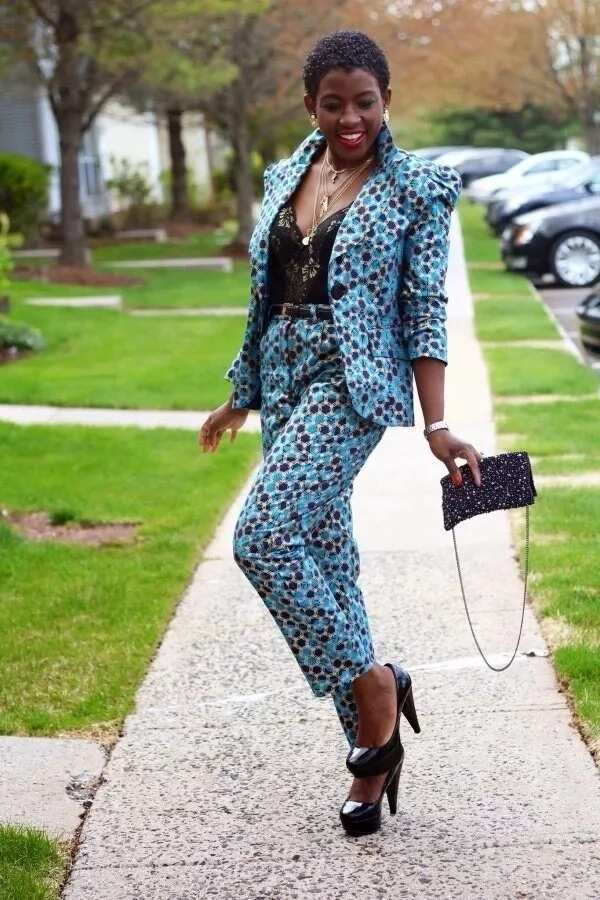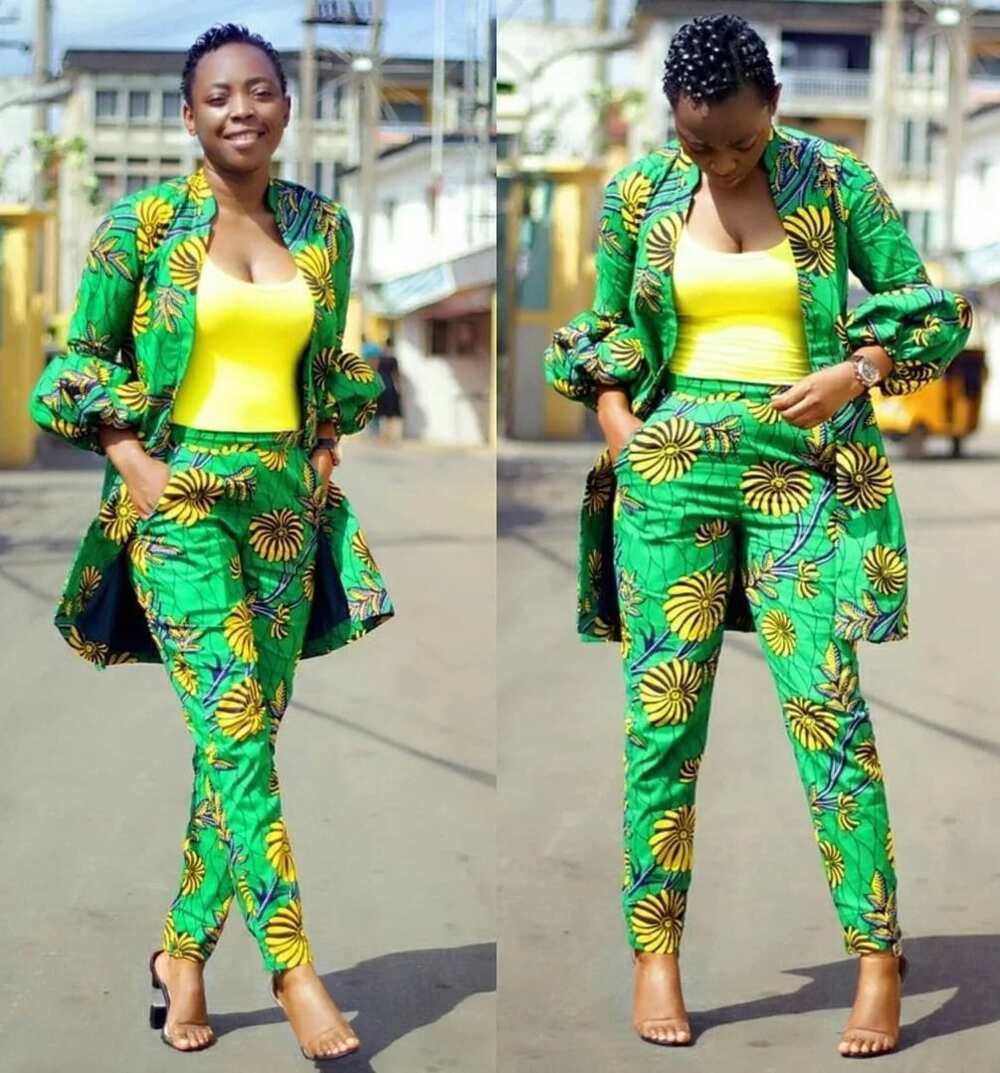 Ankara high waist trouser suits
The designers decided to break the stereotype of a boring business suit finally. Trouser suits in 2018 can have a bright Ankara floral or leopard print. The jacket is now not necessarily worn on a blouse or shirt. Ankara trouser suit can be worn with T-shirts and short tops. After all, the trouser suit has long ceased to be clothing exclusively for the office. High waist pants and Ankara crop top can make a bright image for the street style.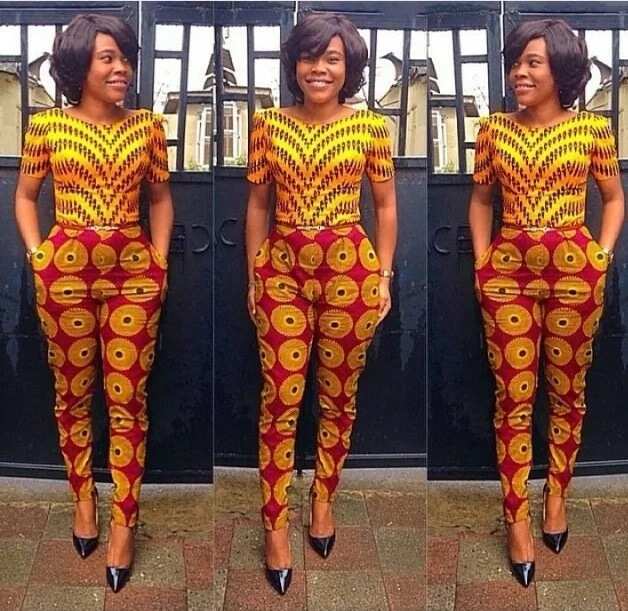 A combination of trousers and a jacket or tunic from different sets is also in fashion. The main thing is that pants and top must fit in style.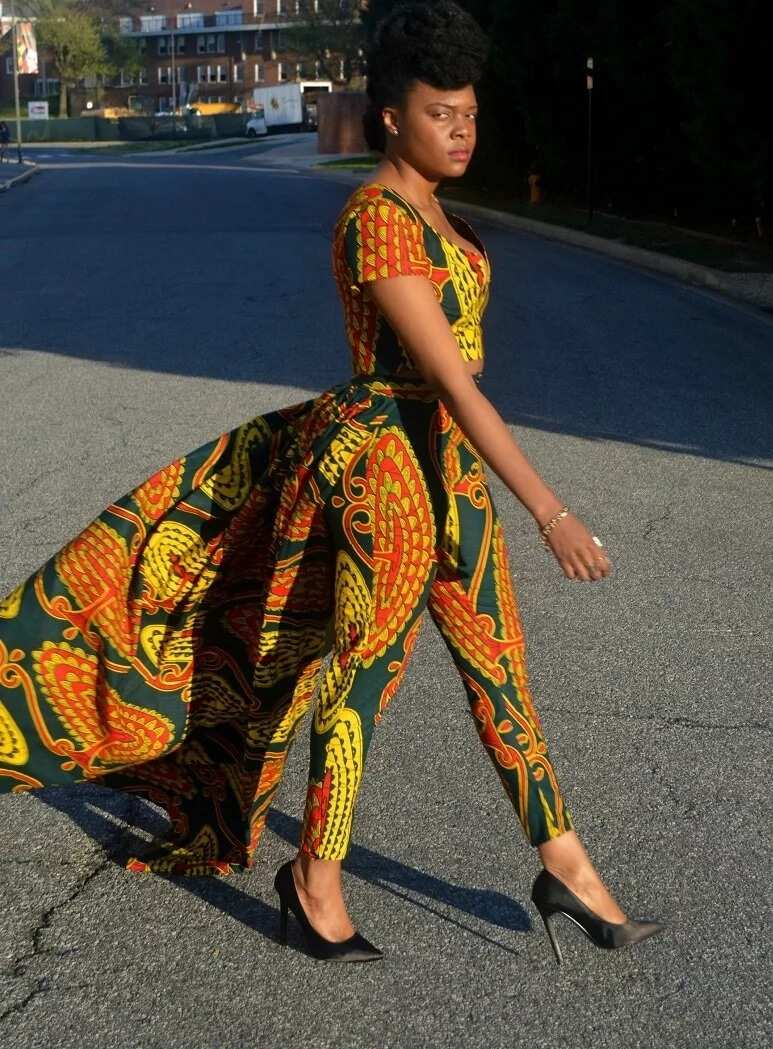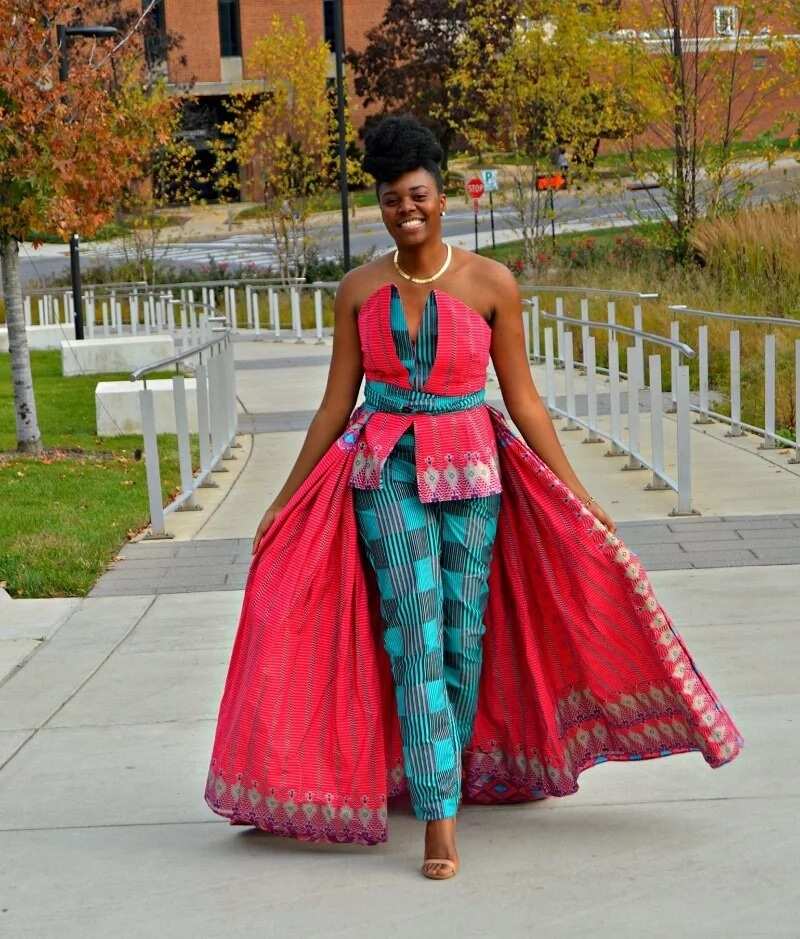 Ankara pants with a dress
Such unusual combination as Ankara pants and a dress is in trend this season. Choose a transparent dress from a light, weightless fabric. Chiffon, organza, gas - all these materials are used by designers to create fashion sets of dress and Ankara trousers. Also, such dress can be made from the same Ankara fabric as pants. But the color and pattern can differ.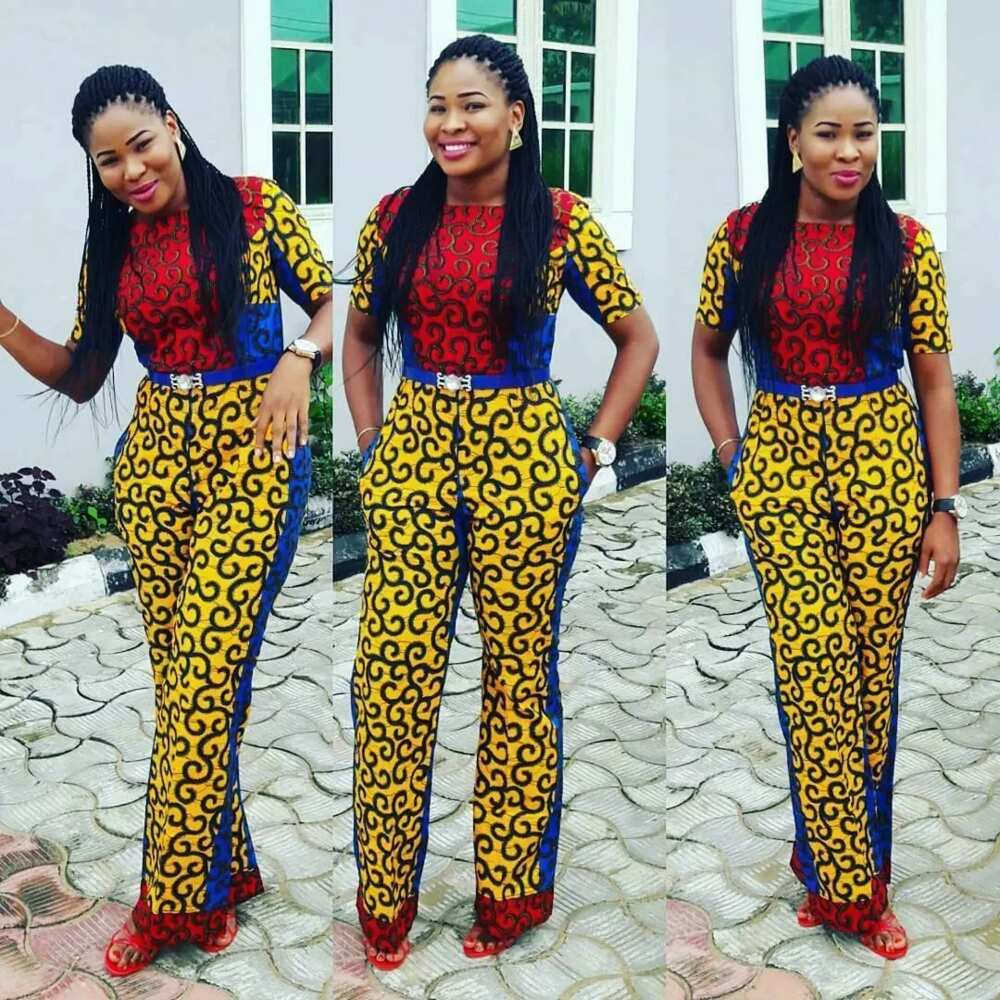 Ankara pants with trendy side stripes
The side stripes have been firmly in the top of fashion solutions for several years already. Each designer presented his or her version of trend pants with side stripes. A combination of classic tailoring and side stripes of another color looks perfect.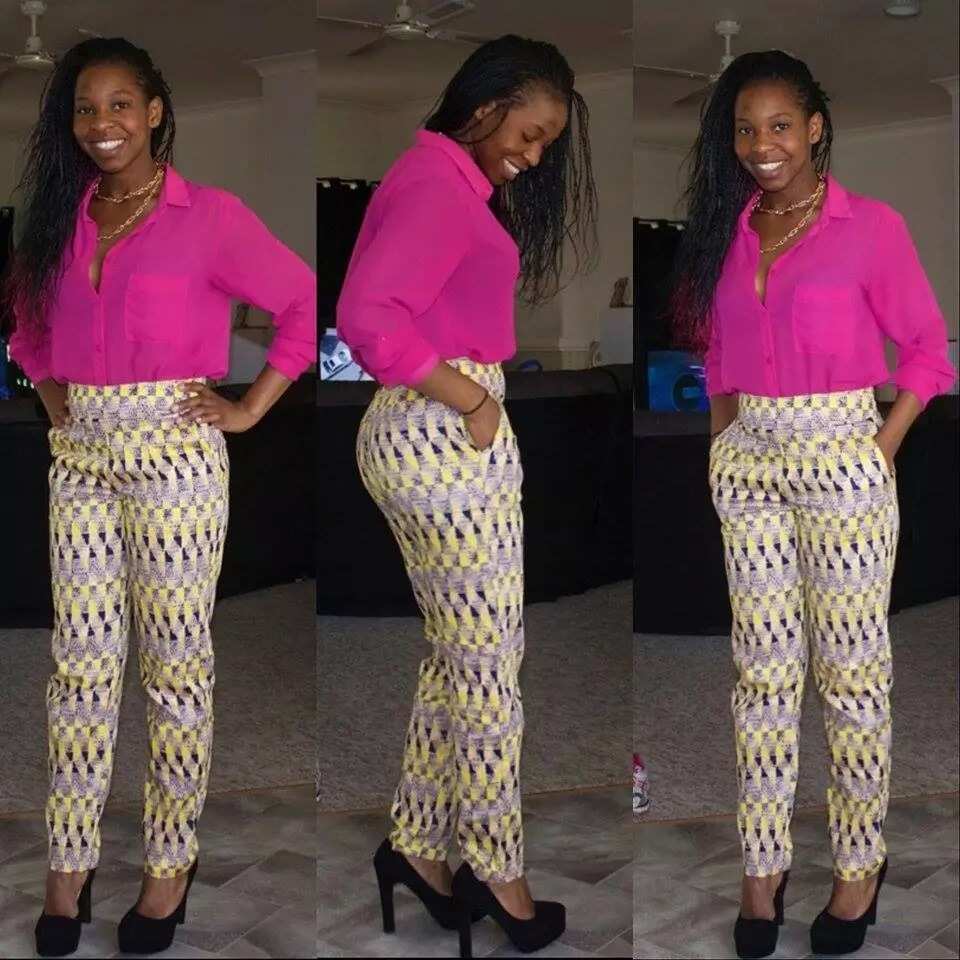 Ankara high waist trousers with a snake print
The top position among trendy prints is occupied by the snake pattern. The other 'reptiles' are also in fashion. The snake print's colors can both coincide with the natural reptile colors and sharply differ.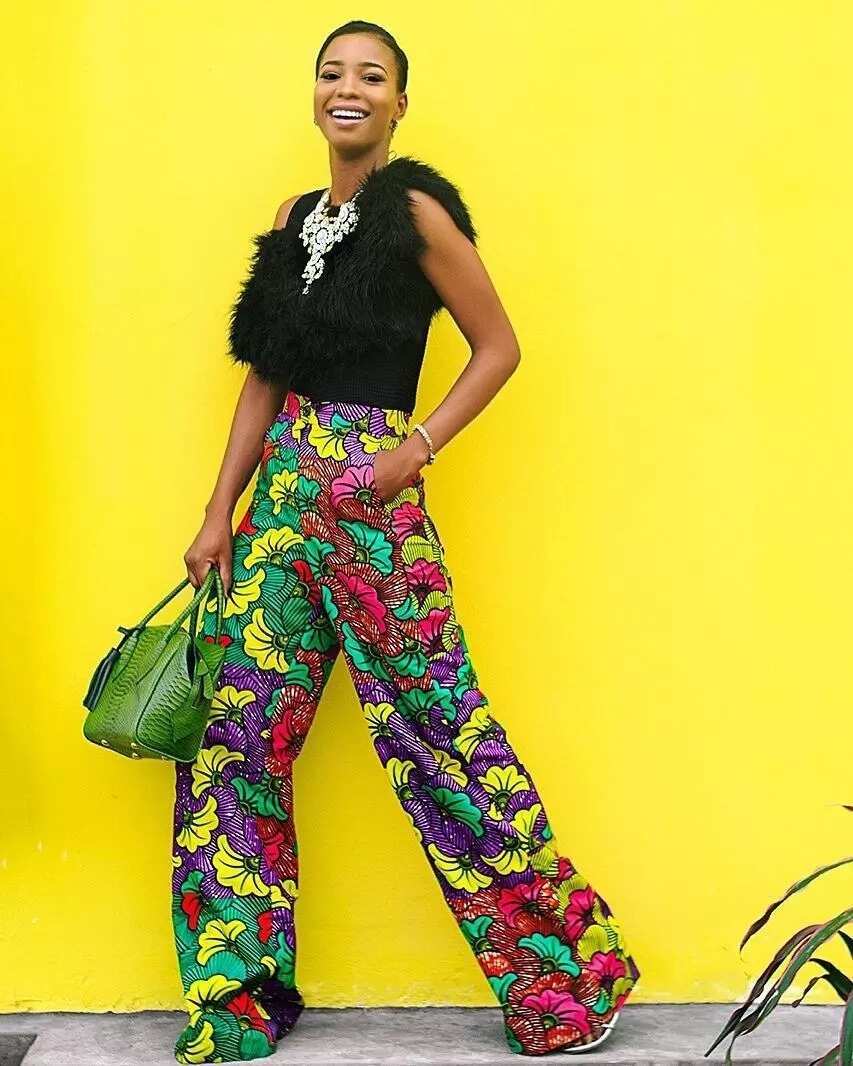 Ankara pants with a floral print
Ankara fabrics have a huge variety of floral prints and patterns for making trendy pants with floral motifs. The flowers can be for every taste - large, small, bright or pastel. The trousers' tailoring with a floral print can be different. Skinny, classic trousers, flared pants and culottes can allow the patterns of flowers.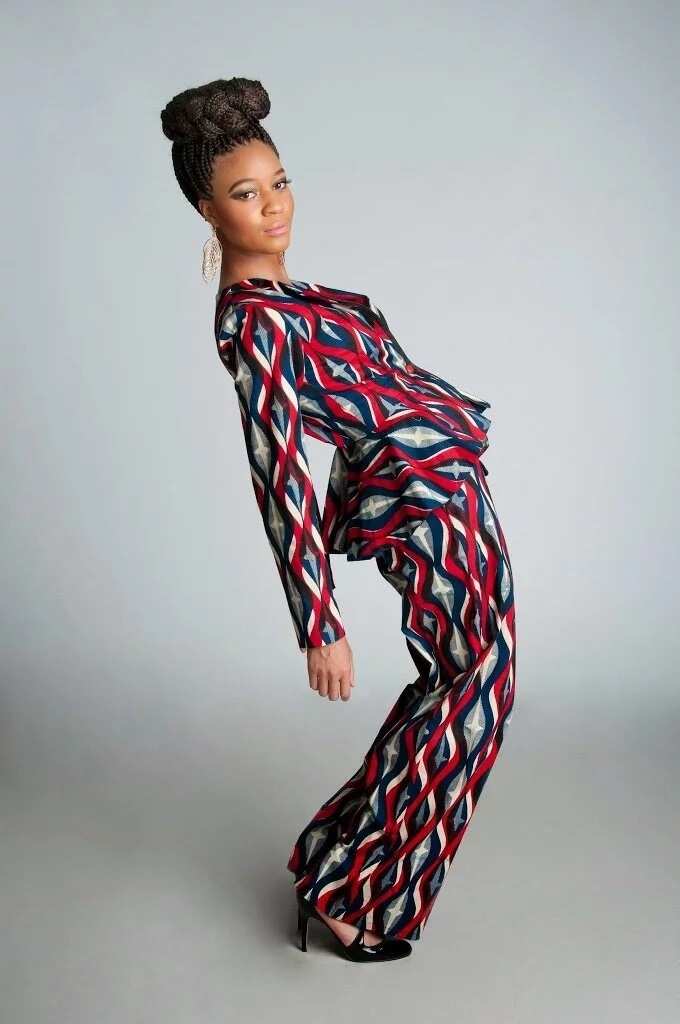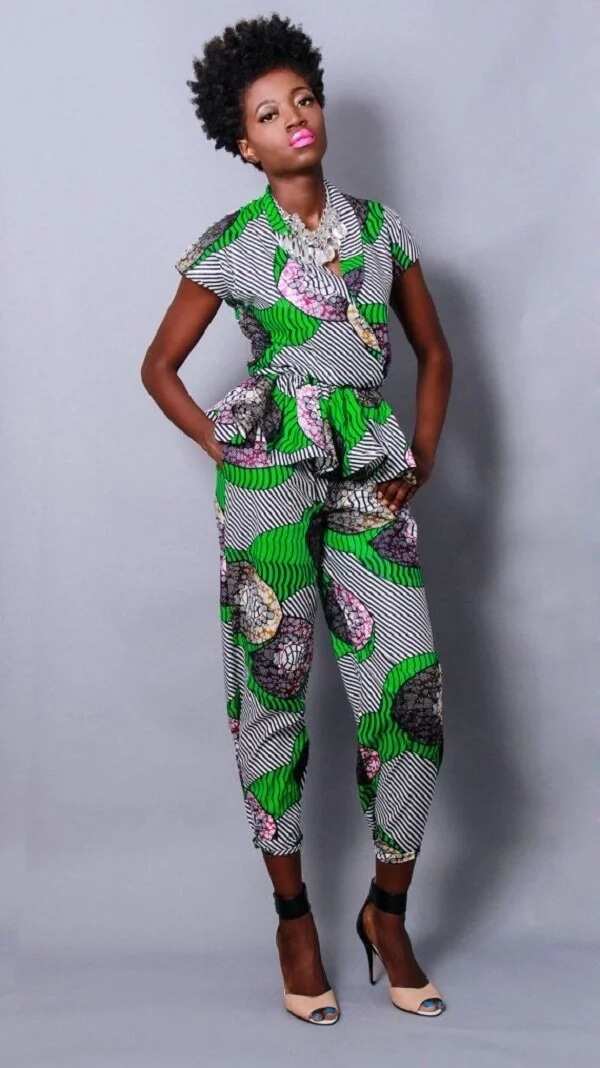 Total look in Ankara style
Trendy image of the same color palette is gaining momentum. The total look style is named 'full harmony.' It continues to lead the trends 2018. Almost every designer has picked up the top and trousers exactly coinciding both in color and texture. Nigerian fashionistas create beautiful total looks combining Ankara high waist trousers with Ankara: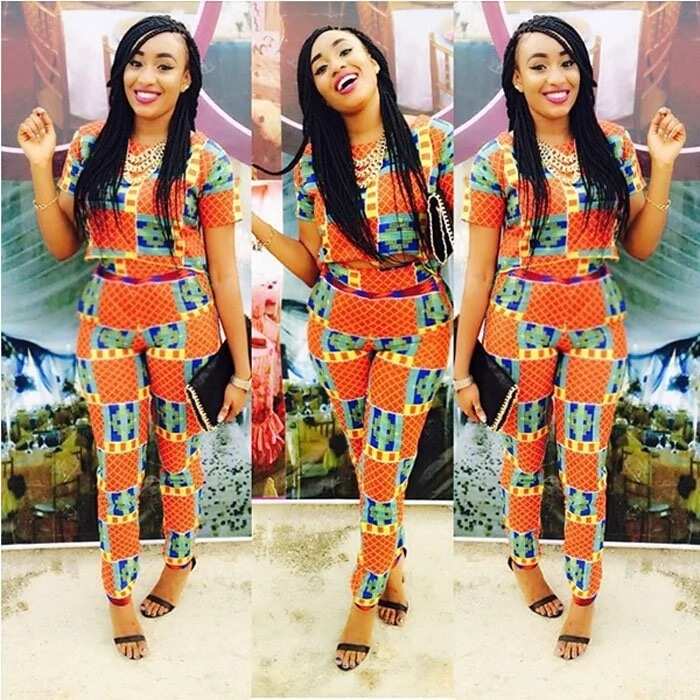 As you see, choosing trendy Ankara trouser styles does not make any problems. In season 2018, there is a place for a variety of Ankara high waist pants. If you like classic models, choose wide trousers to the floor or flared culottes of light colors with delicate patterns. And if you prefer bright clothing, pay attention to non-standard models with bright floral motifs or a reptile print.
READ ALSO: Ankara trouser and top styles for men
Source: Legit.ng