- Former Chelsea striker, Diego Costa, have talked about his troubles with Antonio Conte at length
- He added that he wants Antoine Griezmann to stay with Atletico
- Costa also said that Dybala is welcome to Atletico Madric since he is a good player
Former Chelsea striker, Diego Costa, has revealed chilling details of his 'fight' with his former manager Antonio Conte and why he had to go on an self imposed exile to Brazil.
Speaking about the incident, Costa said: "It is very clear that it was not my fault that I was in Brazil. We all know what happened there but I'm back now and I want to do my best.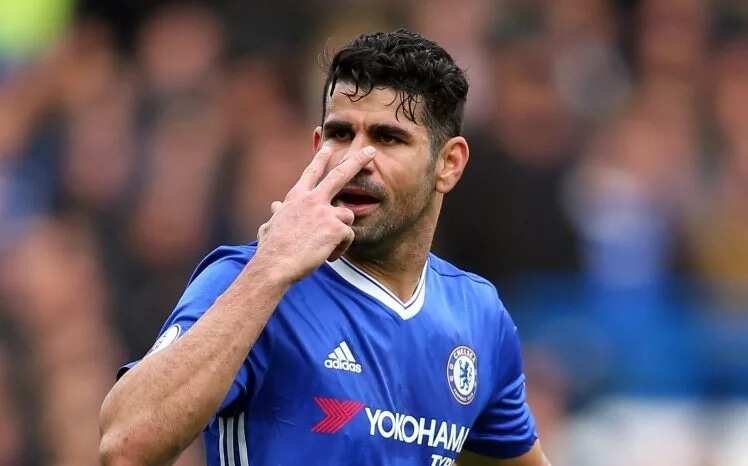 "The coach (Julen Lopetegui) was always very clear with me that if I was not playing then it would be impossible for me to be called up. But he also said that if I was playing well then the door would be open to me and I'm grateful to him for that."
READ ALSO: Benfica offer £35m asking price for Arsenal target Dias Read
Speaking about his replacement, Alvaro Morata, Costa said: "I miss Morata because we get on well. Competition is always good. Morata has been having a bad time there but he is back now scoring goals and I hope he comes back with us and we can play together."
When asked about his club team-mate Antoine Griezmann and the speculations linking him to Barcelona in the summer, Costa added: "Griezmann is still with us and I hope that he stays.
"He still hasn't told me if he's going but he knows how important he is for the club. I can't interfere with his decision I will be happy if he stays but everyone has to do what they think is right for them. He has to do what is best but I think the best for him is to stay."
Asked about the possibility of Juventus' Pablo Dybala replacing Griezmann at Atletico he added: "I don't know anything about it. He's a great player and he's in a great team. We want the great players here."
Costa also joked that Griezmann would be letting him down if he left Atletico now. He added: "He was always calling me to come and join him so he can't leave me now."
When he faces Germany and Argentina over the next week, Costa will line-up alongside his archenemy in La Liga, Sergio Ramos.
PAY ATTENTION: Like our Facebook sports page to stay in touch with latest sports news
He said: "He wants to win and so do I. If we have to fight when we are playing for our clubs then we will do, but here with Spain we fight together.
"These games are important for me because I'm still not in Russia. I have to do well in those two games to make the squad. It's true when I first joined the squad things were not working out for me. But now I'm adapting to the Spain team well."
Legit.ng previously reported that former Chelsea attacker Diego Costa has been named Atletico Madrid player of the month for January.
The Spanish midfielder has been in terrific form for Los Colchoneros since making his second debut and have scored an amazing three goals in five appearances in all competition for Atletico.
Who is the better coach, Mourinho or Conte? - on Legit.ng TV