Pregnancy is a very important stage in the life of every woman. In anticipation of the baby, the body is subject to significant changes: the abdomen and chest grow, excess centimeters may appear in thighs zone. But do not despair. Designers are constantly working to create stylish collections for pregnant women. Modern fashion offers a large assortment of Nigerian traditional maternity dresses that hide all the shortcomings, make you look elegant, beautiful and unique.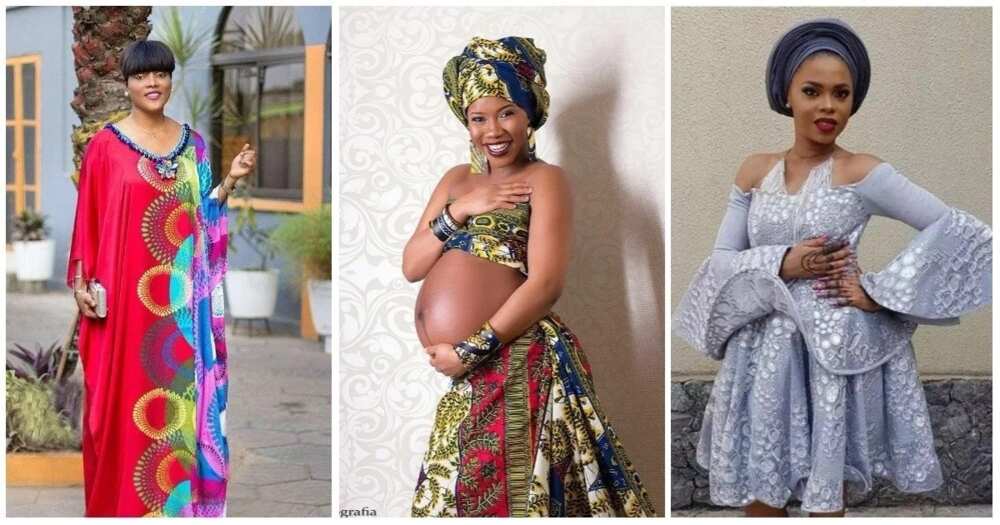 Features of Nigerian native maternity wears
Dresses for pregnant women can have different styles but all the outfits are comfortable and do not hamper movements.
Clothes for future moms have a number of distinctive features:
Nigerian traditional maternity wear sits perfectly on the figure as designers take into account not only the protruding abdomen and enlarged chest but also changes of the hips, shoulders, etc.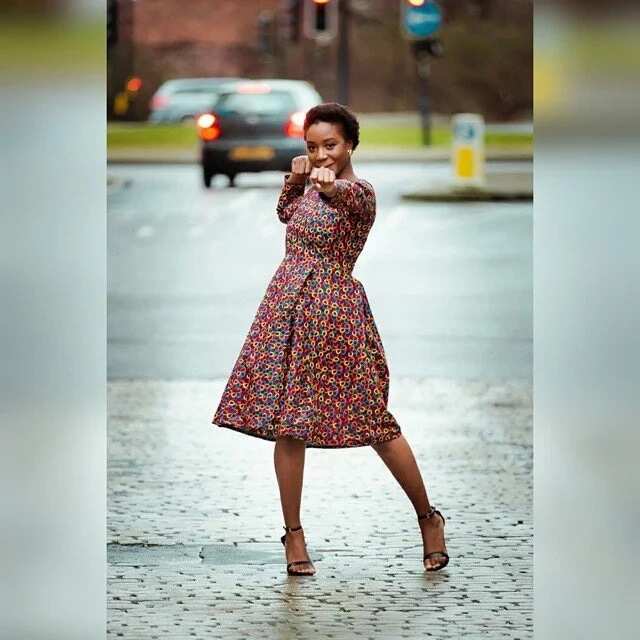 Maternity gown style is safe. It does not interfere with free breathing and blood flow. Ladies could adjust the size of the waist. Thus, nothing prevents the normal development of the baby.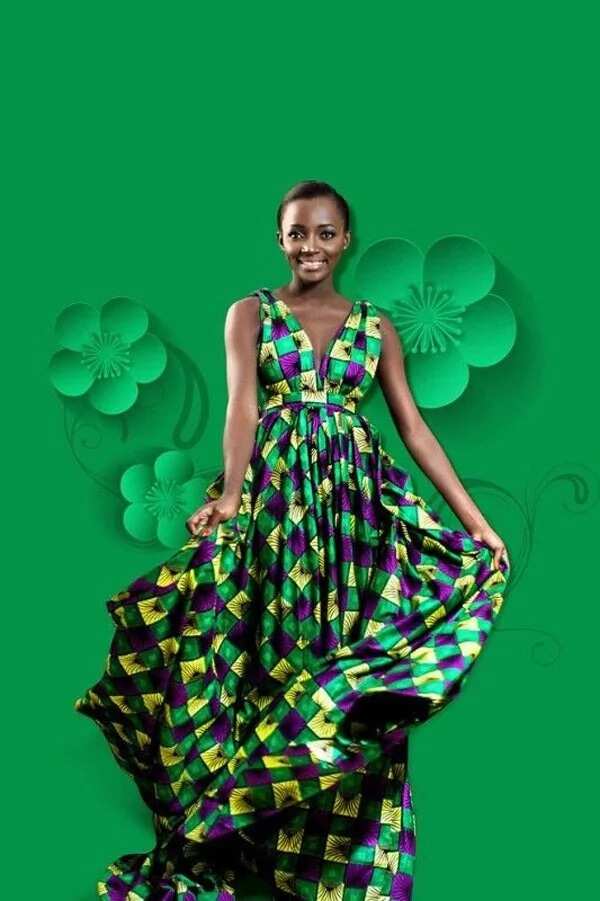 Quality dresses are made only from natural fabrics so as not to provoke allergic reactions. Proper air circulation is ensured.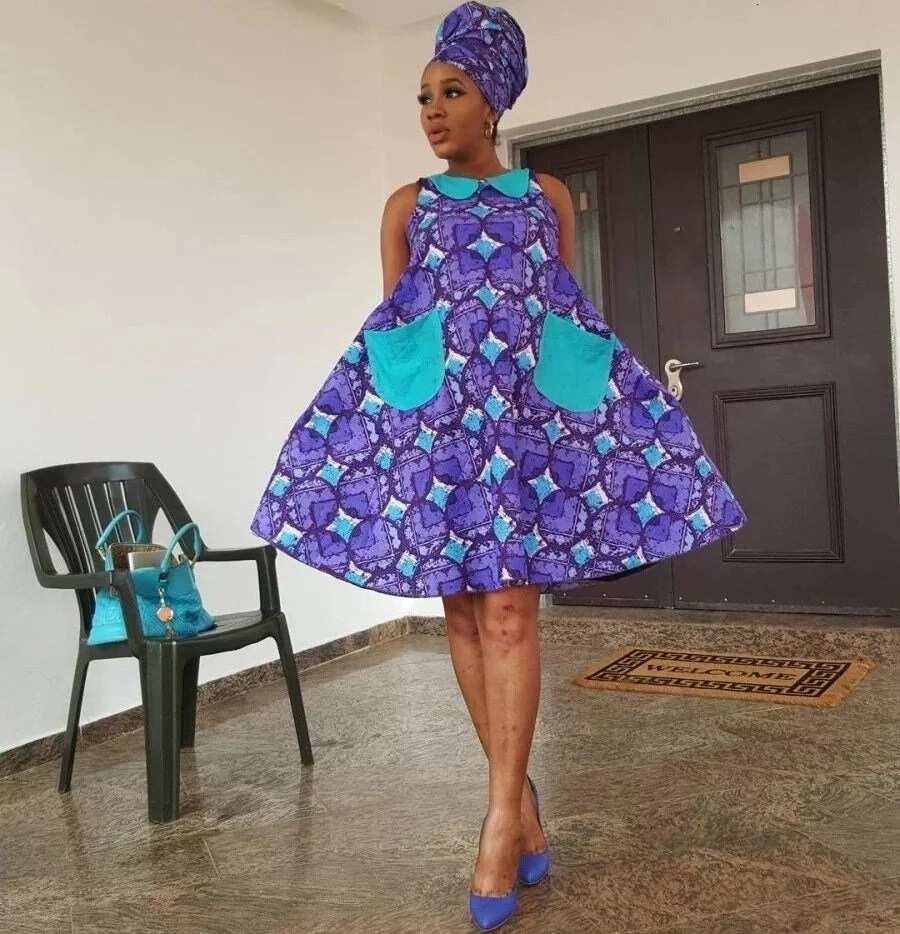 Also, a successful combination of colors helps to hide the rounded belly. A dress can be decorated with a bright floral pattern, ethnic motifs, and prints on the theme of abstraction or geometry to visually divert attention from the waist zone.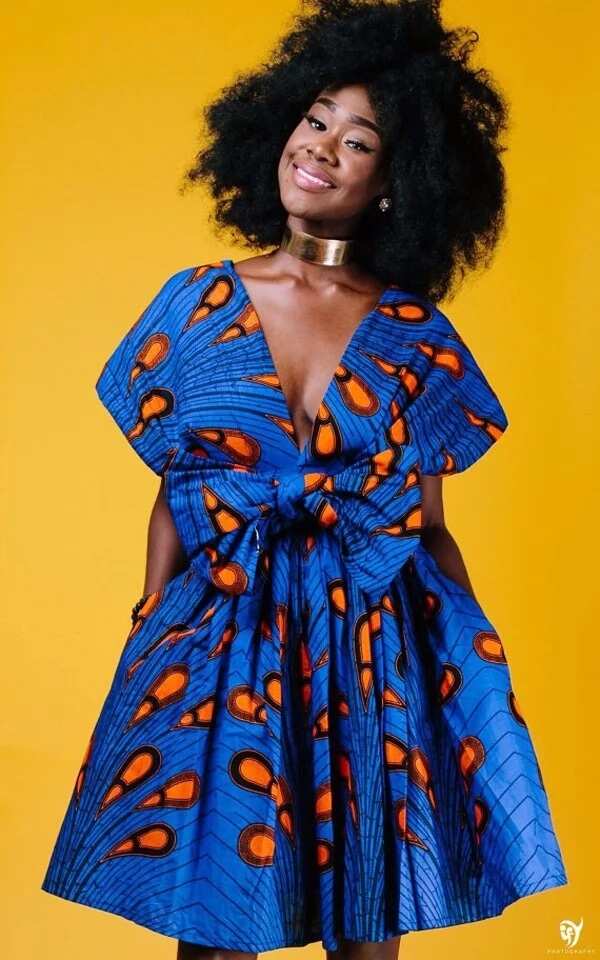 Gowns for pregnant women can come in handy during the first months until the body recovers. Some of them are an excellent option for feeding the baby after birth.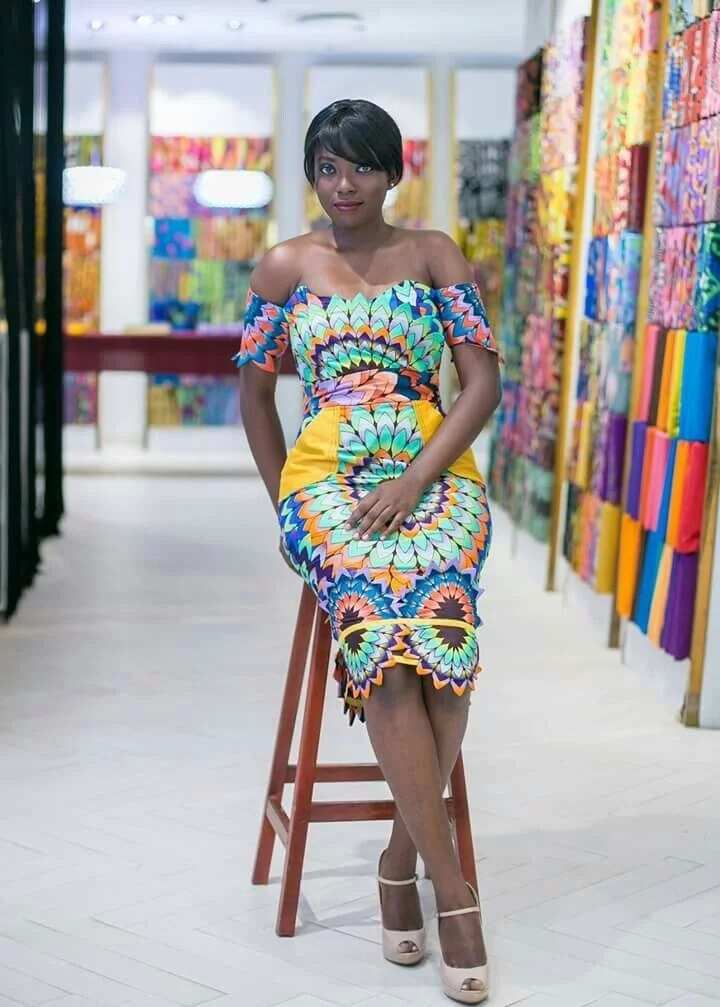 Top styles for future moms
When buying a dress, a pregnant woman definitely should wear it to be sure of its convenience of the chosen model. Remember that the belly will gradually grow, so the cloth should lie neatly on the figure but not tighten too much so as not to cause discomfort.
Among the wide variety of styles of dresses for pregnant women the most popular are:
A-shaped dresses with a length above the knee. They look simple enough, but a bright, interesting print of maternity gowns made with ankara will help to add originality to such a model. A monophonic dress in the form of a trapeze perfectly conceals the shortcomings of the figure and creates an elegant image that can be supplemented with stylish accessories.
READ ALSO: Funke Akindele latest ankara styles
Dresses with an overstated waist can be worn on any month of pregnancy. This outfit will perfectly emphasize the lush decollete.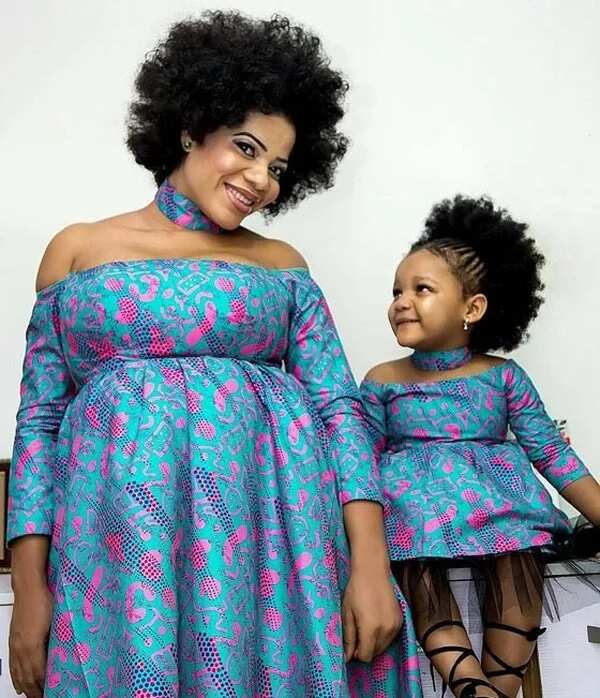 Maternity Aso Ebi styles are suitable not only for everyday use. They also can be worn at parties or celebrations.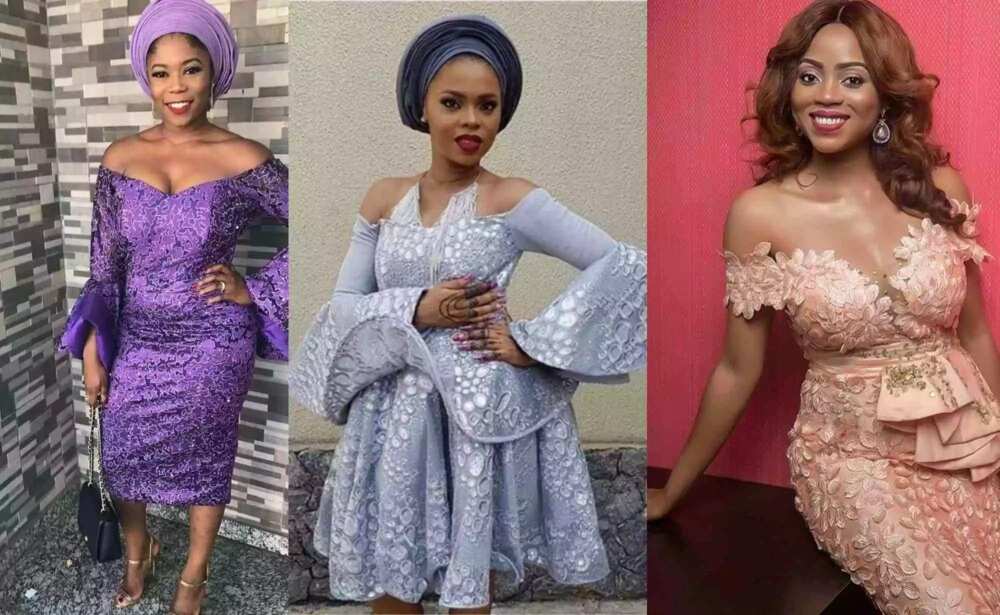 Designers often use lace styles for pregnant ladies to make women look luxurious and elegant. Soft fabric provides the necessary comfort, does not constrain movements and is perfectly stretched, so these dresses can be worn during last months.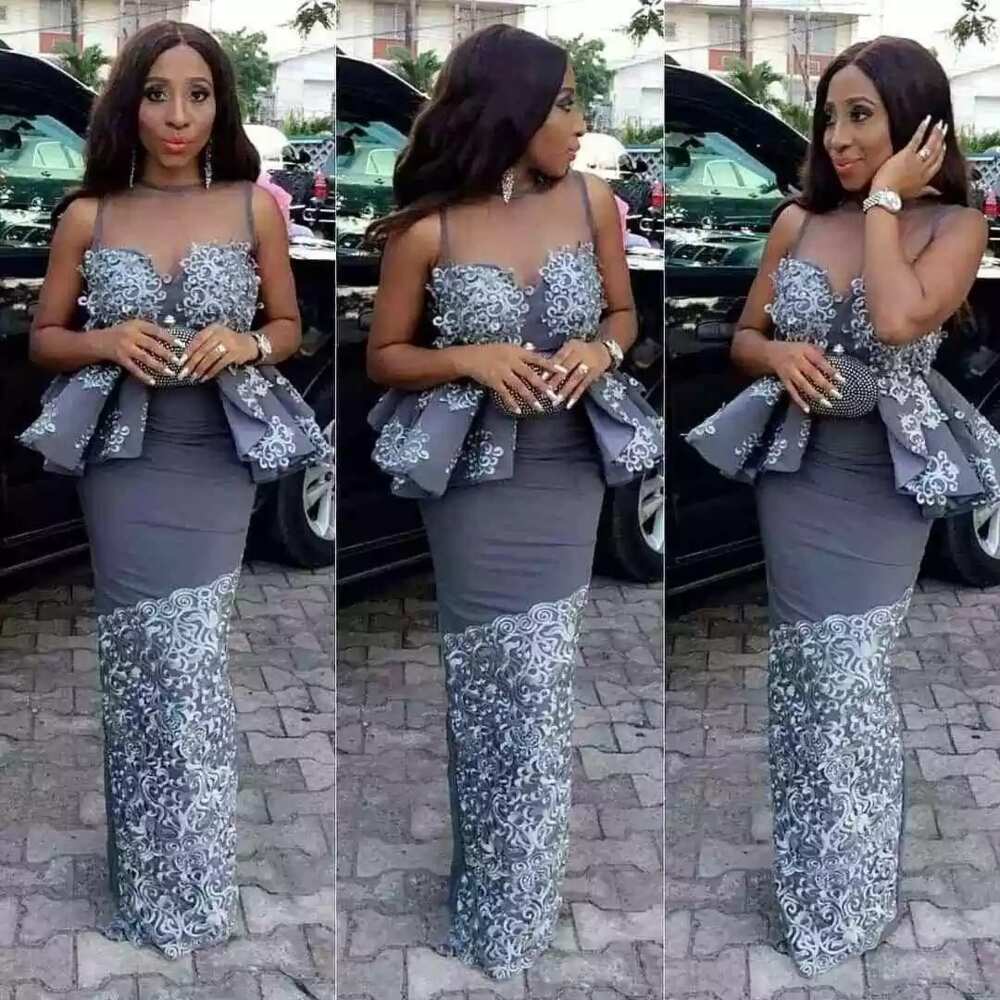 Many pregnant women prefer dresses which have no fixed waist. BouBou styles are characterized by free cut, can be long or short. Despite the fact that during 9 months the belly will constantly grow, you will not feel any discomfort and will be able to wear the same favorite dress.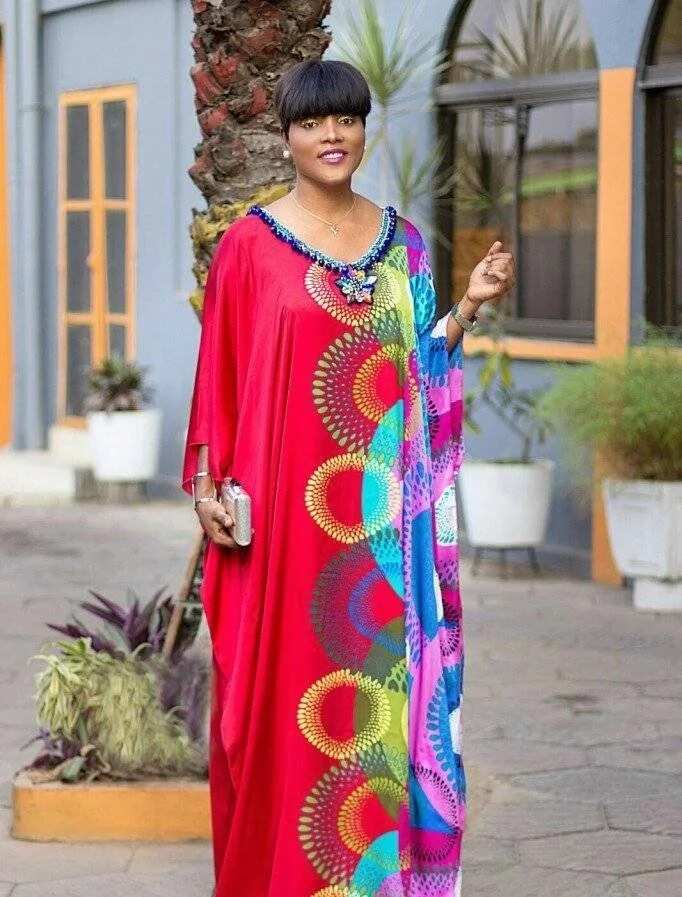 Kaftan is an attire with free cut chosen very often by pregnant Nigerian ladies. Despite the fact that initially this style was used exclusively by men, pregnant ladies decided to take advantage of all its benefits. Designers offer a wide variety of interesting Kaftan styles from which you will certainly choose the one that suits you.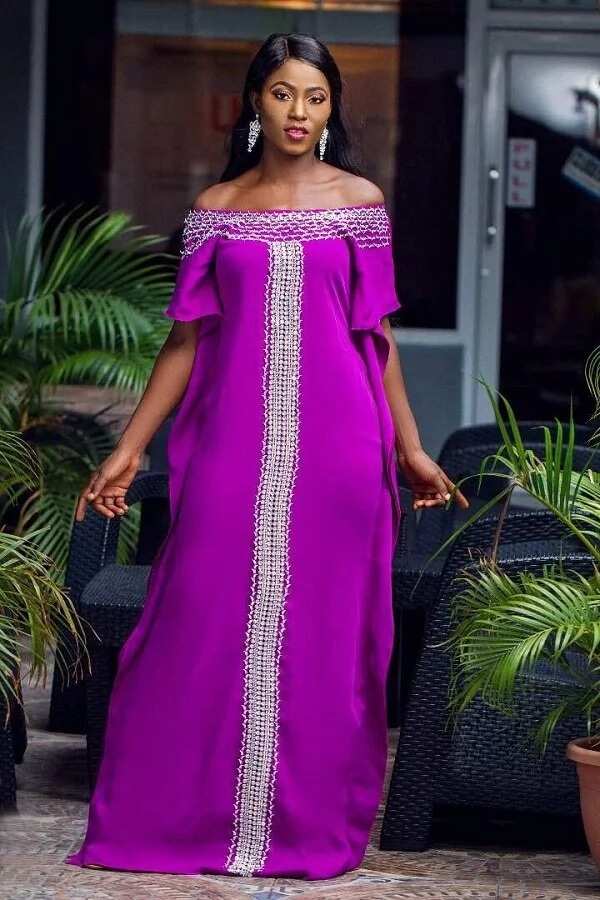 Agbada style also was borrowed from men's fashion. But this does not prevent it from looking beautiful on charming future moms. In particular, this outfit was worn by Tiwa Savage depicted in the photo below. Despite the simple cut, this is a very elegant outfit. Usually, fabrics of neutral colors are used which can be adorned with bright embroidery and other design elements.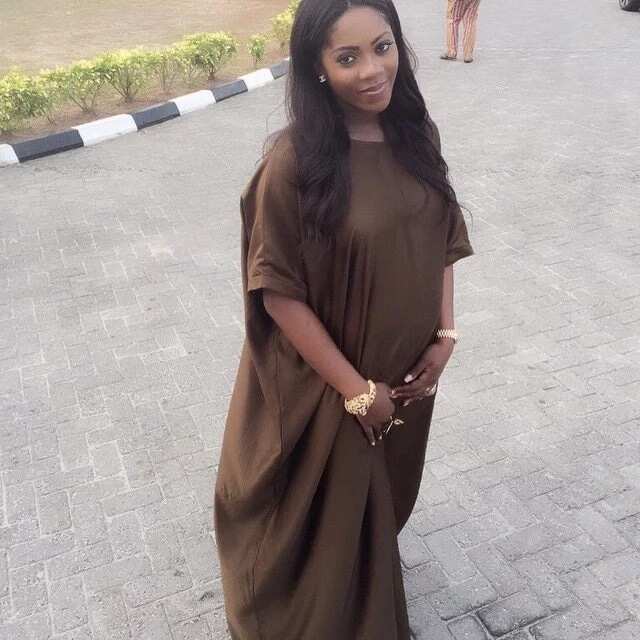 Danshiki style is the perfect choice for interesting personalities who want to please themselves with vivid colorful patterns.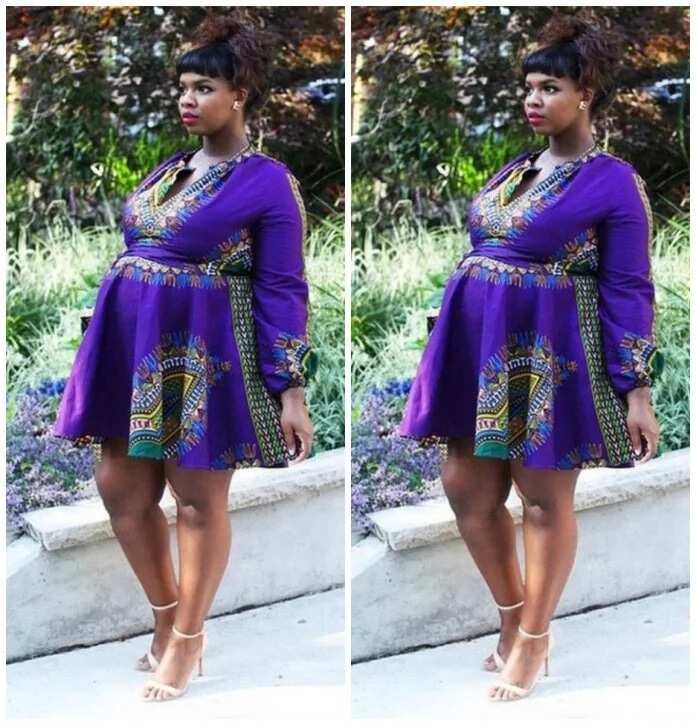 Shirt-dresses are characterized by loose style but with the help of an elegant belt, you can create a luxurious silhouette. Designers offer interesting models, for example, with an asymmetrical hem or vivid ornaments.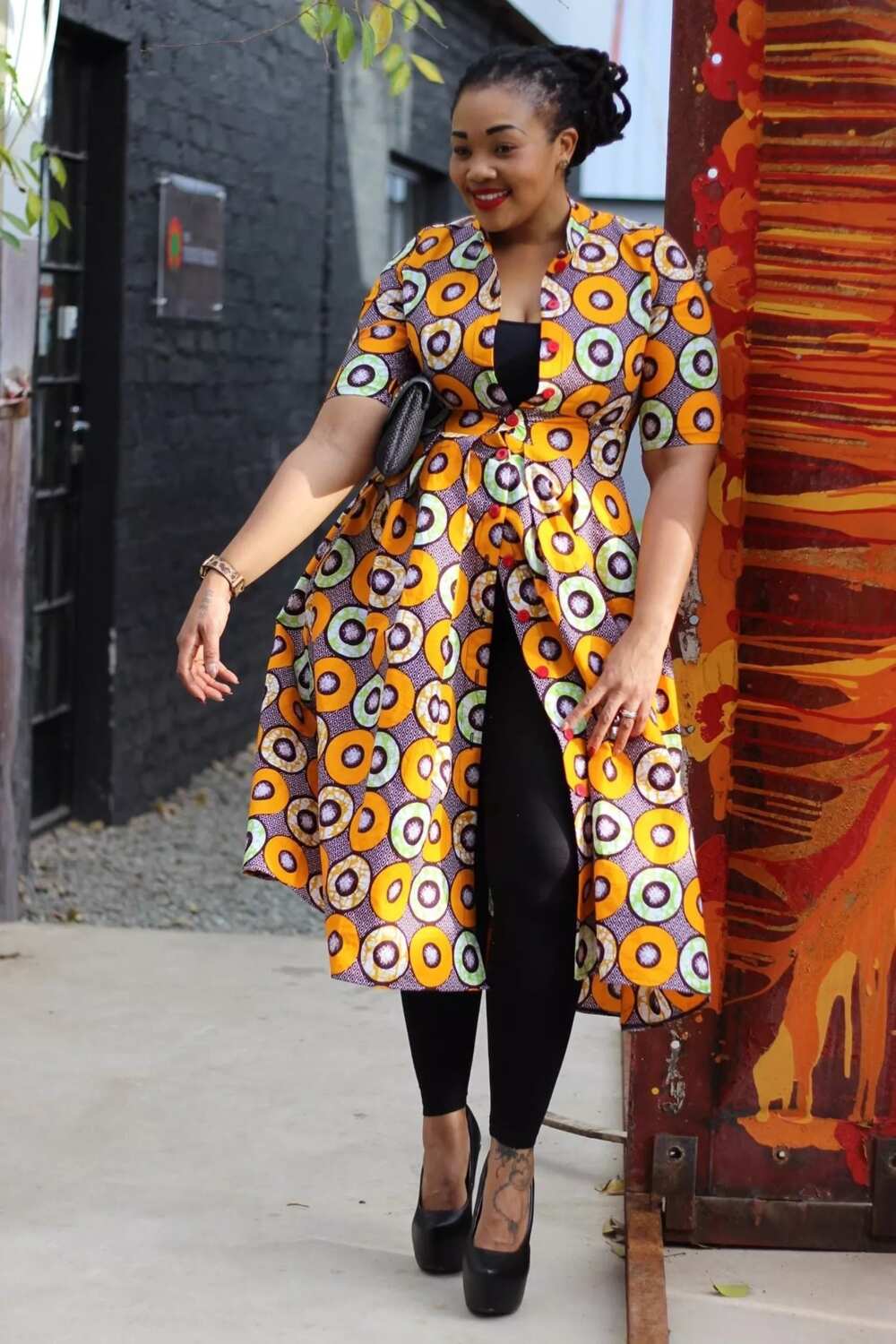 A dress with straight lines is an excellent solution for a businesswoman who keeps working till she delivers. These attires look very elegant due to the narrowed bottom. The dress should not be too short to create an elegant look.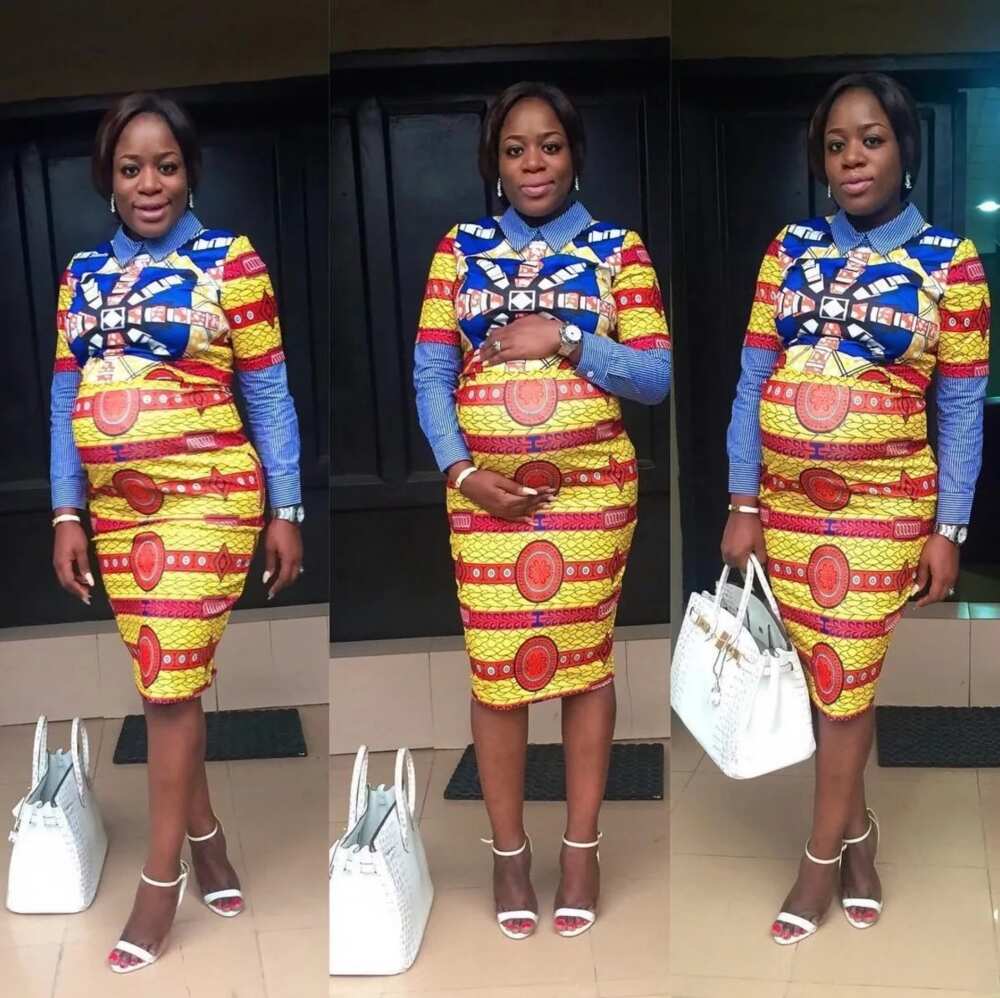 With the help of additional folds, you can perfectly hide your belly and at the same time get freedom of movement. If the dress is made of dense material then the presence of just two or three folds will help to decorate your silhouette. Styles with a big capes can help a pregnant woman create an amazing look.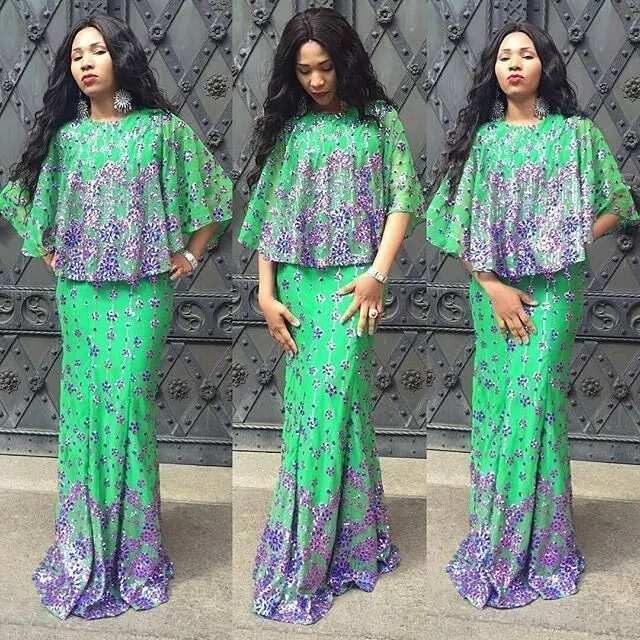 When choosing a gown, it is worth paying attention to the fabric because it should be soft and beautifully enhance your figure. With the help of an additional strap, you can adjust the style of the dress to feel comfortable.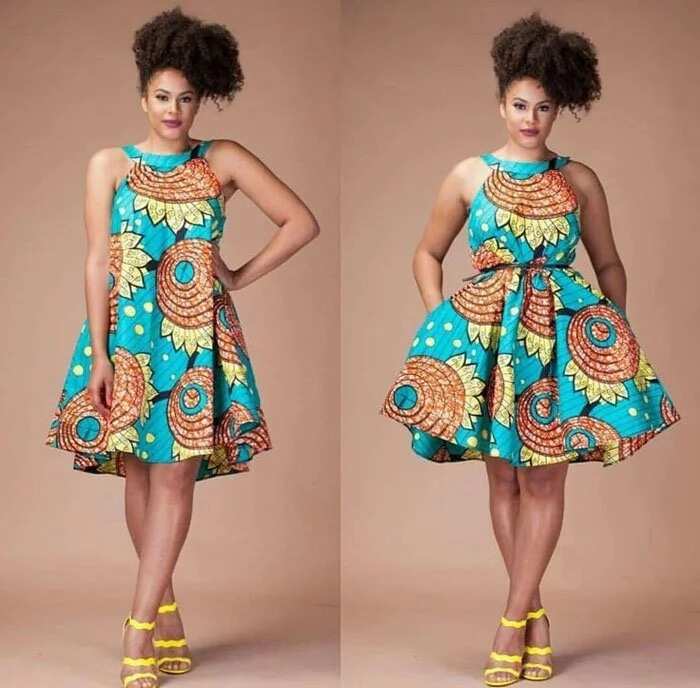 Length
A variety of styles of maternity dresses allows choosing the length that helps the girl feel comfortable. During pregnancy, some women gain extra pounds. The appropriate length of the dress can make the silhouette slimmer.
Dresses for pregnant women can have the following length:
Short dresses are popular in warm weather. The perfect solution is a short gown with an overstated waist because it does not disturb movements and emphasizes the beauty of the legs.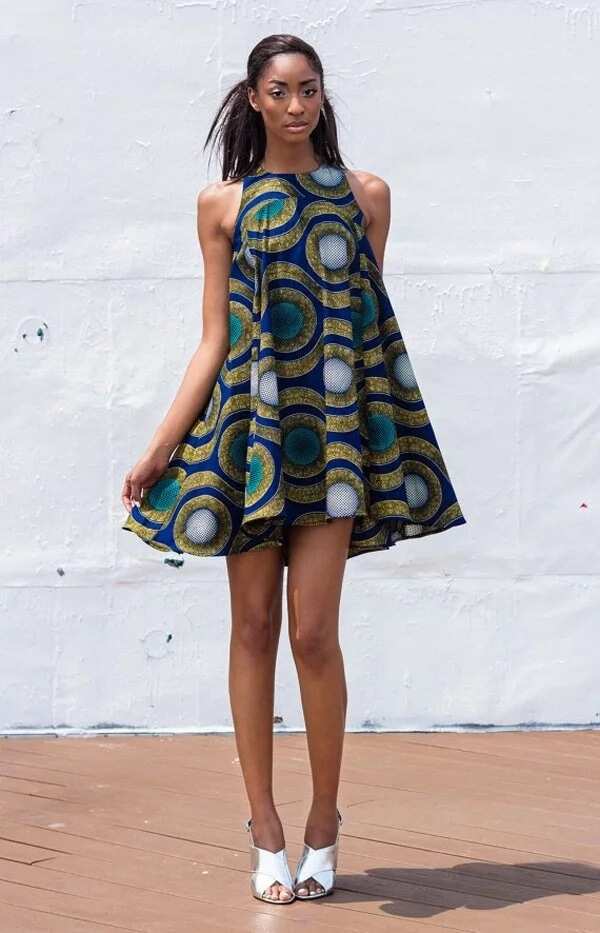 Dress with a short length can be combined with leggings on.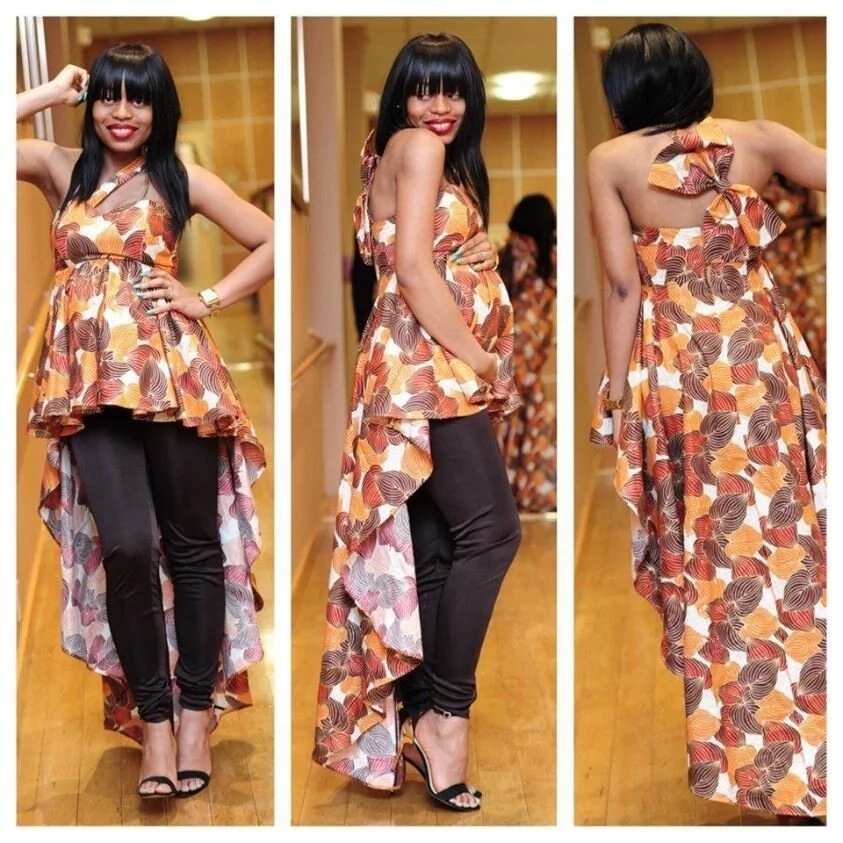 The midi length is used in many styles of dresses for pregnant women. Such models can be worn every day, at a solemn event or at work.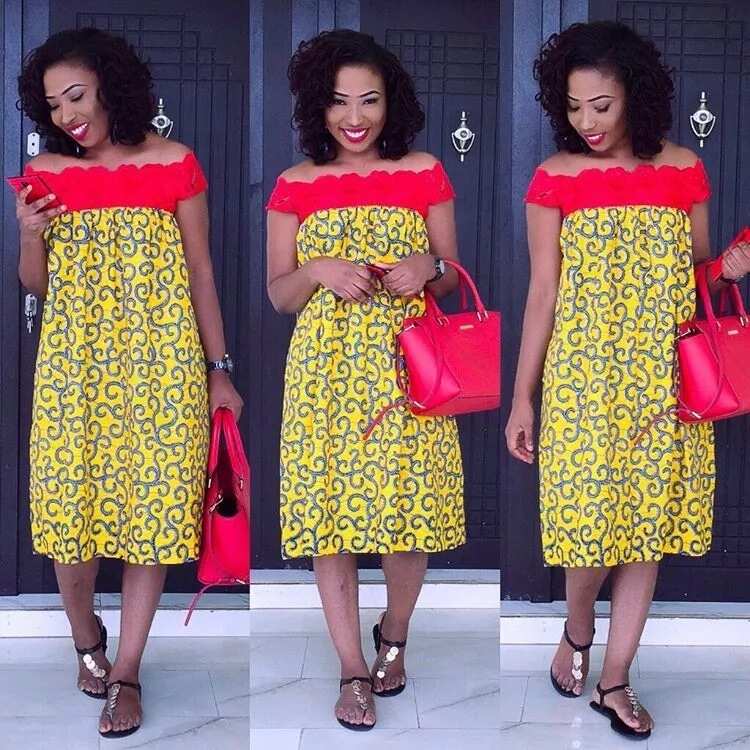 Elegant evening dresses are often long. They make the silhouette slimmer and more elegant. It is only necessary to choose the appropriate accessories. We should also stress out that traditional Nigerian long attires with peplum look gorgeous when a pregnant lady -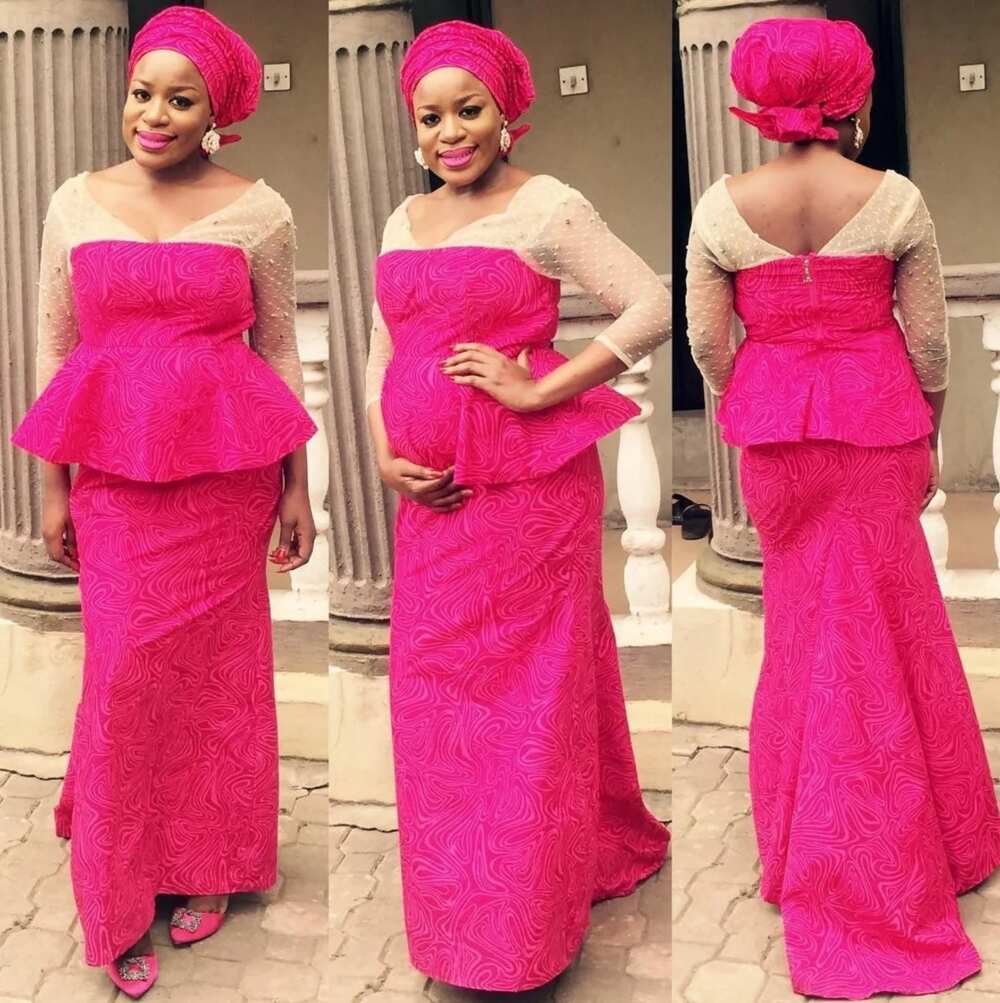 Many pregnant women acquire long casual gowns sewn of light fabric as they help to hide the legs and the open upper part contributes to normal heat transfer.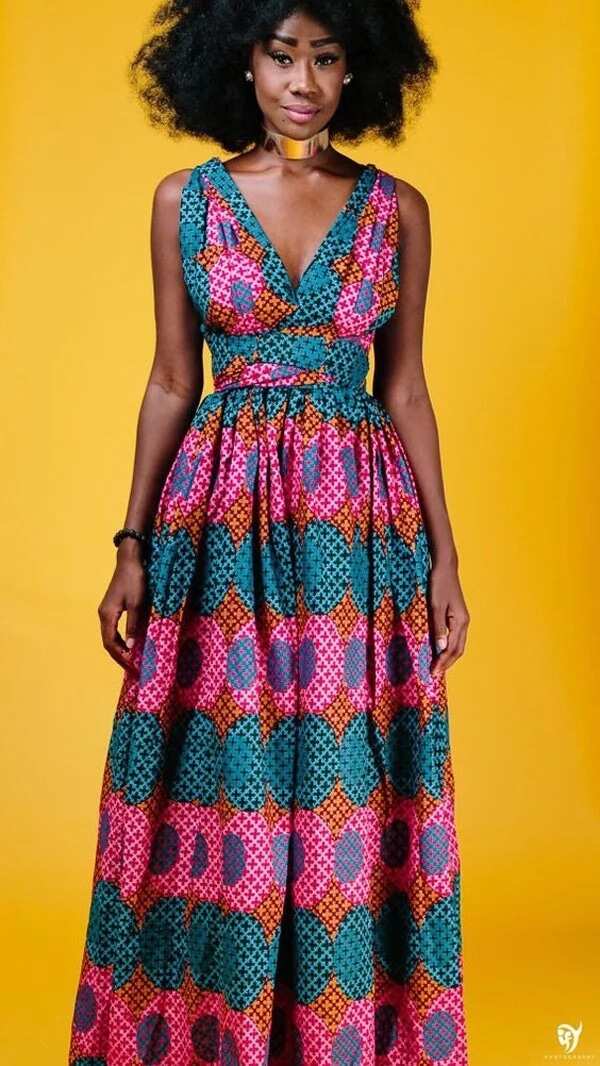 Sleeves
Sleeves - an important enough element of maternity dresses which can significantly change the image of the girl, emphasize the beauty of hands or vice versa hide them.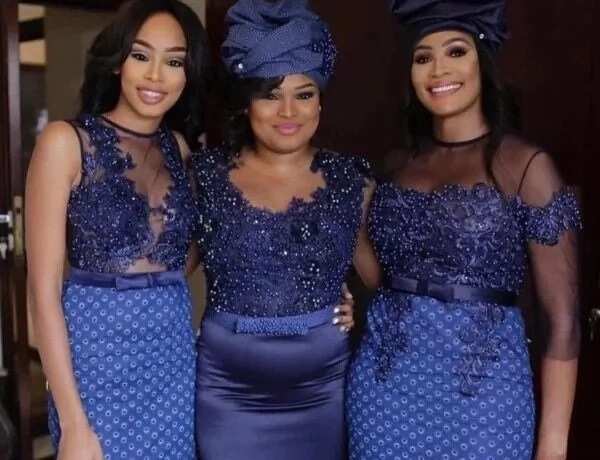 If you choose the right sleeve style, your figure will be prettily adorned.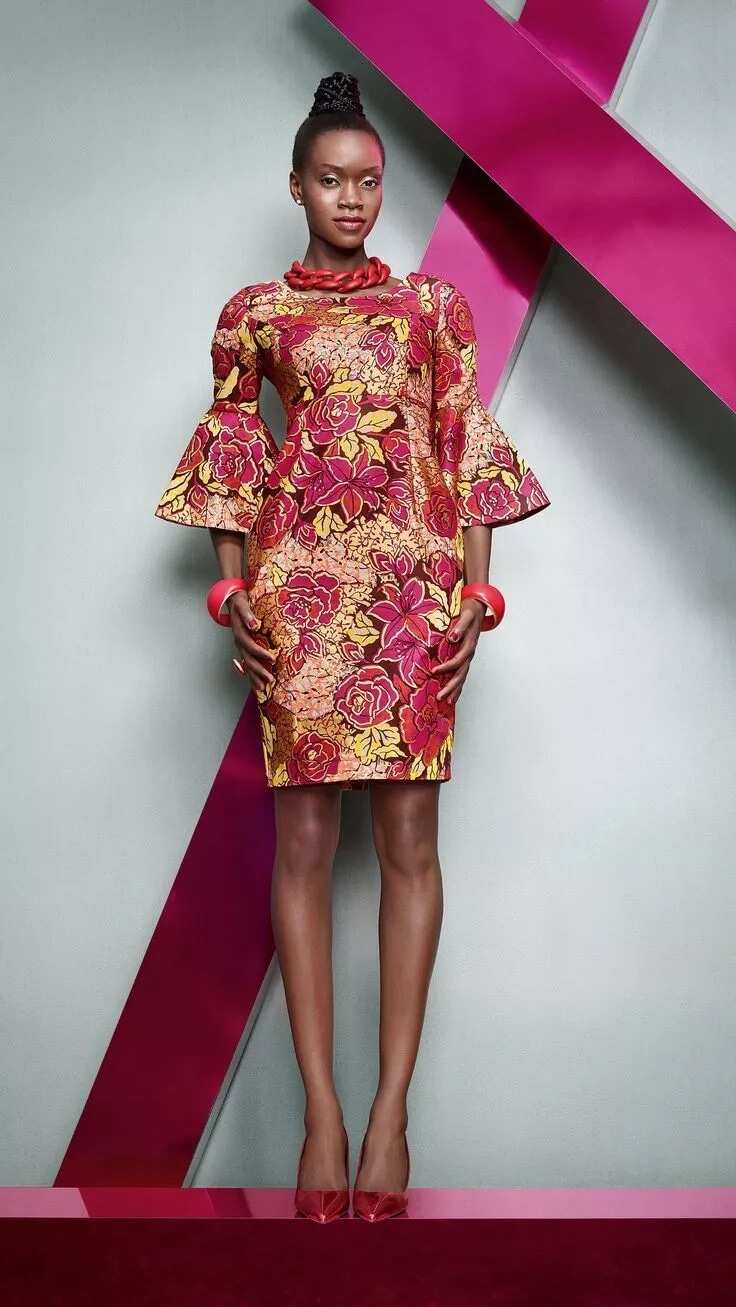 Short sleeves
A dress with short sleeves will help to solve this problem. On hot days, it is easier to resist heat in such clothes. Models of dresses from dense fabrics also often have the short sleeves. If necessary, you can put on a fashionable shirt or jacket.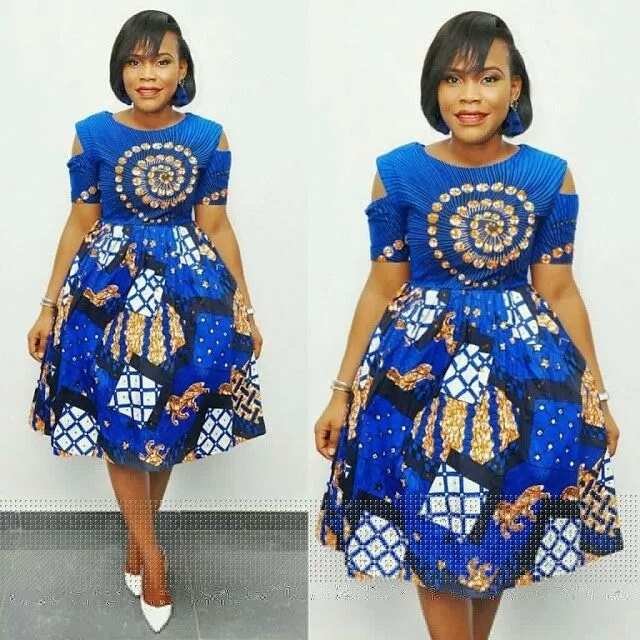 Sleeveless
Dresses without sleeves help to distract attention from the abdomen and emphasize the beauty of the hands. A good solution is an open neckline.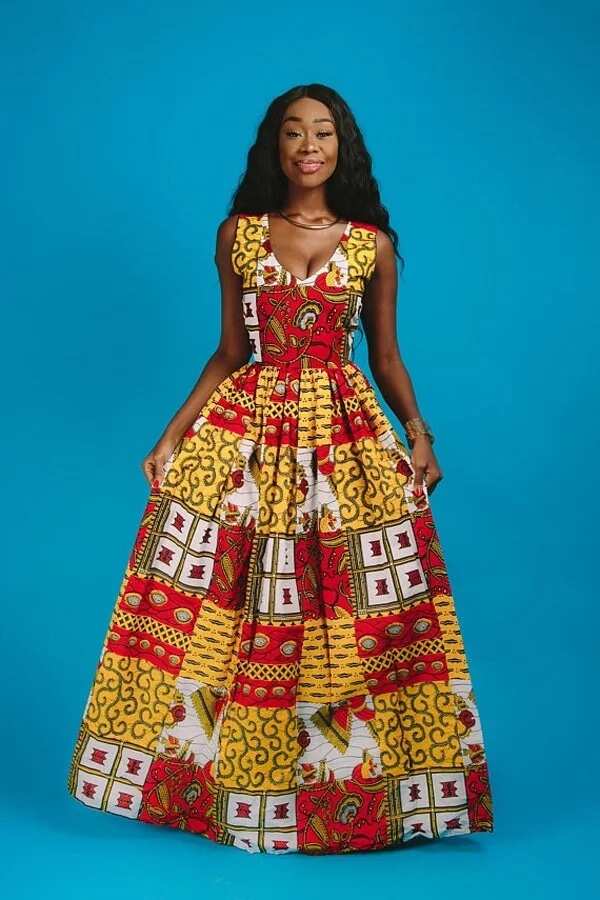 Designers offer many styles of gowns without sleeves for everyday life, but you can also find a lot of elegant options that will help you look great at the party. A beautiful addition can be a stylish scarf or shining jewelry.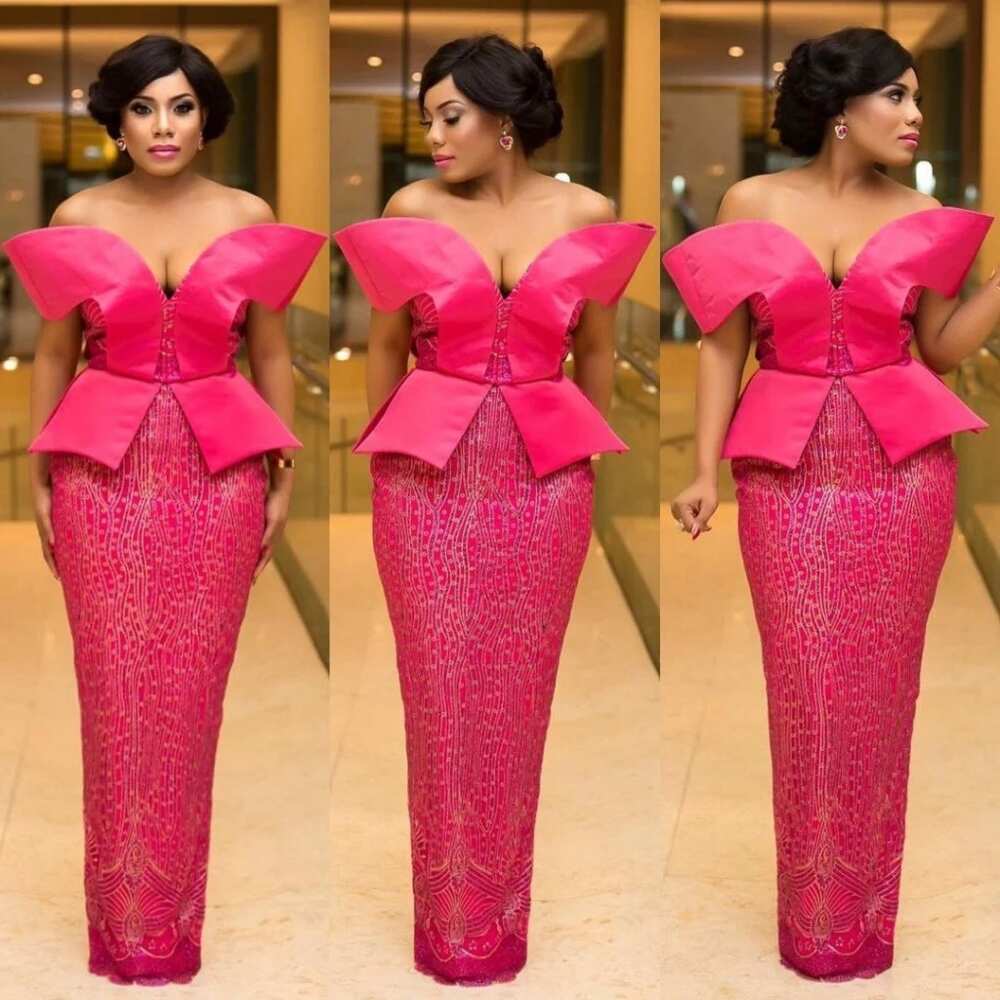 Long sleeves
Among the range of dresses for pregnant women, many have the long sleeves. Such outfits look stylish and restrained so long sleeve is often chosen for work.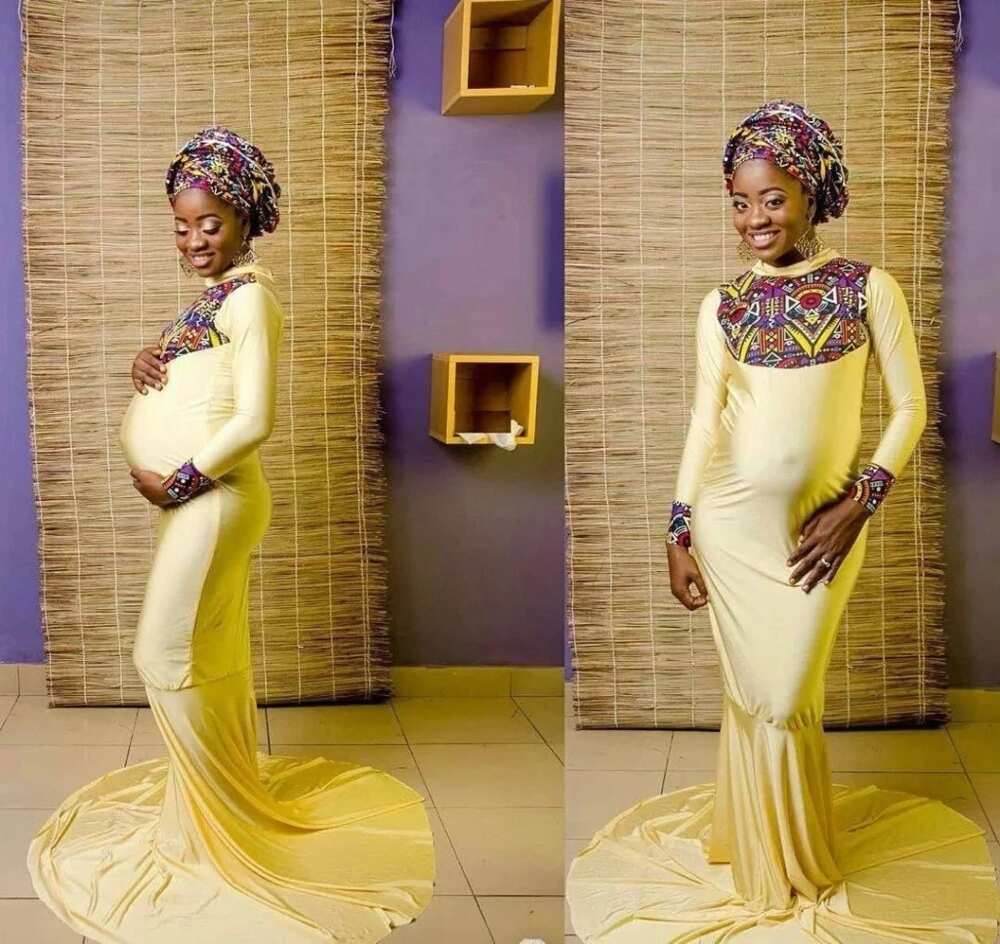 Gowns with long sleeves allow hiding the arms and shoulders, because during pregnancy they may increase slightly. Also, such style lengthens the silhouette and helps future moms to look slimmer.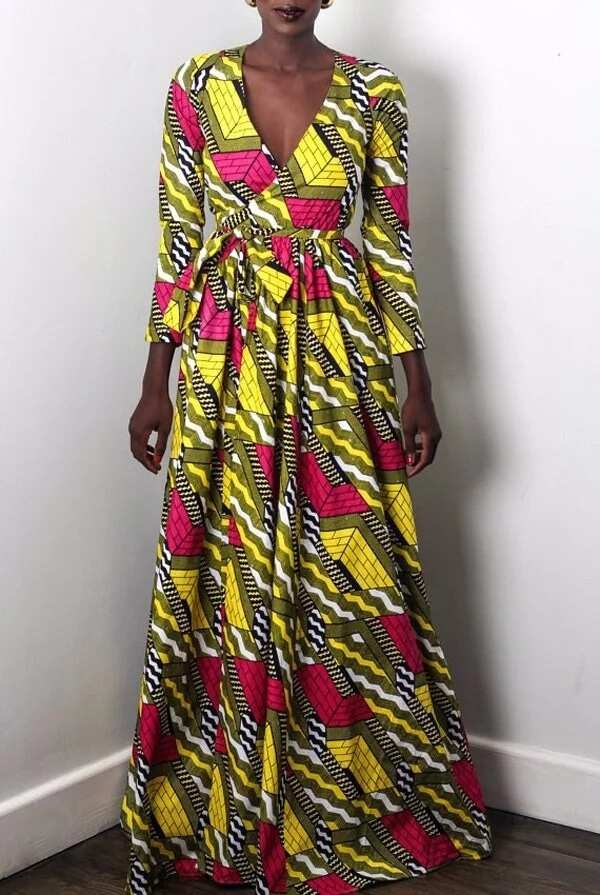 If you want to create a full-fledged image, it's needed to choose the right accessories for the maternity gown.
Footwear
A pregnant woman should pay special attention to shoes because high heels and uncomfortable shoes are not recommended during this period.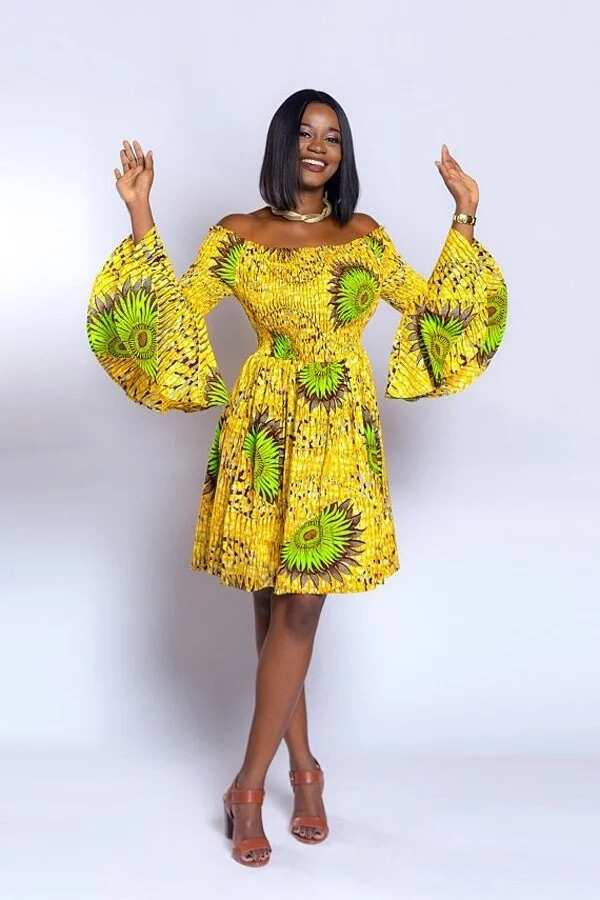 Although sneakers are practical shoes, you should not limit your wardrobe to them. Shoes on low heels suitably fit different styles of dresses. They make a pregnant woman look more confident and graceful.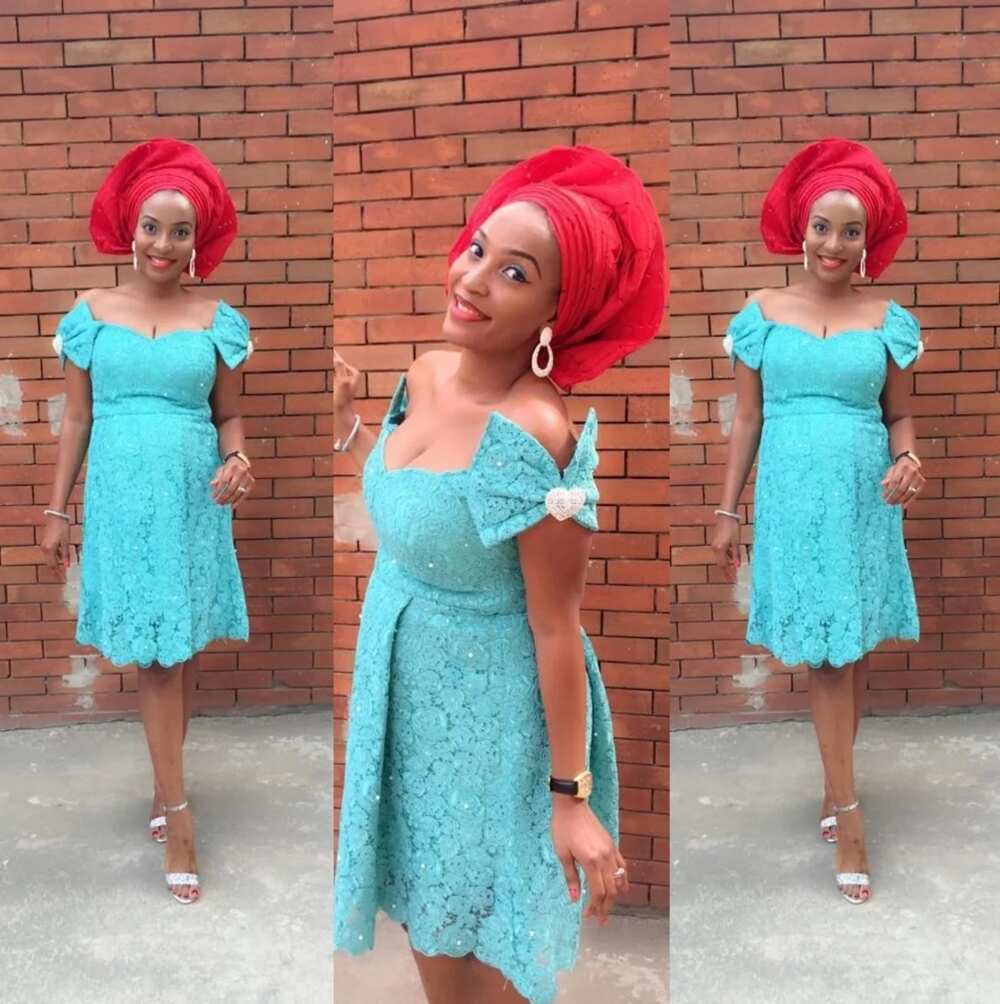 Accessories
Many girls stop wearing jewelry and using makeup during pregnancy but you shouldn't completely abandon them. Today it's possible to buy a variety of accessories that emphasize the beauty of the future mother.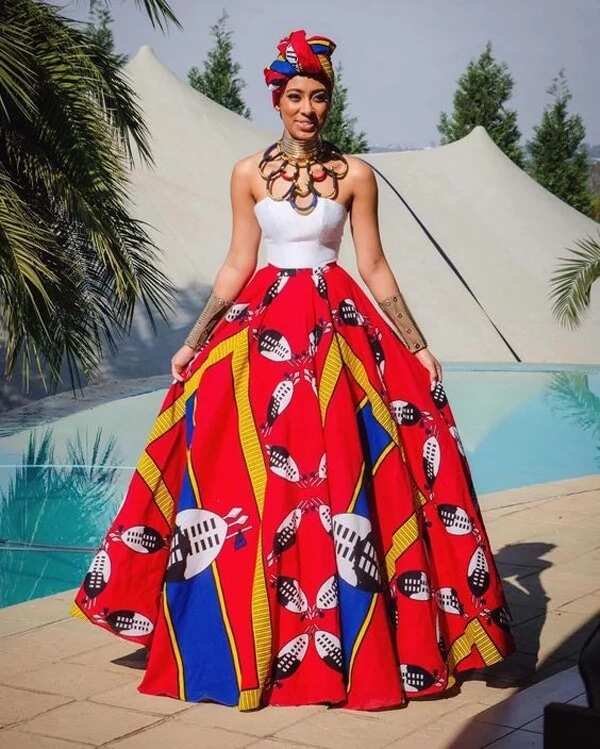 All jewelry should be made only from natural materials in order not to harm yourself your unborn baby.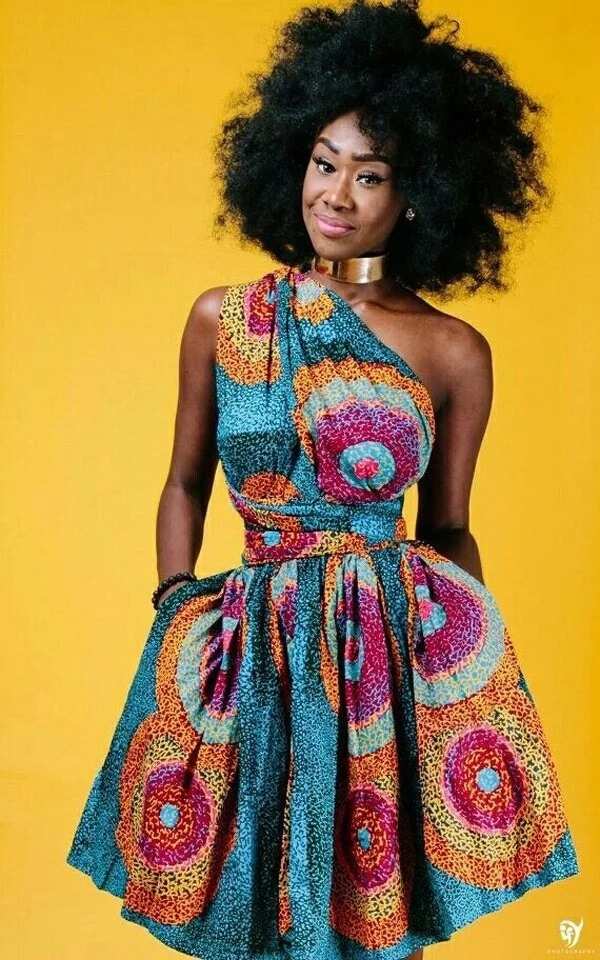 Take into account the general style direction and select only those elements that will help to emphasize the beauty of your figure.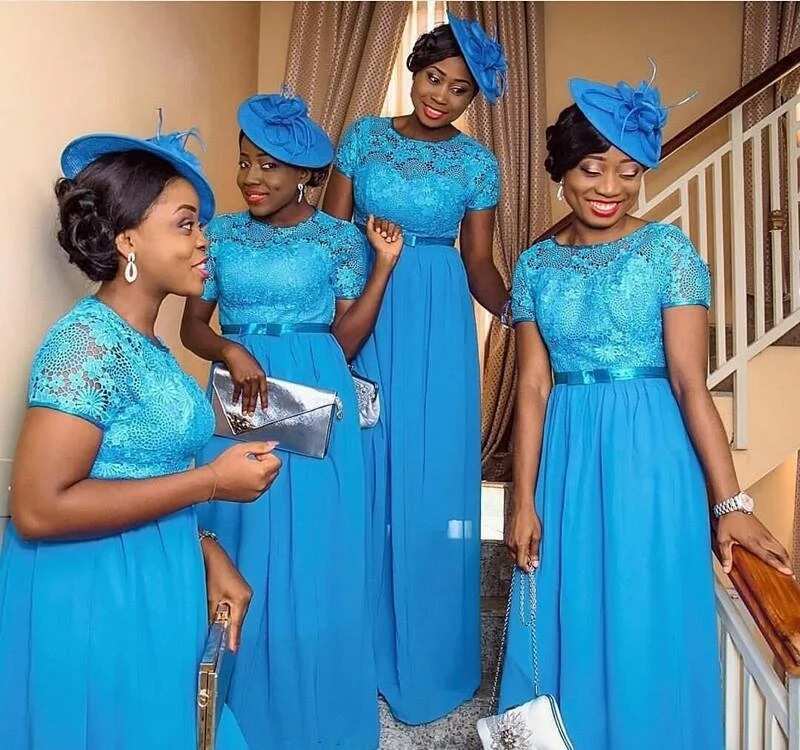 Remember that a woman looks most beautiful during pregnancy. Use the tips from this post and you will look delightful. Good luck!
READ ALSO: Hausa female sewing styles and designs