Benefits of eating dates in the morning
There are so many options for healthy food, and this time we are going to tell you about dates. The benefits of eating dates are numerous, and it is especially good for your health to eat them in the morning, find out why.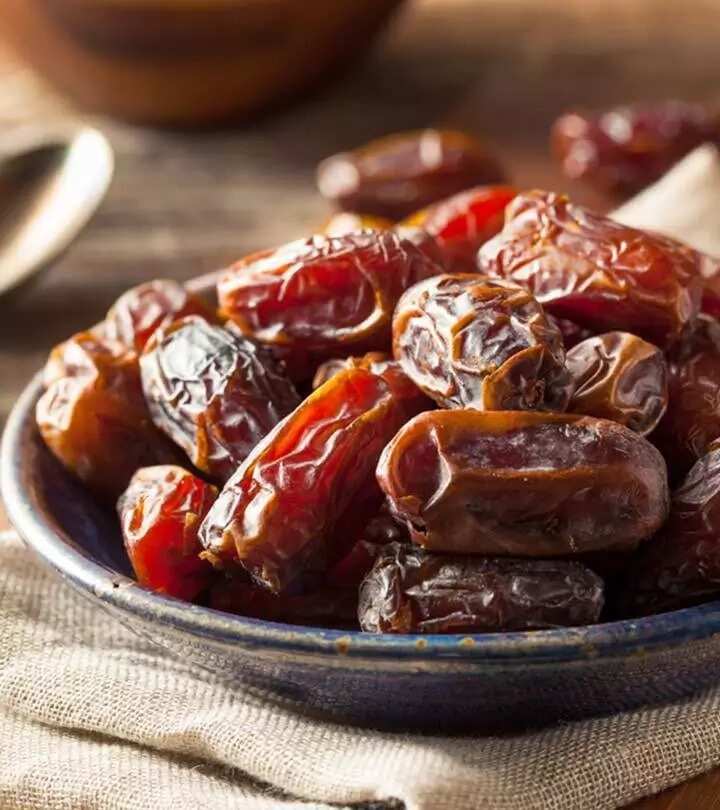 Health benefits of dates
Dates contain 60-65% carbohydrates, this is the highest percentage in comparison with other fruits, they also contain iron, copper, magnesium, potassium, calcium, zinc, manganese, phosphorus, sodium, sulfur, boron, aluminum, cadmium, cobalt, protein, oil, 23 types of different amino acids that are absent in most other fruits.
There are vitamins A, A1, C, B1, B2, B6, niacin, riboflavin, as well as pantothenic acid, which helps to assimilate carbohydrates, regulate blood glucose and fatty acid content.
Pectin, a dietary fiber that reduces the risk of certain cancers. Fluoride, which protects teeth from caries. Selenium that reduces the risk of cancer, strengthens the immune system and reduces the risk of heart disease.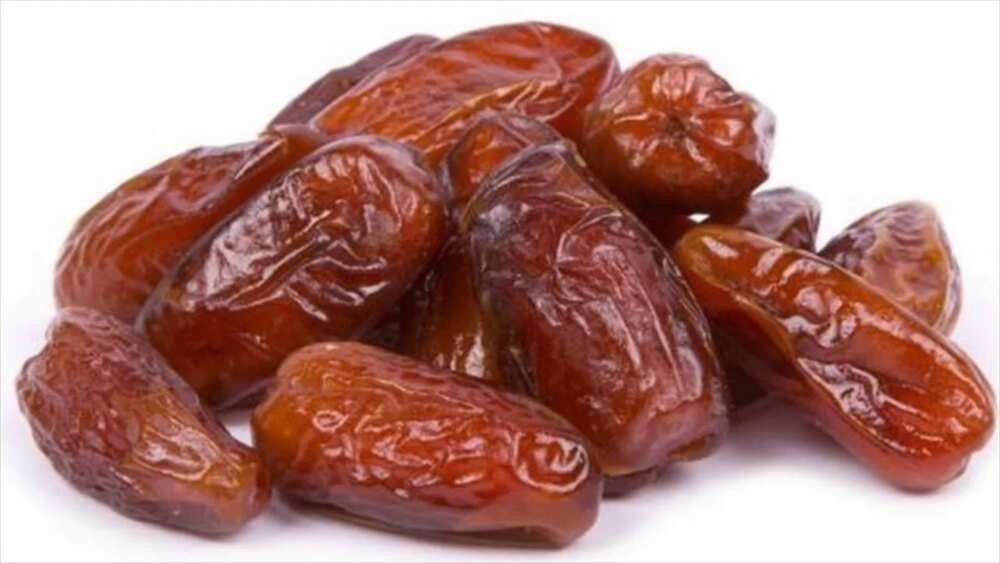 READ ALSO: Dates health benefits and nutrition facts
Due to the fact that dates have a small number of calories and contain a huge amount of nutrients, they are recommended to eat instead of sweets for all who follow a diet, and it makes this food perfect for breakfast.
Dates are widely used to combat various cancers, tuberculosis, tumors, infectious and other diseases. It is believed that dried dates affect the brain favorably, and increase its productivity up to 20% or more.
The benefits of eating dates are known for a long time
Dates are also useful for those who suffer anemia and hypertension, they soothe a cough and promote the withdrawal of sputum, and they are extremely useful for brain activity. The dietary fiber contained in dates, reduce the risk of cancer.
Because of the high content of potassium, doctors recommend to use dates in the case of cardiovascular diseases. Dates stimulate the heart, serve as a tonic and firming remedy, restore strength after a long illness.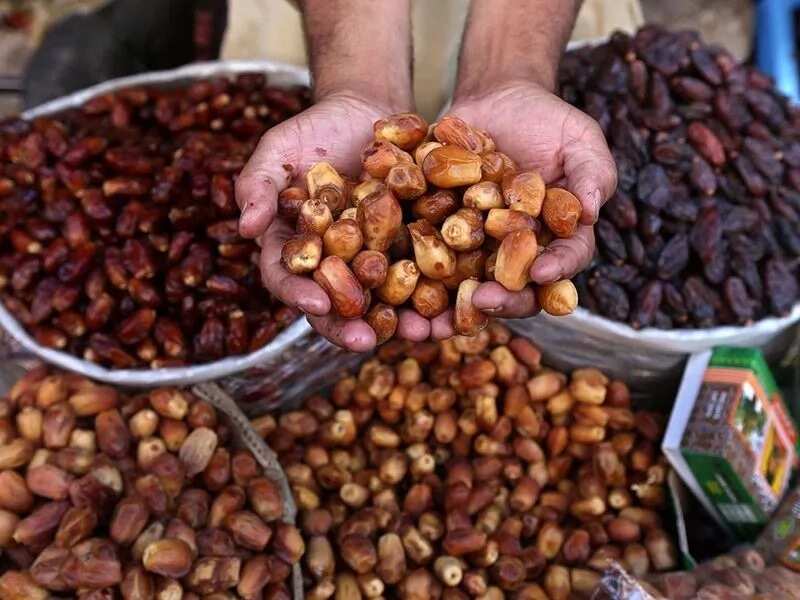 The dates help to deal with paralysis of the facial nerve, with overwork and physical fatigue. Especially beneficial dates are for women during pregnancy, childbirth and while feeding a child.
Dates are very nutritious, they perfectly satisfy hunger and saturate the body. Ten dates are able to meet the daily human need for copper, magnesium, and sulfur, and they contain half of the required iron and a quarter of the calcium. So, this is a perfect breakfast.
Dates have sixty percent of sugar, and that far exceeds its amount in other fruits. Most important is that they have fructose and glucose, which are completely safe for the body and make the dates akin to honey.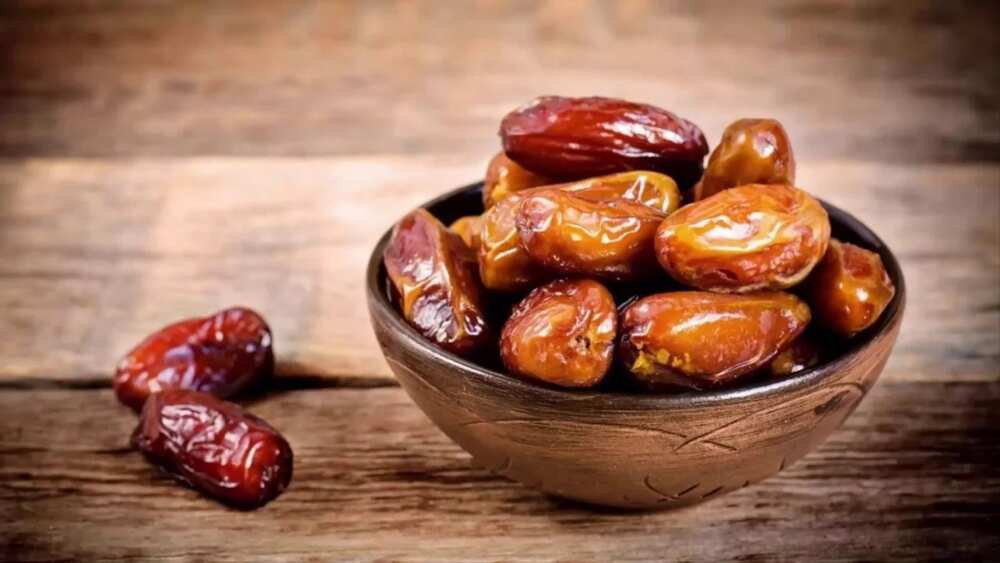 Due to their nutritional, dietary and medicinal properties dates are equated with cereals. They are useful for adults, children, pregnant women. Fresh dates can be added to many dishes - fruit salads, buns, homemade cookies, pies, and cakes.
Best time to eat dates is morning
All of the above properties are best absorbed by the body if you eat the dates in the morning. The benefits of eating dates on an empty stomach are intensified as the body is more susceptible to food in the morning. If you eat dates in the morning, you get a big charge of energy and vitamins for the whole day. Dates are an excellent breakfast for those who want to lose weight and at the same time maintain a healthy diet.
The benefits of dates for our health are numerous, so don't miss the chance to enjoy this healthy food in the morning to feel well all day long.
READ ALSO: Benefits of dates for men
Source: Legit.ng