His Excellency, Ogbeni Rauf Adesoji Aregbesola needs no introduction in the Nigerian political parlance. The workaholic former Commissioner for Works in Lagos state is regarded by many as an arrow head in the Jagaban political dynasty of distinguished political leaders endorsed by Asiwaju Ahmed Bola Tinubu.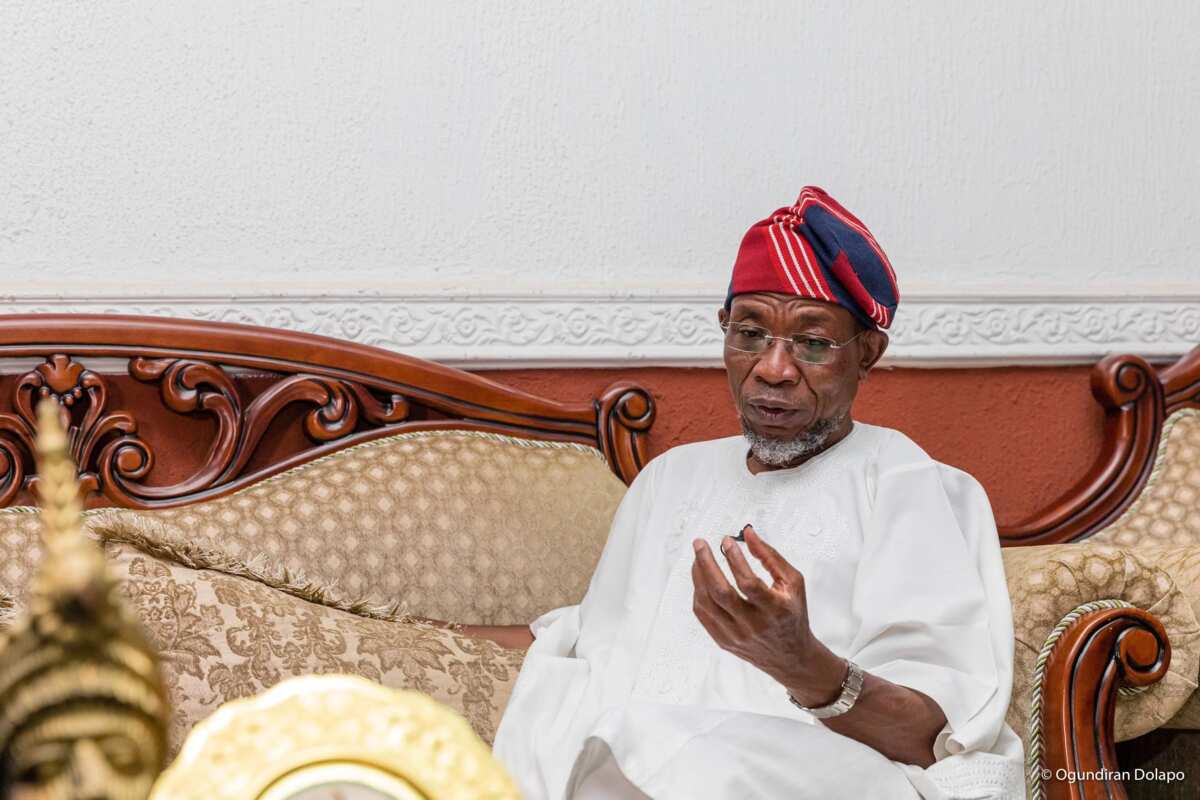 Whatever he lacks in bogus frame and physical stature, he makes up for with his uncommon intellect and political astuteness. Speaking to HC Anthony Eshemokhai, Head of Government Relations and Public Sector Group of Legit.ng, the pervading feeling is like one sitting among world's great philosophers like Julius Caesar and other great sages. Little wonder apart from governance, Ogbeni Rauf has brought a positive mental change of attitude to an average indigene of Osun through the "Omoluabi" concept. A pious revolution where citizens embark on self check and willingly conduct themselves to effect and portray positive change. Little wonder crime rate in that state is the lowest in the country. There is a conscious but gradual psychological and social behavioural change among Osun indigene. Mr Governor is a change agent in the state of Osun.
Greatest legacies
When asked what his greatest legacies will be when he leaves office, the Governor said it's the Human Capital Development. This he achieved very well through programmes like OYES(Osun Youth Empowerment Scheme) and his Education policy. In a documentary done for the State June 2017, Legit.ng can confidently say that the State of Osun has the best education policy in Nigeria. That is why he will wish whoever his successor will be, the education policy must never be discarded as that is the foundation for future development.
Why 'Ogbeni' and not 'Your Excellency'
The governor is one of the few who chose to demystify the exalted office of an Executive Governor and make it ordinary just to connect with the common man. He consequently rejected the usual prefix of 'Your Excellency' and rather preferred to be called 'MR' which in the Yoruba language is 'Ogbeni'. To him, it's a global best practice as even the President of the United States is usually simply addressed in gatherings as 'Mr. President'. Bogus titles according to him usually beclouds the bearer from servant leader to being a ruler. This caused a little drama during the interview as he initially tolerated several 'your excellency' from Anthony until the Governor said please just call me 'Mr' and not 'Your Excellency'.
Proper ways to name states
The governor explained in details as can be seen in the attached video, why the state is called 'The State Government of Osun' rather than the erroneous ways Nigerians refer to the state and other States by putting the word 'State' as a suffix. He pointed out that it is a fallout of military arbitrariness as Nigeria, Burma and Sudan are the only countries in the world operating that error on state naming. The 3 countries all have long years of military regime. In the USA for instance, what is obtainable are 'the State of California, State of Arkansas, State of Florida and State of Texas' Even local Nigerian languages called states properly. Example is Yoruba will say 'Ipinle Osun' and not Osun Ipinle. Hausa will say 'Gia Kano' and not 'Kano gia'.The Ibos will say 'Obodo Enugu' and not 'Enugu obodo'. Thus, the governor decided not just to be the 'odd one out' but 'the correct one in'. He explained that the Constitution of Nigeria never gave directives on prefix or suffix so adopting 'State of Osun' is not a violation of constitutional provisions. Recall that there is a case in court on the correct naming of Osun.
Other Sundry Issues
Legit.ng posed to the governor what his next political step will be, he is not in a hurry as according to him, contesting as a governor was orchestrated by a committee of patriots who called him to serve the state in that capacity. At the end of his tenor which is very soon, he will go back to these patriots to render stewardship and accountability. The next political step can then be decided. He responded to the question on who is anointed candidate is in the next election. Shaking his head, he made it clear it is 'undemocratic'. The people of Osun should decide who rules them after him.
HC Anthony Eshemokhai is Head, Government Relations and Public Sector Groups, Legit.ng.
Source: Legit.ng