Let's forgive Efe because he spoke out of anger - Seyilaw
Popular Nigerian comedian, Seyilaw, has taken time out to appeal to the fans of Big Brother Nigeria 2017 winner Ejeba Efe Michael.
The comedian in a bid to help promote the reality star's single, pleaded with his fans who felt offended by Efe's outburst.
Recall that the reality star took to his social media page few hours ago to lambast everyone who think he is not doing the right thing by singing. He insist he will keep doing music no matter what anybody thinks or says. He went on to rant about how the money anyone who voted for him during the BBNaija 2017 show spent expired just when the show ended.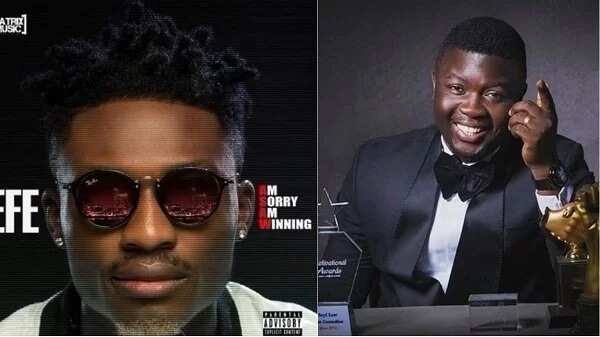 Pleading for forgiveness from his fans, Seyilaw wrote:
"When the world hurts you in criticism in the name of fans and wants you to take it in good faith, forgetting that words kill faster than the guns, but won't take your words in the same light. When the world makes a man lose his willpower to his own choice and don't expect him to fight back, but would prefer he is drained in their own choice. The sadness and fear that enveloped me is killing.
READ ALSO: BBNaija's 2017 winner Efe lashes out at fans who voted for him, says your money expired when the show ended
"There is no doubt there is a place for the fans and as an artiste, you must be cautious of how you walk there. @efemoney has spoken out of anger and made a mistake which might be justified, but could be avoided. We all make mistakes and he who is above them can crucify me. He has chosen a path for himself and you care too much trying to help him avoid mistakes, don't be the one to make him make more of it.
"Let's forgive him and let him grow and he might just learn to do it right or decide to let it get all go, but let him have a say in his own life. I apologise on his behalf to those hurt and hope we can all embrace peace.
"Every man to his life, let him live. God bless you.
"SEYILAW."
BBNaija winner Efe receives N25million cash, SUV rewards on Legit.ng TV
Source: Legit.ng