Blue-eyed toddlers turn to modelling to raise funds
- The toddlers are raising funds for surgery with the help of Ghanaian model Afi Antonio
- The Model, Afi Antonio says she is grooming the toddlers to become super models
Two Ghanaian toddlers born with blue eyes as a result of a rare genetic disorder called, Waardenburg syndrome have resorted to modelling to raise funds for surgery.
According to reports, the toddles were born with hearing and speech impairments in addition to their genetic disorders.
One of the toddlers, Rebecca Chogtaa Dumeh, who is just a year-old was discovered a month ago, by a Ghanaian model and entrepreneur, Philomena Esinam Afi Antonio in the Northern Region.
The Ghanaian model who is said to be working hard to raise funds in support of Rebecca's surgery say she will find lasting solution to the child's hearing disabilities.
READ ALSO: Toddler with blue eyes sends internet into frenzy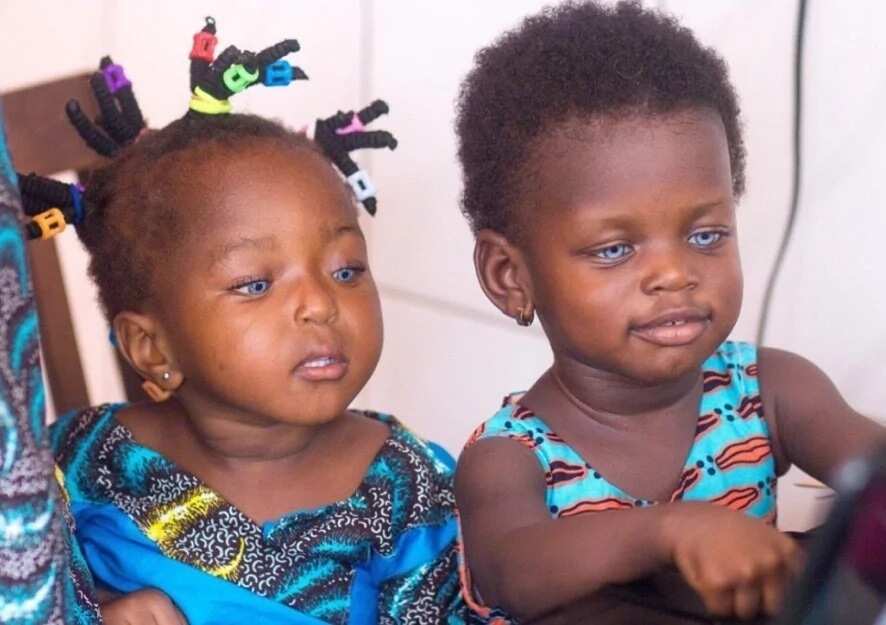 Madam Antonio whiles in the process of raising funds for Chogtaa's surgery has also discovered another toddler named, Miracle with the same genetic condition coupled with speech impairment.
Afi antonio who is currently raising funds for both toddlers in last week treated them to a special photo shoot aimed at creating more awareness to their conditions.
READ ALSO: Sheep gives birth to deformed lamb that looks like a human being (photos)
The entrepreneur who is passionate about helping the girls in an interaction revealed that she is grooming Rebecca and Miracle to become super photo models.
She therefore posted their first professional photographs on social media, calling on support from fashion brands and corporate bodies to help finance their surgical operation in India.
"Some people are suggesting their parents take them to a sign language school and forget the surgery but you can only understand if you are a mother," Afi told Face2faceafrica.com
The Ghanaian model met Chogtaa's mother at a local clinic in the Northern Region, where the girl was undergoing checkup for her hearing loss.
The mother told Antonio that they have drown a lot of negative attention from their family and even some community members, believing her daughter is a "cursed" baby.
Girl with multi-coloured eyes discovered in Nigeria - on Legit.ng TV
Source: Legit.ng