- A lawmaker has demanded the resignation of the minister of transportation, Rotimi Amaechi
- The demand was made following recent reports that the minister has been re-appointed as the director general of President Muhammadu Buhari's 2019 campaign team
- The demand was made by a member of the House of Representatives, Honourable Adesegun Adekoya, representing Ijebu-North/Ijebu-East/Ogun Waterside
A mild drama played out at the National Assembly on Thursday, February 16, as a lawmaker demanded the resignation of the minister of transportation, Rotimi Amaechi.
The demand was made by a member of the House of Representatives, Honourable Adesegun Adekoya, representing Ijebu-North/Ijebu-East/Ogun Waterside.
Adekoya who is a member of the Peoples Democratic Party (PDP), also doubles as the vice chairman of the National Assembly joint committee on land transport.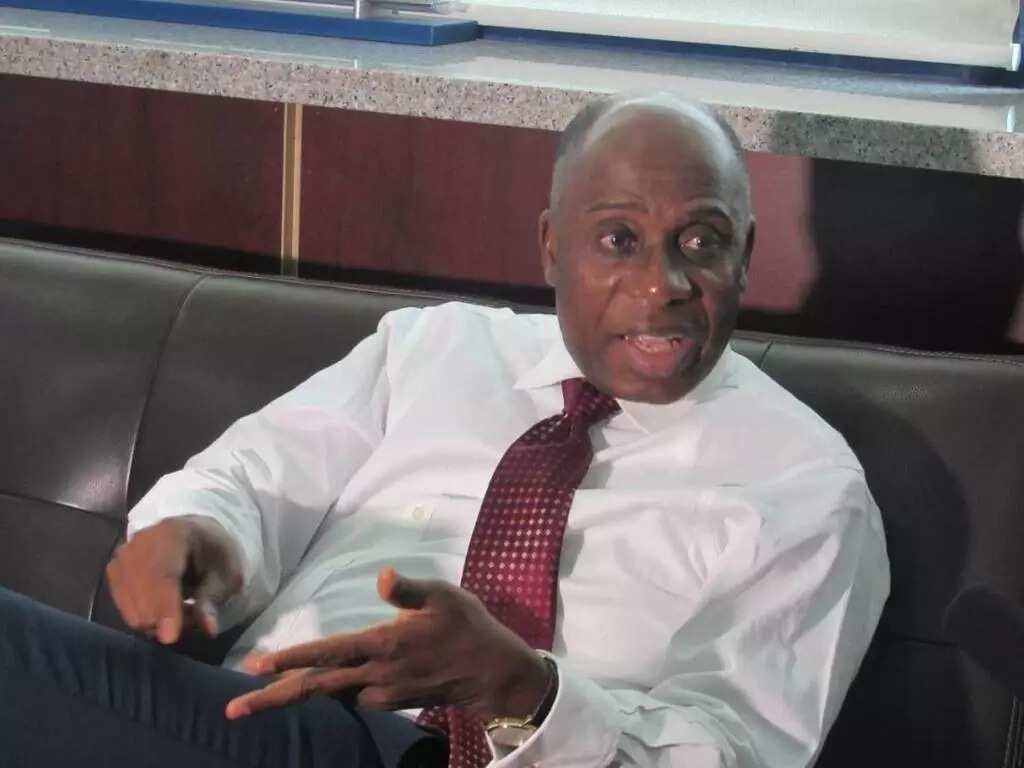 READ ALSO: Amaechi says it will be foolish to say there is no corruption in Buhari's government
He made the demand when Amaechi appeared before the committee chaired by Senator Gbenga Ashafa (APC, Lagos), to defend his ministry's budget proposal for 2018.
Recent reports suggests the minister has been re-appointed as the director general of President Muhammadu Buhari's 2019 campaign team.
Honourable Adekoya, in his demand for an answer stressed that Amaechi cannot double as the DG of President Buhari's campaign and remain as minister of transportation. This he said would affect his performance and concentration for the year 2018.
According to him, Amaechi can only function as either DG of President Buhari's re-election campaign or minister of transport, adding that since he has accepted the position of DG, he should immediately tender his resignation letter as the minister of transportation so that he can concentrate fully on his re-election assignment.
It however took the intervention of the Ashafa, to save Amaechi from further troubles.
Meanwhile, recent media reports indicates that there may be another imminent crisis in the APC as major stakeholders of the ruling party have allegedly kicked against the re-appointment of Amaechi as the DG of Buhari's Campaign Organisation in the 2019 election.
Stakeholders including party leaders, governors elected on the party's platform, ministers, and National Assembly members are said to be against the appointment.
The argument of the APC stakeholders is that the president cannot just appoint anyone as the director general of his campaign organisation without consulting the party's hierarchy.
READ ALSO: Corruption will return if Buhari is voted out in 2019 - Amaechi
APC official tells why his party could be voted out in 2019 - on Legit.ng TV
Source: Legit.ng