Many Nigerians love to eat egusi soup, but not that many actually know how to make it. For those who want to learn how to prepare egusi soup with lumps, we have a delicious egusi soup recipe that can help you impress your loved ones.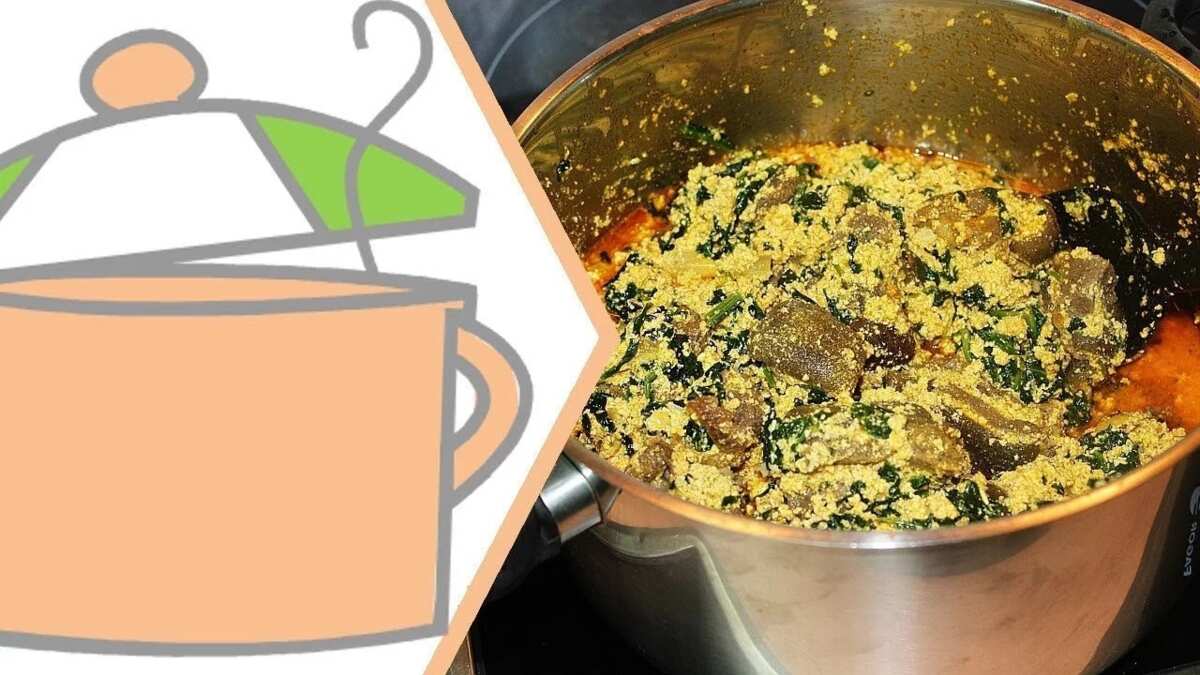 What is egusi soup?
Probably every Nigerian has tried egusi soup at least once in their lives. It can be found in the cookbooks of people from every tribe in Nigeria. The signature element of the soup is, obviously, egusi, which is made out of ground up melon seed. It is combined with water to make a paste and then added to cow's meat and seafood to make the soup.
Egusi soup is usually served with some kind of starch. For instance, you can serve it up with pounded yam (iyan), fermented cassava (garri), fermented yam (elubo) or semolina. The vegetables in the soup also matter a great deal, as the soup's taste will mostly rely on them. There are a lot of good options to choose from: spinach, bitter leaf (ewuro), kale, water leaf (gbure), scent leaf (efirin), fluted pumpkin leaf (ugu), as well as many others.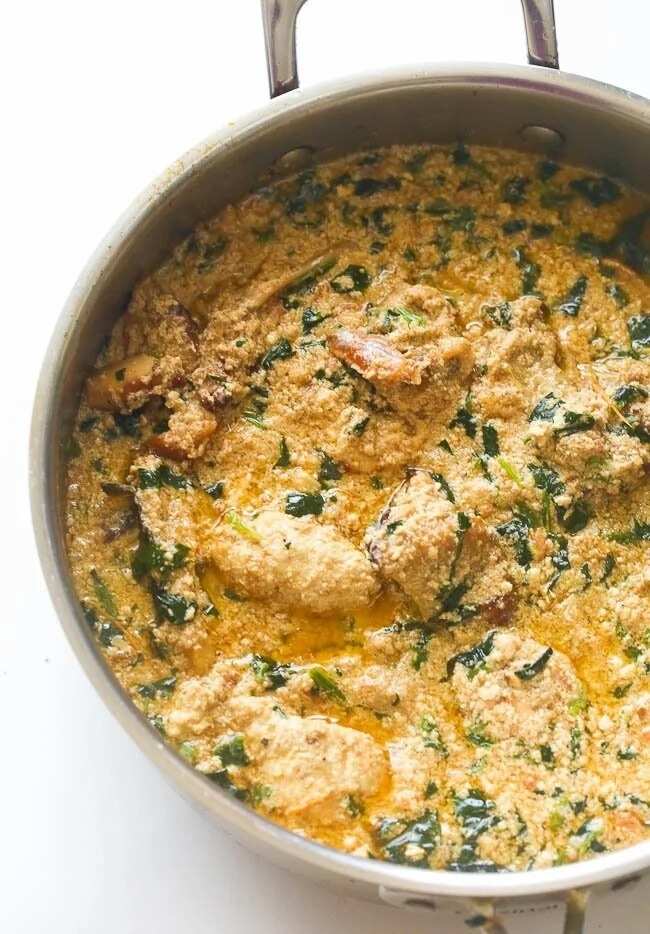 There is no single way to cook egusi, so there is always a little room for improvisation. However, today, we are going to be talking about one particular variety of it, namely the Yoruba-style egusi soup. It is different from the other versions because it contains egusi in the form of clumps and it is made using a stew base with locust beans (iru).
Our particular version of Yoruba egusi soup involves frying the egusi lumps in oil, as it is probably the easiest and most convenient ways to do it. However, you are free to try other ways of retaining the lumps, as well as to modify the list of ingredients to your liking.
Now that we have got all of that out of the way, let's learn how to cook egusi soup!
Egusi soup ingredients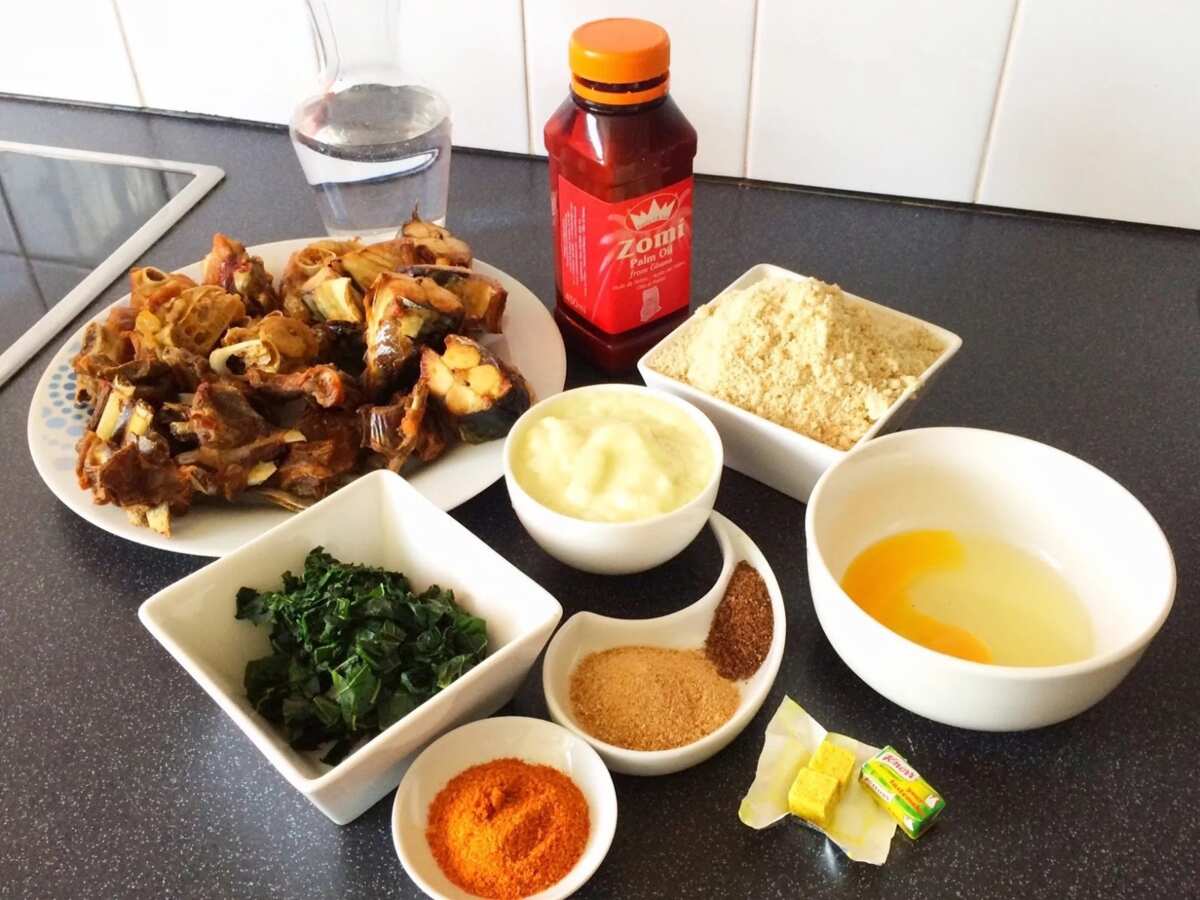 READ ALSO: Yam pepper soup with goat meat recipe
In order to make the Yoruba-style egusi soup with lumps, you are going to need:
1 cup of ground egusi;
1/4 cup of groundnut oil;
1 cup of chopped spinach;
1 tbsp. of palm oil;
1 tbsp. of crayfish powder;
1 tbsp. of locust beans;
1/2 cup of pepper sauce;
2 Maggi cubes;
Precooked fish and meat – the amount is up to you;
1/4 cup of dried shrimps (ede) – optional;
Salt to taste
Once you have gathered all of the necessary ingredients, it is time to get to cooking!
Egusi soup preparation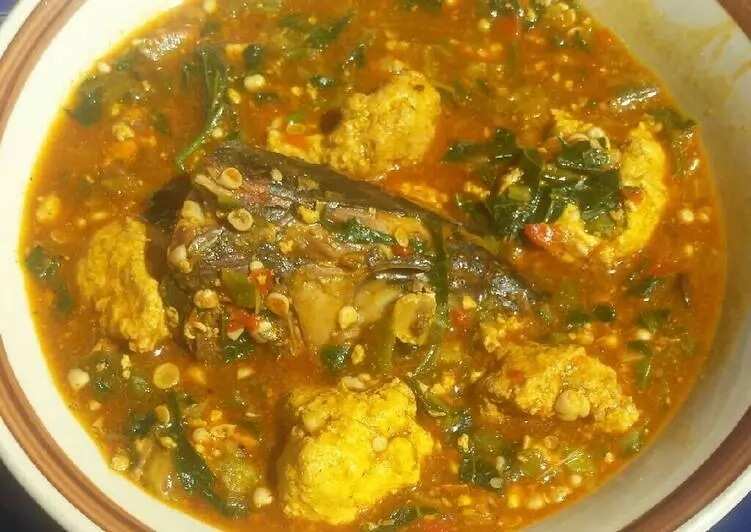 Here is a very simple and short step-by-step guide on how to prepare egusi soup with lumps:
Take your egusi and combine it with 2 tablespoons of water. Mix it all together until you get a thick mixture in a form of a paste.
Turn the stove to medium heat, place a medium-sized pot on it and add groundnut oil to the pot.
Take a teaspoon and use it to scoop the egusi paste into the oil. Fry the lumps for about 3 minutes.
After the egusi lumps have fried, pour 1.5 cups of water on top of them, cover the pot with the lid and leave it to boil.
Before moving on to the next step, you can break the egusi lumps into smaller pieces, but it is completely optional.
Add everything to the pot apart from the vegetables. Cover the pot and let it simmer for 10 to 12 minutes on medium heat.
Stir the soup carefully and give it a taste. If it is not salty enough, add some more.
Add the vegetables and let the soup simmer for additional 3 minutes.
Your egusi soup with lumps is done! Serve it with white rice, pounded yam, eba, amala or whatever you feel like serving it with.
Now you know how to make egusi soup with lumps. It is very simple and incredibly delicious! Go ahead and give this delicious Nigerian food a shot. After you cook your first pot of egusi soup, please let us know how much you like it! Bon appetit.
READ ALSO: How to make peanuts snack at home
Source: Legit.ng