Nigerian actress Maryam Charles has made her views known concerning the ongoing 2018 Big Brother Naija double wahala.
Contrary to general opinion of people, the actress thinks that Cee-c is a strong woman and she is her favorite housemate. According to the actress, Cee-c is playing the game well and that has placed her on top of the game.
Read below: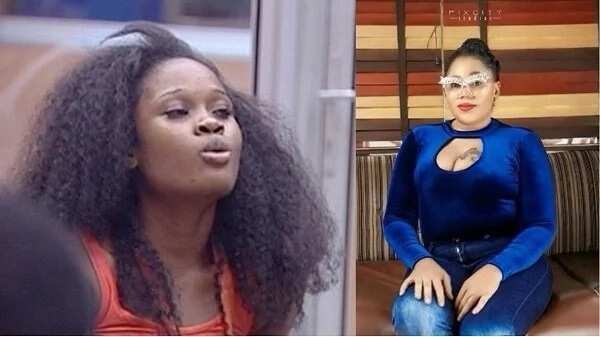 "From what I have seen on #BBnaija so far, Cee-C is a strong woman. She is definitely my favourite for now. This is a girl who knows what she wants, someone who realizes that #BBNaija is a game. And in my opinion, she is playing the game well.
READ ALSO: The drama continues! Cee-C finally professes her love for Tobi (video)
"--SHE did not force herself on Tobi, na him find am come. The say she is playing him like, I laugh in Chinese. Have you guys forgotten that the rule is play or be played?
"--This is a girl who holds herself to high standards and she gets treated like a queen. Tobi is a grown man who treats her like royalty. For me, that speaks well of him. --
"I wonder why babes are even complaining cuz that's exactly how every lady should be treated. They say she is proud because she said she will make more than N45m in a week, is this not possible? --
"Or can't one even spend that money in three days sef? Cee-c carry go. Don't let naysayers derail you. Play whoever you feel like playing. #bbnaija #bbnaija2018 #ceec #nollywood #actress"
This is coming after Tobi revealed that he is a retired Yoruba demon. Many have taken this to be an explanation for his dalliances with Cee-C.
Big Brother Naija 2017 Stars: Where are they now? On Legit.ng TV.
Source: Legit.ng