Aso Oke for Yoruba traditional wedding
Quite often Nigerian newlyweds use Aso Oke for Yoruba traditional wedding. It is a fabric that has been woven in a manual way in the west of the country since ancient times. Men's attires Agbada, hats called fila and female Iro wrappers are made of it. Checkout some of the best Aso Oke designs!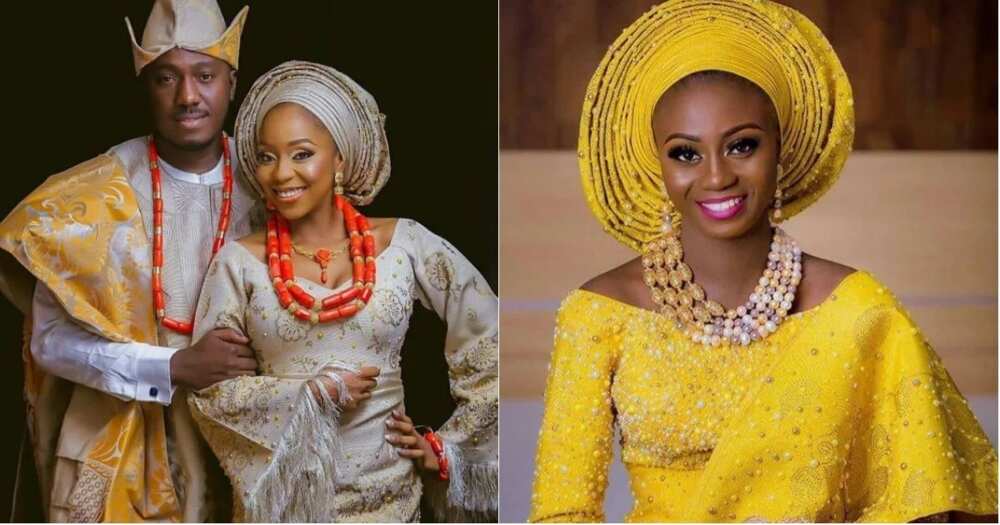 Despite the fact that many centuries passed, the importance of Aso Oke has not changed. It's production was only supplemented with modern methods which reduce the size and weight of Aso Oke. The material has become cheaper and more affordable for everyday use. At the same time, the quality remained at a high level.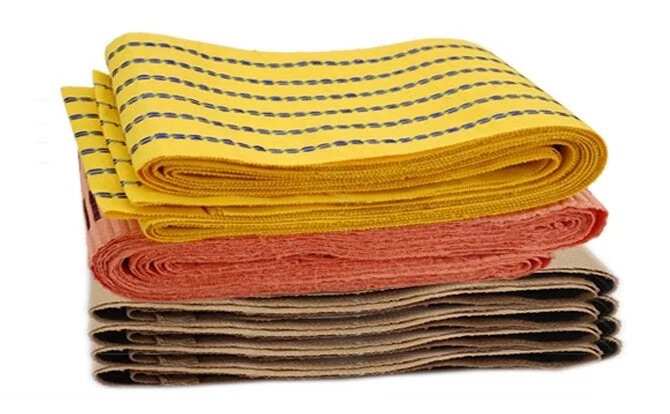 Best designs of Yoruba traditional wedding attire with Aso Oke
Designers ensured that traditional Nigerian material perfectly fits modern fashion. Therefore, every season we can see interesting variations of the Aso Oke fabric.
READ ALSO: Best photos from Yomi Casual's wedding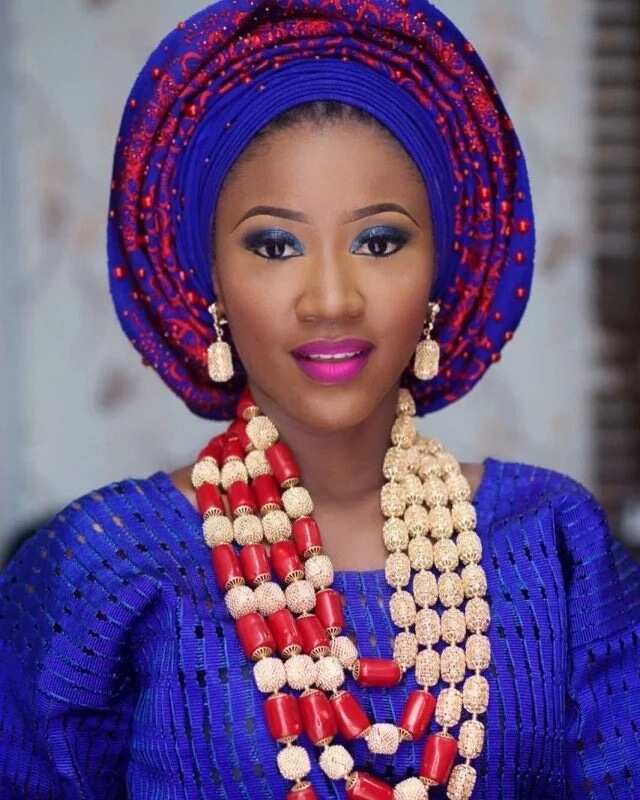 Older Aso Oke motifs are associated with folklore and fables.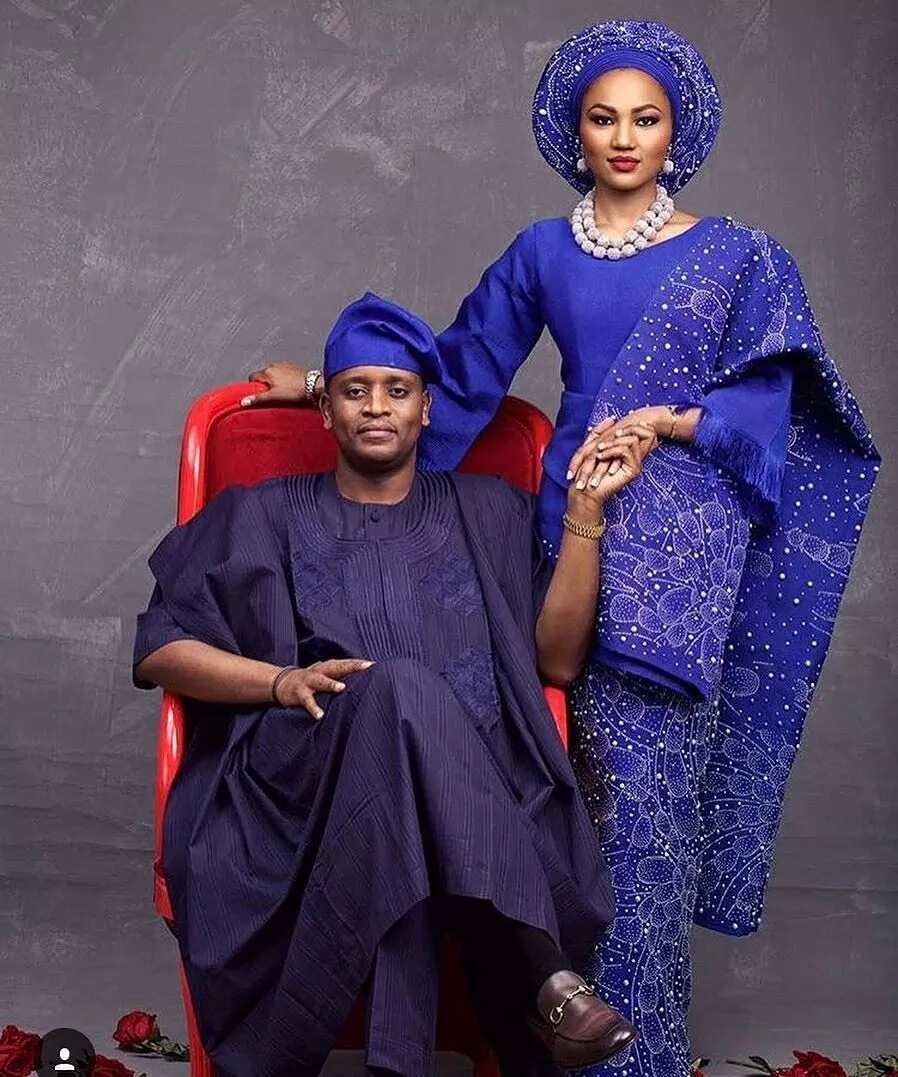 The wild silk, cotton yarn, sparkling threads, synthetic materials, perforated patterns are often used in the process of weaving. A simple and stylish Aso Oke colour combination is navy blue with thin white stripes.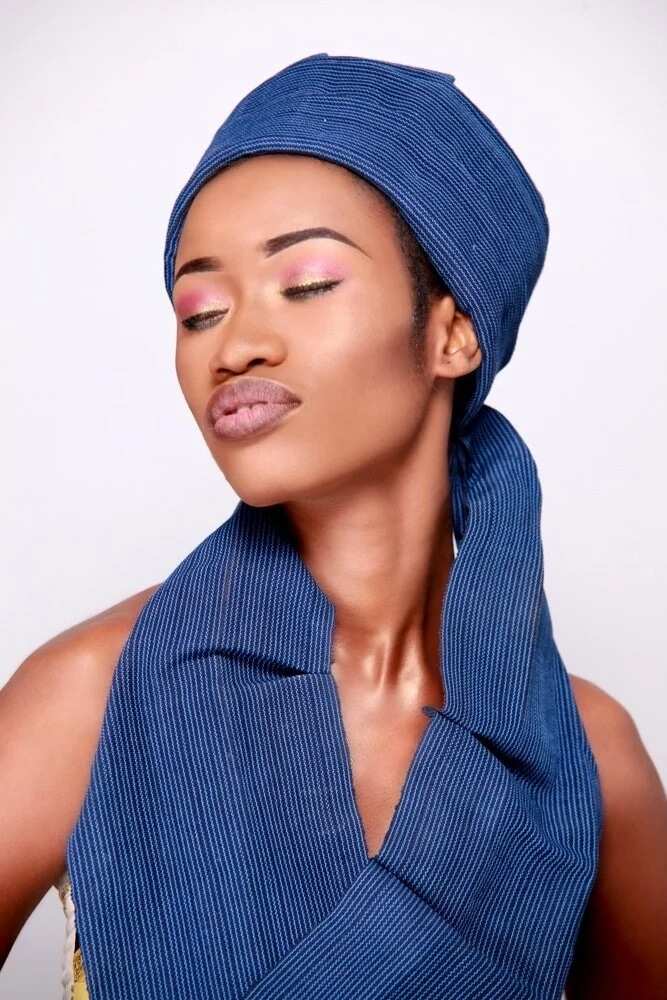 Although most newlyweds prefer bright colours because the wedding is an event that should be remembered for the rest of life. If you want to create a special atmosphere at your event, consider the latest Aso Ebi designs. Ebi means family and friends. That is, guests on the part of the bride and groom should wear the outfits of the same colors thus emphasizing their unity.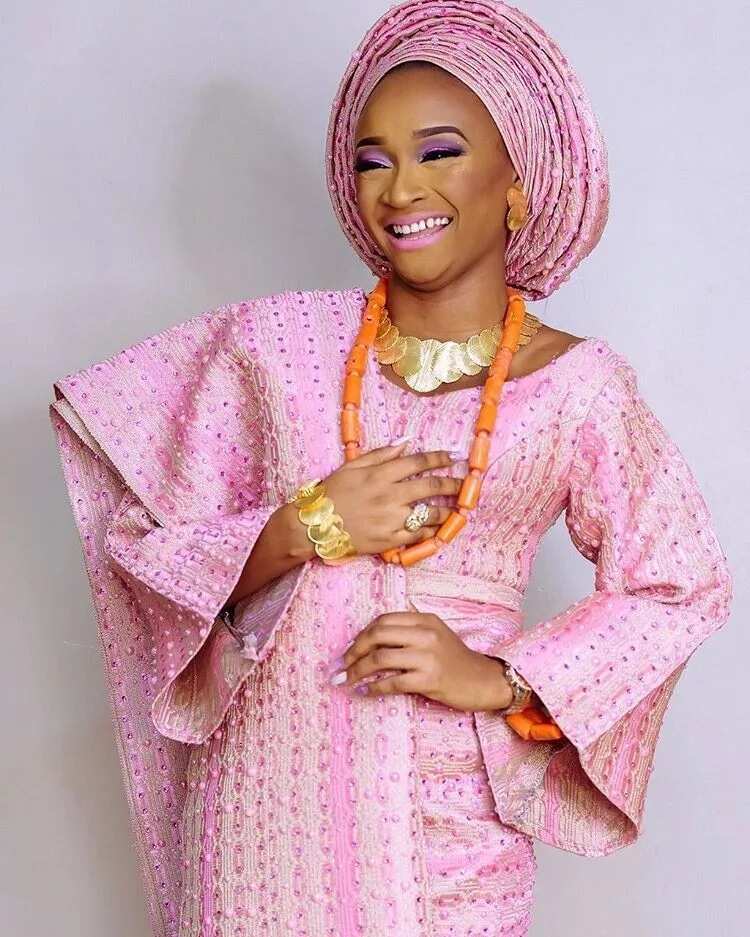 Matching attires for the groom and the bride from Aso Oke fabric look quite beautiful.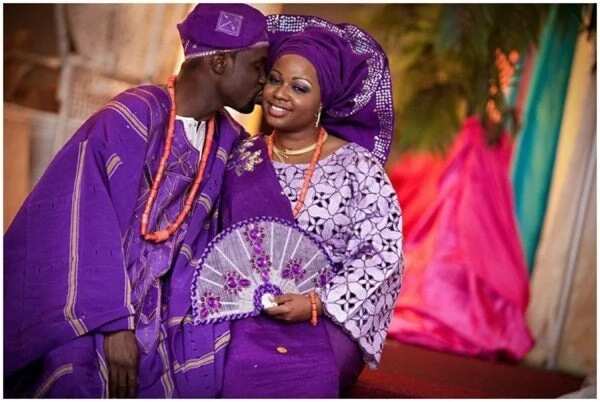 Women make exquisite headgear Gele using Aso Oke. Very good if it is tied from the same fabric that was used when sewing a dress.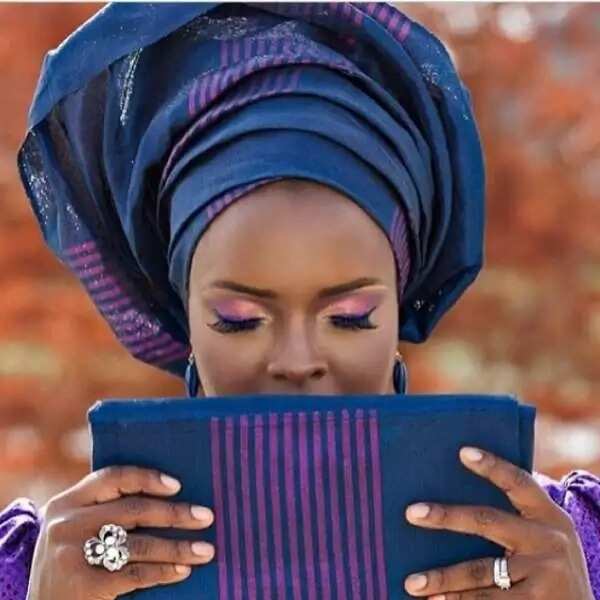 Such headdress can have different shapes and sizes. In any case, its main task is to create an imitation of a crown, because the bride is a delightful queen on her wedding day.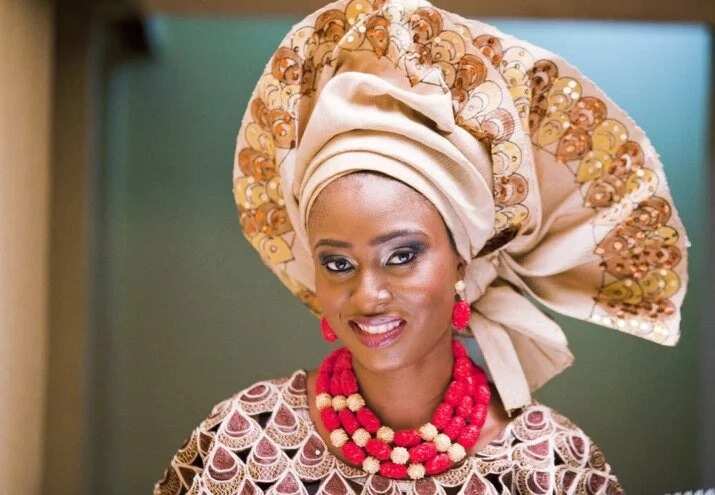 Do not forget to use Iborun/Ipele - a beautiful scarf on the shoulder. It can be decorated with refined patterns and sequins. Also, a spectacular accessory is a big lush fan with feathers.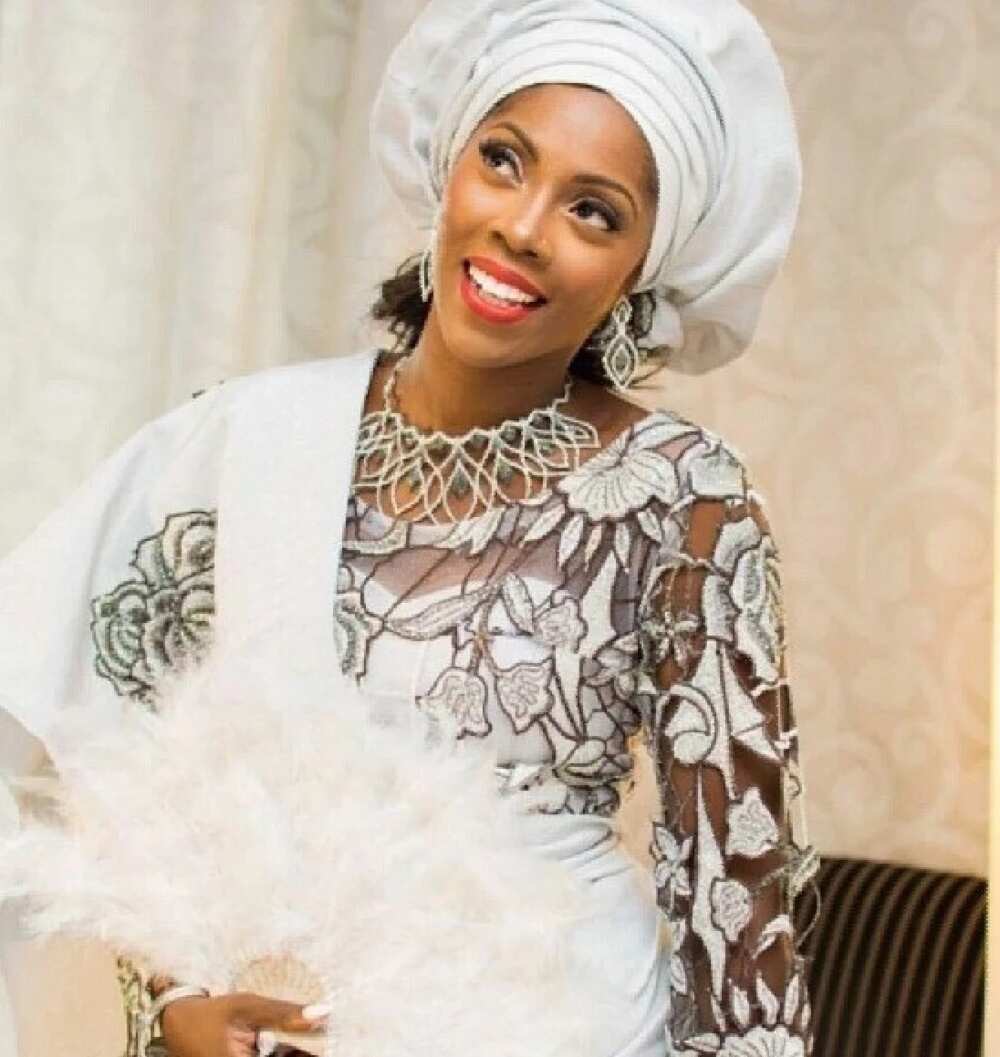 Correctly picking up makeup and jewelry suitable for the colour scheme of fabric you'll create a delightful full-fledged image.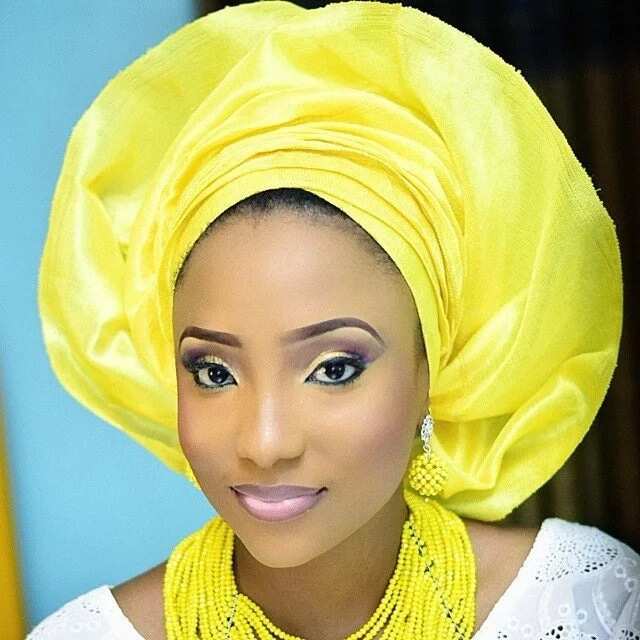 .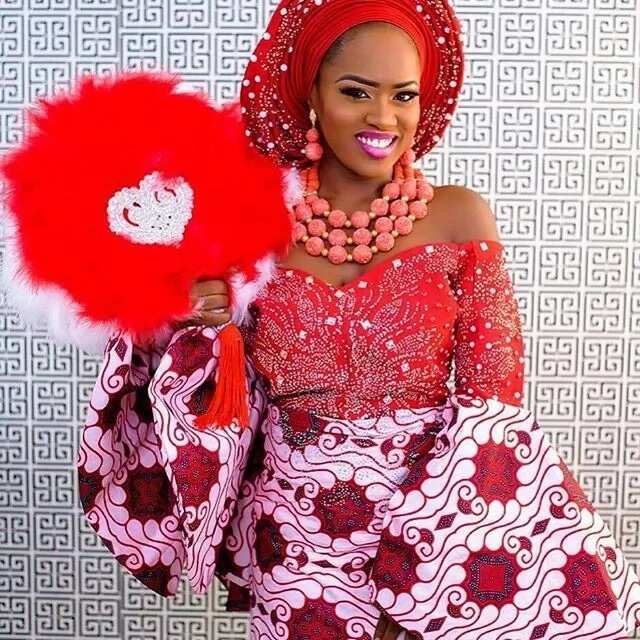 We hope that the information above was useful for you. Let your wedding become a delightful event that will bring a lot of pleasure, unforgettable impressions to you and your guests.
READ ALSO: Native wears for traditional marriage in Nigeria - Best designs
Source: Legit.ng