- The Naira stayed strong against Dollar at parallel market
- The local currency, however, appreciated against Pound and Euro
- The Naira closed at N363 to a Dollar, N440 to Euro while the Pound traded at N502
The Nigerian Naira on Tuesday, February 13, retained its strengthened rate at the parallel market against Dollar.
According to Legit.ng findings, the local currency maintained the same rates of N363 against Dollar, as it was yesterday, February 12, but appreciated against Pound and slipped against Euro.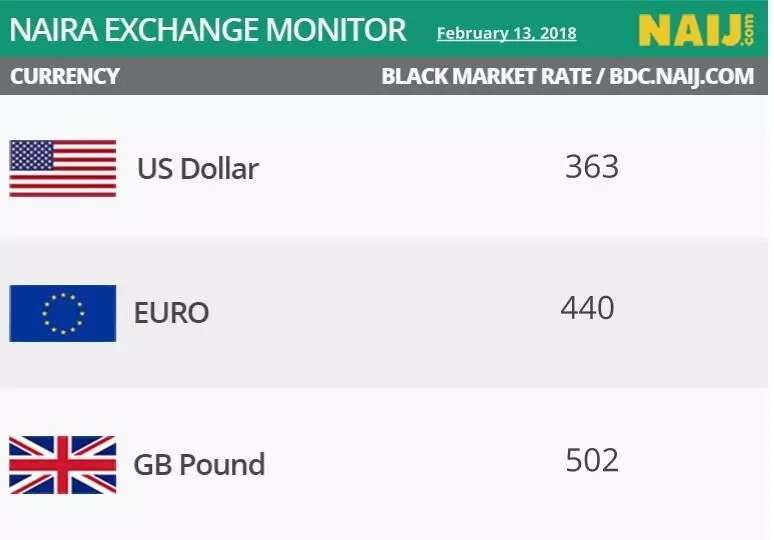 Meanwhile, the central bank intervened in the inter-bank foreign exchange market with the sum of $210 million to meet customers' requests in various segments of the market on Monday, February 12.
This was in addition to the $325.64 million retail Secondary Market Intervention Sales made by the regulator on Friday.
PAY ATTENTION: Read the news on Nigeria's #1 new app
The CBN said Monday's sale was in line with its determination to meet the customers' needs in the sundry segments of the market.
The CBN offered $100 million to authorised dealers in the wholesale segment of the market, while the Small and Medium Enterprises segment got the sum of $55m.
The figures also indicated that customers needing foreign exchange for invisibles such as tuition fees, medical payments, Basic Travel Allowance, among others, were also allocated the sum of $55m.
Can N1 ever become $1 again at Forex Market? Watch Nigerians respond to this question on Legit.ng TV.
Source: Legit.ng