How to make fascinator hat? This is a question that makes many girls sleepless on the verge of an important event: a wedding, big party, or so. Fascinator hats are extremely attractive. Their flamboyant beauty is sometimes disputed but rare girls can stand the temptation of wearing such a headpiece if they have an opportunity. Let's see how to create such beauty on your own!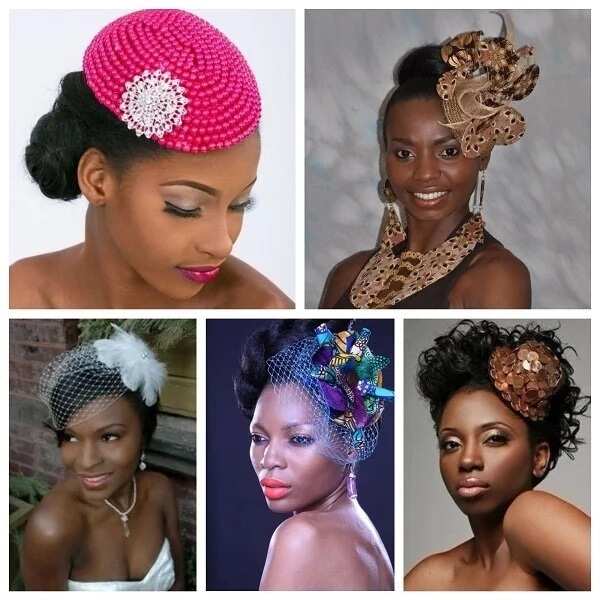 Creating a fascinator: where to start?
Fascinators are always very small, with a base that's usually no bigger than a coffee cup saucer. It means that they need to be fixed on your head in some way. This is why before you are ready to start crafting your own fascinator, you need to figure out how you would like it to be fixed: with a hair slide, a plastic or wooden hair band, or ribbons to tie it nicely under your chin.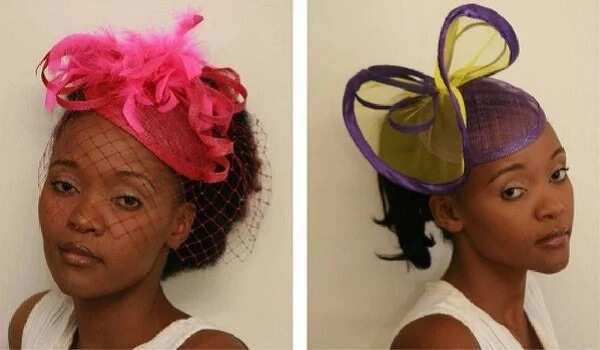 READ ALSO: Plain and pattern styles for ladies to rock in 2018
It's very important to choose a proper style depending on the event you are going to attend with such an accessory and your own facial features.
Here are several tips on choosing the best fascinator style in accordance with the shape of your face:
If you have a rather square face, it's better to choose a fascinator that has a veil and is worn to one side. Abstract rounded shapes and layers will help your face look softer and more feminine
If your face is rather oval, you can choose any fascinator shape and size. Try some brimmed ideas, which are worn at daring jaunty angles
If your face is narrow, choose flatter but wider styles: feathers, taffeta and other details that provide horizontal volume. Avoid tall styles that may make your face look long
If your face is rather round or full, your best option is something like a pillbox style that's worn on the back of your head
If your face looks like a heart by its shape, feel free to choose any fascinators that you like but remember that bigger items will look better than smaller ones
How to make fascinator base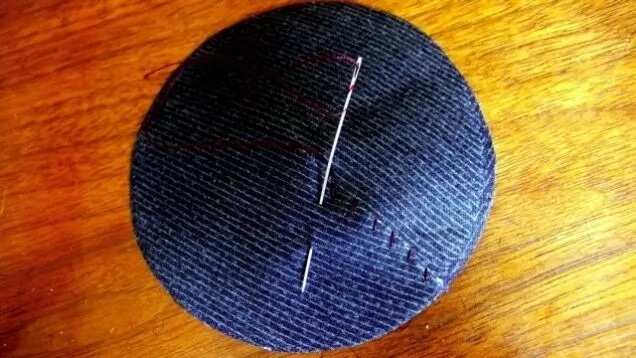 A lot depends on the style you choose for your fascinator. However, in most cases, it's something like a circle, as big as a coffee cup saucer, made out of several layers of felt or another rigid material. The main idea is to create a solid base for all the decorations that will be fastened to it later. Thus, simply estimate everything that you would like to see on your accessory and you will have an idea of the necessary base.
Below, we will consider creating two fascinators of different types, and one of them will have a base. Let's see how it's made.
Take a piece of fusible interfacing, big enough to cut two circles of a chosen size
Take a piece of another material that will be the base of your fascinator
Cut out two circles of the fusible material and two – of the base material
Fuse each piece of the interfacing to each piece of the base material with the help of a very hot iron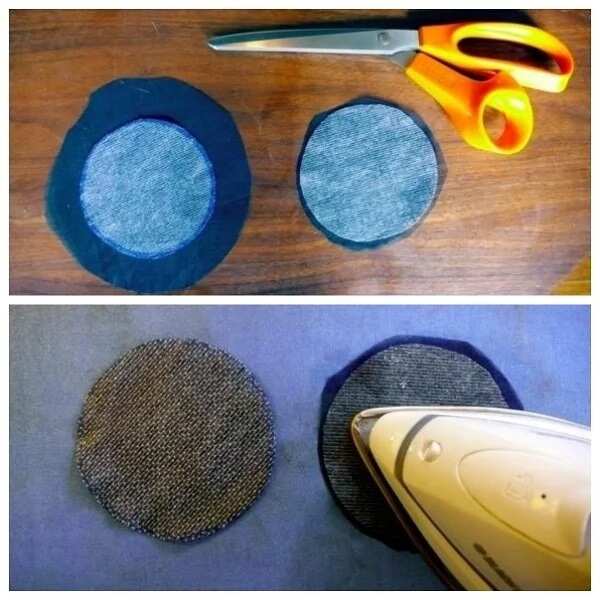 Then, fuse them together to create a solid layer
Cut away the uneven edges to make the shape smooth and accurate
Make a small cut from the edge to the center of the circle, fold the cuts over each other and stitch accurately to create a slightly rounded volume
This is how the base is made. Now, let's see how to create two lovely fascinator hats without much effort, cheaply, and quickly.
A minimalistic fascinator step by step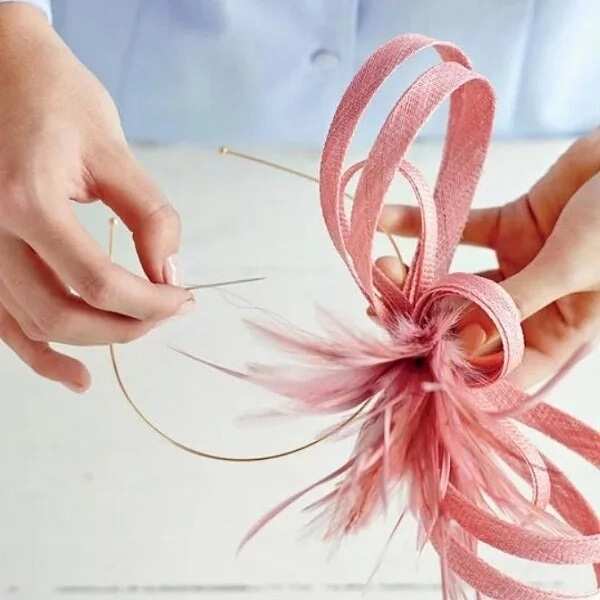 It's one of those lovely minimalistic accessories, which you can see if you are looking for guidelines on how to make fascinators for weddings. This one is really easily made and looks stunning!
Take an 18 square inch piece of sinamay fabric and cut it into two triangles diagonally
Cut a 4-inch wide strip along the long side of one triangle and then one more 4-inch wide strip of the same triangle. Then, repeat with the other triangle. You will have 4 strips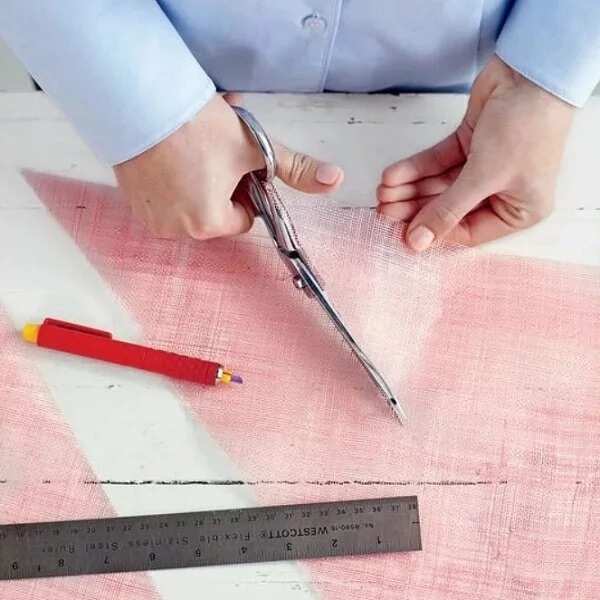 Fold each strip in two lengthwise, then unfold and fold again in such a way that edges are hidden inside the strip. Holding edges tightly, iron the strip with a very hot iron until all the layers adhere to themselves. Repeat with all the four strips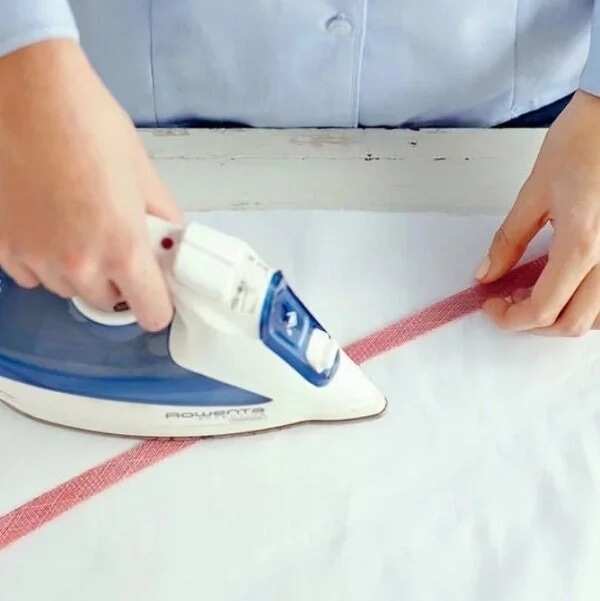 Create two "8" figures out of the bigger strips and pin their ends in the center
Fold one of the short strips into a bow, pin the ends in the center and pin it to the "8" figures
Curl the other shorter strip into a wide cone and pin the ends in the center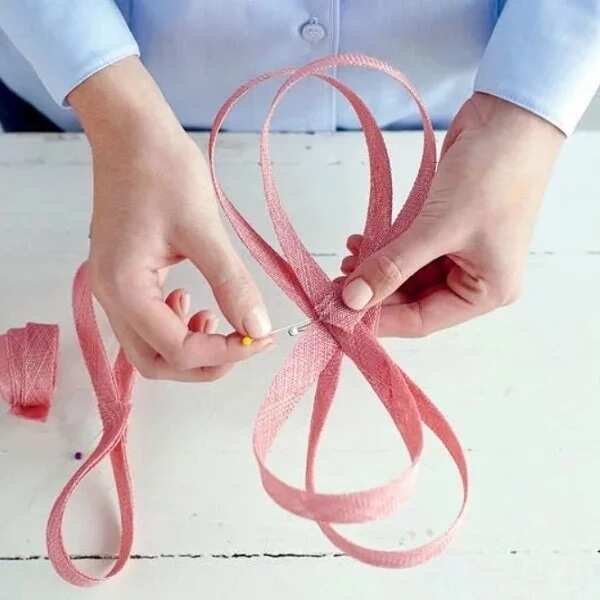 Place one "8" on top of the other, the bow on top of it, and the cone on top of the entire construction
Use a needle and a thread to fasten them together
Use hot glue to attach feathers to the place inside the cone where the stitching can be visible
Attach the fascinator to any plastic headband of the matching color and it's ready for wearing!
How to make fascinators with under the chin ribbons?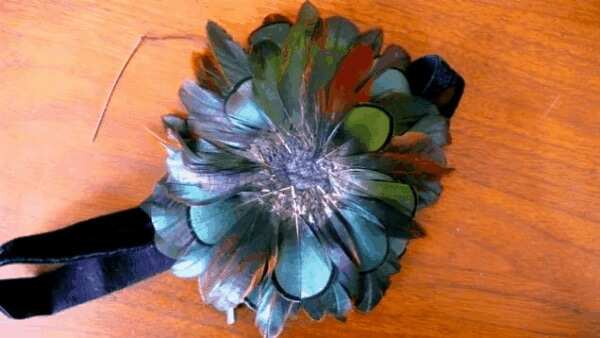 Take the already described base for the fascinator and keep on decorating it as follows:
Take two pieces of satin ribbon of the matching color and stitch it to opposite sides of the fascinator. If you are interested how to make fascinators with veil, this is the moment to attach the piece of veil you have chosen
Now, go to the top of the fascinator and start attaching feathers. Make sure you have enough of them of the same color and type. You can stitch them or use hot glue or even both for more security
Stitch the feathers in circles, starting from the edges and moving to the center
In the center, make a hole with the help of an awl and insert the decorative feathers with long stems
Fasten them with the help of threads and glue so that they don't fall out occasionally
When you get to the very center, either make sure that the feathers fully cover the base and there's no visible work in the center or attach something that will cover the visible stems of feathers and the base. It can be a brooch or a big fake gem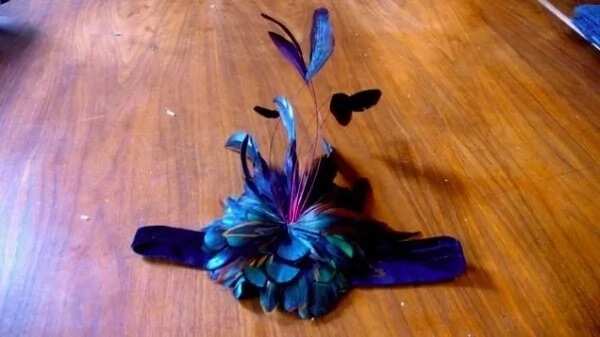 Take a circle of the base fabric and cover the bottom side of the accessory to hide the place where the ribbons (and the veil) were attached
This is what it's like to create a fascinator hat on your own. You are free to create any shapes and use any decorations that seem to match the occasion.
READ ALSO: Latest Senegalese dresses styles
Source: Legit.ng