- President Muhammadu Buhari's move to resolve the continuous crisis in the ruling All Progressives Congress (APC) may have started on a faulty note
- The appointment of the National leader of the APC, Asiwaju Bola Tinubu, as the mediator of the party, has been heavily criticised
- Some APC chieftains are of the opinion that Tinubu himself is the party most aggrieved member
Some members of the ruling All Progressives Congress (APC), have faulted the appointment of Asiwaju Bola Tinubu as the mediator of the party.
According to them, it is going to take concerted effort to unite all factions because the man at the helms of the committee is also aggrieved.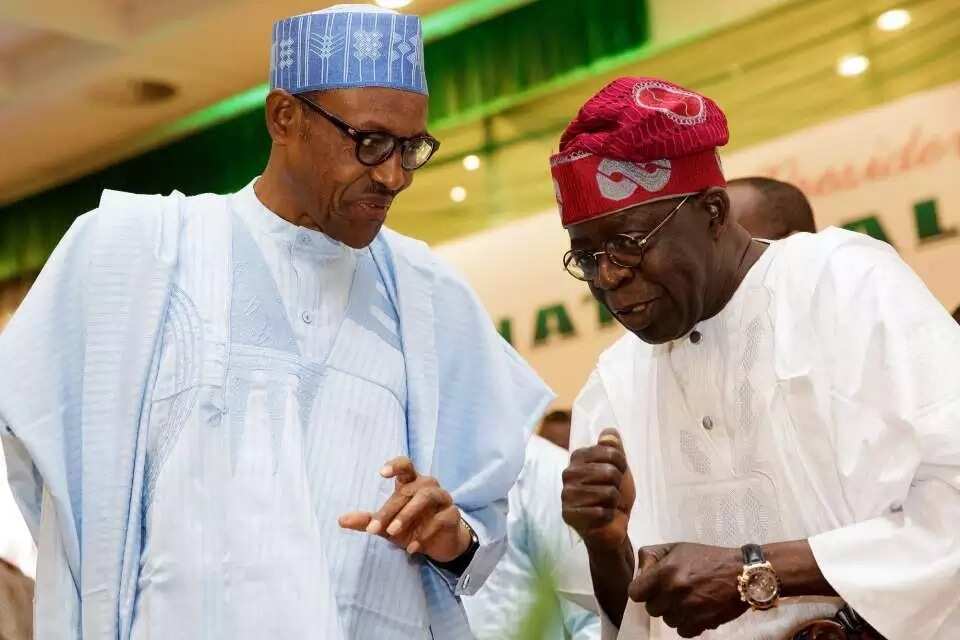 READ ALSO: 2019: If Tinubu says he will not support Buhari, that is the end of his regime - Falola
"How can you ask the number-one aggrieved member to lead reconciliation? The National Leader is the most aggrieved person in the party today. Who will reconcile Tinubu with the party's National Chairman, Chief John Odigie-Oyegun?
"Are you not aware that Tinubu himself is aggrieved? He also needs to be pacified, especially in his grievance against the president," a chieftain of the party from the South-south region, Frank Okon told the New Telgraph.
Buttressing Okon's point, another APC cheiftain from Adamawa, Alhaji Yinusa Inuwa, explained that the person bestowed with the responsibility has many enemies within the party, as such, the job may be difficult.
"Tinubu has issues with many people in the party, especially those who went against him during the elections under the leadership of the National Assembly.
"He is fighting the Senate President, Bukola Saraki and many senators who supported Saraki. He is also fighting Yakubu Dogara and Governor Aminu Tambuwal over the speakership. Who will reconcile him with those lawmakers? Is he going to reconcile himself with them?" he queried.
On his part, Senator Suleiman Hunkuyi, who represents Kaduna North Senatorial District in the Senate, said he doubt whether the Tinubu committee would make any progress in Kaduna state APC.
Hunkuyi who is already poised to contest the 2019 governorship against Governor Nasir El-Rufai said: "I don't know whether the committee can achieve a result in Kaduna state. With due respect, it has not been done before. But the fact that there is a committee to reconcile aggrieved members shows there is conflict within the party."
Also speaking, the chairman of Restoration Group, a faction of the party in the state, Tijani Ramalan said the only panacea for reconciliation is for the state governor not to seek reelection in 2019.
"I learnt that APC reconciliation team would be coming to Kaduna, if they want our support, then El-Rufa'i should not run in 2019," he said.
READ ALSO: Trouble in APC as zonal chairmen call for Oyegun's removal
Earlier this week, President Buhari designated Tinubu to lead the consultation, reconciliation and confidence building efforts in the party.
The assignment will involve resolving disagreements among party members, party leadership and political office holders in some states of the federation.
APC official tells why his party could be voted out in 2019 on Legit.ng TV
Source: Legit.ng