With so many choices of different products available in the market and competing for the best price, it is often hard to find that one authentic and truly organic one. Fans of aloe vera juice who cannot find the healthy and useful drink in their local store can follow our recipe and prepare it themselves. Here is how to make aloe vera juice.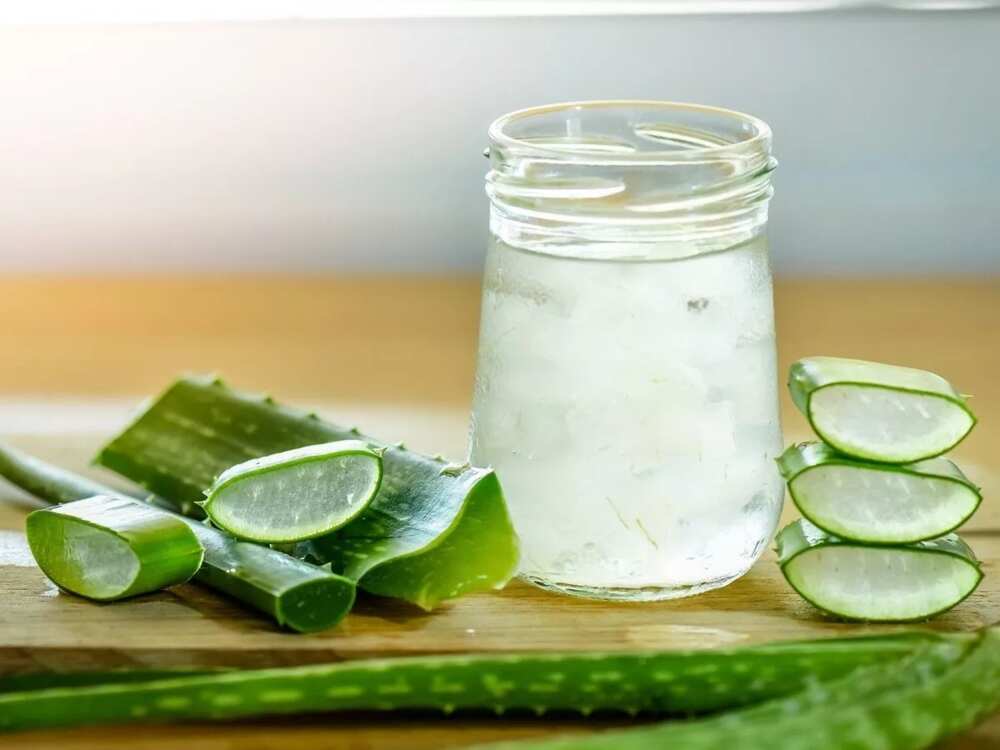 About aloe vera
Many of us grow aloe vera at home. This plant possesses numerous medical properties. It can relieve you from tooth pain, improve your health, and make your skin better.
The perfect room plant, aloe vera has a short stem and long green leaves. They are juicy, fresh, and work great for all women and men. It has many great components (A, B2, B6, C and E vitamins, iron, magnesium, copper and other minerals). Besides, it contains amino acids.
In other words, you can drink aloe vera juice as homemade medicine that can cure different minor conditions (skin problems, acne etc.).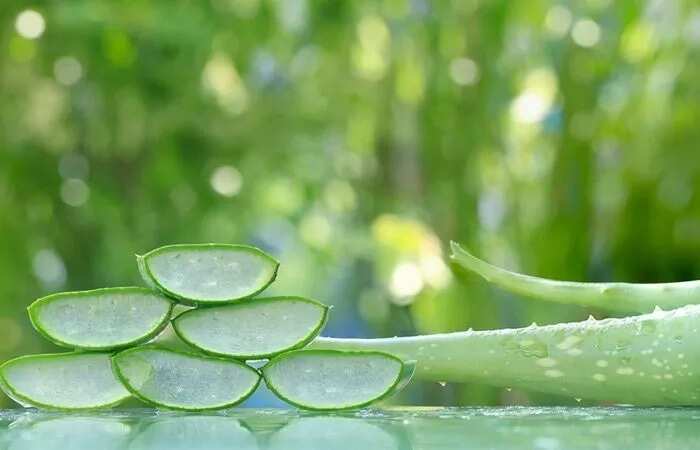 Aloe vera juice ingredients
Making the drink yourself is always better than getting a ready-to-buy product in the store. You control the process and you know what you are using to make it. You also control the amount of plant you add to your juice and are sure that you have grown it at your home.
So here is what you need:
Fresh plant leaf from aloe vera – 1 piece
Water – 3 cups
Lemon – 1 slice (optional)
Ginger – 1 slice (optional)
Dishes – 1 spoon, 1 knife and 1 bowl
Blender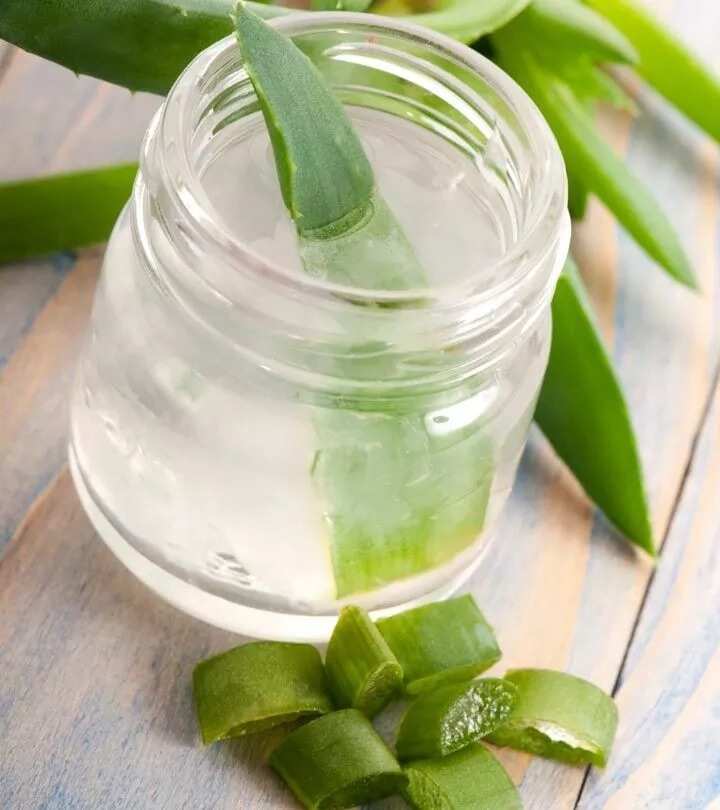 How to make aloe vera juice from fresh plant
Step 1. Use the knife to carefully cut a leaf. Pulling it off is also a solution but it is better to make the cut as this way you will preserve the natural aloe vera juice and do not squeeze it too soon.
Step 2. Carefully peel off the leaf's top layer using a knife. You will get to the second layer (it is not green, but yellow color).
Step 3. You need a spoon to get the natural gel. Just scoop it out.
Step 4. Add it to the bowl. Make sure you have just the gel and not the pieces of latex. You do not want it in your juice.
READ ALSO: Yoruba herbs and their uses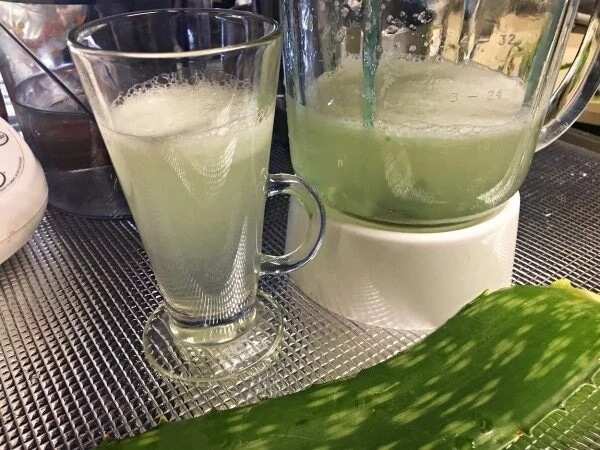 Step 5. You need a blender to make aloe vera juice from fresh plant. Add 2 tablespoons of the gel into the blender. Now pour in the water and turn the machine on. Let it work for approximately 4-5 minutes. Tips: if you don't have a blender, use just a cup and a wooden spoon to quickly stir the gel along with water and other ingredients (if you want to add them for better flavor).
Step 6. The drink is nearly ready. Use a glass to pour it out of a blender when you are done.
Step 7. You can now improve the flavor and taste with ginger, lemon or other extra ingredients (to your own taste).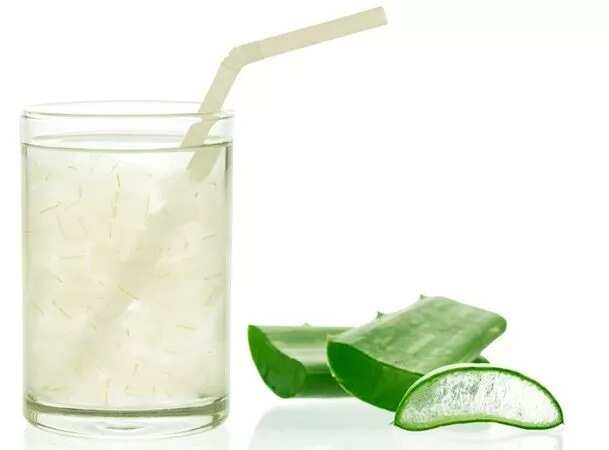 Perform all these steps as quickly as possible to consume all the healthy benefits of fresh aloe vera gel turned into juice.
Some people like to drink aloe vera juice as it is. This homemade drink is nutritious, although it might taste unusually without additional ingredients. Honey and different citrus fruit can change the taste and make it pleasant and even delicious.
To consume all the vitamins and minerals as well as antibacterial components offered by aloe vera juice, you do not need more than 4 tablespoons of the fresh plant gel per day. It is enough to make two glasses of juice to drink two times a day. Still, it is important to keep the fresh juice you haven't drunk fresh in the refrigerator. If you do not have a fridge at home, you better make just a single portion and later make another one.
READ ALSO: Effect of drinking bitter leaf juice