Medicinal uses of shea butter
Shea butter is a real African health pearl. Treatment effects of shea butter made it famous around the world. Find out more about the benefits of this wonderful product.
Famous African butter
African shea butter had been used in local medicine since ancient times. It is extracted from the bones of unique tree fruits, which is not found on other continents. The Latin name of this rare tree, Butyrospermum parkii, is too long and complicated for common pronunciation, so in local dialects, it was called shea or karite. It grows in Sudan and some countries of West Africa, such as Nigeria, Ghana, and Mali.
This is long-lived tree its average age is 250-300 years. The fruit is very similar to miniature avocados or horse chestnuts, but with fragrant flesh. The butter itself is produced by pressing only selected fruits. It is a solid granular and heterogeneous mass of white or slightly creamy hue with unobtrusive peanut flavor.
READ ALSO: How to make hair cream at home
At a temperature of 35 °C the butter becomes liquid, so it is convenient to use as a massage butter, it spreads quickly over the skin and perfectly absorbed. By the way, Africans also found a use for the production residues of this butter: they use it in cooking (as a sauce), as fuel for luminaries and in construction as a material of insulation.
Chemical composition of shea butter
Most of the shea butter consists of triglycerides. These substances are formed by fatty acids, namely palmitic, linoleic, stearic, and oleic. The composition of this product also includes unsaponifiable fats, represented by caristerols. It is this "chemical tandem" of unsaponifiable fats and fatty acids that make shea butter very popular in cosmetology.
Shea butter benefits and application
Shea butter as an anti-inflammatory and decongestant is used for treating colds, acute respiratory viral infections, influenza, as well as sprains and joint pain. In cosmetology and aromatherapy, this amazing product is considerable popular for more than 20 years. And the most valued it is in skin care industry. Many cosmeticians call shea butter "transport" - for its ability to penetrate into the skin and enrich its layers with various useful components of cosmetics.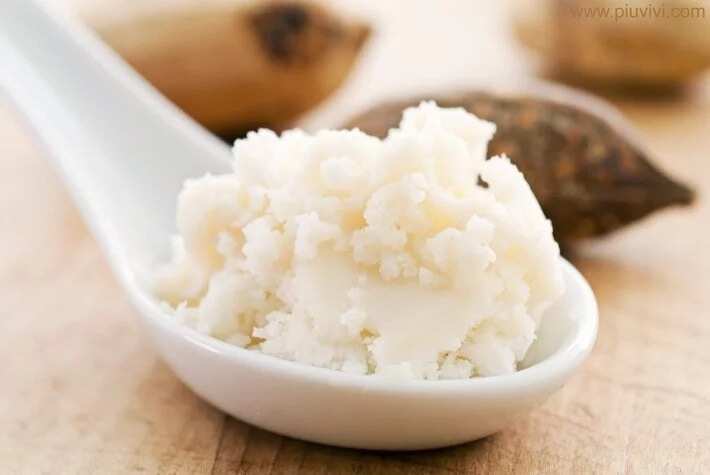 It is widely used not only for skin care but for lips and hair. Quite often shea butter is included in anti-aging cosmetics, it stimulates collagen synthesis, improves complexion, improves skin tone, makes its texture denser and reduces the depth of wrinkles. This is an excellent tool for caring for dull, tired and fading skin.
Let's take a closer look at the composition of shea butter and its properties:
Phytosterols (stigmasterol, campesterol, β-sitosterol and α-spinosterol), triterpenes (ester of cinnamic acid, α- and β-amyrin, parkol, and lupeol) – all these elements are contained in shea butter and give it regenerating properties, enhance the synthesis of collagen and skin rejuvenation. That is why shea butter scalp treatment is becoming more popular nowadays.
Vitamins A and E help to maintain a natural, healthy balance of substances in the skin. Vitamin F helps to restore impaired lipid cement in the upper barrier layers of the skin.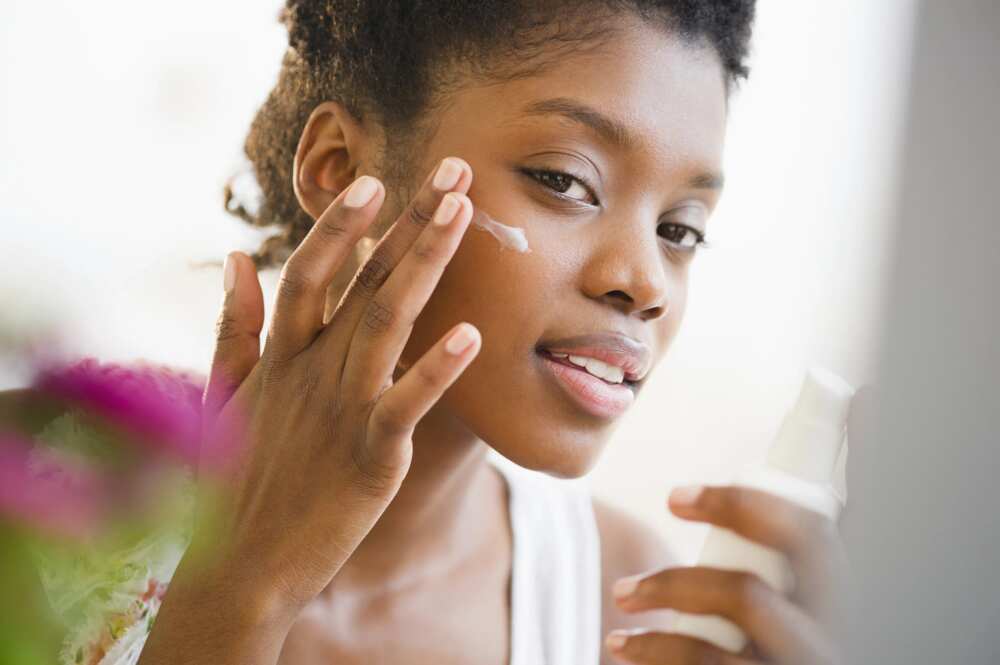 Shea butter contains a large number of triterpene alcohols. It helps the valuable components of the butter not only to penetrate deep into the layers of the skin but also give it proven antimicrobial and anti-inflammatory properties!
Cinnamic acid esters of shea butter can absorb solar radiation, thus providing a UV protective effect.
Linoleic acid (omega-3), a constituent of shea butter, enhances the protection and restoration of damaged skin and hair. It has antiseptic properties and is used efficiently to remove acne. Shea butter perfectly restores the skin after lesions.
Natural shea butter is an intense moisturizing balm for dry skin, that can revitalize even dehydrated skin on the body and scalp.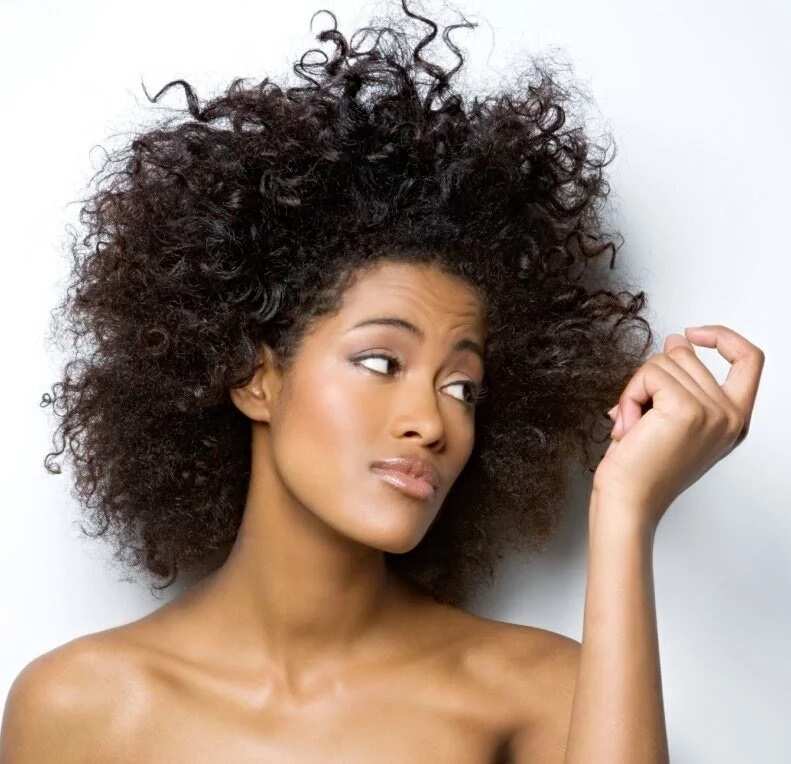 Shea butter treatment can be applied not only for skin, but you can also use it for hair.
Contraindications
Not so long ago, it was determined that this product has one contraindication - sensitivity to latex. The thing is that shea butter contains small amounts of natural latex. Fortunately, an allergy to this substance is a rare phenomenon. The benefits of shea butter are huge, so you should definitely try it.
READ ALSO: How to make mango butter at home?
Source: Legit.ng