Do you know already how to make tomato paste into sauce with a divine taste? Do you know how to make a perfect pizza with tomato paste? Do you know how to impress everybody with spaghetti unsing a wonderful tomato sauce? Well, let's find out how to do it easily.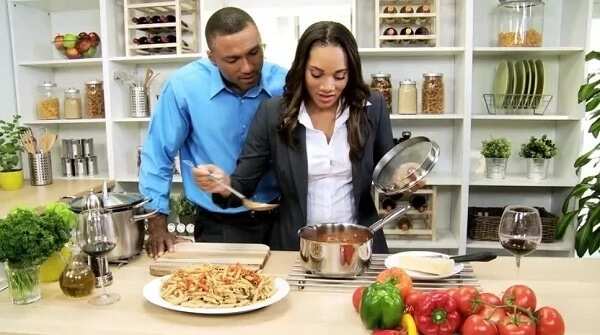 Why tomatoes?
Tomatoes are extremely good for health. They contain a lot of vitamins and minerals, and they can improve a person's mood. They contain very few calories and are a perfect food for those who want to lose weight. If you want to eat healthily and have a good body shape, choose tomato sauces instead of béchamel, mayonnaise, or other sauces with butter, cream, and so on.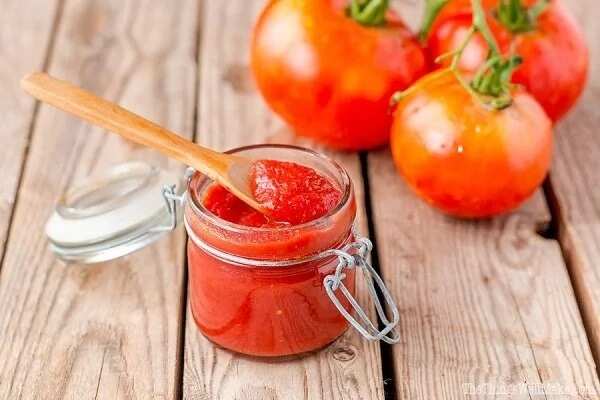 READ ALSO: Tiger nut and dates juice recipe
There's a popular opinion that tomato paste is a stuff that can be used in soups only and there's no use trying to turn it into a good sauce. In fact, those who support this opinion simply have no idea how to do it right. Tomato paste can be a perfect base for a pizza or pasta sauce. You can even turn it into a delicious homemade ketchup without special efforts and within a very short while.
Classical and simplest: tomato paste into tomato sauce recipe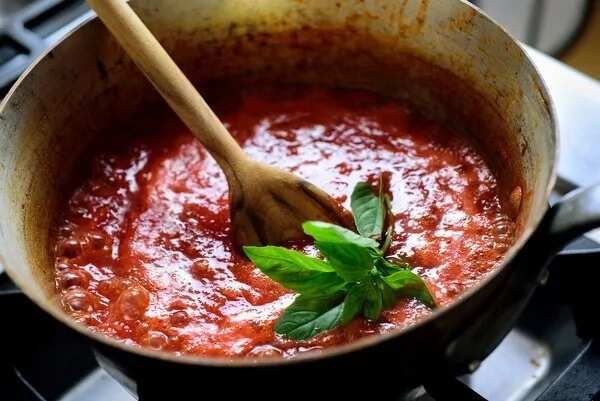 This recipe is good because you don't need practically anything special. The ingredients are very simple, and the time needed for cooking makes about 20 minutes.
1 kilo tomato paste
1 onion
50g of vegetable plant oil
50g of sugar
Salt and ground black pepper to your liking
Chop the onion and sauté in the oil until it becomes transparent. Add tomato paste, stir well, and keep on the fire for about 15 minutes more. Then, turn the fire off and cool the mass down. When it reaches the room temperature, pour the mass into a blender and blend until it's smooth and even. Add salt, sugar, and pepper.
You can also cook a variation of the same sauce by adding garlic (4 cloves) and basil. This sauce is perfect with meat of different types. The process of cooking is the same but it's very important not to overly fry garlic. If you like, you can add fresh chopped garlic immediately to the blender.
If you like, you can add some chopped fresh herbs to the sauce before serving it. If you add some fresh cilantro or ground coriander (or both) and a little vinegar to the garlic variation, it will be the answer to the question "how to make tomato paste into ketchup". Make sure that you taste the sauce before you add vinegar in order to avoid too much sourness.
Several simple tricks: tomato paste into pizza sauce recipes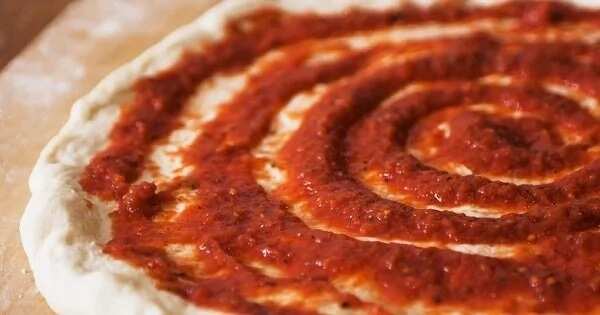 250g of tomato paste
100ml of water
5g of dried oregano
Ground black pepper to your liking
50g of vegetable plant oil
10g of salt
10g of sugar
Mix all the ingredients in a deep saucepan and let the mass boil on a slow fire. Cook for 5 minutes and taste. If the sauce is too sour, add some more sugar. Here you have a classic pizza sauce.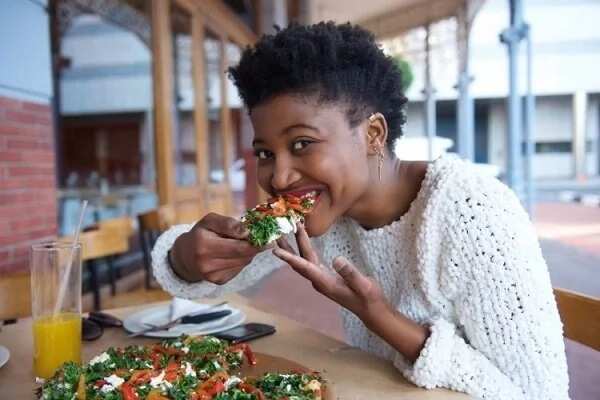 50g of chopped onion
50g of chopped carrot
500g of tomato paste
Olive oil for frying
Dried marjoram or basil
Salt and sugar to your liking
Sauté the chopped onion and carrot in olive oil until they turn golden. Pour the tomato paste into a deep saucepan, add the onion and carrot with oil, stir everything thoroughly, add spices, salt, and sugar, and let it boil. Cook for 30 minutes on a very slow fire. When cooled down, blend to evenness.
1 kilo of tomato paste
40g of olive oil
Lemon juice (a couple of tablespoons)
20g of basil
Salt and pepper to your liking
Simply mix the ingredients together, stir well, and allow the sauce to rest for 15 to 30 minutes. This is the simplest raw pizza sauce from tomato paste that you can imagine!
A true taste: tomato paste into spaghetti sauce recipes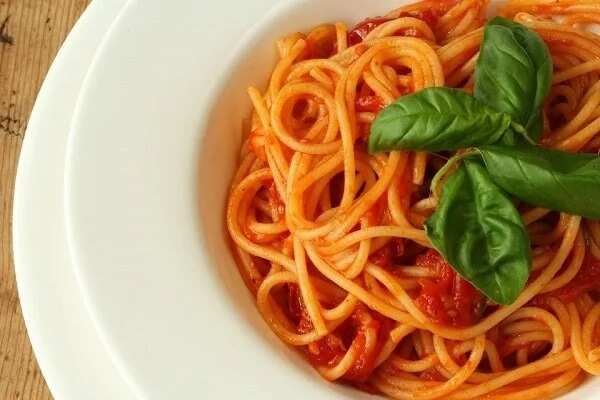 2 tablespoons of olive oil
1 onion and several tablespoons of chopped green onion
4 cloves of garlic (chopped or cut in two)
800g of tomato paste
Fresh basil
Salt to your liking
Heat up the oil in a deep saucepan. Add chopped onion and garlic and sauté to softness. Add the tomato paste, basil, and salt. Cover the saucepan with a lid and cook for about 20 minutes, stirring from time to time to avoid burning. If you have cut garlic into two pieces, remove them from the sauce after the cooking ends.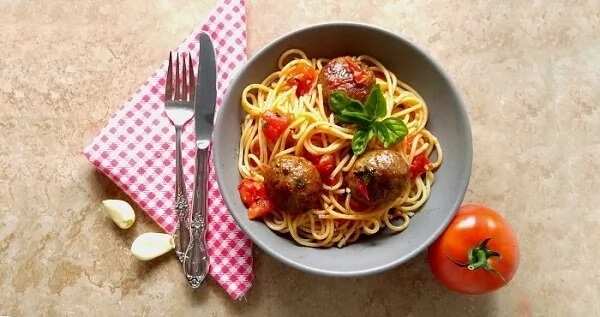 300g of tomato paste
1 chili pepper
½ teaspoon of ground red pepper
2 cloves of garlic
Salt
Fresh basil
Chop the chili pepper and garlic. Stew in olive oil for about a minute. Then, add tomato sauce, ground pepper, and salt. Cook for 15 minutes more. Add fresh basil leaves to the cooked sauce. This sauce is perfect with spaghetti. It's known as Arabiata sauce.
3 tablespoons of olive oil
½ onion
800g of tomato paste
6 cloves of garlic
1 bay leaf
½ cup of red wine
1 tablespoon of honey
2 teaspoons of dried basil
1 teaspoon of dried oregano
1 teaspoon of dried marjoram
1 teaspoon of salt
½ teaspoon of ground black pepper
¼ teaspoon of fennel seeds
¼ teaspoon of dried chili pepper
2 teaspoons of vinegar (or to your liking because the sauce can be sour by itself)
Sauté chopped onion put in oil for 5 minutes but don't let it change color. Add tomato paste, garlic, and bay leaf. When the mass boils, reduce the fire to the smallest and cook for about 30 minutes. Add wine, honey, dried herbs, salt, and all the other spices, and cook for 30 minutes more. In the end, add vinegar (to your liking and only after you have tasted the sauce for sourness). Here you have the famous Marinara sauce for spaghetti.
Which recipe would you like to try?
READ ALSO: How to make barbecue chicken in Nigeria
Source: Legit.ng