Top long kinky twist hairstyles
There are so many ways to get a protective and cool hairstyle. Kinky twists are so diverse, fun and easy to do. If you are interested in natural-looking protective hairdo, then you should try kinky twist braids hairstyles! Long kinky twist hairstyles can be done in many variations by playing with creative styling options.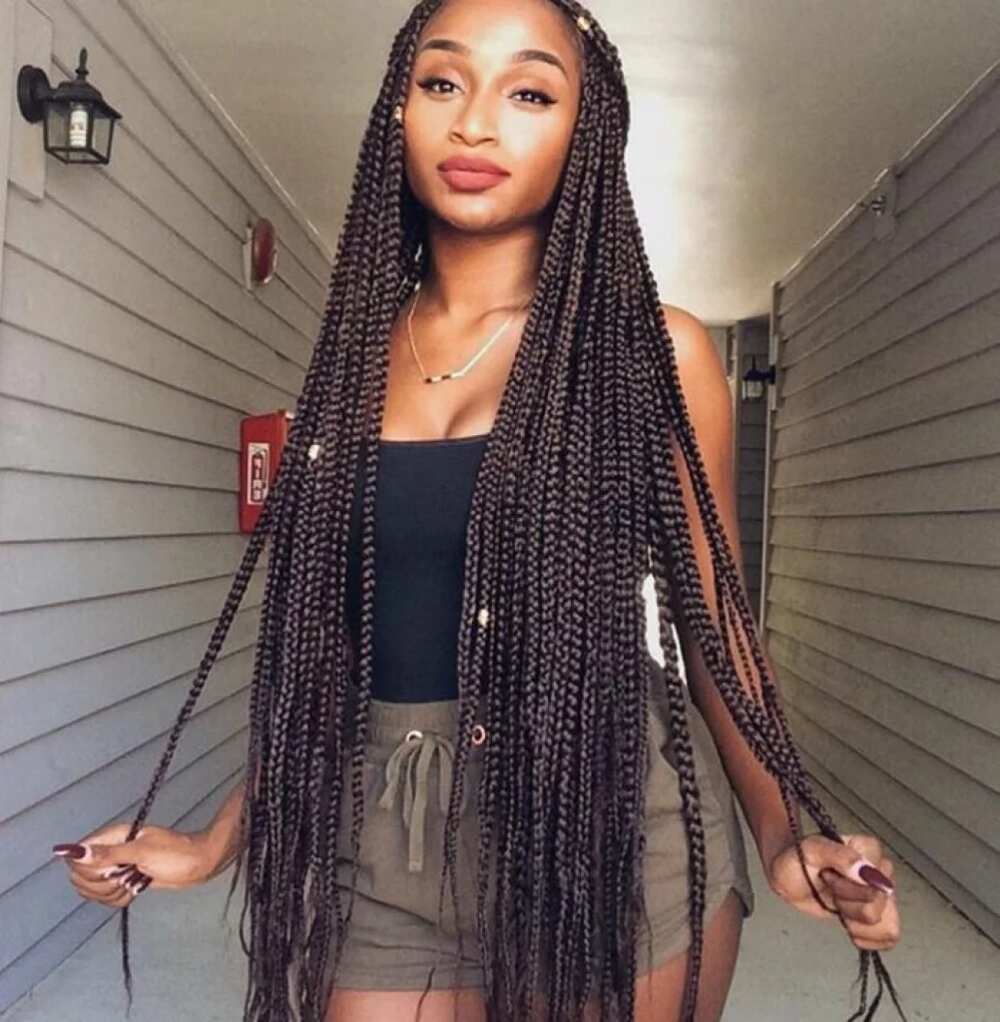 Ideas for cool kinky twist hairstyles long hair
The pictures below and the descriptions will definitely help you to choose your favorite kinky twists style. You can style your twists in so many ways. Twists can be shaped into a gorgeous hairstyle for both special occasions and everyday wear. The options of long kinky twist hairstyles are endless, but we want to show you the best ideas.
1. Kinky twists mohawk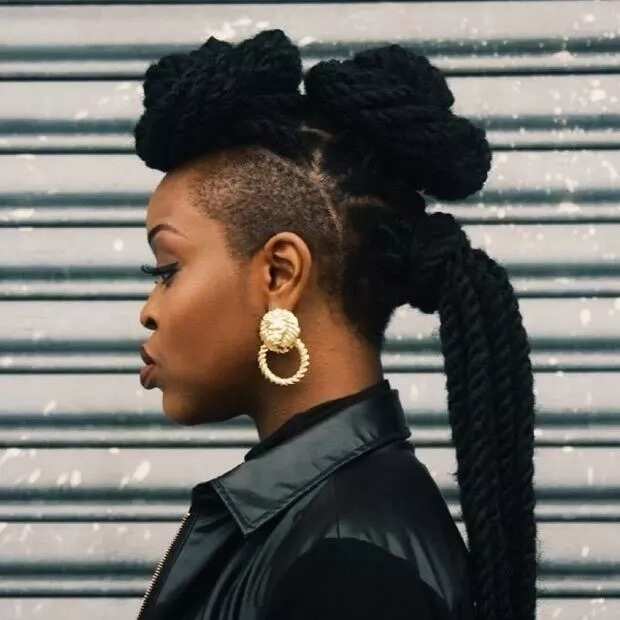 READ ALSO: Natural hair twist styles for long and short hair
Mohawk style is always fashionable, it can be combined with different hairstyles and even with twist braids styles. Your long twists can hide the side of the head if you don't want to rock mohawk at some day. Easy transformation ability and cool look, it is all about kinky twists Mohawk.
2. Simple long kinky twist style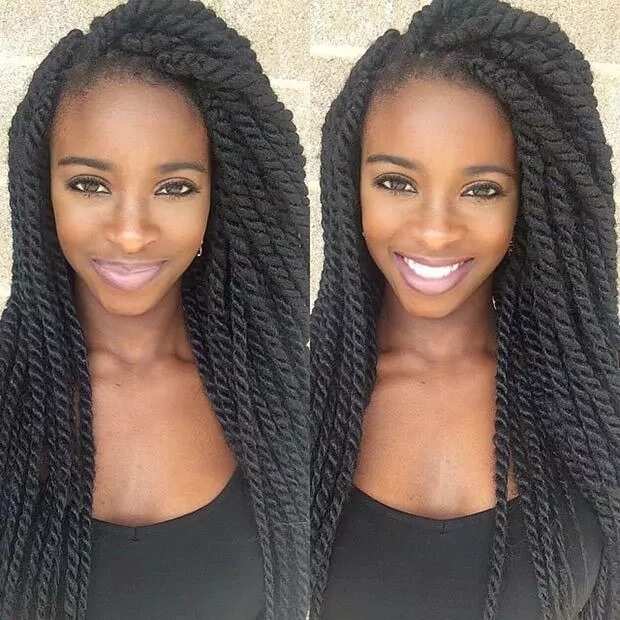 Even if you just leave your hair loose on your shoulders, it still looks beautiful and powerful. So it is highly recommended to try.
3. Burgundy twists half updo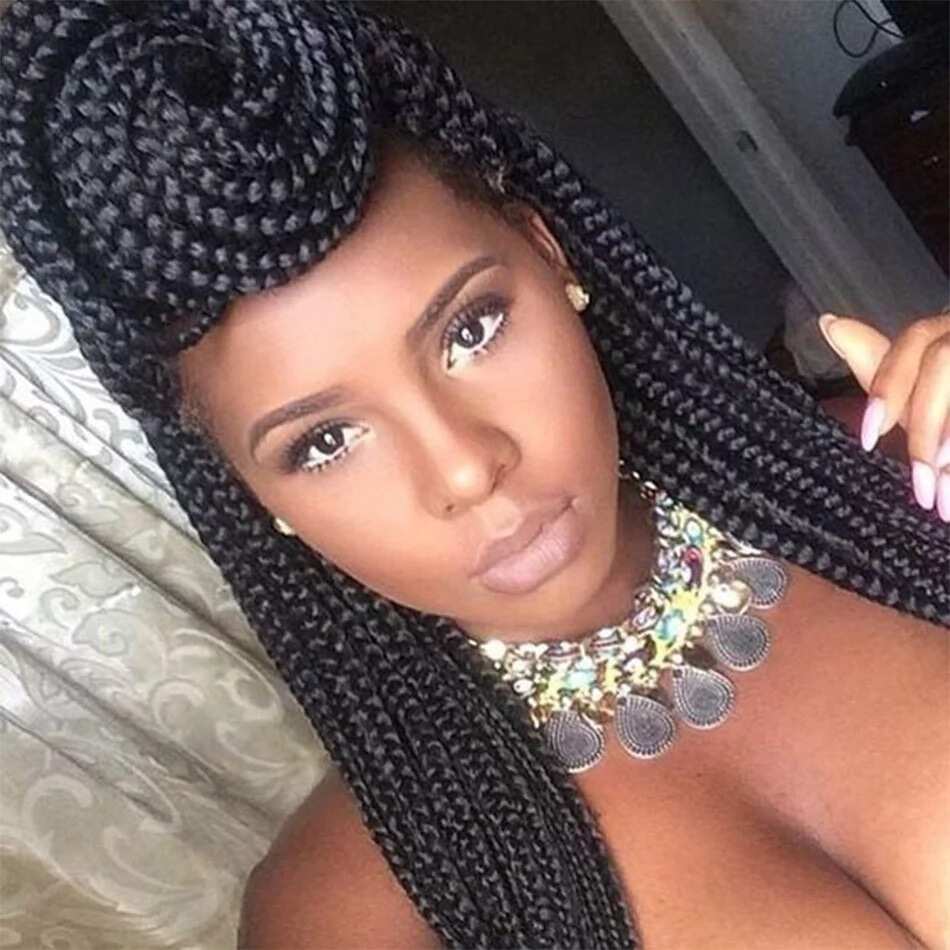 One of the easiest hairstyles for long kinky twists. To make this bun you just separate the top part of your hair and pull it into a ponytail. Wrap the ponytail around the base to create a small bun.
4. Red and black high bun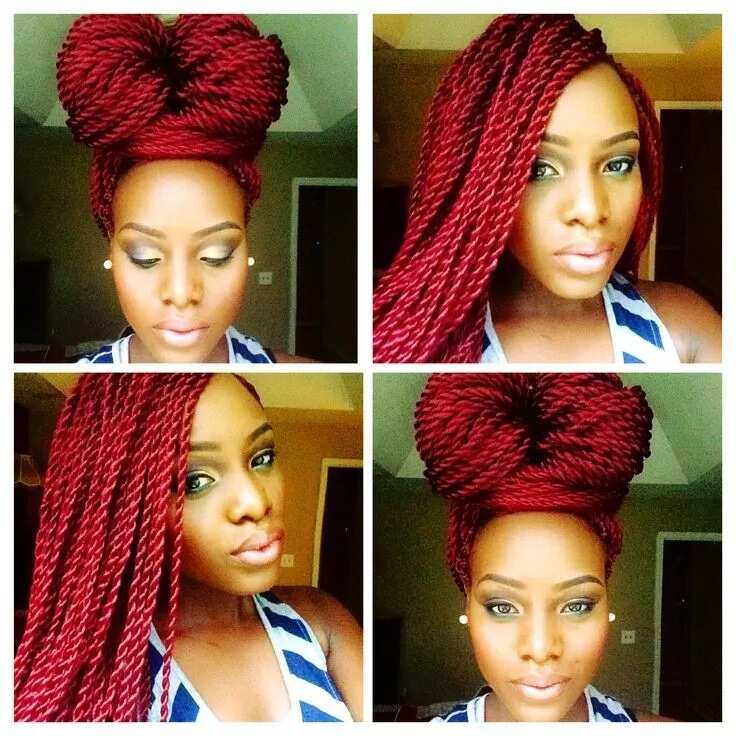 If you want to style your twits in an easy and elegant way, a high bun is just for you. This hairdo can be appropriate for any occasion – work, party or simple everyday wear. To make your style more fierce and bold, lighten your hair up by inserting red twists. Try to experiment with different colours and create your own unique look.
5. Add some beads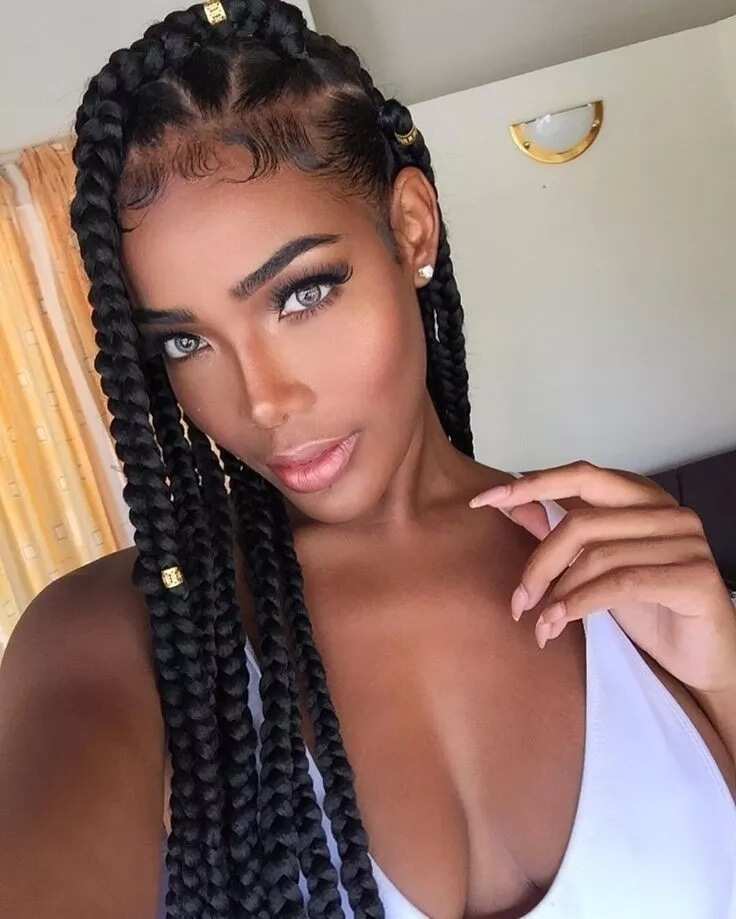 Update your twists with some beads for hair. Kinky twists have their own beauty but anytime you can make them even more creative. Just combine gold or silver beading with, for example, a high ponytail.
6. Cornrows and twists updo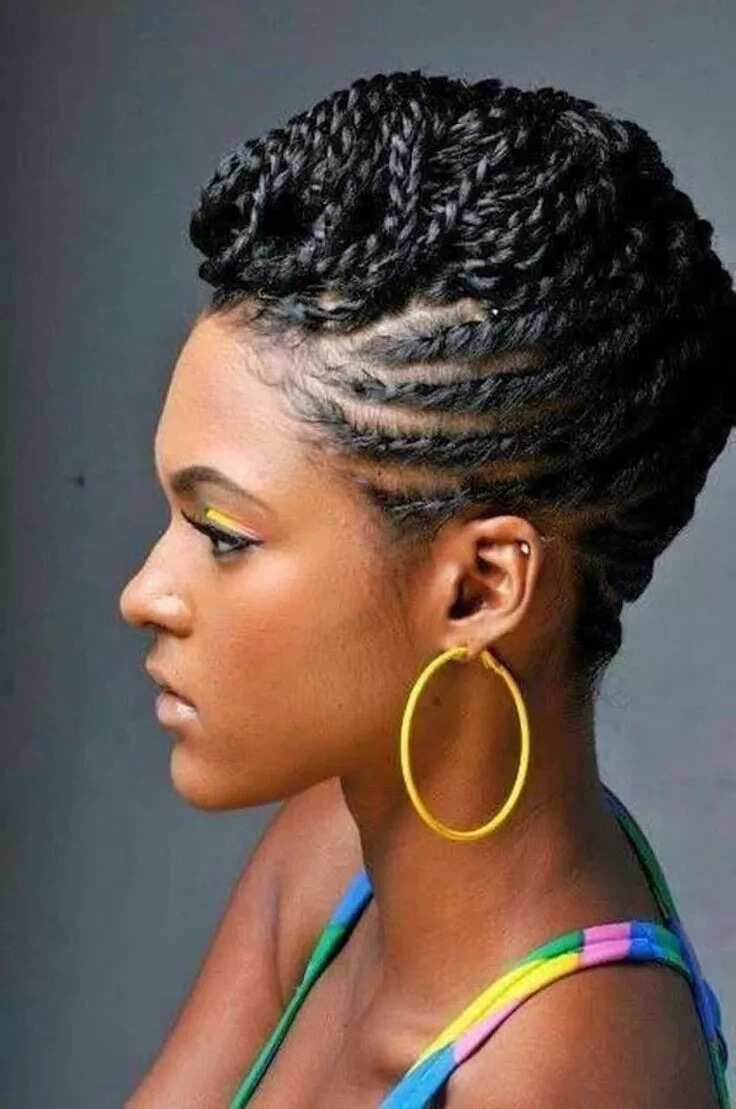 Сombine twists and cornrows and you will get something highly cool. It is also called faux hawk, complement it with a beautiful pair of statement earrings and you will get a jaw-dropping look.
7. Purple style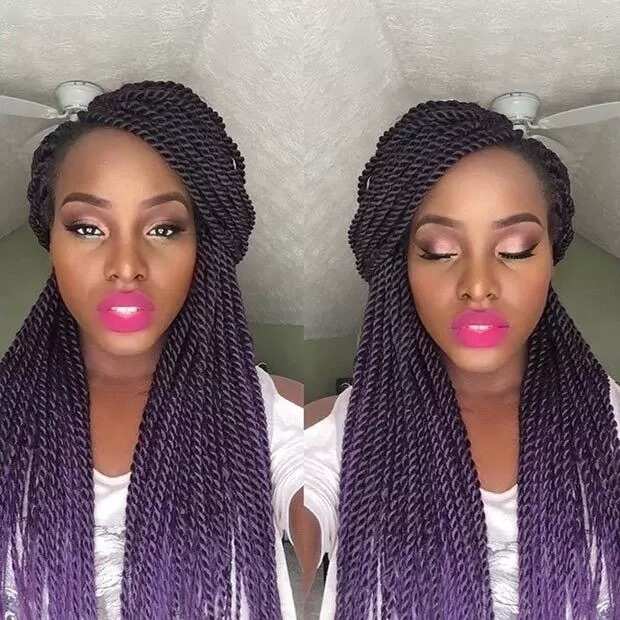 Use Dutch braid or variants of French braid from each side and secure them with hair elastics. Braid styles is an easy and cute way to refresh your look.
8. Cute updo experiment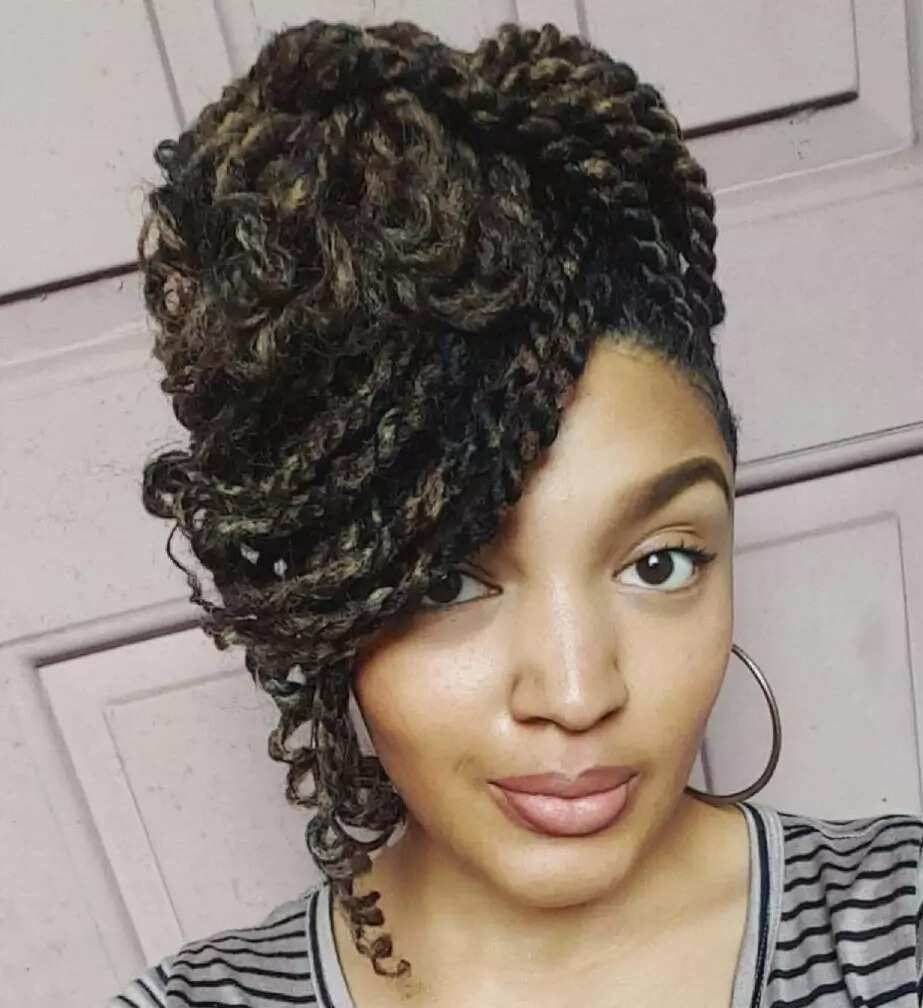 Try this cute and classic flawless updo as a new inspiration. Just turn your twists in and the new eye-catching look is ready. It is protective style with endless variations and forms. Let your creativity be free and enjoy the new look.
9. Long blonde kinky twists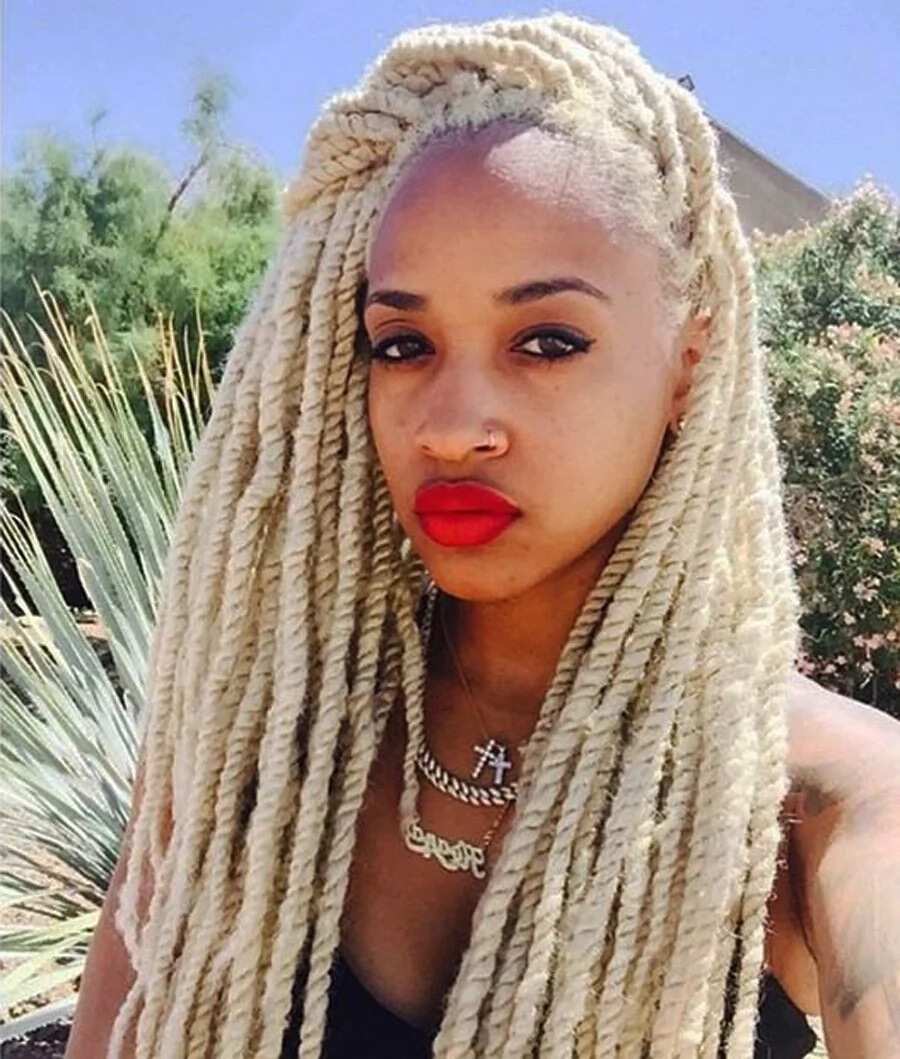 The next idea of afro kinki hairstyles is about the experiments with colour. It looks effortlessly chic even when you don't do any additional styling. The white colour of twists contrasts with swarthy skin and highlights you anytime.
10. Combine twists and shaved sides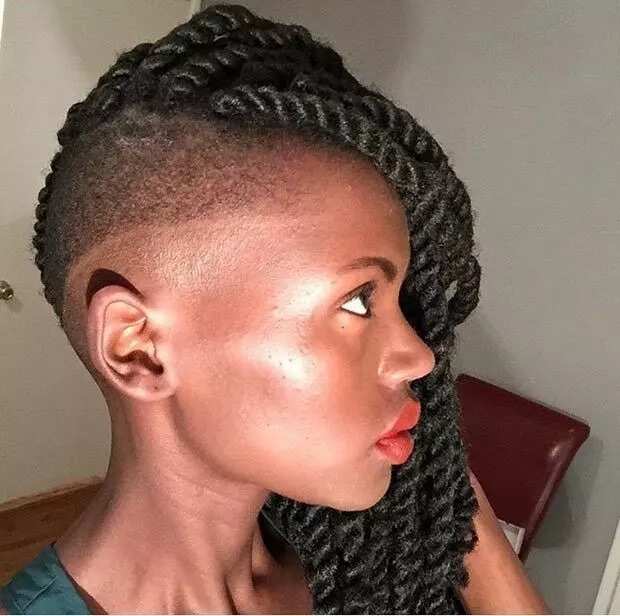 Shaved sides head style in combination with big kinky twists looks impressive and extremely cool. It is perfect for those who love bold experiments.
11. Jumbo twist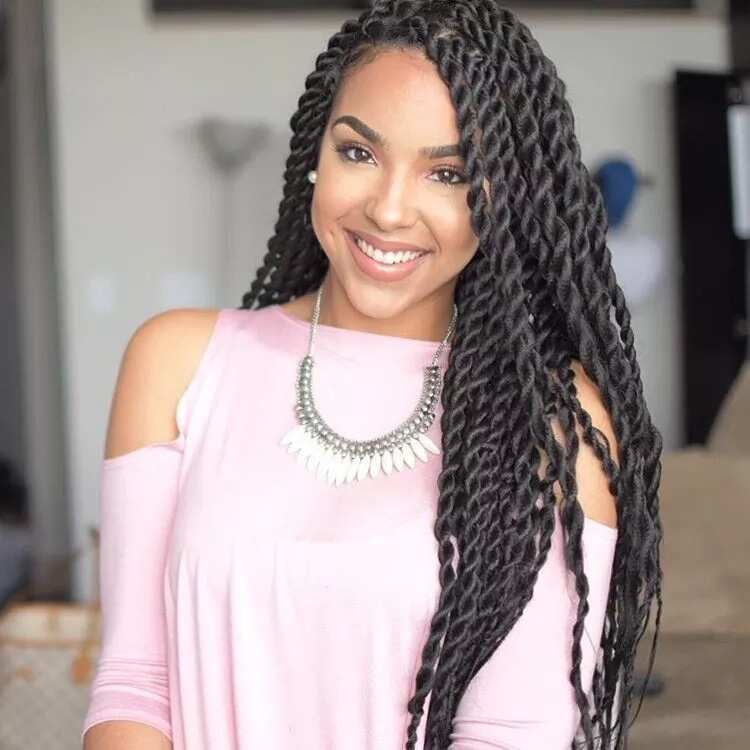 Jumbo twists even in their simplest form are always undeniably beautiful and original.
12. Use a scarf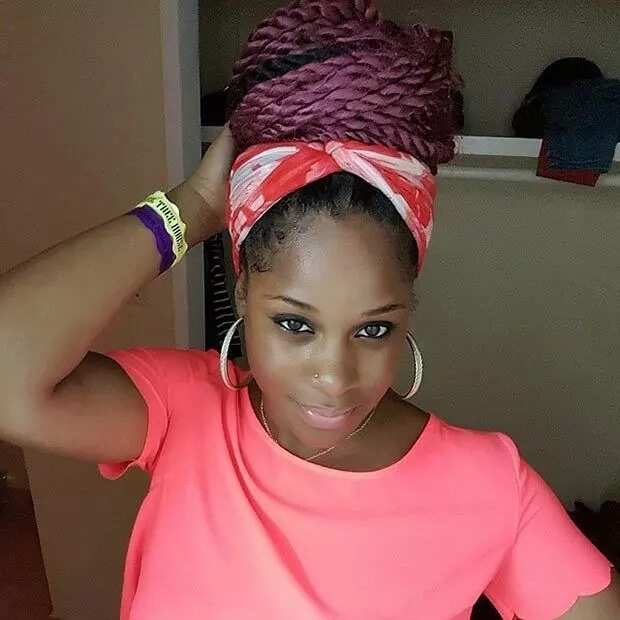 The combination of scarf and high bun of twists is another simple and stylish idea for your hairdo. A colorful scarf is just a must-have for fun summer look of your braids and twists.
13. Blonde and light brown style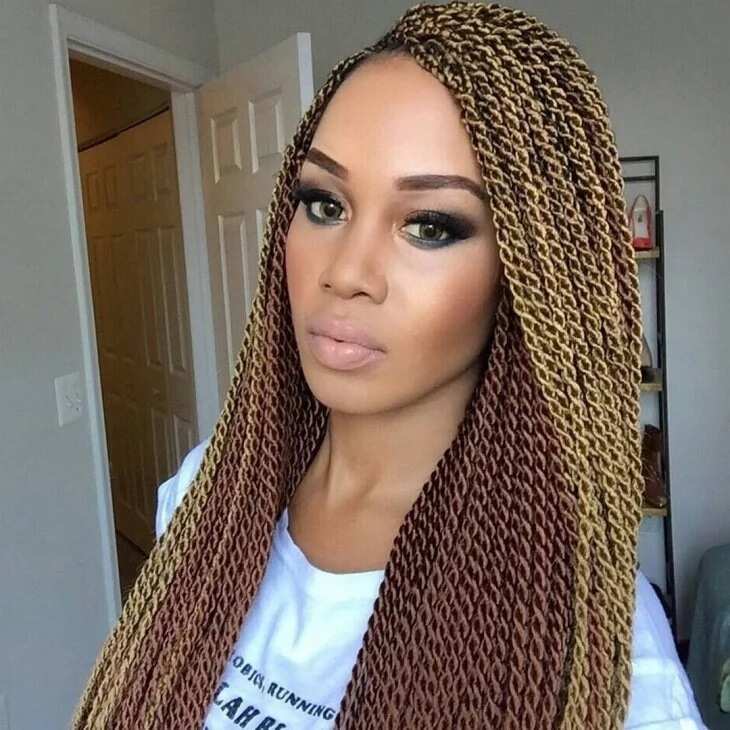 It can be a good variation for women with the dark tone of skin. This is a bold and bright experiment. If you want something special, then this style is for you.
14. Side braids and kinky twists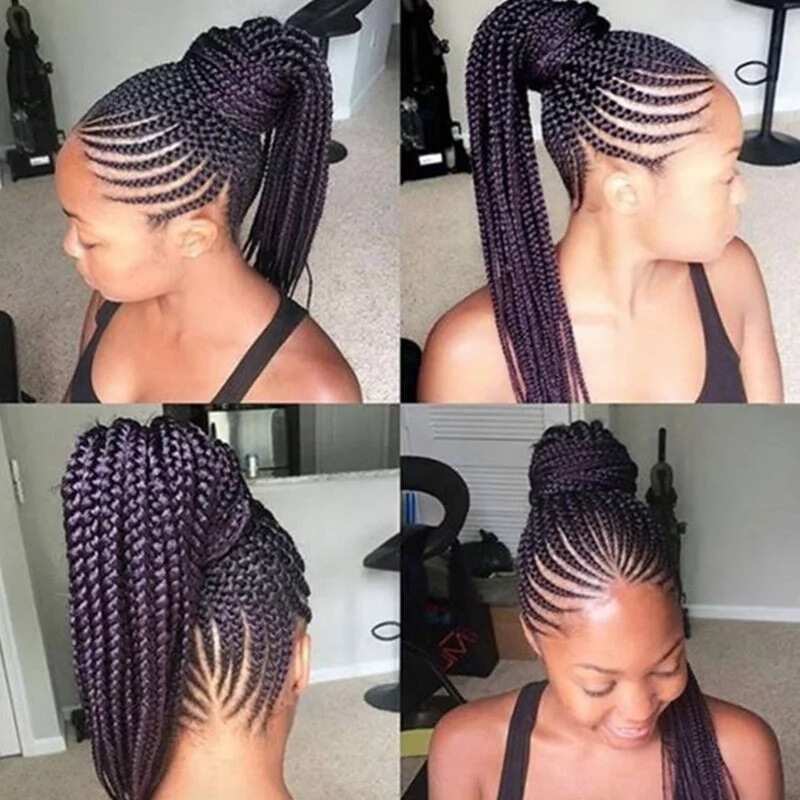 With this hairdo, your twists will be always out of the face. If you opt for such variation of style you can forget about any additional styling for at least two months.
15. Side bun updo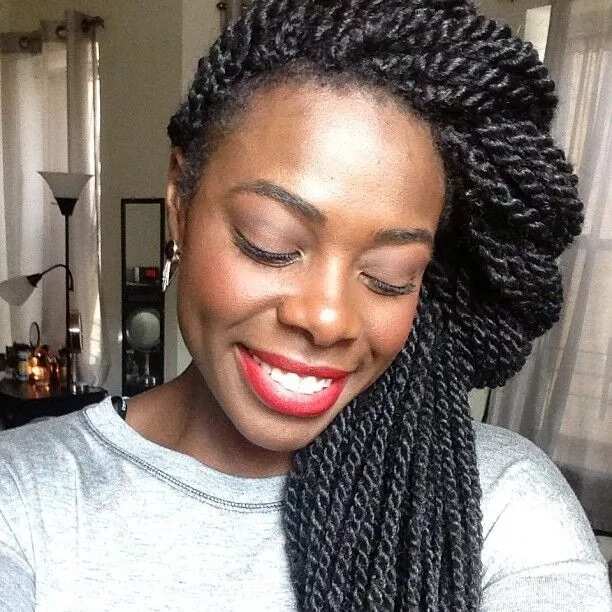 It is so lovely, elegant and unique. Just sweep your twists bun to one side.
As you can see, this hairstyle is very versatile and rich in various options. Choose the best one from our list or think up your own updo, in any case, enjoy kinky twist hairstyle.
READ ALSO: How to style twist braids step by step?
Source: Legit.ng