- The oldest man in the world is now reportedly the Japanese national Masazou Nonaka who was born on July 25, 1905, and is currently 112 years and 189 days old
-This was due to the death of the previous world's oldest man, Francisco Nunez Olivera
- Francisco died a month after celebrating his 113th birthday
Francisco Nunez Olivera, the world's oldest man, has died at his home in Spain, a month after celebrating his 113th birthday.
The Independent reports that Francisco passed away around 10.30pm on the night of Monday, January 29.
Commenting on the death of Francisco, the mayor of Bienvenida, a village in south-west Spain where he lived his entire life, said: "It is a pity for the entire village and the whole world.
"In recent years he has meant a lot to us, he has represented our village and he has helped make us known and loved."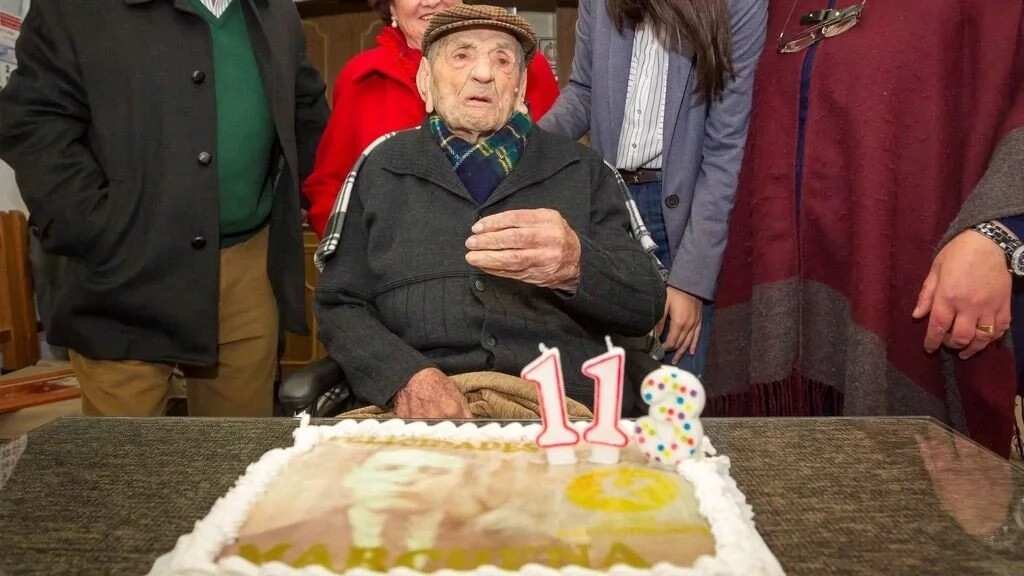 READ ALSO: Nigerian soldiers arrest Benue militia leader's spiritual adviser (photos)
Legit.ng gathered that Olivera was born on 13 December 1904.
Francisco leaves behind four children, nine grandchildren and 15 great-grandchildren
He was reportedly known locally as "Marchena", a nickname given to him when a child mistook him for the famous Spanish singer, Pepe Marchena.
Guillermo Fdez Vara, the president of the Extramadura, the region in which Olivera lived, paid tribute to the supercentenarian on Twitter: "Rest in peace, good man. Until always Marchena."
He was reportedly buried in his native village on Tuesday, January 30. Nunez Olivera once attributed the secret to his long life to drinking a glass of wine everyday.
PAY ATTENTION: Read the news on Nigeria's #1 news app
With Francisco's death, the oldest man in the world is reportedly now Japanese national Masazou Nonaka who was born on July 25, 1905, and is currently 112 years and 189 days old.
Legit.ng previously reported that Francisco celebrated his 113th birthday in his village in the south of Spain.
Francisco, who had two siblings aged 97 and 93, became the world's oldest man after the death of Polish-born Israeli Yisrael Kristal.
His relatives attributed his longevity to a diet based on vegetables he grew on his own land and a daily glass of red wine.
Francisco reportedly fought in the Rif War in the first half of the 1920s between Spain and the Berber tribes of the Rif mountains in Morocco.
Antonia, Francisco's daughter who cared for him full time, said her father was in good health and did not have any aches or pains or illnesses.
Video with old Nigerian woman who begging for her house not to be destroyed will make you cry - Legit.ng TV
Source: Legit.ng