Latest Ankara styles for plus size ladies in 2018
Many women want to dress up beautifully and stylishly. Slim models with ideal figures can wear almost everything, but for women with lush forms, it is more difficult to make a choice. Of course, it's impossible to hide completely the extra kilos under clothes, but you can use something that looks beautiful emphasizing all the beauty of your body. In this article, we will consider the best Ankara styles for plus size ladies.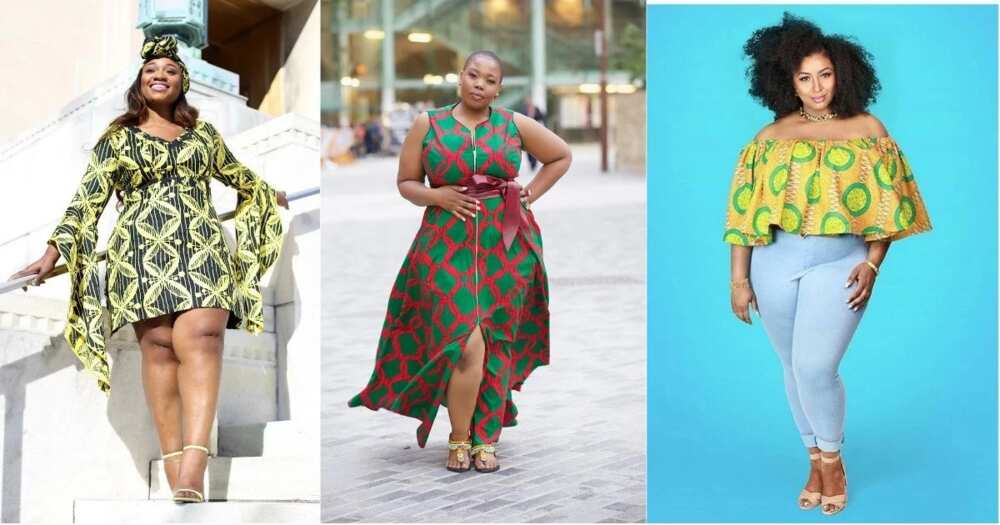 Choose the right size
Trying to hide extra kilos, some ladies buy loose clothes 1-2 sizes bigger than necessary and get the completely opposite result. Against popular opinion, loose clothing, visual perception can actually hide some extra weight.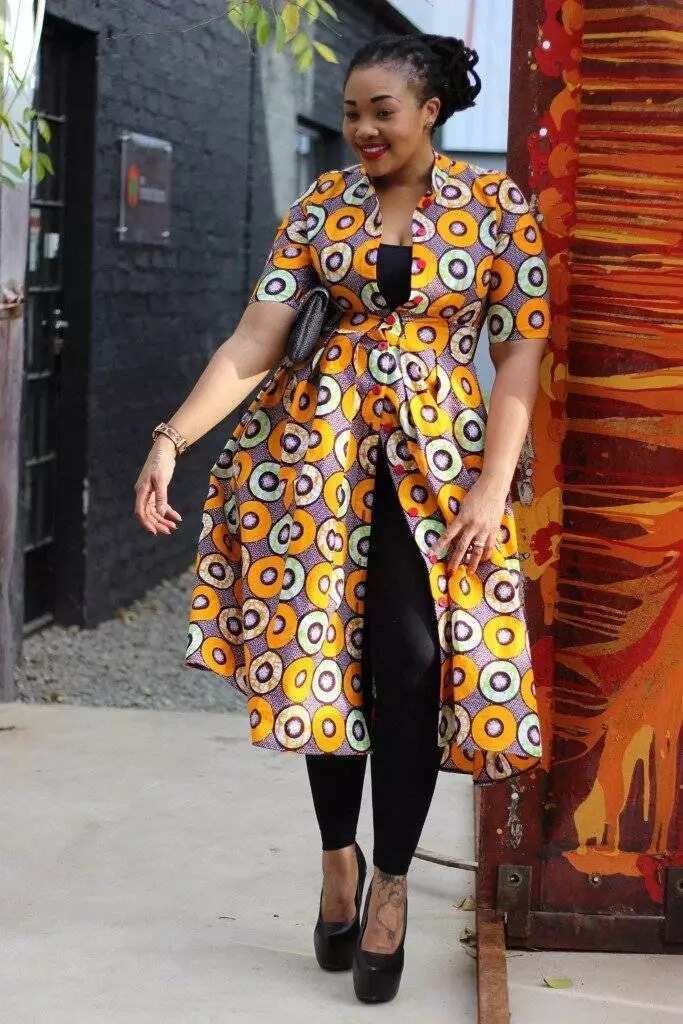 Others, on the contrary, try to dress everything very tight-fitting so that it's hard to breathe. Such models emphasize every fold on the body. Many people still refer to the lack of a complex about their figure. It is really not worth to be shy, but it's not beautiful and culturally wrong to demonstrate the extra kilos openly.
READ ALSO: Hot new Ankara styles for ladies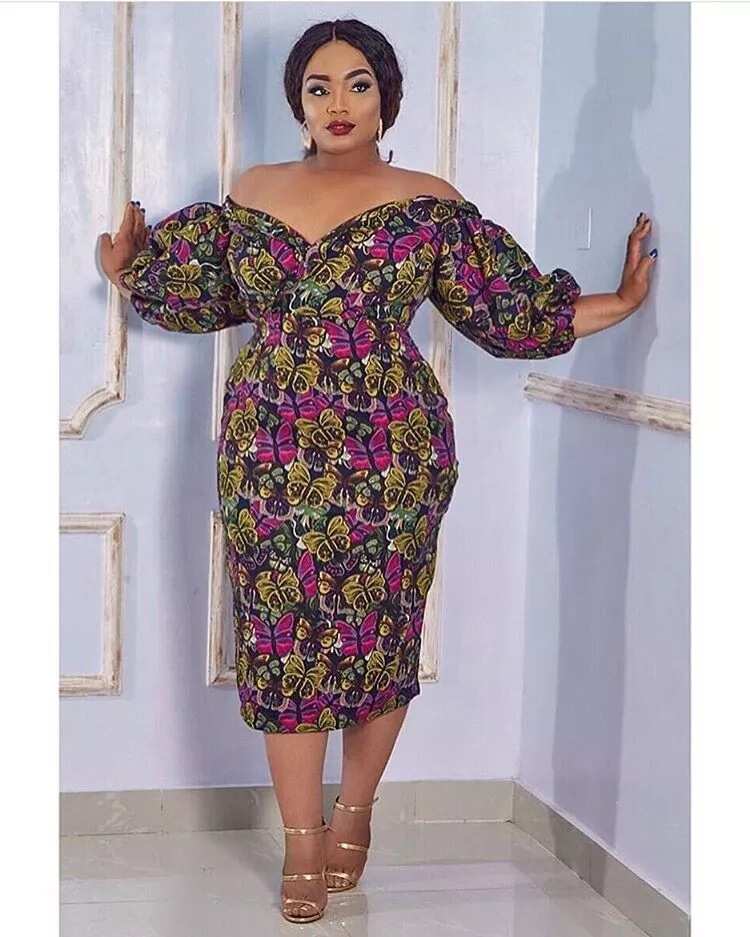 Clothes should exactly fit your parameters. Avoid ridiculous extremes. Then your feminine silhouette will cause only admiration.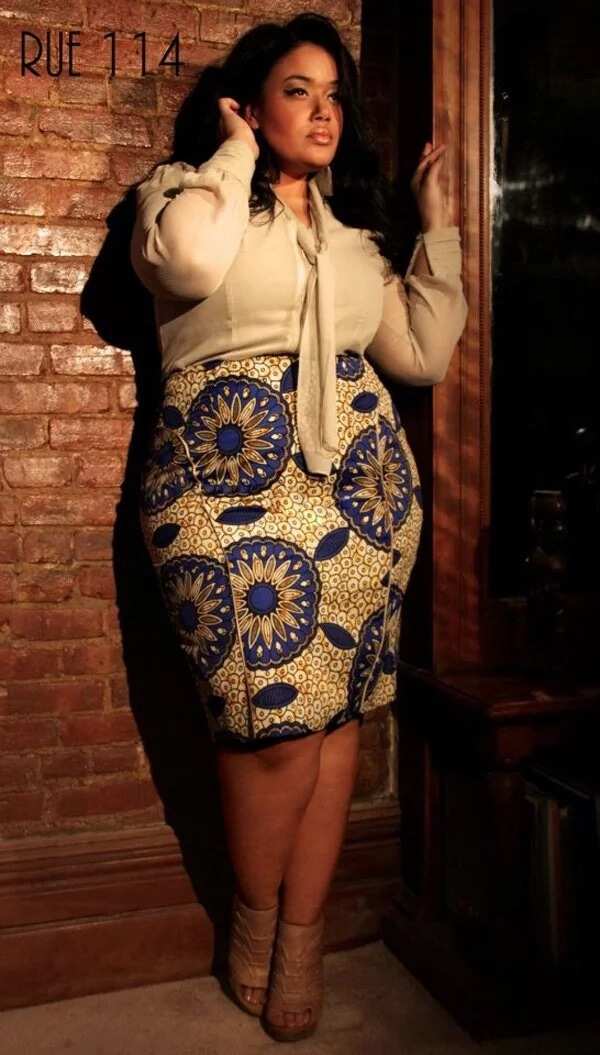 Ankara - the perfect choice of fabric
Avoid stretch tissues, fine knitwear, flowing material, especially if they are gathered in folds. Don't choose those fabrics that fit tightly to the body.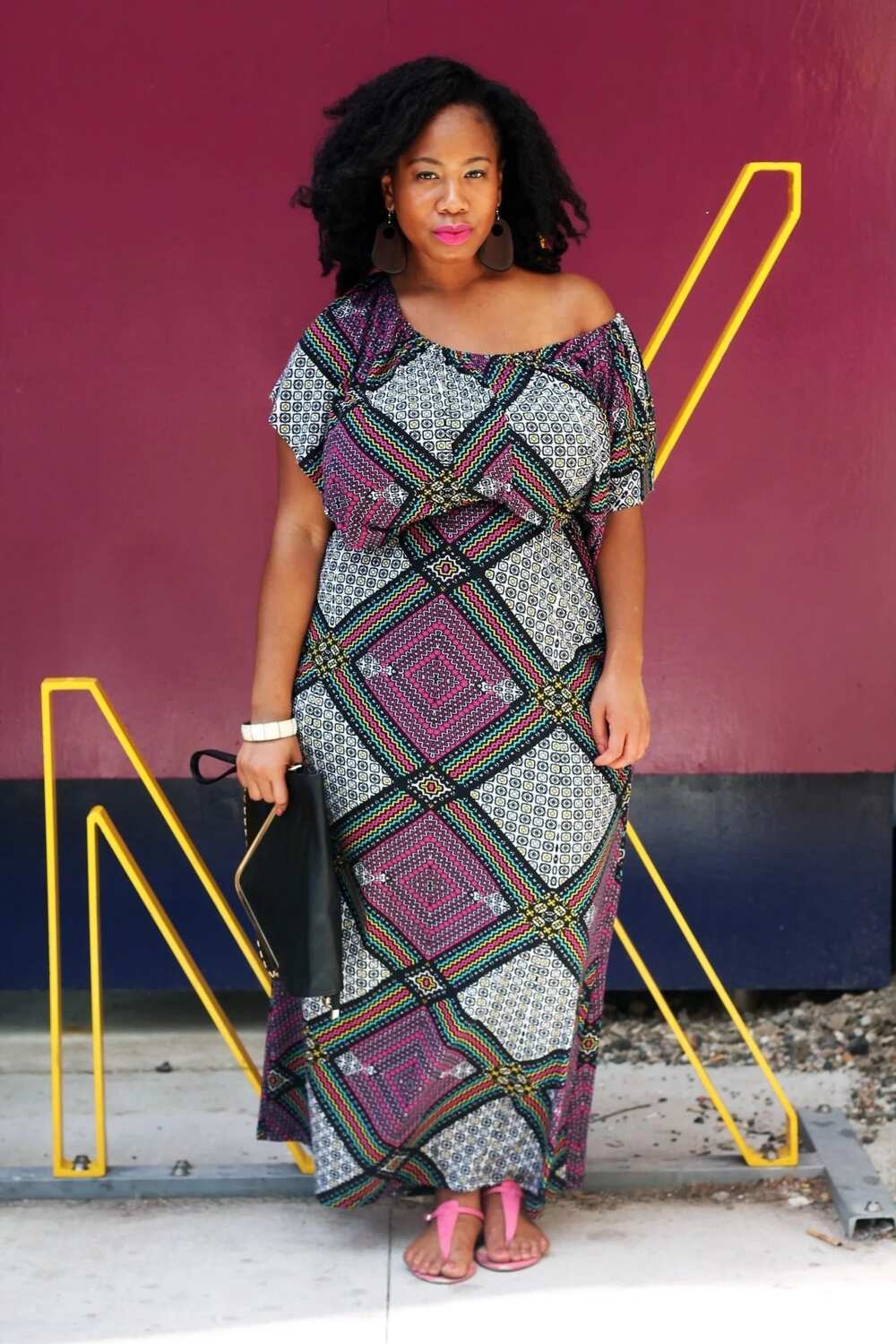 Ankara styles for ladies perfectly conceal extra kilograms when designers use the correct cut. You can be bright and attractive hiding the shortcomings that every woman has.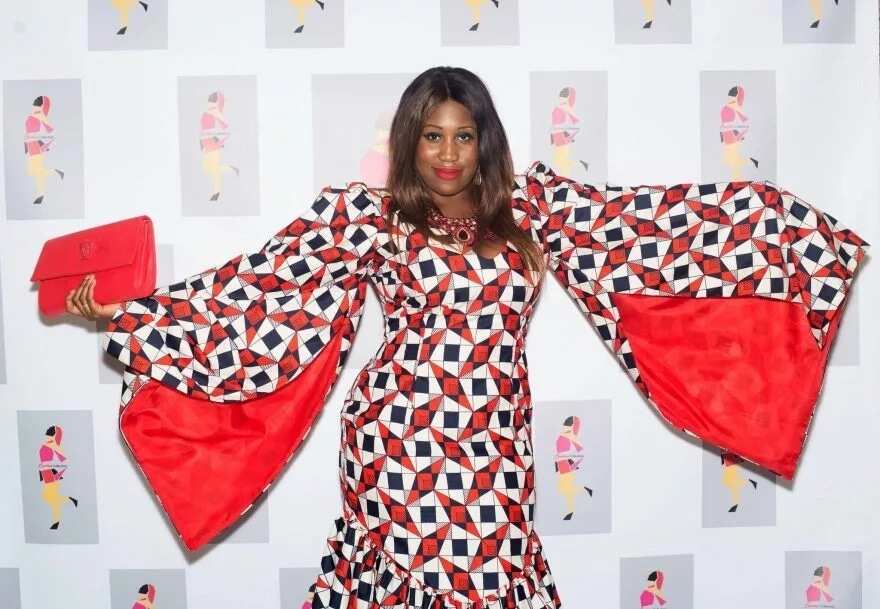 The most common and well-known advice on how to hide excess weight with dark colours. Enjoy the bright colors of the latest Ankara styles. There are many other secrets that will help you to look elegant, beautiful, and feminine.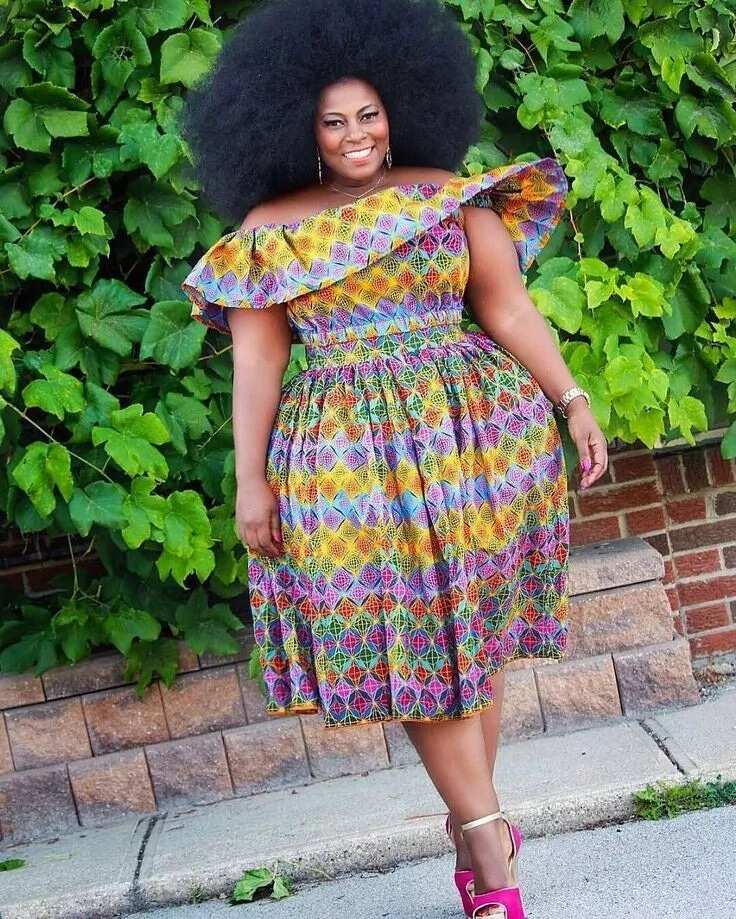 No multilayer styles
Complex dresses with drapes and frills, as well as asymmetric multi-layer skirts are not your options. These styles visually expand the figure so they should be avoided. In contrast, choose something elegant and minimalistic: for example, you may get chic in Ankara gowns with a well-emphasized waist or fitted blouses with ruffles on the chest or cuffs.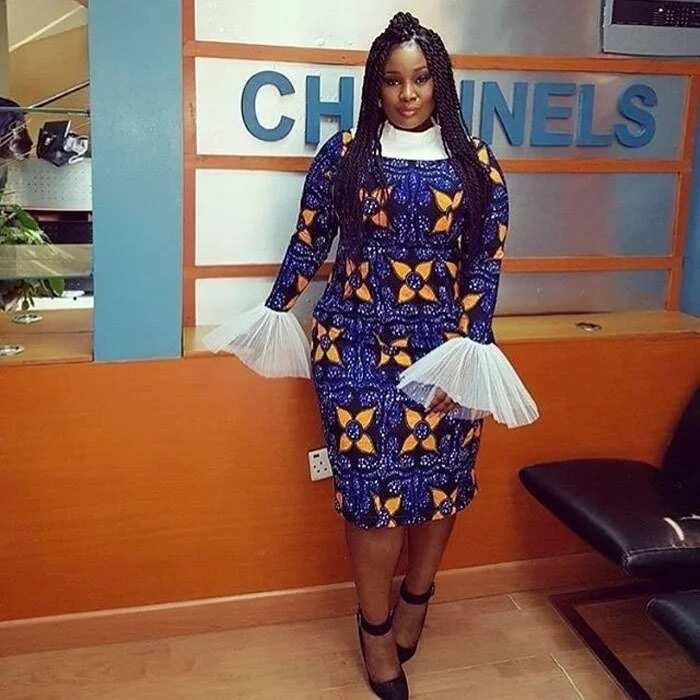 Footwear
Do not be shy to choose bright shoes that will attract attention. Try not to wear models without heels. Of course, in hot weather, you can't do without sandals on a flat sole, but if possible they should be replaced with shoes on modest five-centimeter heels. Do not wear shoes with a square or round fore - it visually shortens the legs while a small pointed fore lengthens them.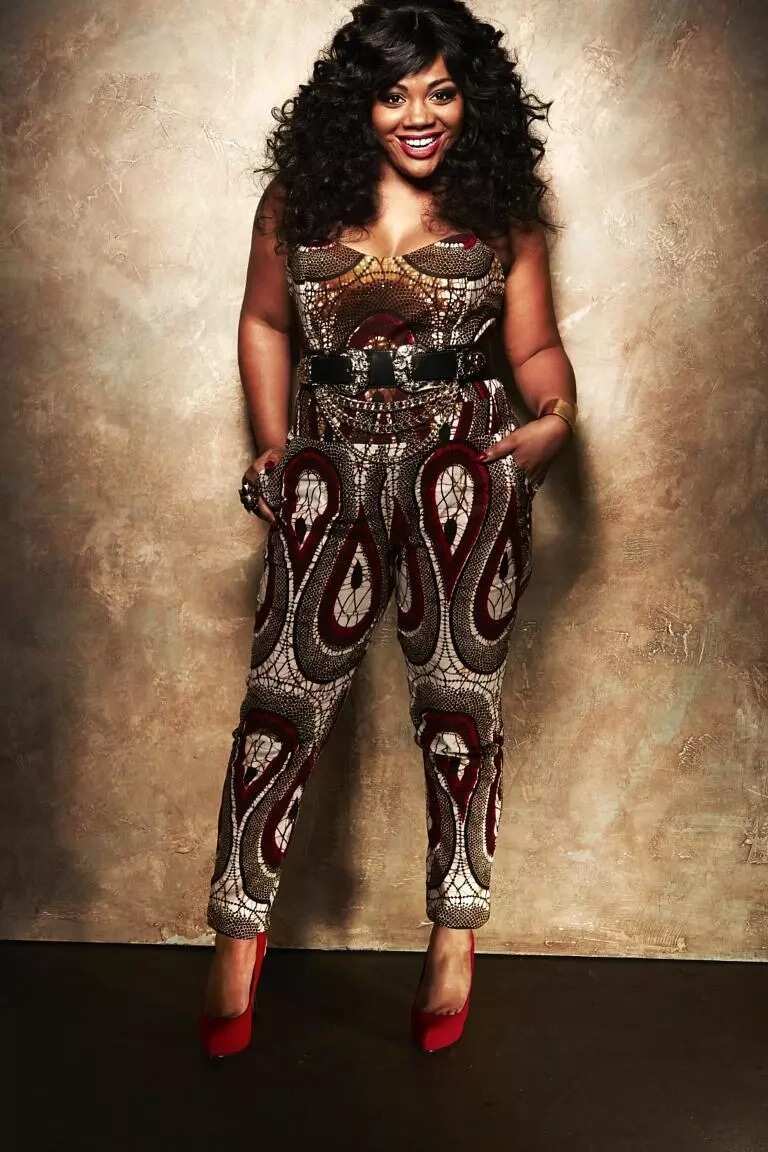 Correct length of clothes
How to determine the length of the blouse that suits you? Find the widest place on your hips and step back from it 5 cm up and 5 cm down - these are the two lengths for a blouse or shirt.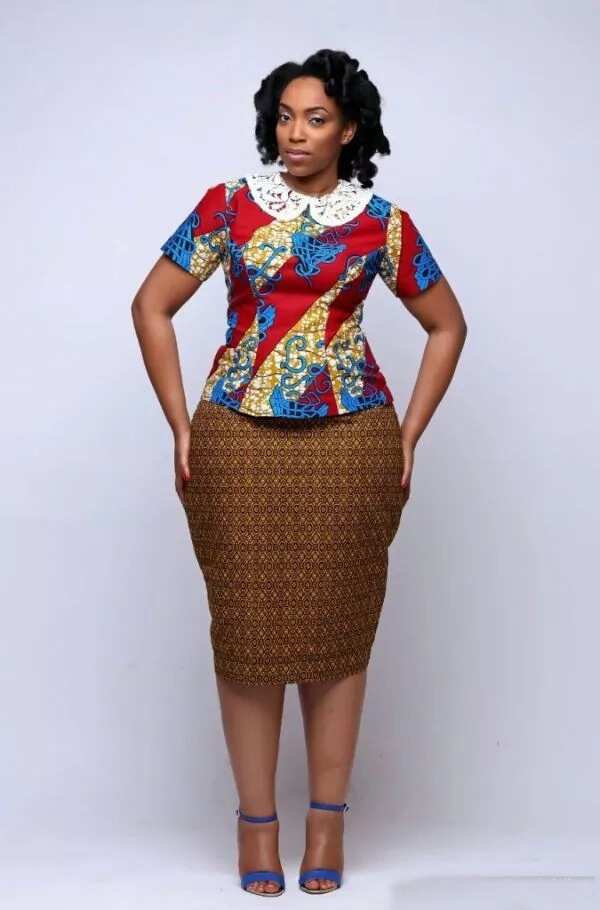 The length of the skirt depends on the height of heels on your shoes. The ideal option for women with wide hips is a skirt with length 5 cm below the knee plus shoes with 7-9 cm heels.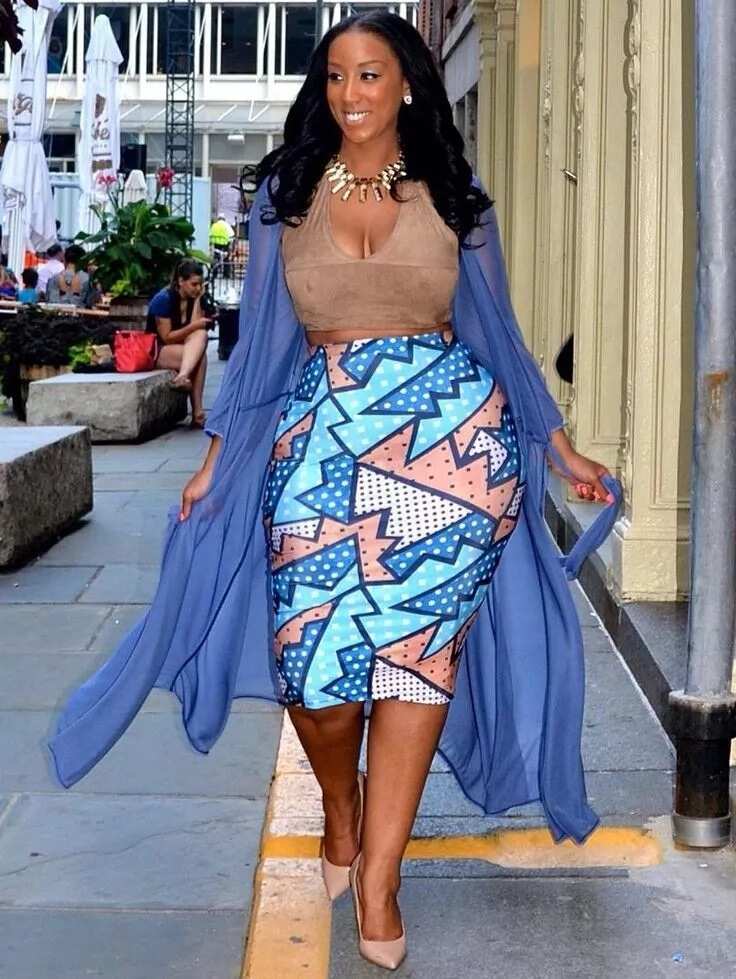 Accessories
Choosing a bag, earrings, bracelets, beads, and rings you should adhere to the following rule: the larger the figure, the larger the accessories should be.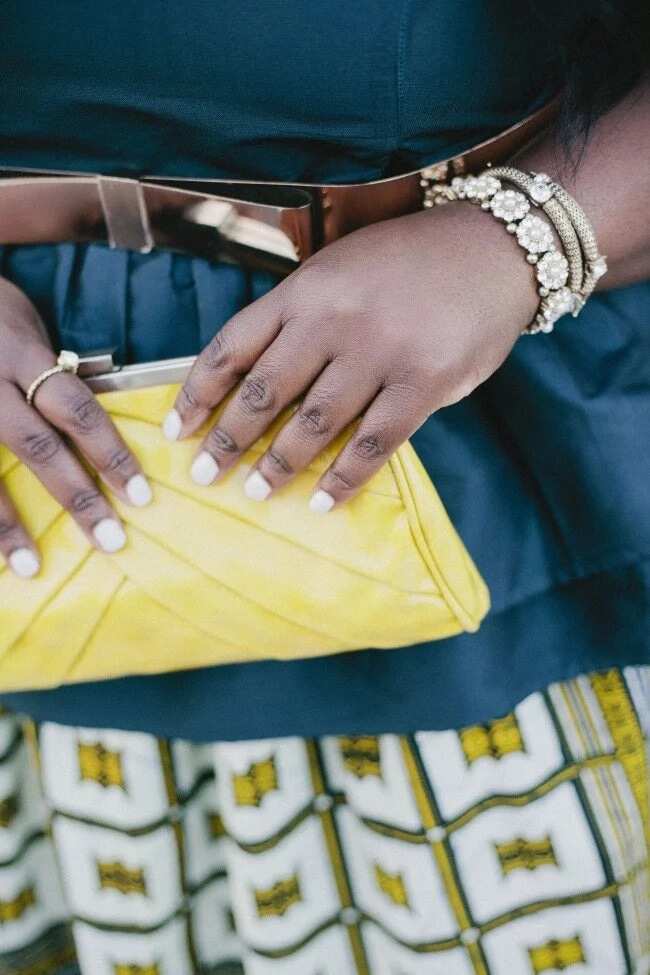 A woman with magnificent forms should abandon the chain with a small pendant in favor of large beads. Accurate little earrings should be replaced with bigger substitutes. Also, it's better to choose medium or large bag instead of a clutch.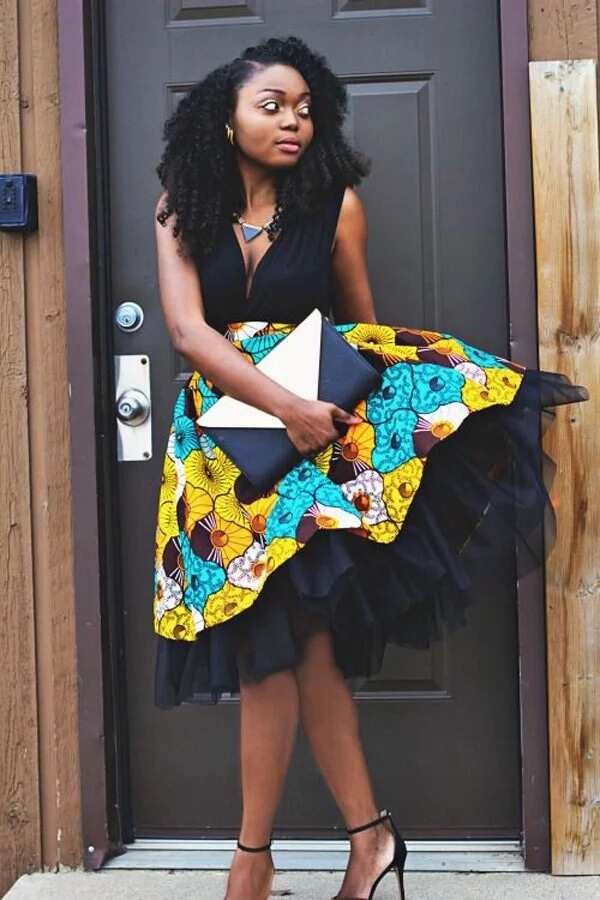 Small accessories will further emphasize the contrast with the lush figure. Big additions will look much more harmonious.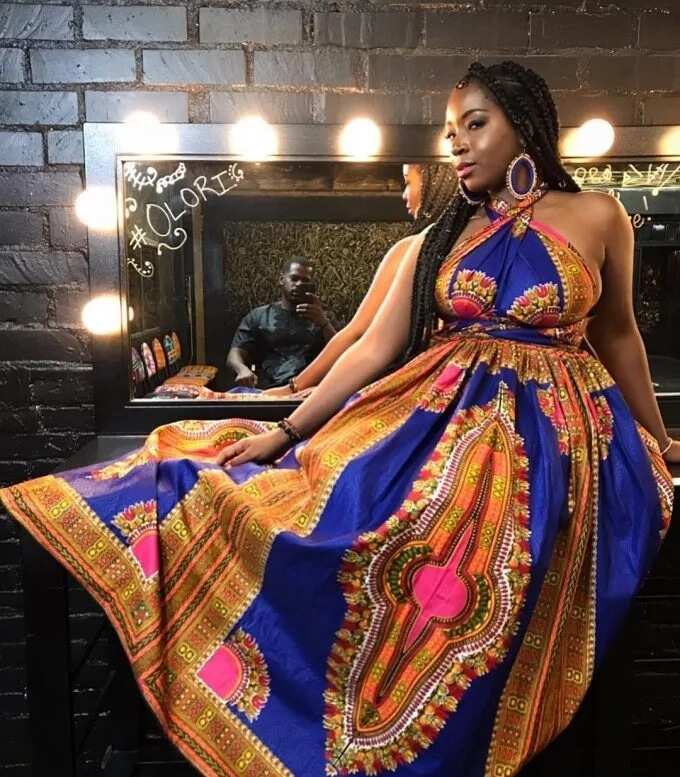 Plus size Ankara styles for different types of figure
Extra kilos may be distributed unevenly on bodies of different women. The choice of Ankara styles for fat ladies depends on the most protruding zones.
Big arms and shoulders
It's better to choose clothes with flared of 3/4 length sleeves. Lush sleeves and bulky shoulders are strongly forbidden.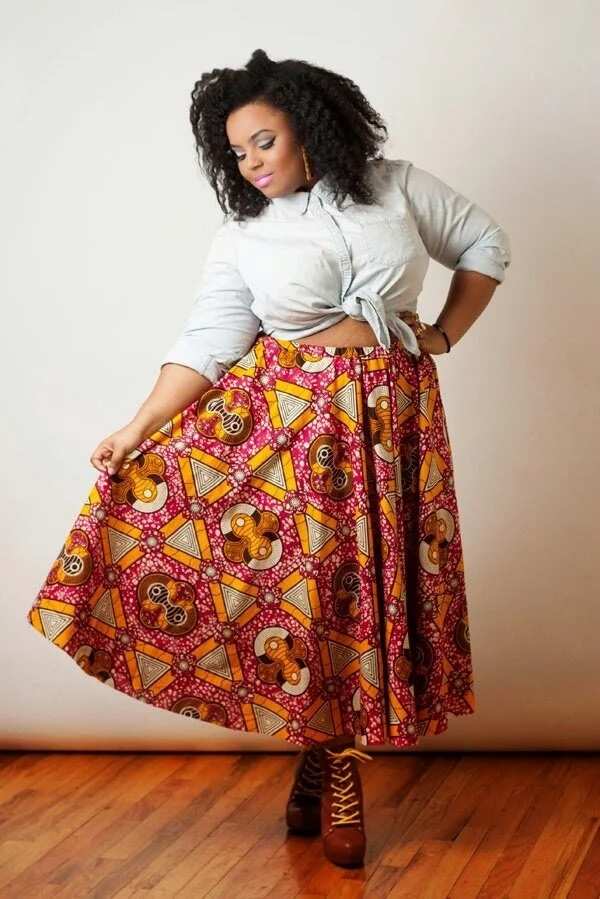 Also, do not be afraid to wear beautiful Ankara styles with embroidery or a bright pattern on the chest - this will distract attention from the big arms.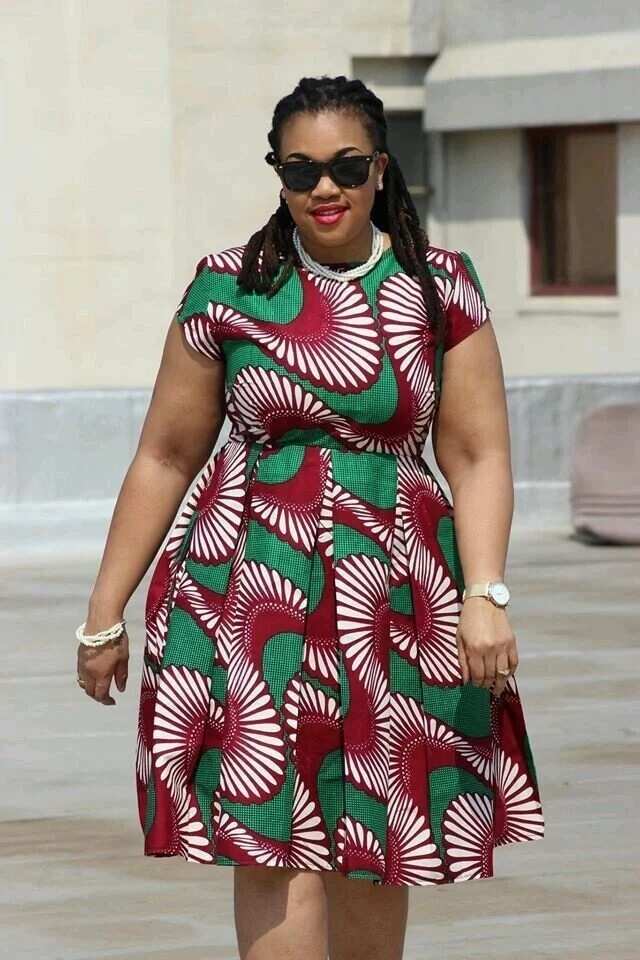 If your shoulders are broader than hips, the skirts tightly embracing the hips and slightly flared to the knees in combination with oval neckline blouses will visually balance the figure. On the contrary, it is better to exclude from your wardrobe a skirt tapering to the bottom and a tight top with a high collar.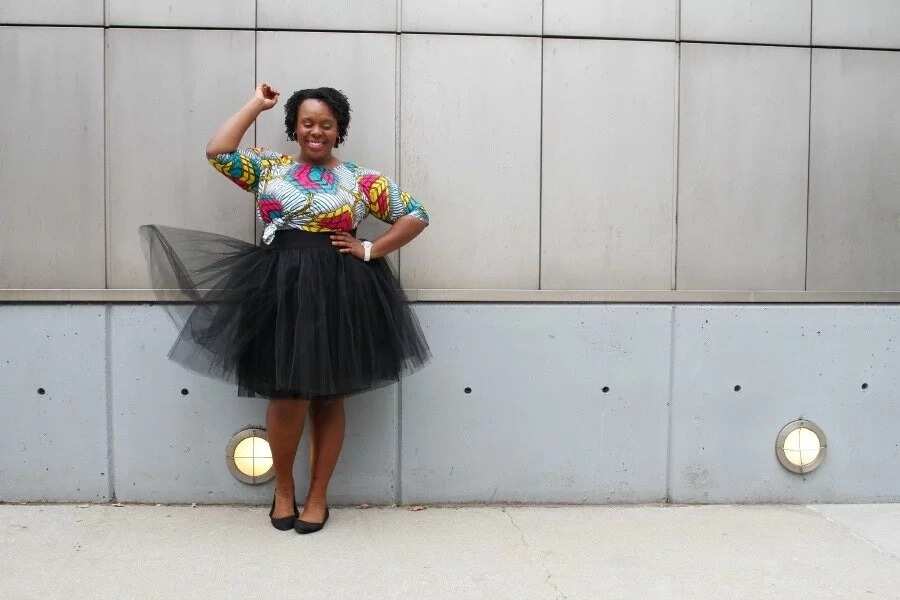 Large chest
Avoid appliques or drawings that focus attention on the chest. Also, you may use the ensemble consisting of dark top and lighter bottom. The triangular or rounded neckline of medium depth will suit your figure the most. Another tip: emphasize the waist with a belt avoiding too tight-fitting or vice versa free clothes.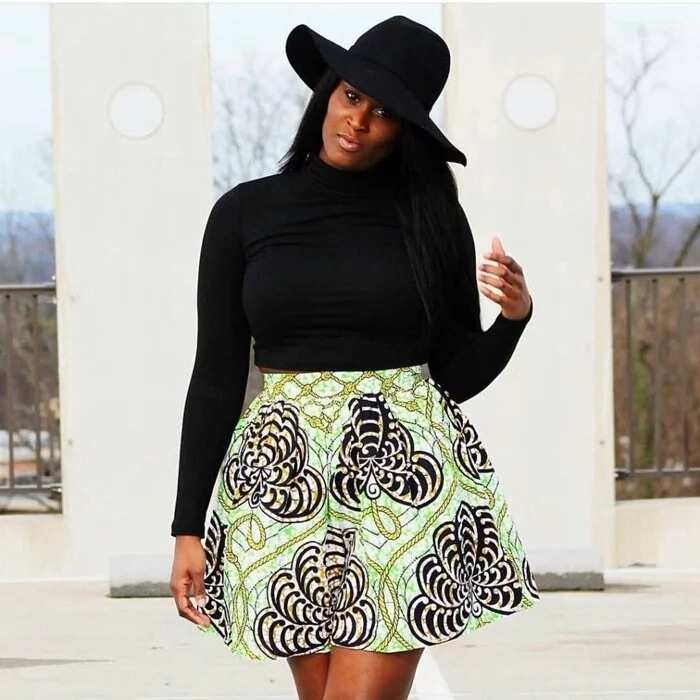 Wide waist
It is possible to emphasize the waist not only with the help of a belt but also using other tricks. Work on a competent combination of top and bottom facbric. Let them be of contrasting colors and textures.
Wear a skirt with a high belt or dress with a corset top and a lush skirt. Avoid tight-fitting dresses and blouses made of stretch materials. You will feel more comfortable in free tunics and gowns with an accentuated chest line and an overstated waist.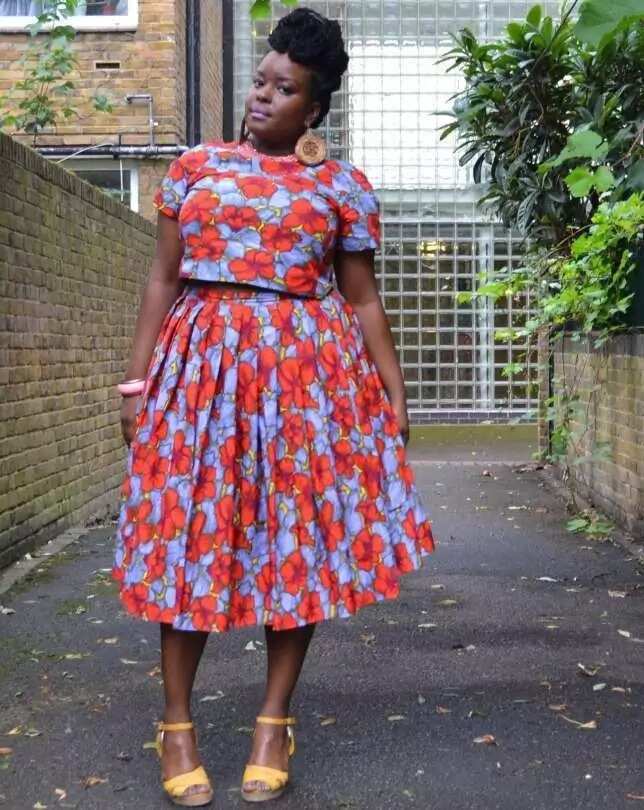 Protruding belly
The first thing to remember: colorful prints always visually reduce the volume and hide the belly. If it is necessary to reduce not only in the abdominal area but also make the overall figure slimmer, a dress with a motley diagonal pattern will come to help to shift the accent and stretching out the silhouette.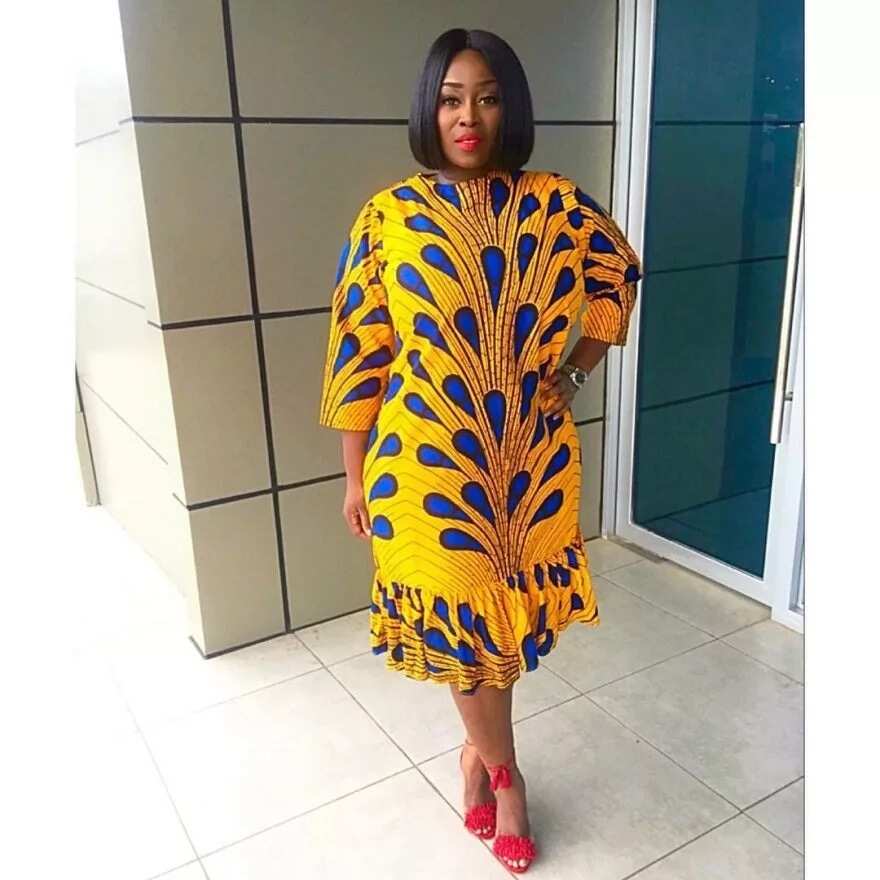 It's optimal to choose a dress with drapery accentuating attention slightly above the waist - on the narrow place under the chest in the area of the lower ribs.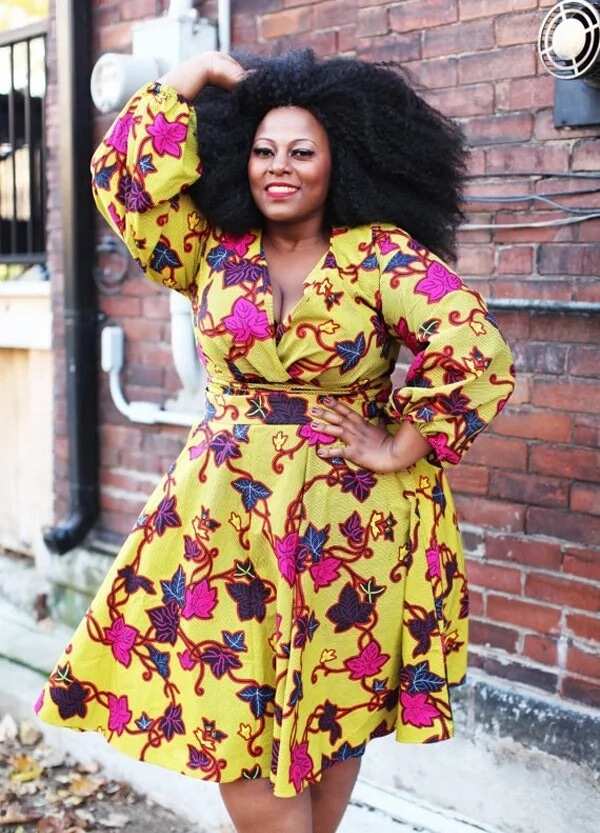 Contrasting color combinations will also help to hide excess volume in the abdomen. The top of the light or bright shade in combination with the jacket of a dark neutral color draws out the silhouette and conceals a protruding belly. The dark jacket covers above 20 cm on each side and the bright top attracts attention to the face and creates a vertical accent. Thus, the silhouette is perceived as slimmer. This effect is also created by dresses with a lighter central part.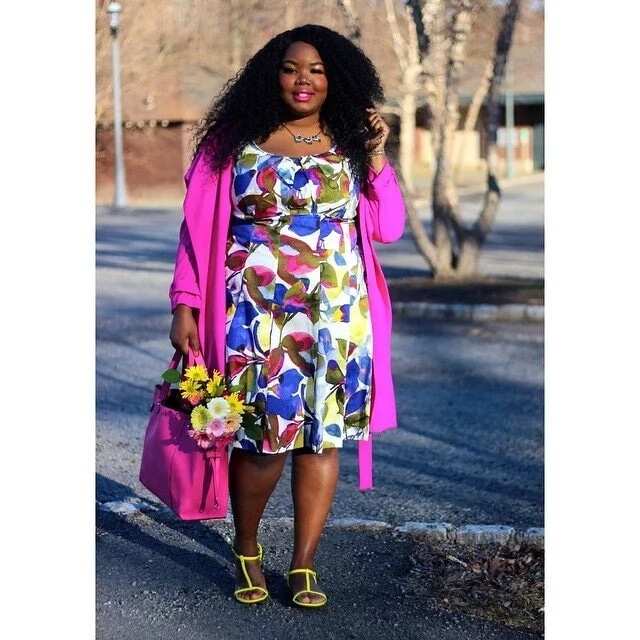 Do not choose skirts in the shape of a tulip, narrowed to the bottom and a pencil skirts because they create narrow bottoms that emphasize the protruding belly. The skirt must be free, flowing, and trapezoid.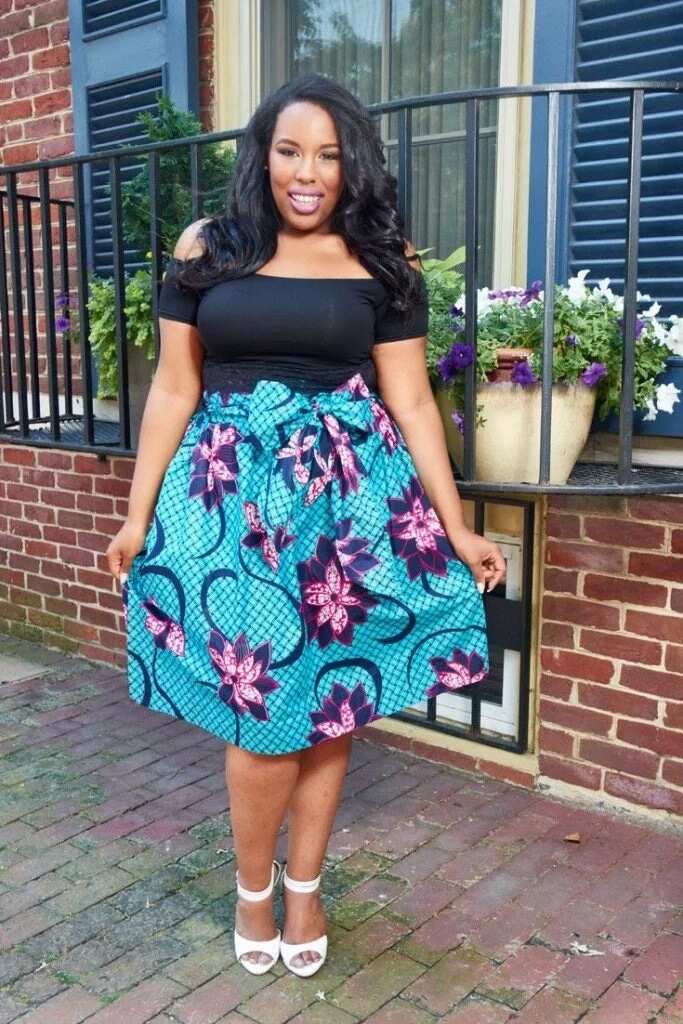 Not ideal legs
Wide ankles may be hidden by trousers. The perfect style is wide, beautifully colored pants. Carefully refer to their length. Tissue should gently lie on the shoes completely hiding the heels. Give up shortened trousers of all styles. They only emphasize unnecessary volumes.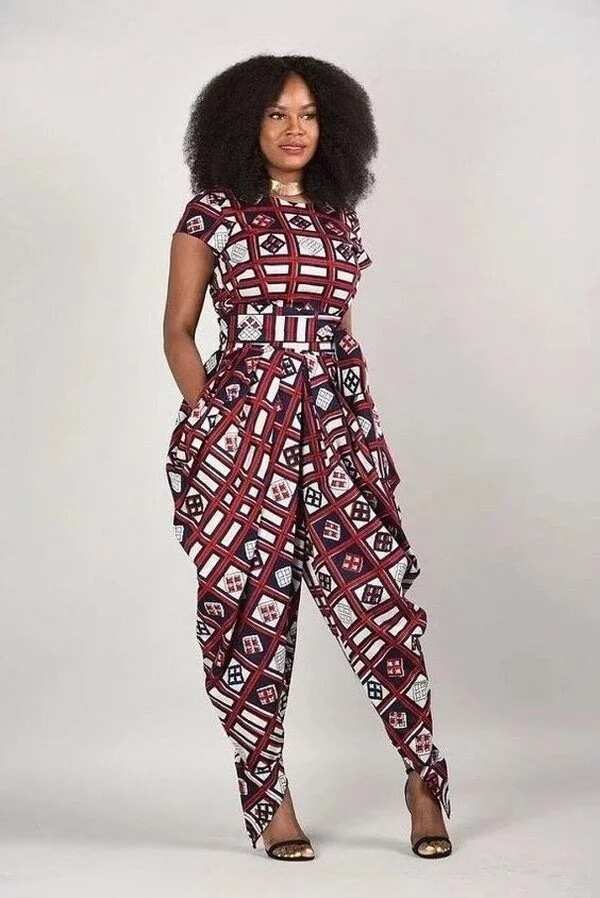 If you like skirts wear straight models without draperies reaching to the ankles. Combine them with unicolorous shoes. Long loose dresses will suit for the solemn occasions.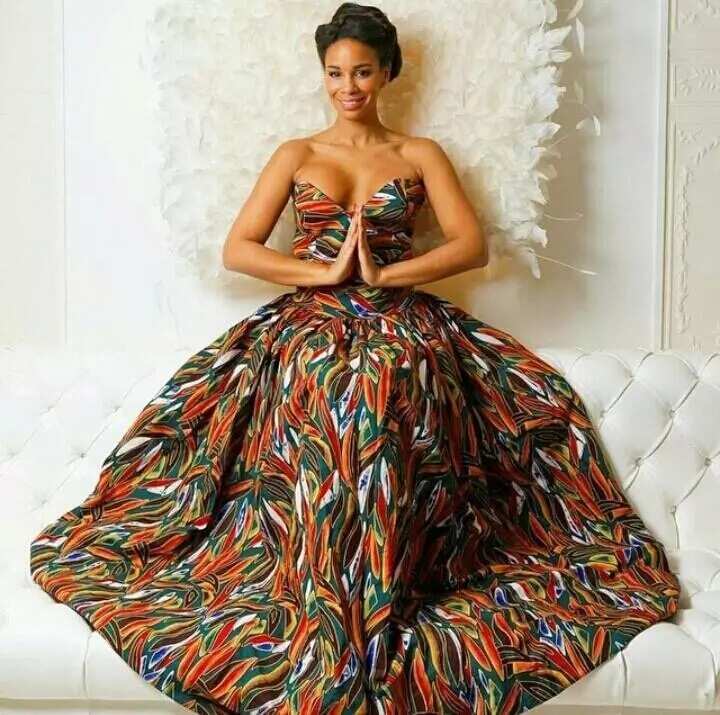 Correctly pick up the top part of the attire. Short blouses only underline the heavy bottom. The best option - elongated jackets with a semi-adjacent silhouette. They can be worn unbuttoned showing off a beautiful outfit.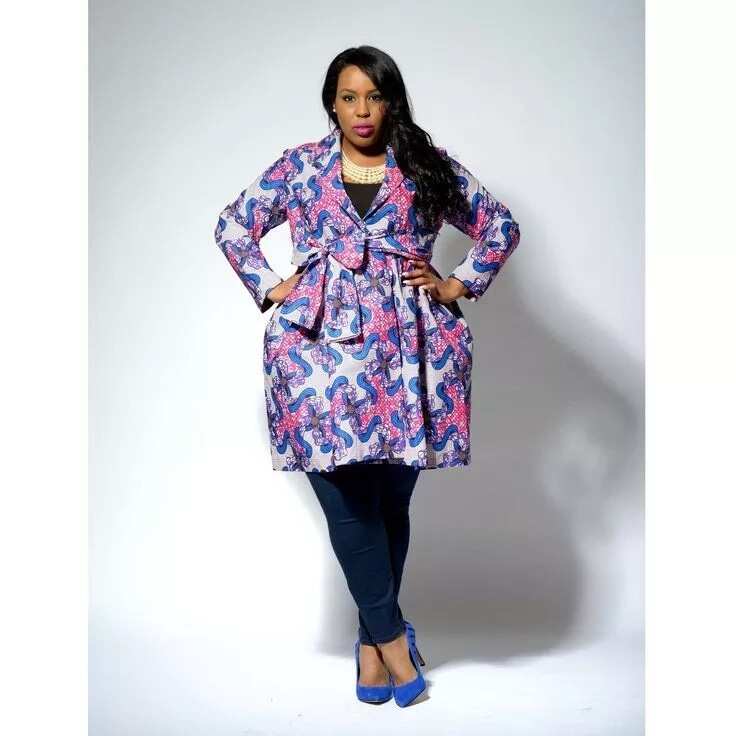 Lush figure and small stature
Your most faithful assistants are vertical drawings, stripes and also latest Ankara styles for ladies with an emphasis on the waist.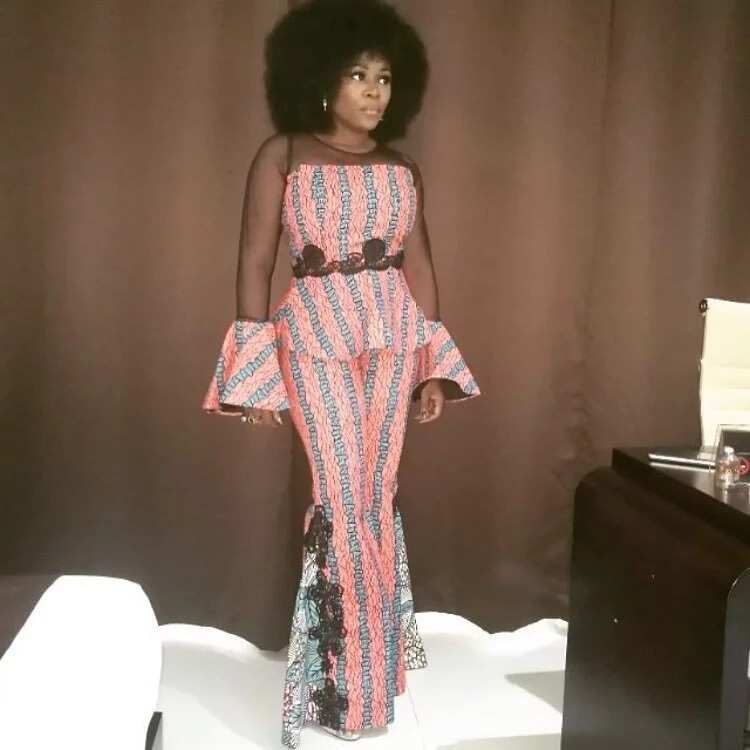 You may use light shoes and the right trouser style to visually lengthen your legs. Straight pants with a slightly inflated waist or clothes flared from the knee will look very well.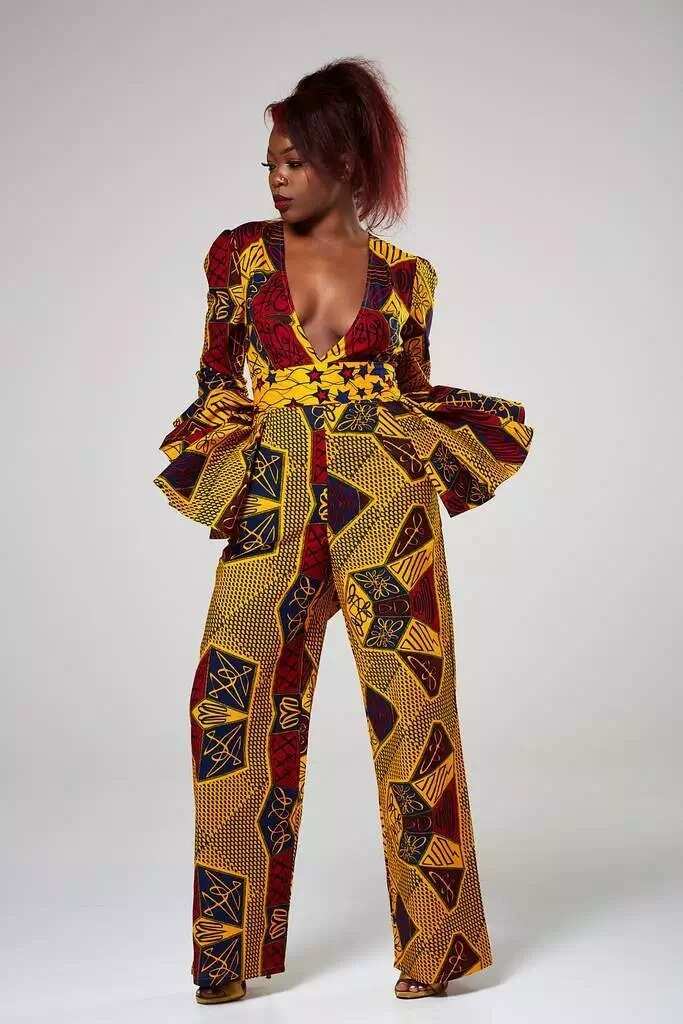 Do not wear elongated blouses with long skirts or vice versa short tops with skirts above the knee - this visually reduces the stature. And of course, do not forget about high-heeled shoes or platform.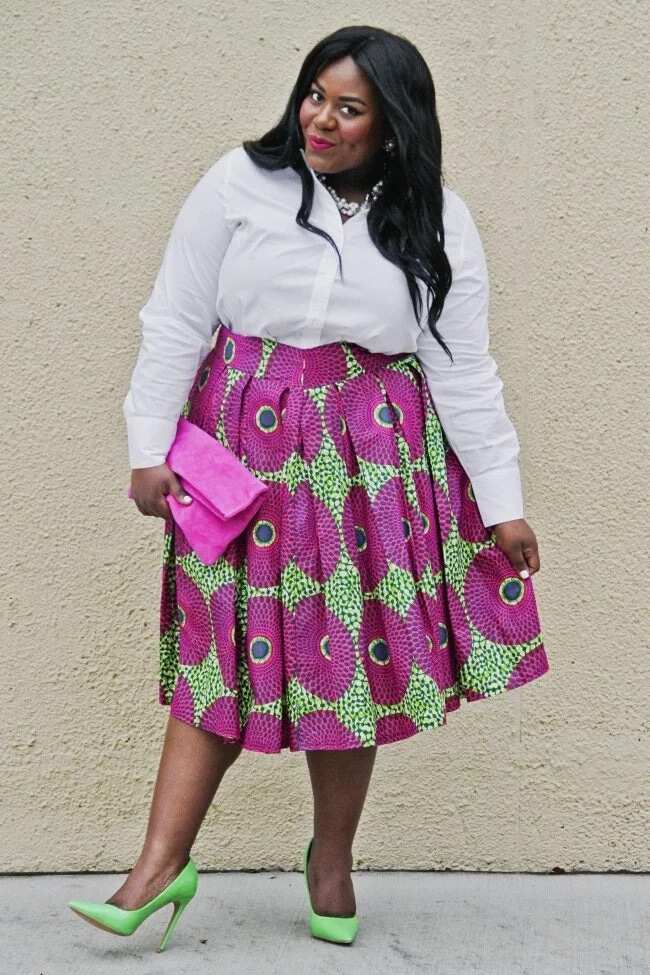 Use the latest fashion styles and do not focus negatively on lush forms. With the right approach, they can be your advantage. Perform the experiments with your image. Just do not blindly copy the models from the covers of glossy magazines. Do not forget about a series of simple rules above. They will help you look luxurious even with a few extra kilos.
READ ALSO: Flowing gowns made with ankara to rock in 2018
Source: Legit.ng