Are you willing to try something new and learn how to style box braids in a unique and fashionable way? Then, you should definitely try short braids, with box braids style, you will always look beautiful and will not have to wear long and heavy braids, which can quickly become tiring.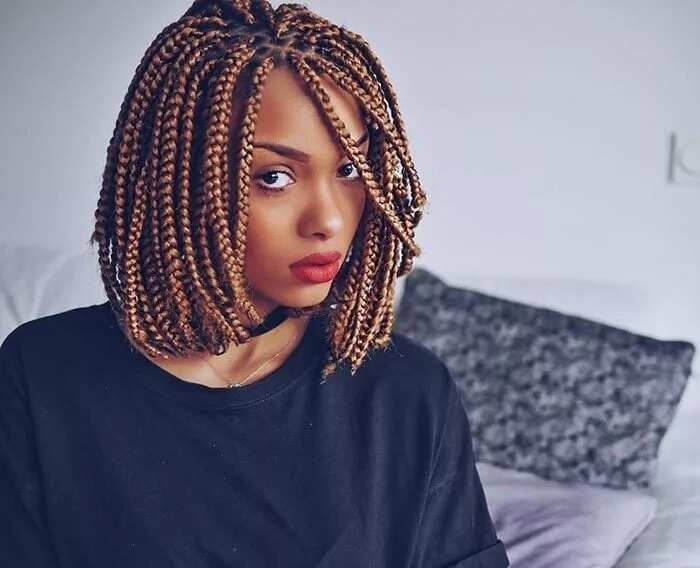 Rock your short braids
Lately, a lot of celebrities and social media models have been trying out one of the new trends – short box braids. They have become trendy and hot in no time, and nowadays you can find thousands of women wearing short braids. Sometimes they are elegant, while sometimes they look rebellious. There are many different guides and instructions on how to style braids.
While long box braid hairstyles are absolutely lovely and amazing, they might not be suitable for everyone. Short braids can be gorgeous and give you a personal touch, so you will be able to stand out from the crowd.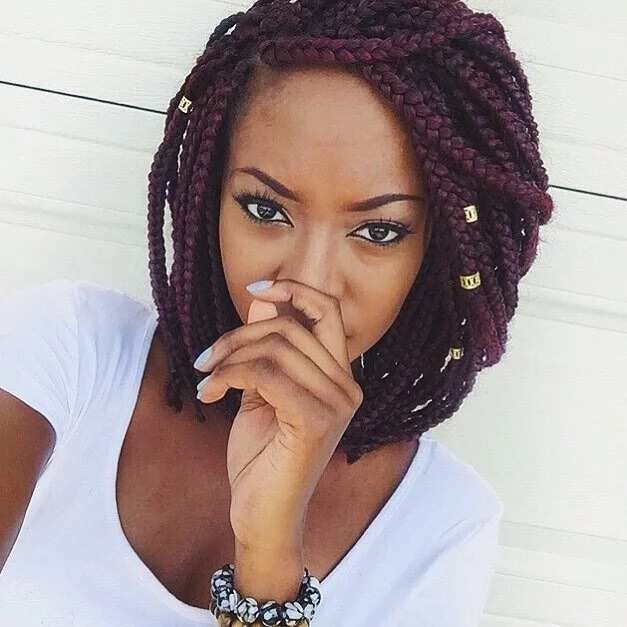 In order to make a base for short-braided hairstyle, you will have to complete a few steps.
1. Preparing your hair
Obviously, you need to get your hair ready for box braids. Shampoo, deep-condition, detangle and blow-dry your hair for this process. Then, using these, you should make sure your hair is perfectly clean. When you wear braids, you will be unable to wash them properly, so before braiding, your hair has to be as clean as possible.
2. Cutting your hair
You can do it before braiding your hair if you want short box braids at once. Sometimes, people wear long braids at first, and then they use candle and iron to burn the tips and then straighten loose ends.
3. Braiding your hair
For that, people often go to the professional salon, but if you do not want to pay a lot of money, you can get your friend do your braids. Notice that braiding your hair yourself, especially for the first time, can take a lot of time and effort, and does not always result in what you wanted.
4. Maintaining the braids
You should keep them hydrated every day, using oil or moisturizer, especially if you are using synthetic hair extensions.
5. Styling the hair
If you have short braids, you do not necessarily have to wear them in a plain way. There are a lot of ways to style them! And in this article, we will introduce the most common ways to style short braids.
READ ALSO: Nigerian Short Weaveon Hairstyles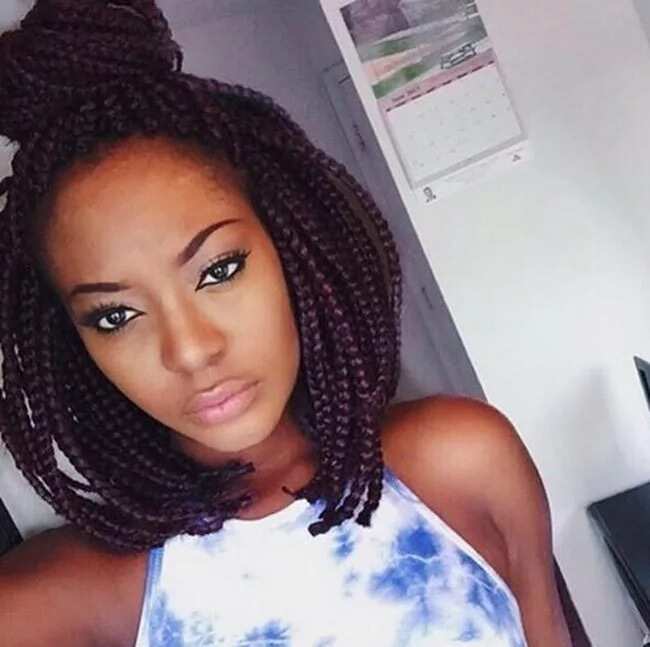 Below, you can see a few examples of stylish short braids and different hairstyles you can create with them. Hopefully, this will make you love short box braids as much as we do, and you will consider some of these spectacular hairstyle options.
So, here are inspirational short-braided hairstyles for you to rock this season!
Grey long bob
Grey hair has been a trend for a few consequent seasons, striving to become a new fashion statement. This color is neutral and can look good on everyone.
While grey hair is really suitable for most women, many of them prefer brighter colours. Do not worry – the bob hairstyle will look lovely with any colour, depending on your personal preferences. Even a simple bob with a natural hair colour will look awesome; you should only know what is best for you.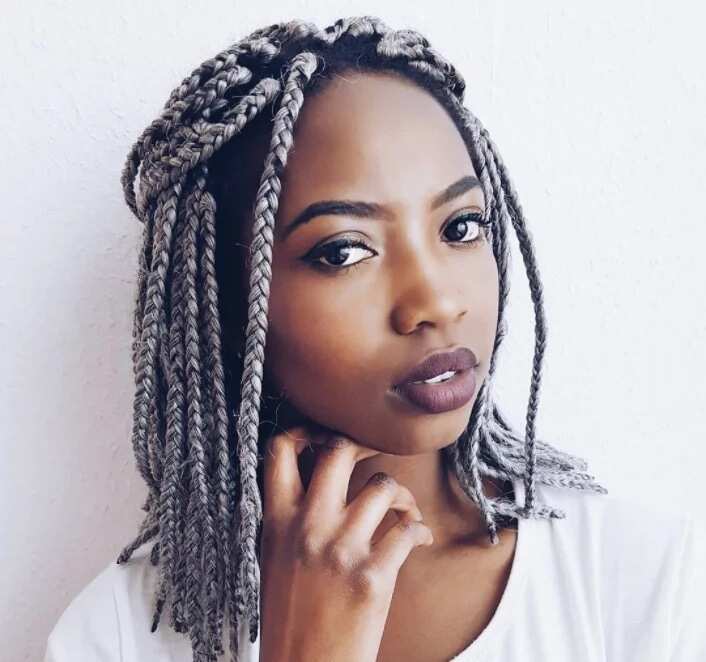 Fashionable braids with undercut
Are you looking for short box braid haircuts that give a creative vibe? Perhaps you even want a haircut in the futuristic style? We have found a brilliant solution for you! You can do a stylish undercut, which can easily be shown if you want to flaunt it, and can also easily be hidden if you are in a mood for covering it with braids.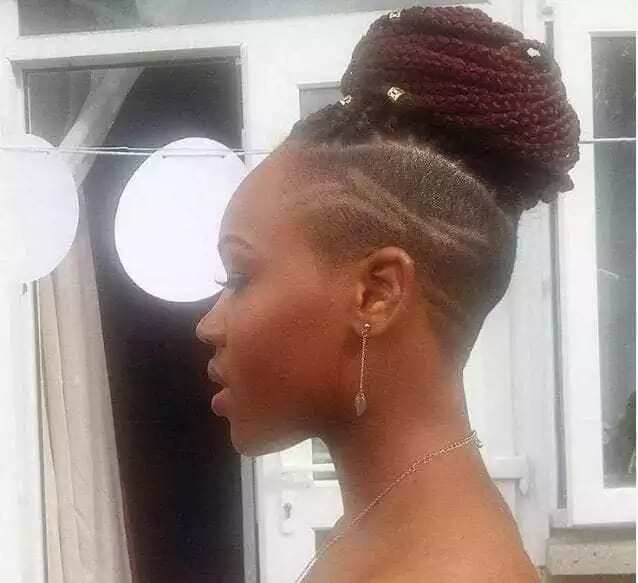 A-line box braids haircut
Are you searching for a hairstyle that will look both sophisticated and give a modern fashion vibe? Try out this A-line braided bob! It will perfectly emphasize all the benefits of your face and make you shine brightly. If this hairstyle was not on your radar before, then you have to consider trying it out now.
A-line braids can be worn with almost every piece of clothing – whether you are dressed casually or formally, you will still look incredibly unique and trendy. Like all the other ones, this hairstyle will be perfect for any occasion. The elegance of it is combined with the edgy look amazingly, and it looks absolutely on point. A-line box braids would work for every woman.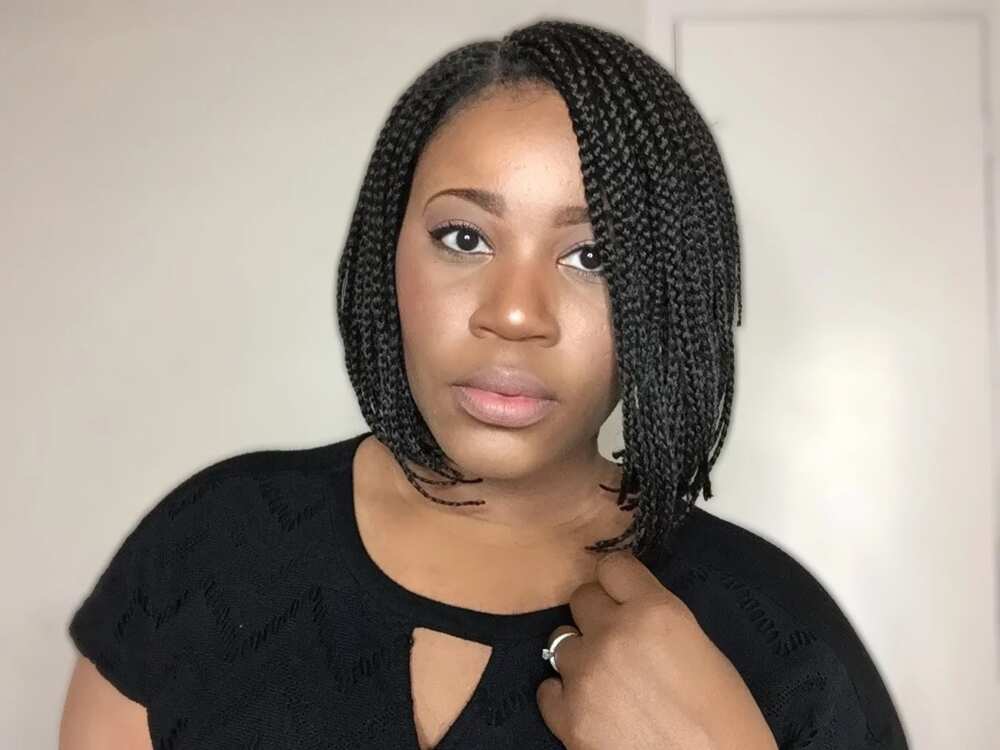 Chin-length box braids haircut
The previous hairstyles we have offered were mostly shoulder-length, but what about getting really short braids? If you have been tempted to cut your braids short for a long time but unsure about it, we can give you a couple of reasons why you should do it. Firstly, it looks chic and elegant, and you will look stunning on all the formal occasions. Secondly, it is really minimalist, and all the minimalist hairstyles are a good choice because they work well with all the clothes and makeup.
If you would like to get a chin-length cut, this would be a really nice idea. Besides, a small amount of braids will make them feel lighter on your head. This type of bob can be successfully combined with dyed braids, and styled in many different ways.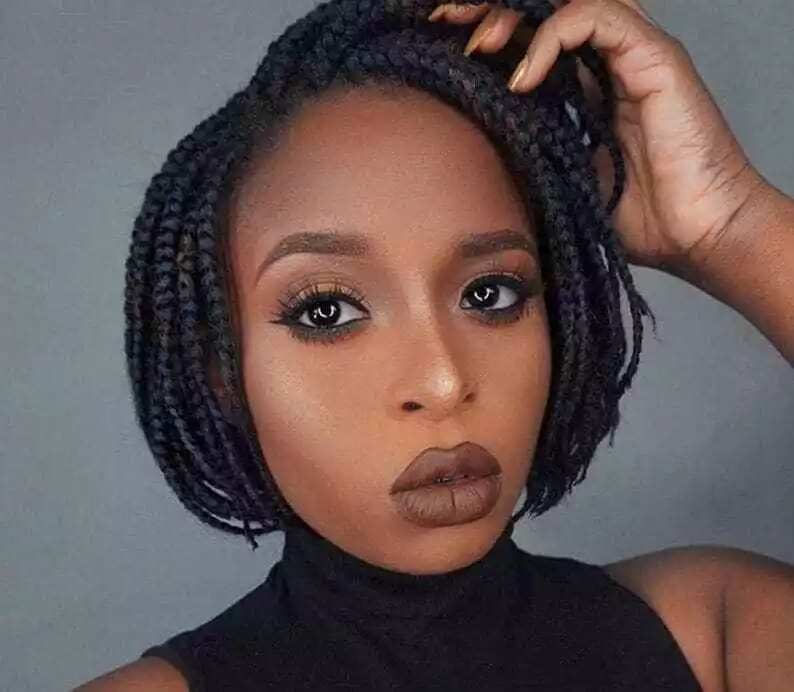 Half-up looks
If you already have got a bob hairstyle but are wondering what else to do with it to look creative, we can suggest you half-up hairstyle. The beauty of braided hairs is in their simplicity – to look great and fashionable, they do not necessarily have to be overloaded with different elements. They can be simplistic and still look nice on every woman.
The half-up or half-down style can be beneficial for those who want to try out something romantic and graceful. It will also open up your face shape and show all the beautiful outlines of your face.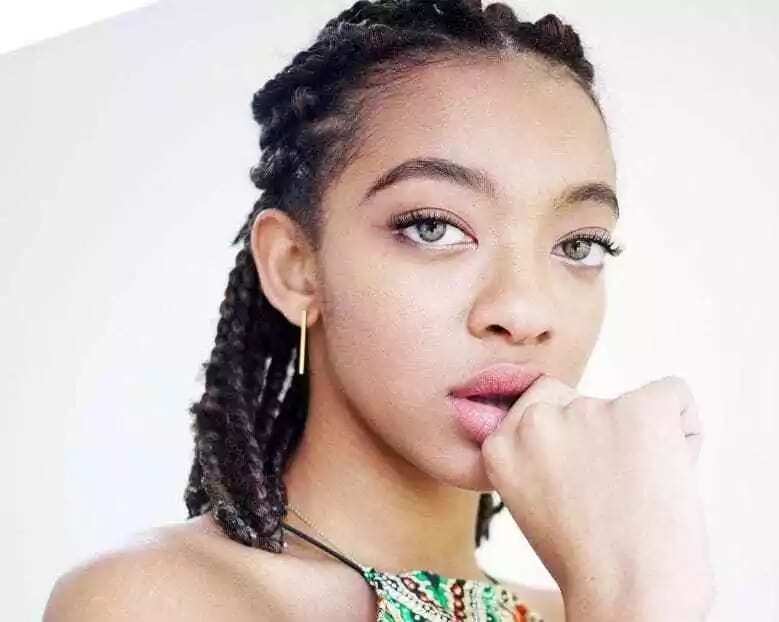 There are a plenty of ways how to style your hair. The benefits of short braids are endless. For example, you can gather them in a bun or two, or try out a side fringe, or pick up your hair in a straight or side ponytail.
We hope that you loved these beautiful box braids styles! If you want to see how else you can play and experiment with your short braided hair, you can watch the video below.
READ ALSO: Nigerian hair weaving styles