Best short Ankara dresses for weddings
Best short Ankara dresses for weddings! Are you going to a wedding party? Do you want to know the latest trends for short gowns? Look at the photos' selection and get some style inspiration from our recommendations. Then you can create an irresistible look and be the most elegant guest at your friends or relatives' wedding.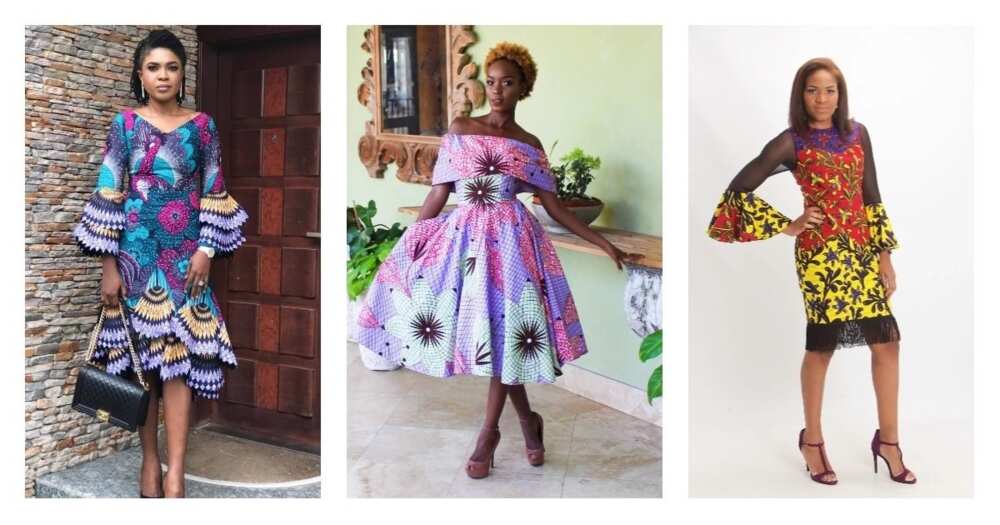 Young women often choose short gowns for wedding events. These dresses emphasize a slim figure well. Besides, it's more convenient to wear a short gown than a long one. In such attire, a lady can combine elegance with practicality and femininity with modesty.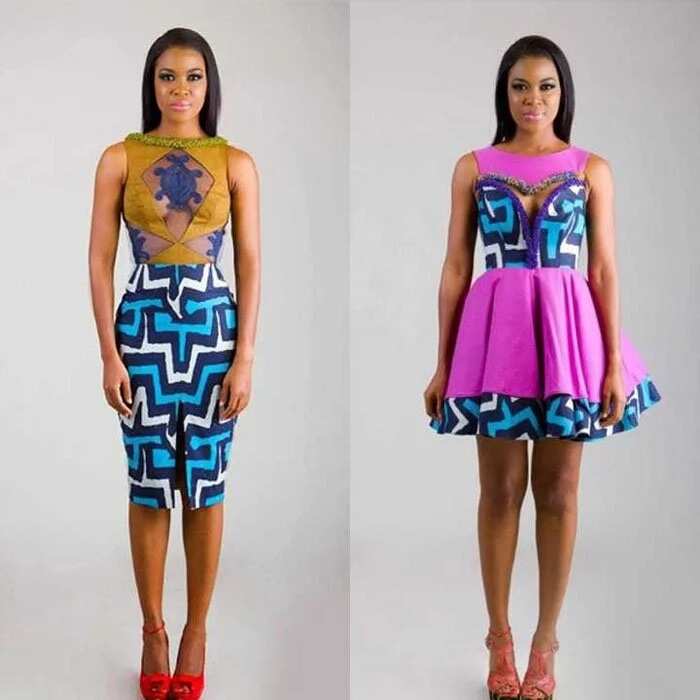 Dresses for a special occasion usually are sewn with appropriate textiles: lace, silk, satin, chiffon, velvet, and brocade. But with beautiful Ankara fabrics, it's also possible to create an excellent outfit for a wedding. The main goal is choosing suitable colour and fabric's pattern as well as appropriate tailoring. Here we must adhere to the rule: the simpler the fabric's pattern, the more complicated the cutting. And vice versa, for a bright multi-colored ornament, use simple tailoring.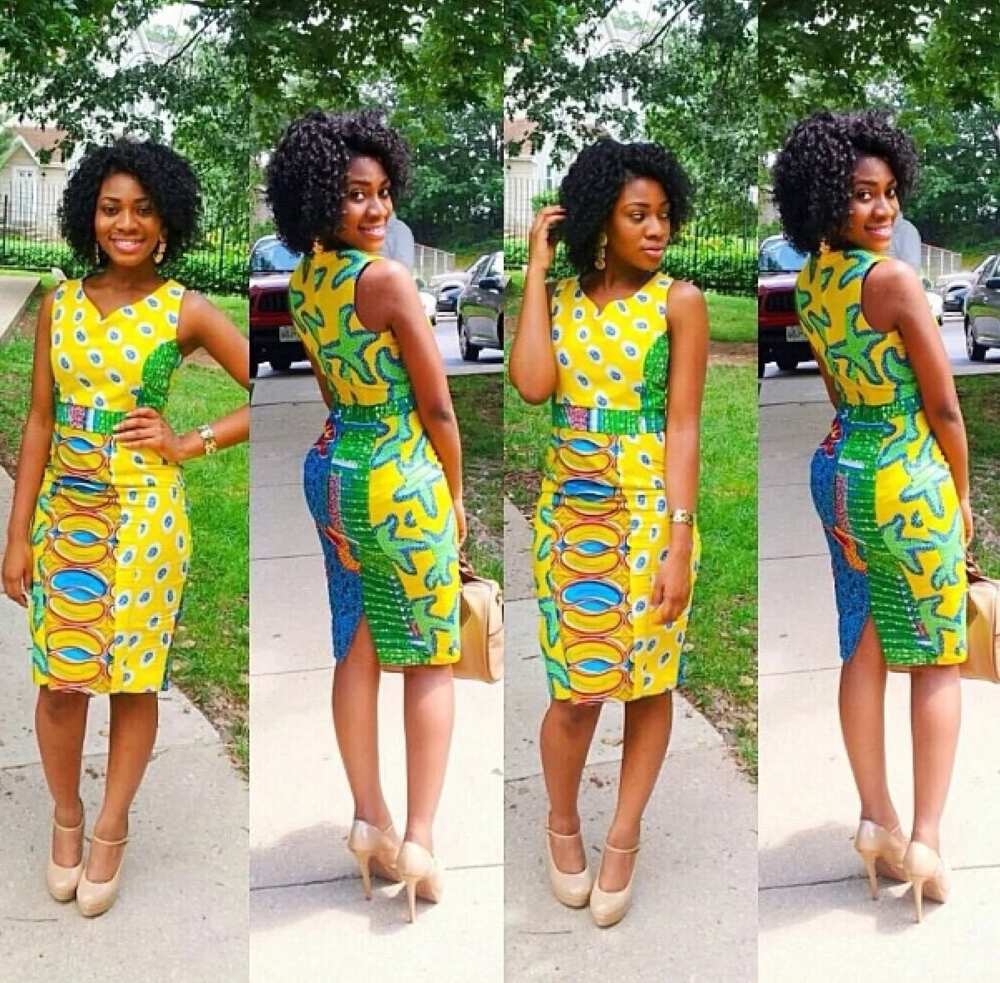 Ankara short gown styles
There are many, styles of short Ankara dresses for weddings. Concerning the colors of Ankara gowns the most fashionable are the following tones:
blue
green
pink (especially the "dusty rose")
red
coral
yellow (especially sandy-yellow)
light beige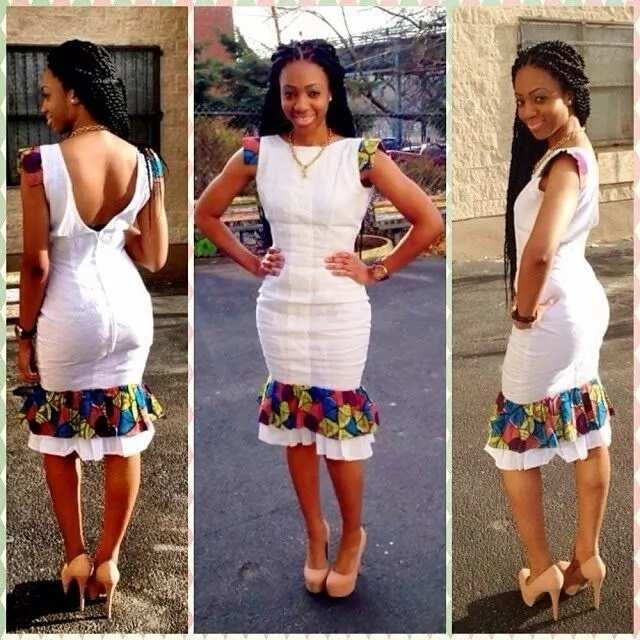 The colour without a rival in 2018, is white color. It can be combined with other contrasting tones this season.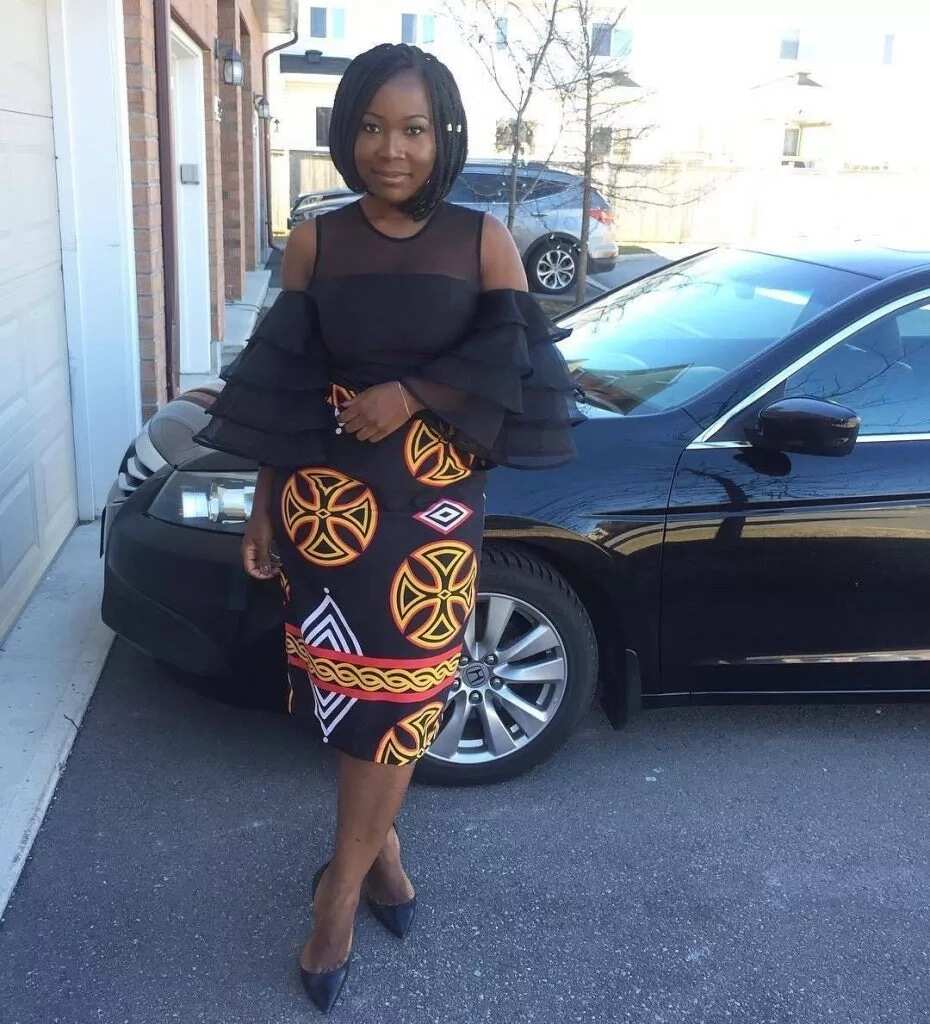 Black doesn't go out of fashion. However, when wearing black to weddings, it's better to dilute it with bright colours or combine it with a multicoloured Ankara textile.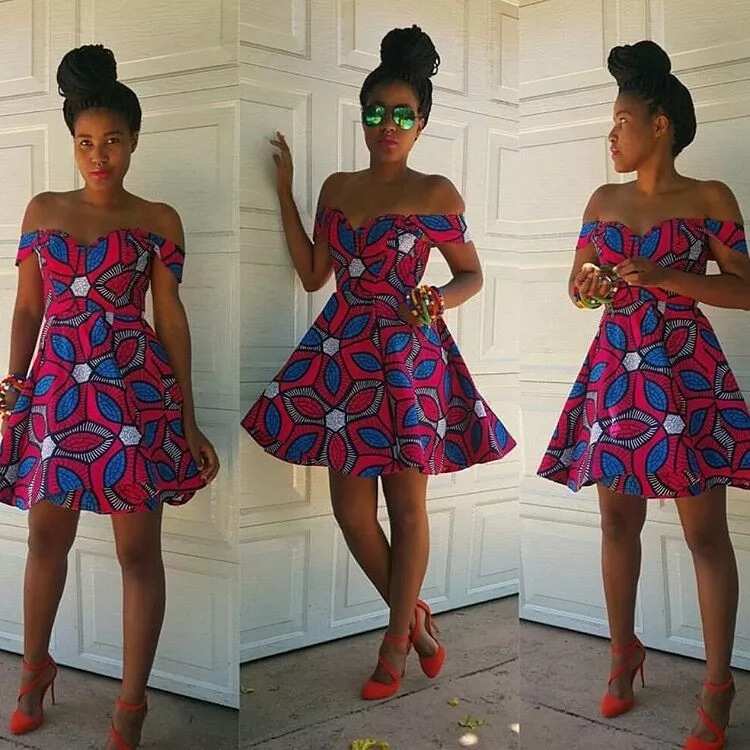 Ankara styles of short gowns to wear for a wedding:
free tailoring
A-shaped silhouette
multi-layered flared dresses
bando gowns
straight cutting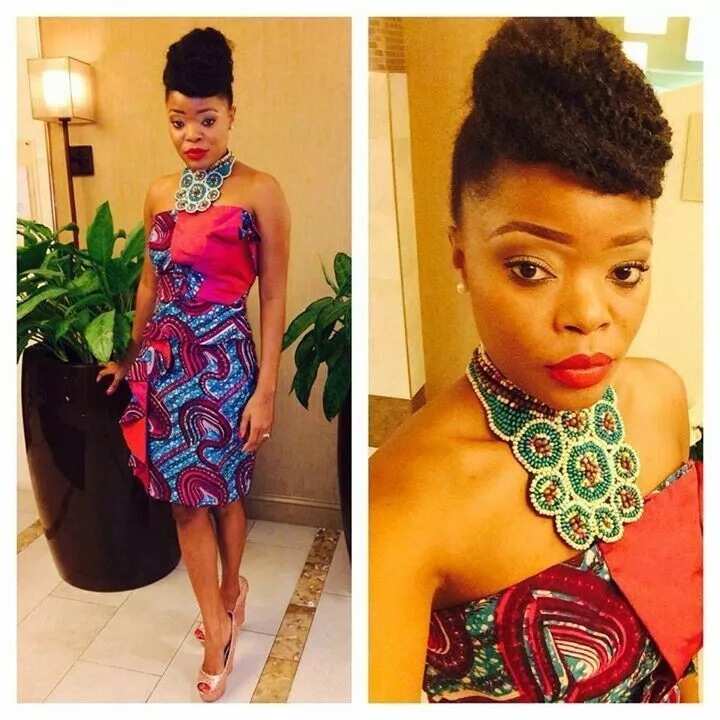 Among the fashion trends of the season 2018, there are:
bright floral prints
a large number of free folds
ethnic motifs of different complexity
geometrical chaotic patterns, large prints, as well as a combination of various directed strips
multi-tiered designs
READ ALSO: Latest Ankara styles 2017-2018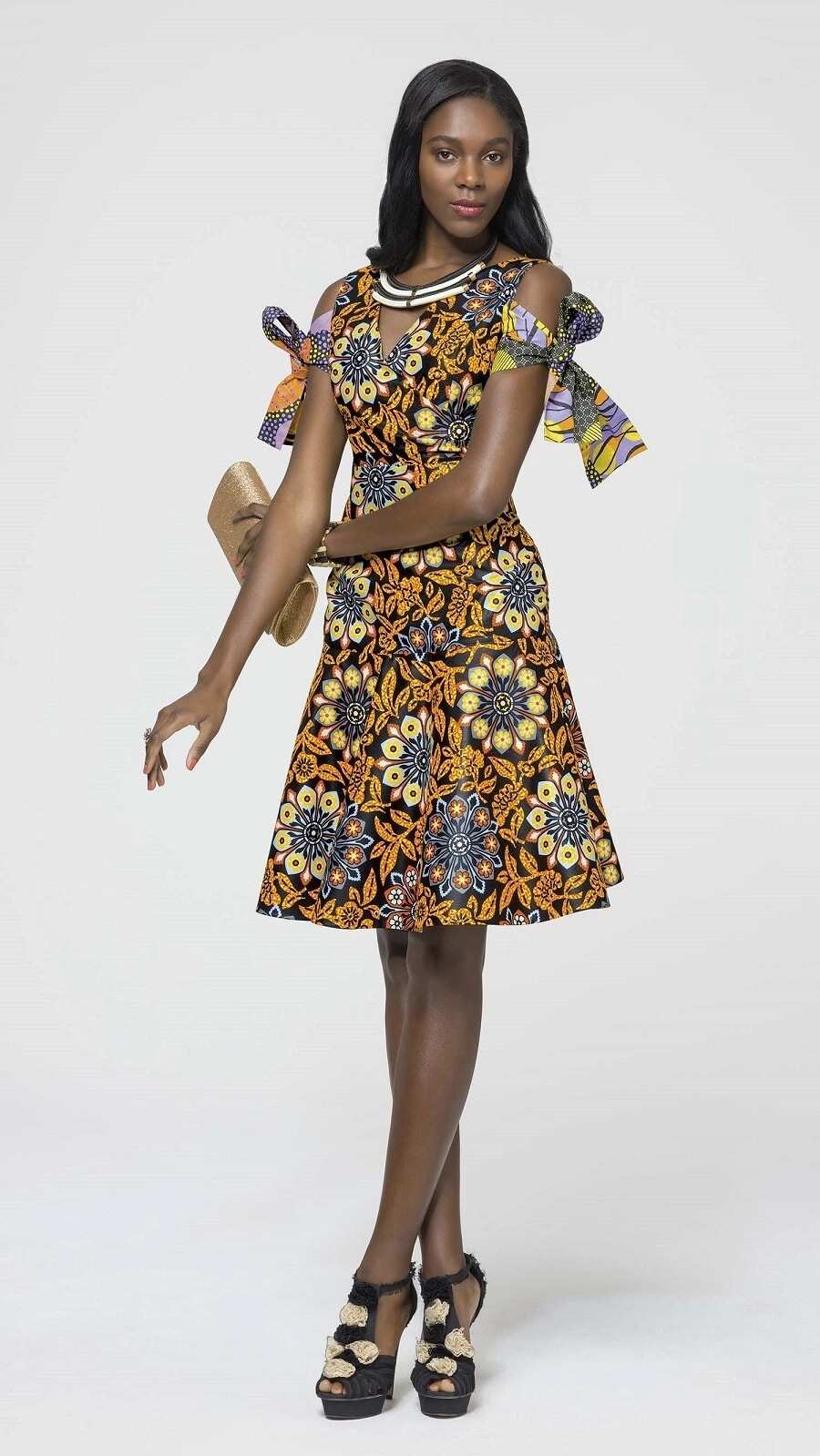 Latest Ankara styles
Also, on the peak of popularity, there are dresses with an overstated waist. Such outfits visually extend the legs and make the figure look more slender.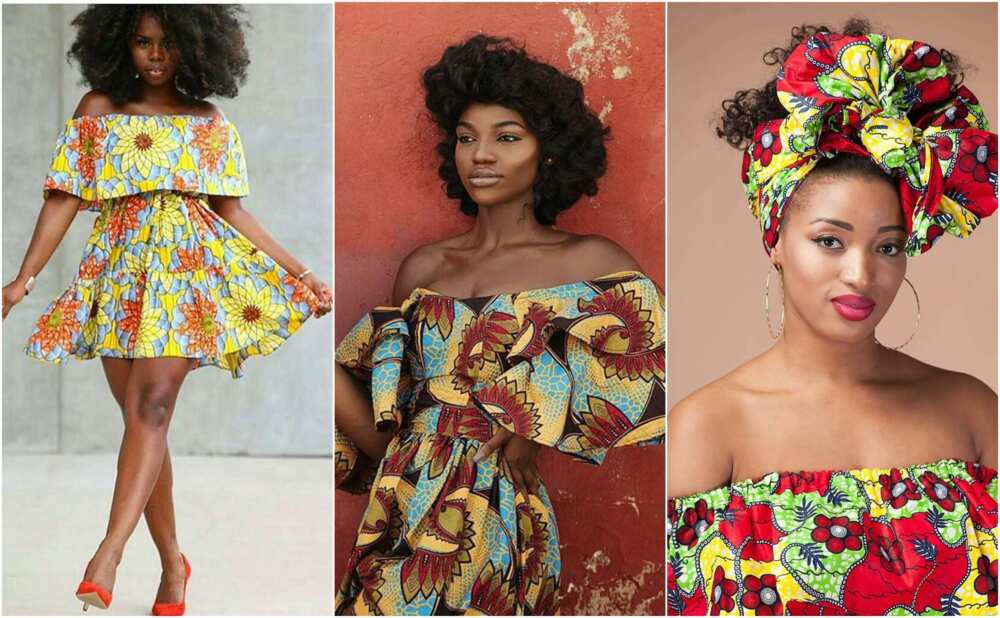 Besides, the open shoulders are on trend too.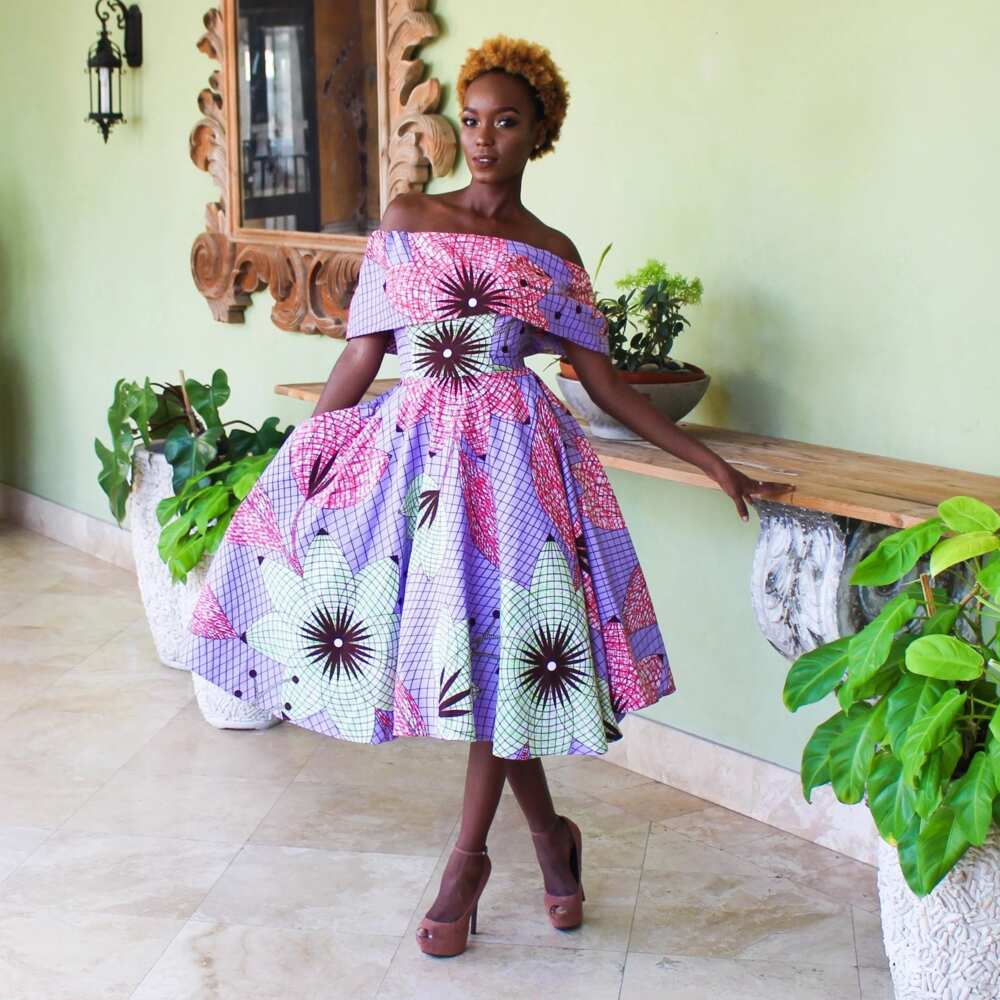 In 2018, designers are paying attention to dresses in the style of "a la Dior" with a tight top and flared skirt.
But the main trend in 2018 is light short Ankara dress with the floral print. To sew a dress for a celebration, and make it suitable for such a big celebration as a wedding, use the original details of tailoring.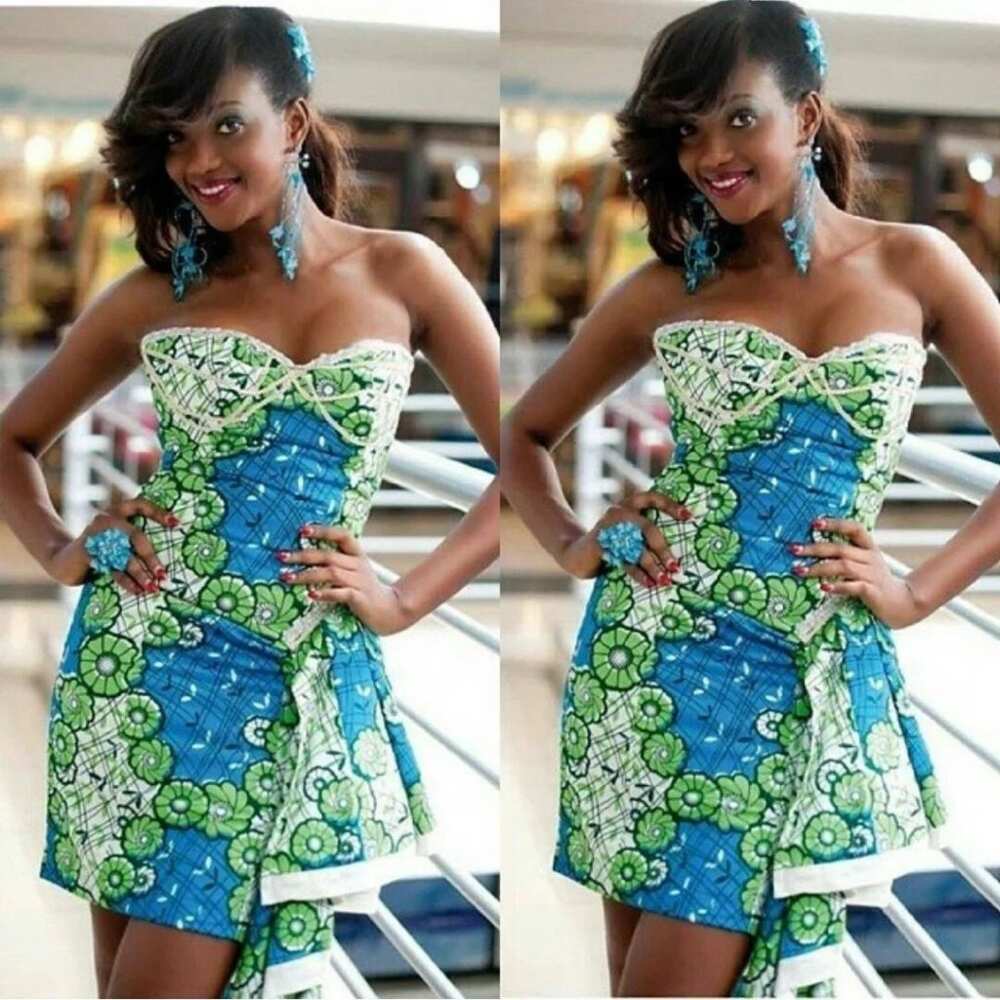 Ankara styles for ladies
A dress-case is appropriate for the girls with an ideal figure. It looks very elegant. The bottom of the dress can be made with a cut on the side or back. The top is good to sew with open shoulders and hands if you have a beautiful décolleté zone. In 2018, the trendy dresses are gowns without sleeves and strapless.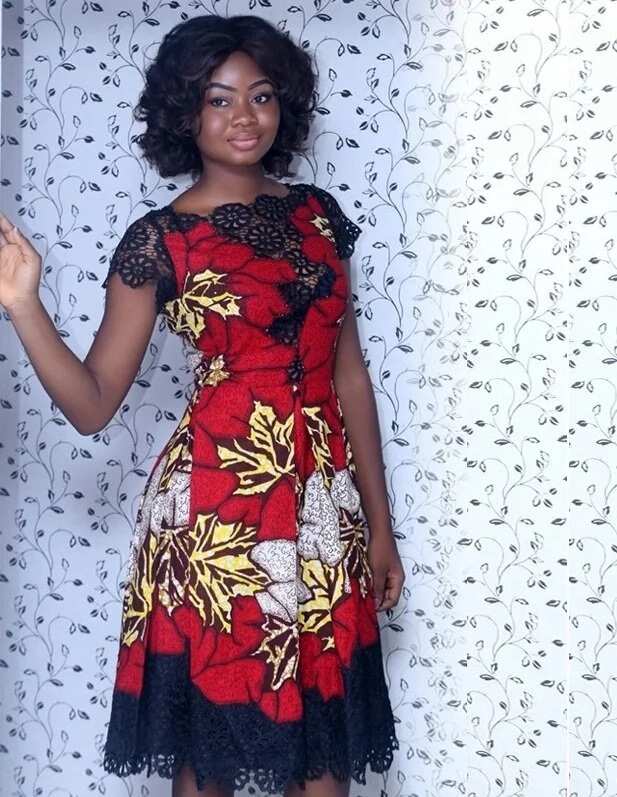 Besides, for short Ankara dresses you can choose a V-shaped or round neckline in front or on the back. If you want to get a modest gown, make chiffon or lace inserts on the neckline and on the hemline. Moreover, lace finishing is the trend this season.
The color of chiffon or lace trim should be chosen in one tone with the main color of the dress or take a black variant. A lace strip can also decorate the dress hemline.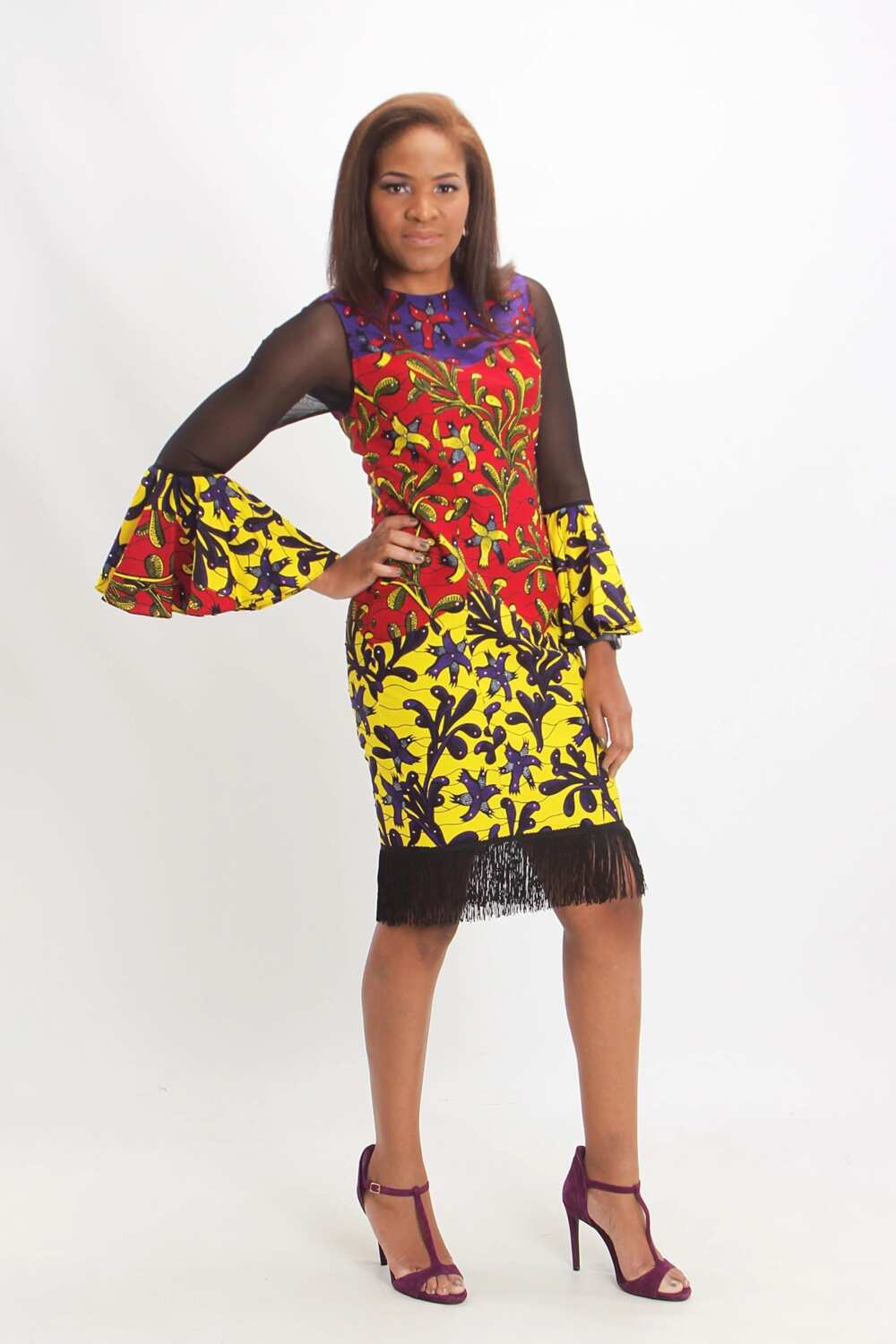 A new trend of the season is a lot of textures. So in one outfit, you can use different textiles. The main feature is their combination of each other. So, in one outfit you can combine Ankara, lace, and fringe.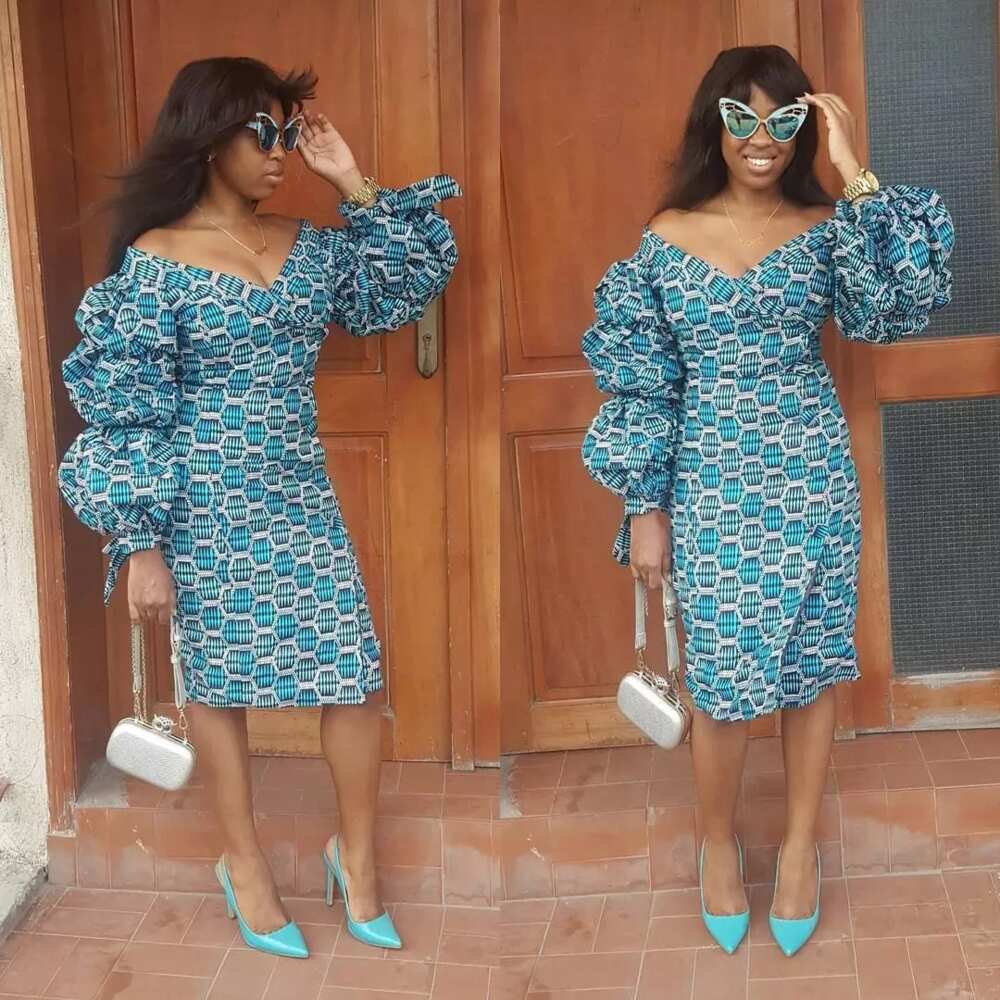 If you decide to sew a dress-case with sleeves, the ideal option is the sleeves-lanterns. They can add festiveness to the attire. Choose the length of sleeves depending on the weather conditions and your taste.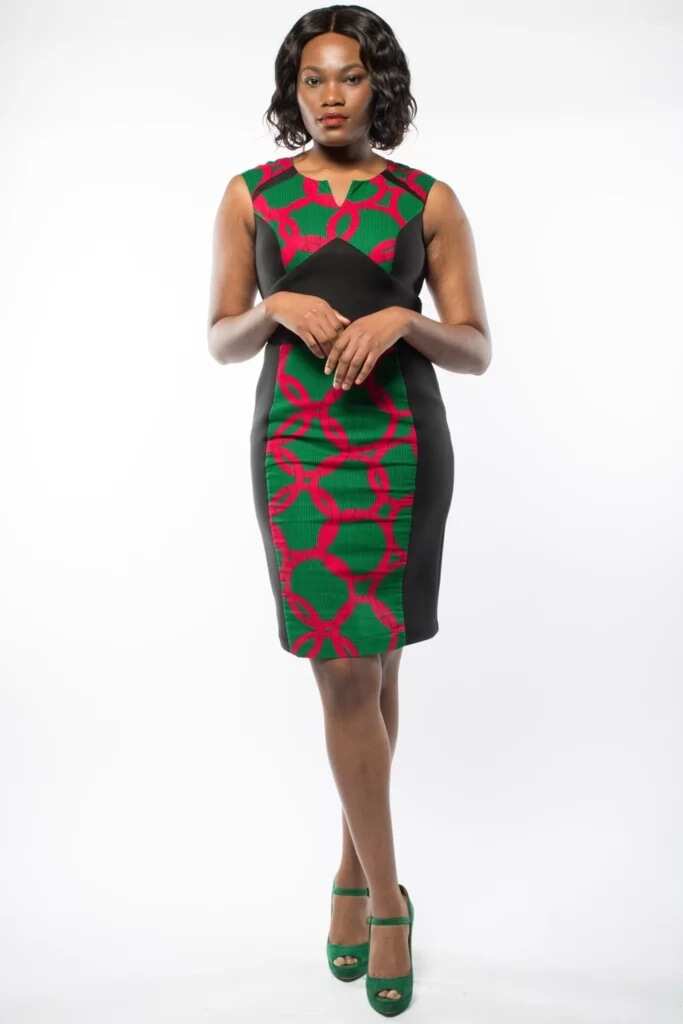 A complex cutting with an oblique line is good for a dress-case or straight dress. Here you can use several pieces of fabric with different contrasting patterns. In such outfit, geometric ornaments are combined better.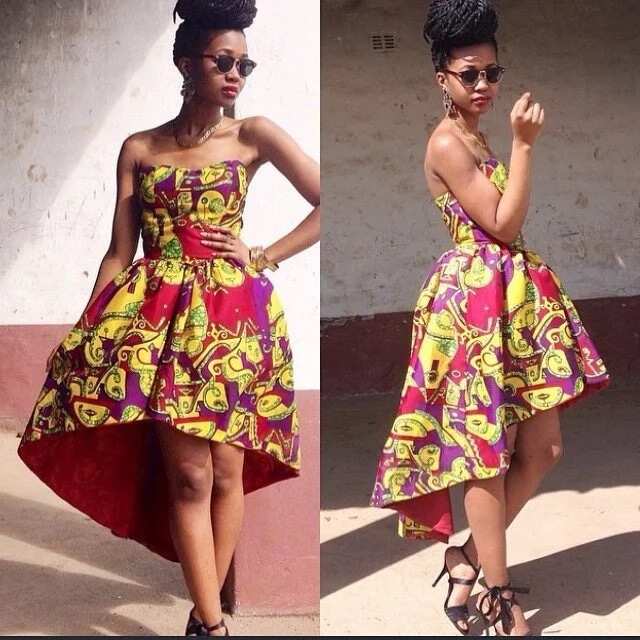 A tunic dress with a straight or asymmetrical hem suits the lovers of a free cut. It came back on trend in 2018. At the same time, its front part is higher than back. This gown looks good for tall girls with slender legs.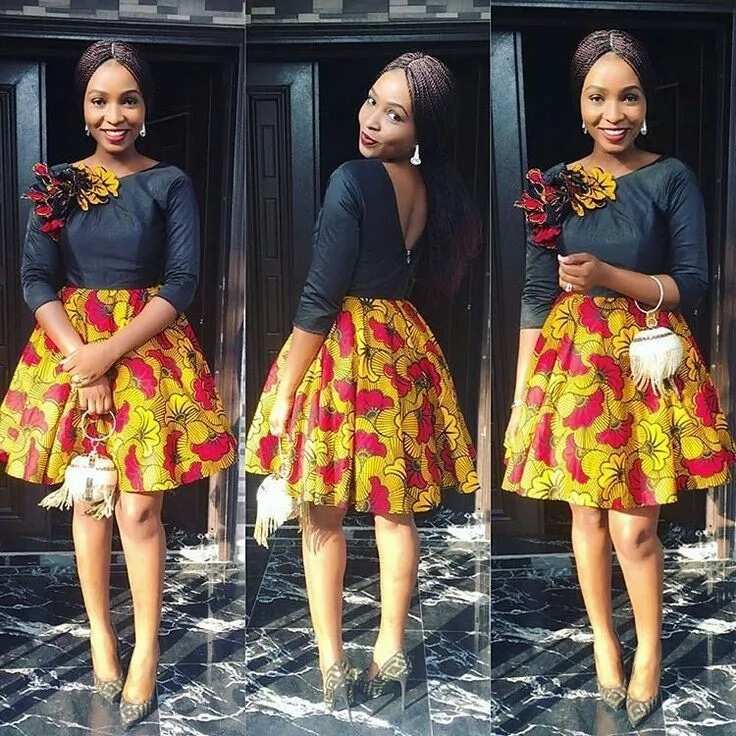 A dress with a flared skirt and monochrome top is an ideal option for a wedding. This outfit looks very elegant. One colored top can be decorated with flounces, coquette, trim or decorative flower. It can be sewn from the same fabric as the dress skirt. Moreover, the additional decor is on trend this season. And for an occasion as a wedding, it's more than appropriate.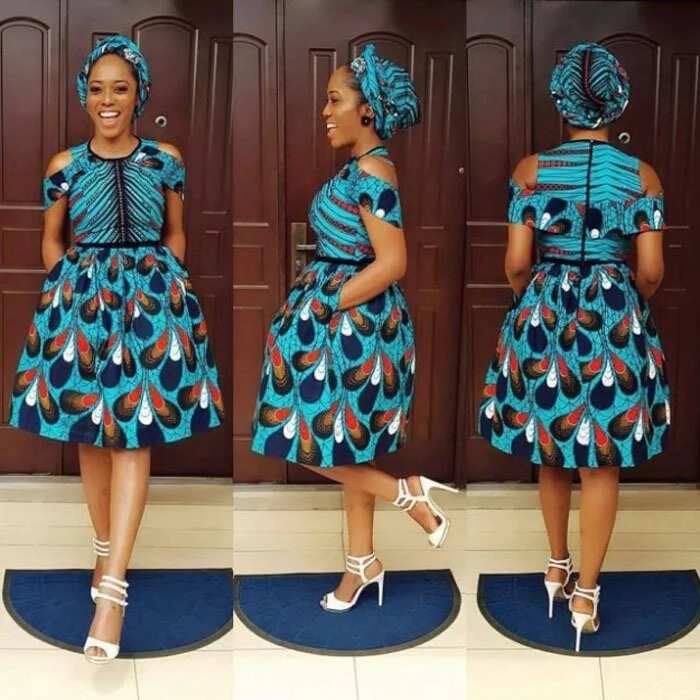 Light dresses with a wide skirt emphasize the grace of a silhouette. The flared skirt can draw attention to slender legs. In this gown, every girl looks cute and coquettish.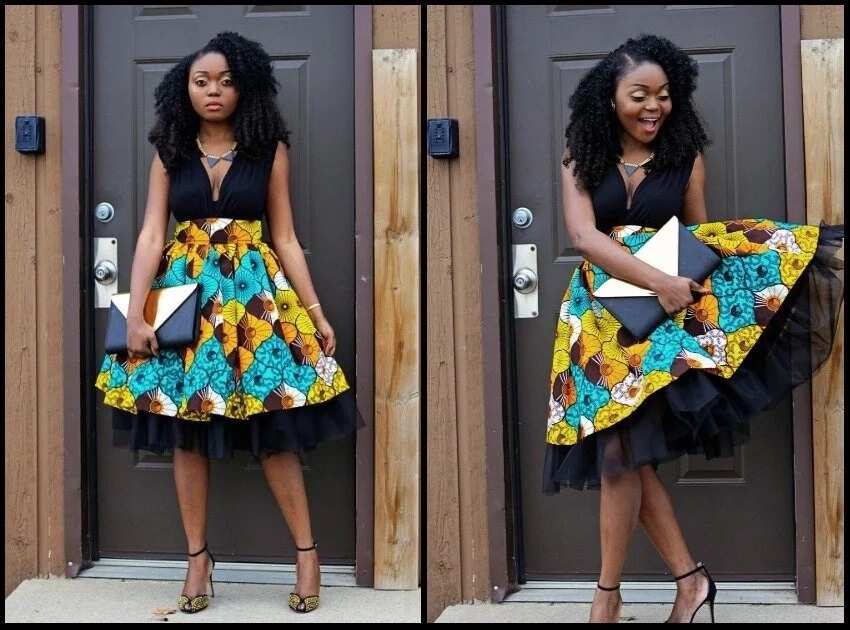 Nigerian women like to underline the waist in outfits. For these purposes, you can use a belt sewn from the same fabric as a dress. Besides, you can choose a contrast option that is combined with the basic color of the gown. The waist can be decorated with such elements as a bow. In season 2018 it's at the peak of popularity. In addition, the popular peplum style also perfectly highlight the waist.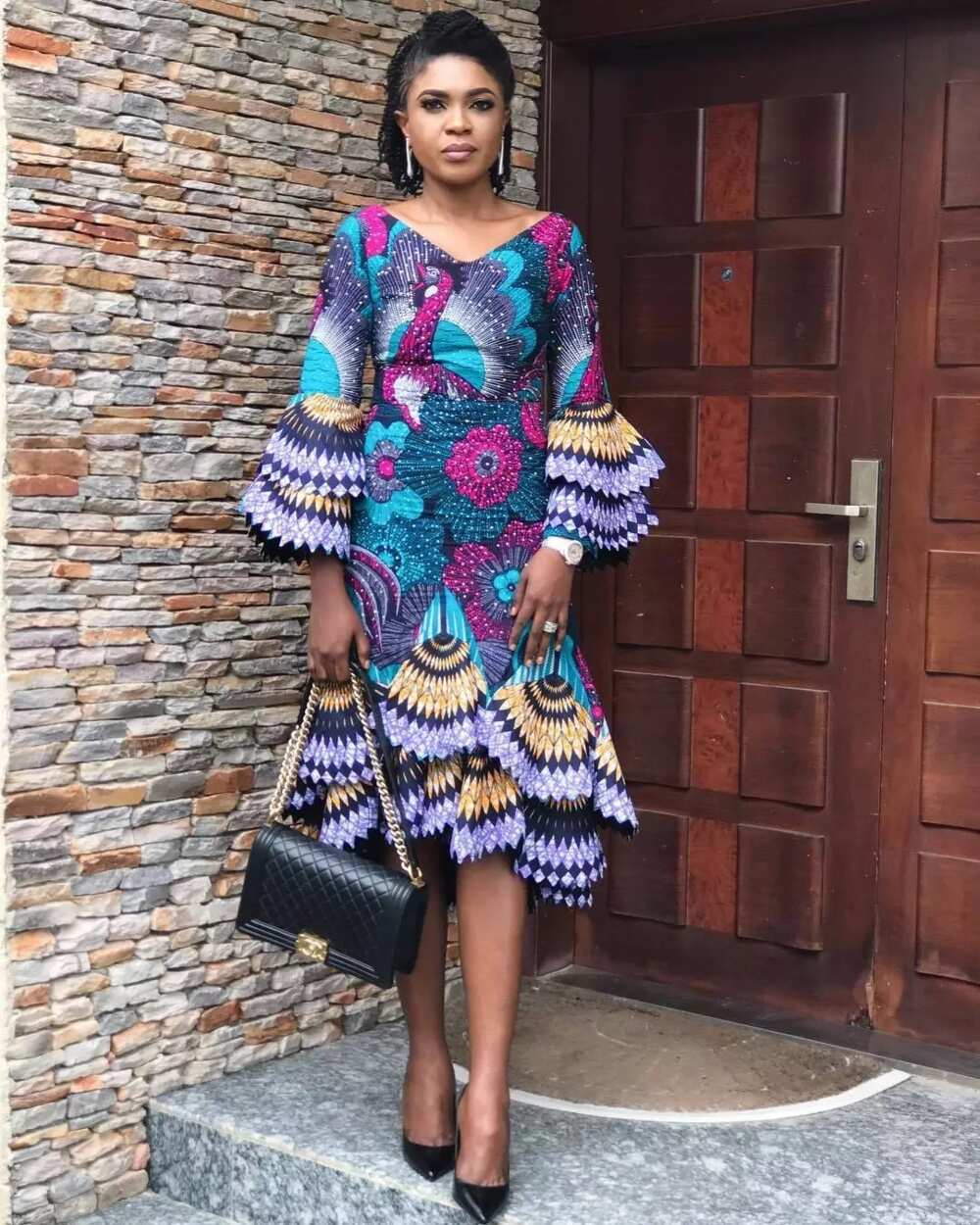 The frills and flounces are in Ankara fashion again. And the more of them, the better is. You can decorate both the top and bottom of the dress with flounces, and also use them in the sleeves' design. Such styles transform female beauty, revealing it, showing the softest girl's features. The dresses are very gentle and look light.
All offered designs of short Ankara dresses are beautiful and comfortable. A large variety of models allows you to choose an appropriate outfit.
READ ALSO: Latest Ankara straight gowns for Nigerian beauties
Source: Legit.ng