- The recent declaration by seven All Progressives Congress (APC) governors is causing controversy within the ruling party
- The deputy national publicity secretary of the APC, Comrade Timi Frank, says the declaration is insensitive
- The governors had declared their support for President Muhammadu Buhari's re-election bid in 2019
The deputy national publicity secretary of the APC, Comrade Timi Frank, has described the recent call made by seven governors of the party on President Muhammadu Buhari to seek re-election in 2019 as an act of insensitivity towards Nigerians.
Comrade Frank lamented that the call was made barely 24 hours after their colleague, Samuel Ortom of Benue, organised a state burial for 73 victims of a recent herdsmen attack in the state.
In a statement sent to Legit.ng on Saturday, January 13, Comrade Frank berated the governors' declaration, saying that the nation was still mourning.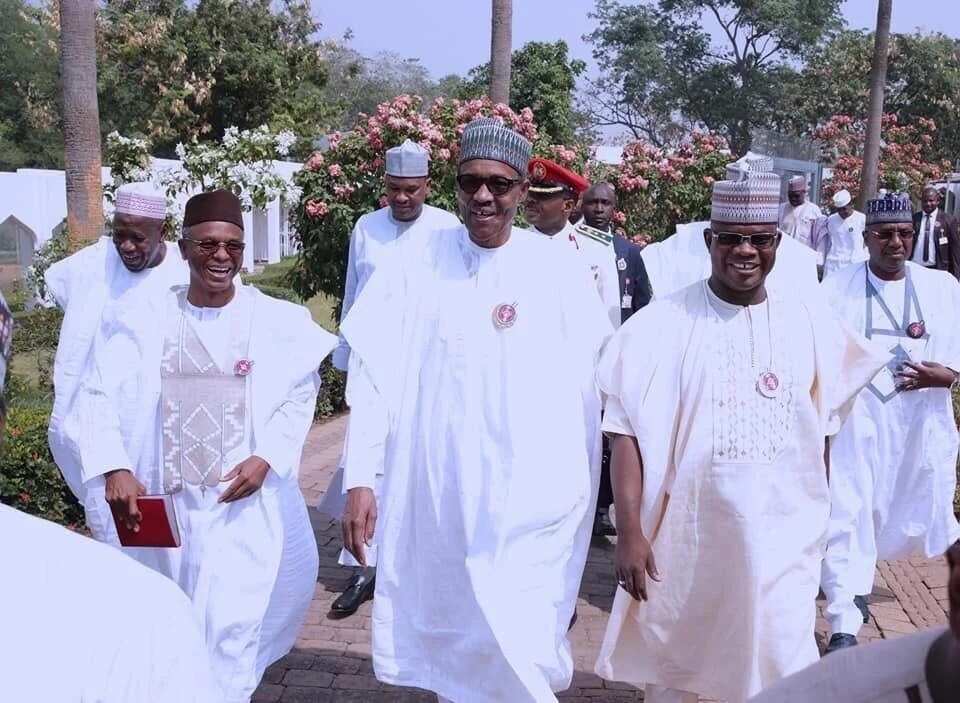 READ ALSO: APC 2015 campaign: El-Rufai lied on Atiku's contribution - Timi Frank
Governors Nasir El Rufai of Kaduna, Abdullahi Ganduje of Kano, Yahaya Bello of Kogi, Abubakar Bello of Niger, Simon Lalong of Plateau, Ibrahim Geidam of Yobe and Jibrilla Bindow of Adamawa states had joined President Buhari on Friday, January 13 after the Jumat service at the Aso Villa, unanimously endorsed President Buhari's re-election bid in 2019.
Comrade Frank opined that the governors should have paid a condolence visit to their colleague in Benue and urge the president to institute a programme that will take care of the families of the victims.
"Instead they chose to visit the Aso Rock Villa and made such demand for their selfish reason," Comrade Frank lamented.
According to the APC chieftain, some of the governors visited the president because their political future depend solely on his continuity, even as he urged politicians to play politics with human face.
"Instead of these governors to advise Mr. President on how to put an end to wanton killings going on across the country, fuel queues, economic hardship and the rest, they chose to be selfish.
"Is Benue governor not an APC member? Is Benue state where 72 people were killed not part of Nigeria? Our politicians should learn to be sensitive to the plights of citizens when needed and not only when their votes are needed," he said.
Comrade Frank also warned President Muhammadu Buhari to be careful of such people he described as 'parasitic politicians' by ensuring that he listen to himself on whether to seek re-election or not ahead of 2019 general elections.
"The president should recall that the impunity and arrogance being displayed by APC leaders like El-Rufai and others by telling Nigerians that they have no apology, angered Nigerians against the last administration of President Goodluck Jonathan.
"While Jonathan has since lost power, many of those making such statements have also abandoned him. Mr. President should therefore bear in mind that these governors are not persuading him to run not because they love him but for their selfish interest," he warned.
Meanwhile, Governor Ortom has stated that the federal government's plan to set up cattle colonies across the nation won't address farmers/herders crisis.
The governor made the statement at the memorial service held for the victims of the recent herdsmen attack in the state on Thursday, January 11.
According to him, the only way forward to address the issue is through ranching.
READ ALSO: Anti-open grazing bill: Governor Ortom's life is in danger - Paul Unongo
Benue state holds memorial service for victims of suspected herdsmen attack on Legit.ng TV
Source: Legit.ng