- An illegal arms-manufacturing factory was discovered in Nasarawa state by soldiers
- The suspect has been selling the guns to criminals within the state
- A gun runner who was planning to link-up with a gang leader was also apprehended
Nigerian soldiers in the quest to maintain internal peace in the country arrested a suspected gun runner with local guns on his way to meet up with one Damina Saminaka.
In a statement signed by Brigadier-General Sani Kukasheka Usman on Wednesday, January 10, it was revealed that the suspect, Mohammed Bello, was apprehended along at Akwanga highway in Nasarawa state.
The suspect confessed that he purchased the weapons from one Dan Asabe Audu, a local blacksmith. On getting to his place, the soldiers discovered a gun manufacturing factory where he has been producing firearms for criminals.
READ ALSO: Governor Fayose charges local hunters to defend Ekiti against Fulani herdsmen attack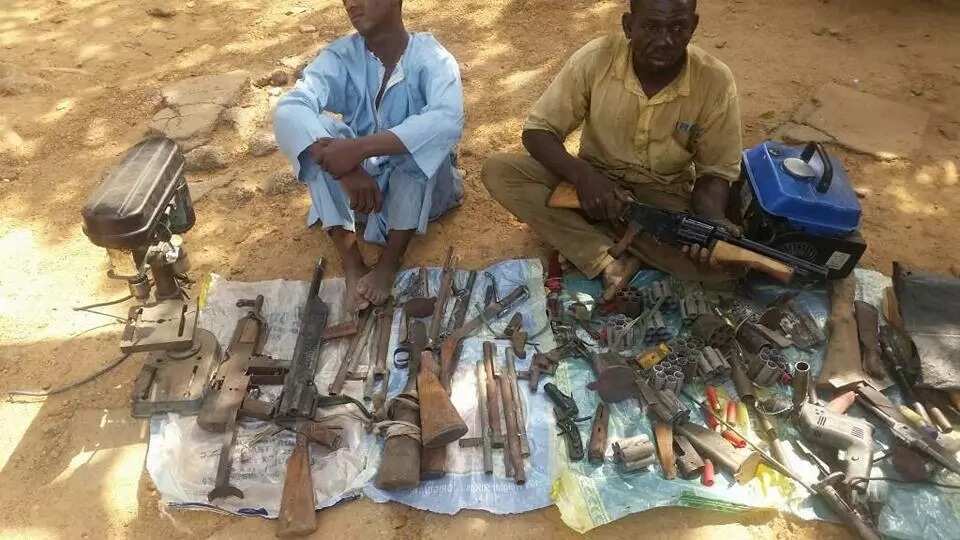 The suspects were all arrested and according to the army will be handed over to relevant security agencies soon.
Read full statement below:
"Troops of Nigerian Army on internal security operations deployed at Akwanga highway Nasarawa State, today Wednesday 10th January 2018, arrested a suspected gun runner, Mohammed Bello, in an Opel Vectra Saloon Car with the fabricated guns heading to Saminaka to link up with his gang leader Damina Saminaka.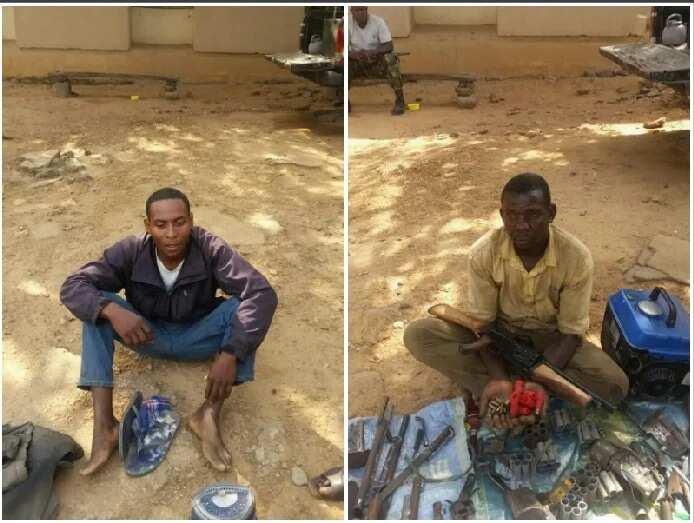 During preliminary interrogation the suspect claimed to purchase the weapons for Thirty Thousand Naira (N30,000.00k), from a blacksmith gun fabricator named Dan Asabe Audu, who reside at Angbo Village, Wamba Local Government Area of Nasarawa State.
Determined to get to the root of the matter, the troops further went to the village where they found out that indeed Dan Asabe Audu has been in the business of illegal arms manufacturing for criminals for quite sometime. They found a complete arms factory with equipment and the products at various stages of production.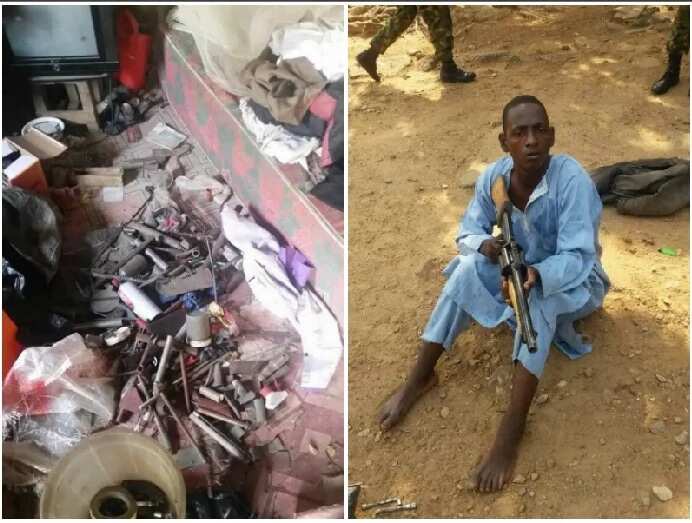 Specifically, the troops recovered 3 completely locally fabricated guns, 20 locally fabricated guns at various stages of production, 7 units of 9mm empty cases, one 9mm blank ammunition, 2 drilling machine, 1 power generating set and 3 mobile telephone handsets. The suspects would soon be handed over to the relevant security agency for further investigation and prosecution.
The public is kindly requested to provide useful information that will assist the military and security agencies in apprehending such criminals to make our society safe."
Meanwhile, Muhammed Haruna, a 15-year-old herdsman allegedly died from injuries he sustained after getting into a fight with a female farmer in Delta state.
According to a report in Southern City News, as quoted by Punch, the incident took place last week.
Legit.ng gathers that the deceased and his colleague had driven their cattle into the woman's property which is located in the Upper Agbarho area of Ughelli.
Southern Kaduna killings: part 1 - on Legit.ng TV