On this day in 2012, retired French professional footballer Thierry Henry, marked his return to Arsenal with a late winner against Leeds United in the FA Cup.
Henry scored with his fifth touch in the game to propel Arsenal into the FA Cup's fourth round. The former France international re‑signed on loan from New York Red Bulls for an eight-week stint with the Gunners and the goal against Leeds was his 227th for Arsenal.
He went on to score one more to finish with a tally of 228 goals for Arsenal - a club record.
And according to Henry, that moment of magic against Leeds was one of the best moments of his life. However, for many football lovers and especially Arsenal fans in Nigeria, the goal marked the return of 'Igwe' to Arsenal.
Henry's prowess in goal for both club and country earned him the Igwe title among football lovers in Nigeria. He was so good that many still rate as one of the best to have played the round leather game.
So it was a thing of joy to finally have Henry in Nigeria to celebrate the unique passion for football among fans in the country on Sunday, December 17, 2017 at the 'Watch a Match with Thierry Henry' an event put together by Guinness Fanzone.
It was even more exciting to see the 40-year-old crowned Igwe of football in Nigeria.
Like the Legit.ng Sport Facebook page for more breaking news and stats updates
Speaking exclusively to Legit.ng at the event, Henry expressed his appreciation about being given such a great honour.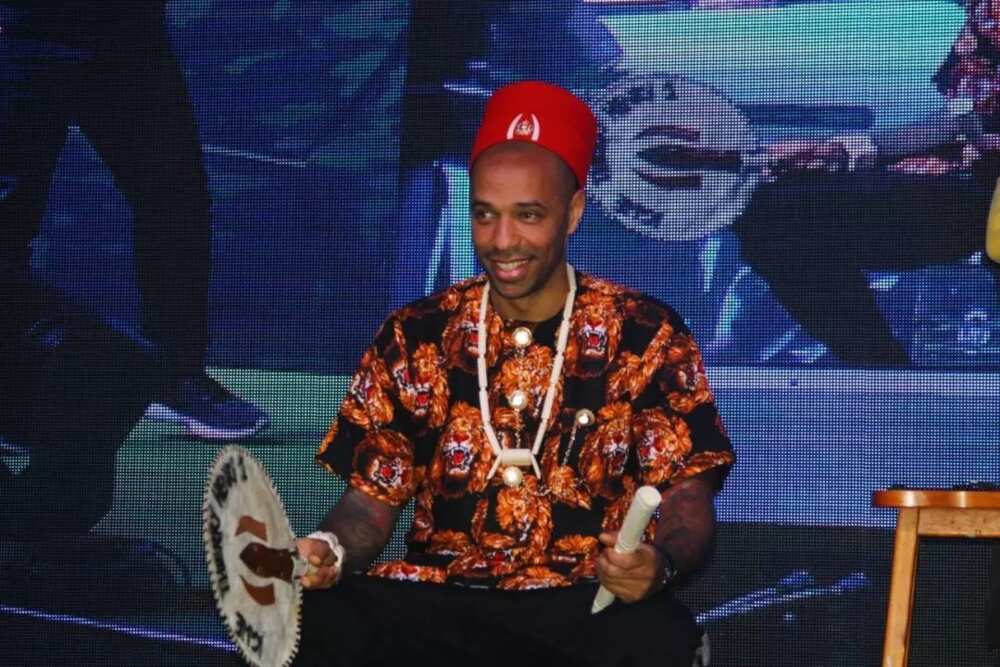 The former France international was full of thanks to the organizers and football loving Nigerians for given him the title.
However, he was quick to add that he played with great players during his time at Arsenal and Barcelona and he believes every one of his teammates deserve the honour as much as he does.
He told Legit.ng: "It is nice to be called Igwe but I had the opportunity to play with great players. I accept the name (Igwe) and I appreciate and thank everyone that calls me that but the fact remains that I played in a good team so everyone in the team deserves to be called that."
Guinness Made of Black ambassador Thierry Henry recently visited Nigeria to celebrate the unique passion for football among fans in the country.
READ ALSO: Thierry Henry prepares Nigerian jollof rice
Henry is famous for his time at the English Premier League club Arsenal as he is the club's all-time highest goal scorer with 228 goals.
He was part of the Arsenal team that won two league titles and three FA Cups and he also led the team to 2006 UEFA Champions League final where they lost to Barcelona.
He retired in 2014 having made close to 800 club appearances and 123 for his country.
Thierry Henry crowned Igwe in Nigeria - on Legit.ng TV