- The Vice Chancellor of the University of Calabar, Professor Zana Akpagu, has been honoured by his community
- The honour was conferred on him in recognition of his outstanding contributions to the development of the community
- The event attracted top politicians, academics, business moguls and clergymen
The Vice Chancellor of the University of Calabar, Professor Zana Akpagu, has been crowned with the highest chieftaincy title by his community Bebuagbong in Obudu local government area of Cross River state.
Professor Akpagu who was honored with the title "Utsu Ute-Kushu 1 of Bebuagbong Clan" was decorated during a reception ceremony organized in his honour by the community on Monday, January 1.
The clan head of the community, Chief Francis Akpagu, in his remarks during the ceremony, said that the honour was conferred on him in recognition of his outstanding contributions to the development of the community and the local government in general.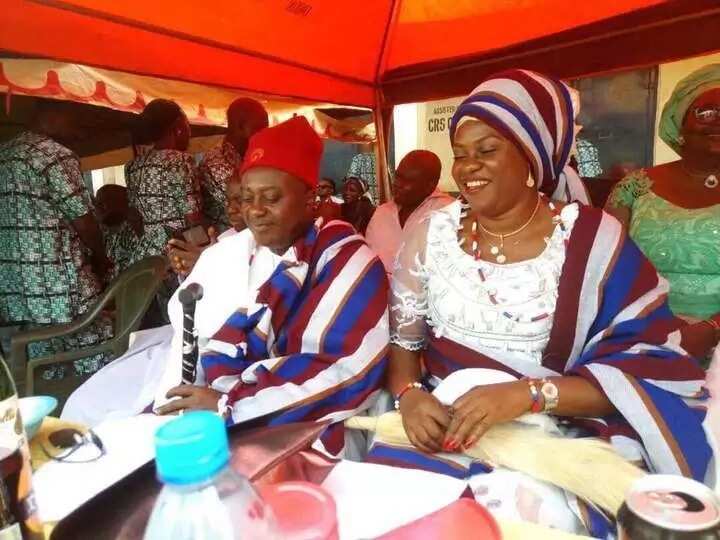 READ ALSO: Excitement as 250 bikers participate in Calabar carnival show
He described the VC as "an illustrious son and a good ambassador" of the community, adding that the entire community were proud of his emergence as the first alumni VC as well as the first person from the northern part of the state to attain the position.
His words: "We as a community decided today, 1st of January 2018 to celebrate our illustrious son and our very proud ambassador, Professor Zana Akpagu. We're particularly happy with his impact on the development of our community.
"Today, we will confer the prestigious title of Utsu Ute-Kushu 1 which means that a chief that will continue to soar higher. We are very proud of him because he's the first alumnus VC and the very first from the entire Cross River north."
Earlier, the chairman of the occasion and the chairman of Bebuagbong Development Association, Dr. Gabriel Akpeke, said that the honour has shown that a good prophet has honour in his home.
He added that the ceremony was to demonstrate the community's deep seated appreciation of Professor Akpagu's numerous positive impacts on his people.
"Even before he became a VC, Zana's commitment to the entire Ipong community has been legendary. This explains why the chiefs and the people of Ipong conferred on him the prestigious chieftaincy of "Ushi-Kebe 1 of Ipong," he added.
Responding, Professor Akpagu said: "I thank the community for bestowing this honour which I honestly think I don't deserve. The honour is very special to me because it's coming from home. People say a prophet has no honour in his home but my case is different. I pray God to give me the grace to continue to contribute to the development of my community."
The occasion which also witnessed the decoration of his wife, Ntunkae Winifred Akpagu with a traditional title attracted top politicians, academics, business moguls and clergymen.
Meanwhile, the new year started on a sad note for traders in Marian market, Calabar, the capital of Cross River state.
An early morning fire destroyed many shops in the popular Calabar Municipal market, leaving many traders in tears. The raging fire started in the early hours of the New Year, Monday, January 1.
READ ALSO: Nigeria police trying to cover up the death of Joy Odama - Cross River government
UNICYCLING: Meet Nigerian youngsters cycling their way out of the hood on Legit.ng TV