- Nura Mohammed is the youngest Super Eagles player ever at 15 years old
- The attacker who is yet to make a senior appearance for his club will play at CHAN 2018
- The Maiduguri-native escaped Boko Haram recruitment just a few years ago
- He was orphaned before he was 6-year-old when both his parents died
The story of Super Eagles winger Nura Mohammed is one that inspires young footballers that no matter the situation, they can always achieve their dreams.
Mohammed, a Boko Haram survivor has shared his story of how he kept to his dream of playing football at the height of the insurgency in Maiduguri, the Borno state capital.
The 15-year-old grew up as an orphan in the city having lost both parents before he was six-years-old.
READ ALSO: Young striker dies on Christmas eve after losing battle with cancer
Despite this setback, he used football which he played with his friends as an escape route. Tragedy struck when some of his friends were killed by the Boko Haram insurgents, some went missing till date.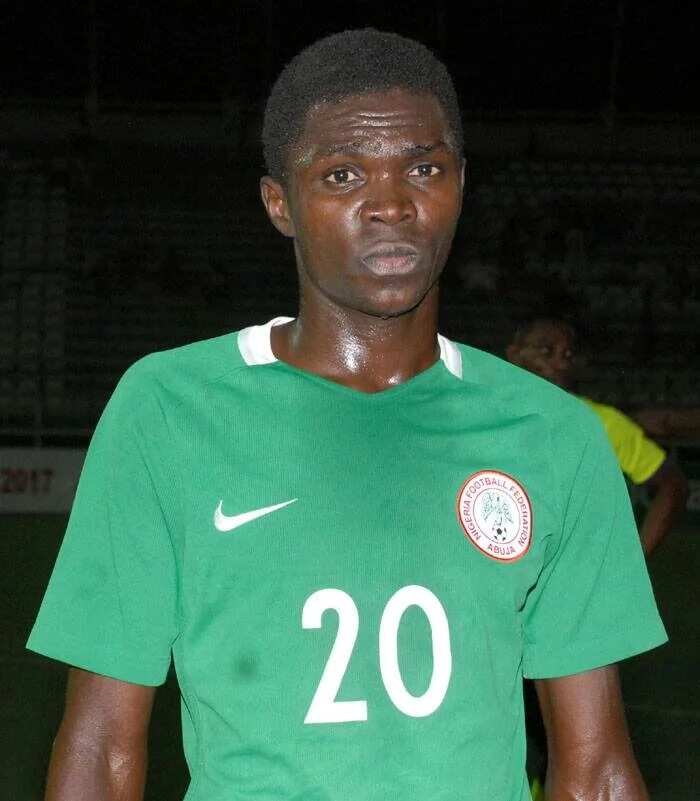 However as fate would have it, Nura escaped an attack and he was not recruited into the Boko Haram terrorist group unlike some of his mates, who were forcefully recruited.
"I cannot count how many of my friends that were killed by Boko Haram. Just mentioning the name of the sect could earn someone death.
"I remember one of my friends who never liked people to mention the name Boko Haram around him. Unfortunately, he was killed. I think Musa was his name," Nura Mohammed told Totori yo sef in Abuja.
Nura says he does not have a role model in football despite being called Mesut Ozil, Lionel Messi or James Rodriguez by fans in Maiduguri.
Like the Legit.ng Sport Facebook page for more breaking news and stats updates
Nura was signed into the El-Kanemi Feeders team and his talent shined through in the Nationwide League One season before taking part in the League Management Company (LMC) La Liga Under-15 tournament held in Lagos last year.
His team (North East) would however crashed out in the semi final of the tournament.
He went back to Maiduguri and despite bomb explosions in some parts of the city, Nura never strayed from his dreams.
His big break would come when he was signed by El-Kanemi Warriors of Maiduguri under the guidiance of their new Technical Adviser for the upcoming new season Imama Amakapabo.
Imama a training match between the El-Kanemi senior and El-Kanemi Feeders and it was in that match that Nura was unearthed.
The coach quickly instated him in the team that could compete in the Nigeria Professional Football League (NPFL) season that will begin on 14th January, 2018.
READ ALSO: Valencia coach Marcelino survives horrific car crash involving a wild animal
In pre– season, El-Kanemi Warriors competed in the Ahlan pre-season tournament that comprised of 12 teams mainly from the Nigeria top flight league. Nura featured for El-Kanemi Warriors playing the left side of the midfield as they trampled on teams leading to the semi-finals where they crashed out.
Nura at this point had caught the attention of Salisu Yusuf, the chief coach of the Super Eagles and he was invited to the Super Eagles team for NPFL Super 6 tournament in Kano, where the technical crew of the Super Eagles used the tournament as a preparatory ground for CHAN tournament in Morocco next year.
Nura played his part when the national team defeated MFM FC 3-2 to win the tournament. Nura came as a second half substitute in the final game to give two assists.
That was all the convincing needed for the player to become a full fledged international at 15-years-old.
Sport Betting In Nigeria - on Legit.ng TV;