- Barcelona on Saturday, December 23 defeated Real Madrid 3-0 in the El Clasico
- Luis Suarez, Vidal and Lionel Messi were on target for the Catalan giants
- Real Madrid star Cristiano Ronaldo score a goal which was disallowed
Barcelona on Saturday afternoon, December 23 continued with their impressive performance this season by beating bitter rivals Real Madrid 3-0 in the 236th El Clasico.
The Catalan giants were unbeaten in the Spanish La Liga before this game, and the expectation of some fans was for Real Madrid to end their unbeaten run, but they could not.
Real Madrid started the match impressive with the duo of Cristiano Ronaldo and Karim Benzema tormenting the defense of the visitors in which Marc Stegen made many saves.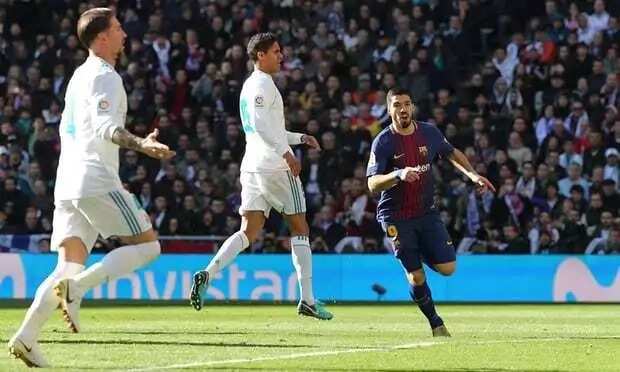 Cristiano Ronaldo thought he had put his side ahead when he headed home a powerful cross from Casemiro, but the center referee signaled for off side.
Former Liverpool striker Luis Suarez netted the first goal for Barcelona in the 54th minute after being wonderfully set up by Sergi Roberto.
Ten minutes later, the visitors scored their second goal via a penalty which was converted by Lionel Messi in which Real Madrid goalie Keylor Navas had no answer for.
READ ALSO: Wayne Rooney makes incredible donation to charities
Daniel Cavajah was the culprit as he was adjudged to have handled the ball in the box in which the referee gave him a red card and awarded a penalty to Barcelona.
Cristiano Ronaldo tried all he could to score for Real Madrid, but his wings were clipped by Barcelona defenders who were superb at their department.
The match however ended 3-0 in favor of Barcelona as Aleix Vidal scored the third goal at the death and the Catalans are still topping the La Liga standings with 45 points after 17 games.
Find out if Thierry Henry is also 'Igwe' in the kitchen. On Legit.ng TV