Nigerians have showered praises on Mrs Dolapo Osinbajo, wife of Nigeria's vice president for her humility and the respective way she knelt to greet elder statesman, former president Yakubu Gowon recently.
The incident which occurred at the Presidential Villa on Thursday, December 14, excited the teeming Nigerian youths on social media, especially Facebook.
Speaking on the incident, an excited Kwesi Mandela Smooth praised the Yoruba people for having respect in dealing with elders.
READ ALSO: Military court sentences soldier to death as others bag jail terms
She said: "Yoruba and respect eh! They are like toe and nail. Only a Yoruba woman will be talking to an elder on the phone while gesticulating, squatting or showing respect. I like that sha. They can respect for Africa. I have learnt from them not to stand while greeting an elder."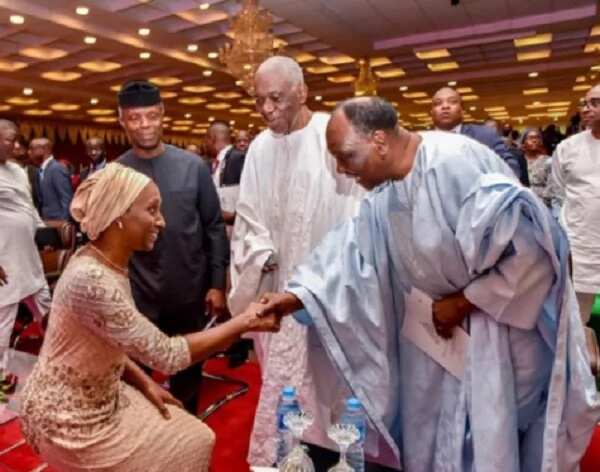 On his part, Oyedeji Toluwani Emmanuel said: "Yoruba and the spirit of kneeling down. When you receive training from a well trained mother, it can never leave your soul and body. Can these happen in the western world? No! Well done to the V.P's wife.
Oluyemi Gbolahan Adonis said: "That's a true Yoruba woman,we are rich with culture and tradition. Position shouldn't make us forget our manners and tradition, no matter what. she's a true example of a good woman and a good role model in this act.
"An identity of children that came from good home loaded with perfect home training shows through greeting and their respect for elders.
"The world is civilised truly but respect and tradition still exists."
Smooth Prince Austine Ikhayere said: "I pray to have a humble wife like this. I saw a young lady with similar action yesterday then I said wow so there are still good well trained ladies around. Like I said before respect is the beauty of every woman."
Kevin Okeke said: "What humble woman? despite being the wife of number 2 citizen, she can still knee down to greet an elder statesman. Try today's slay queens and slay mamas he will only get "Hi old man ".
PAY ATTENTION: Install our latest app for Android and read best news on Nigeria's #1 news app
Meanwhile, Legit.ng had reported that wife of the vice-president, Dolapo Osinbajo, has disclosed that she worked for 10 years under the Lagos bridges with area boys in an effort to reshape the lives of street urchins during her pastoral work.
Mrs Osinbajo made the disclosure on Sunday, August 27, when speaking at a 'Teens Career Conference' organised by The Everlasting Arms Parish (TEAP) of the Redeemed Christian Church of God (RCCG), Garki, Abuja.
Acting President Yemi Osinbajo delivers a speech on the Biafra war on Legit.ng TV:
Source: Legit.ng