How to arrange artificial flowers for Christmas
Everyone wants their home to look lovely on Christmas. Beautiful Christmas flower arrangements and table decorations can be a great way to add a little holiday cheer to the house. But what if you are allergic to real flowers or simply do not want to use them? What if you want it to last longer than a few days? For you, we have prepared some tips on how to use artificial flowers in your Christmas table decorations and make them look even better than the real deal!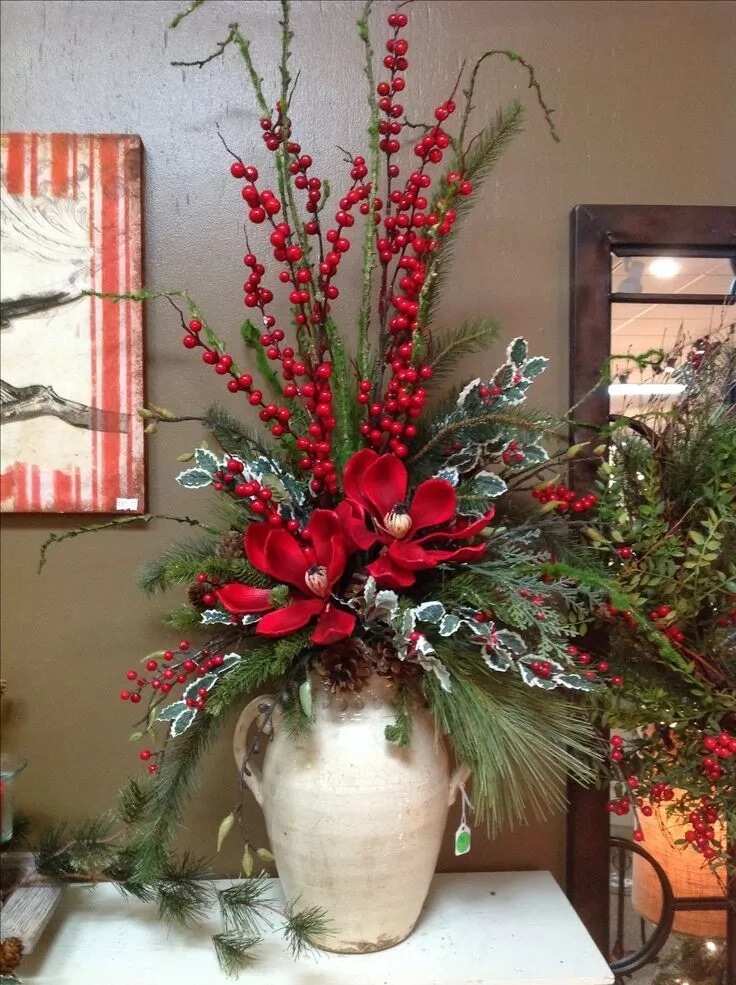 5 steps to arranging artificial flowers
Despite what you might have thought, creating your own Christmas flower arrangement is not all that complicated. All you need to do is follow these five easy steps and make the most beautiful Christmas home decoration yourself. Here is what you need to do:
Step 1. Decide on what flowers you want to go with. As it is Christmas, we suggest you go for the red-green-white colour palette. As for the types of flowers, you can select between polyester, nylon and silk flowers, depending on your preference and budget. Polyester flowers are the most common and inexpensive, while silk ones are pricier, but more realistic. You can even choose some glass or soap flowers, if you are feeling fancy.
Step 2. Choose a receptacle for your flower arrangement. It can be a tall thin vase, it can be a wide and stumpy vase, it can even be a pretty basket, whatever you like. Nevertheless, we recommend you to use receptacles that will be able to conceal the fact that the flowers are not real. Therefore, it is better to choose something you cannot see through.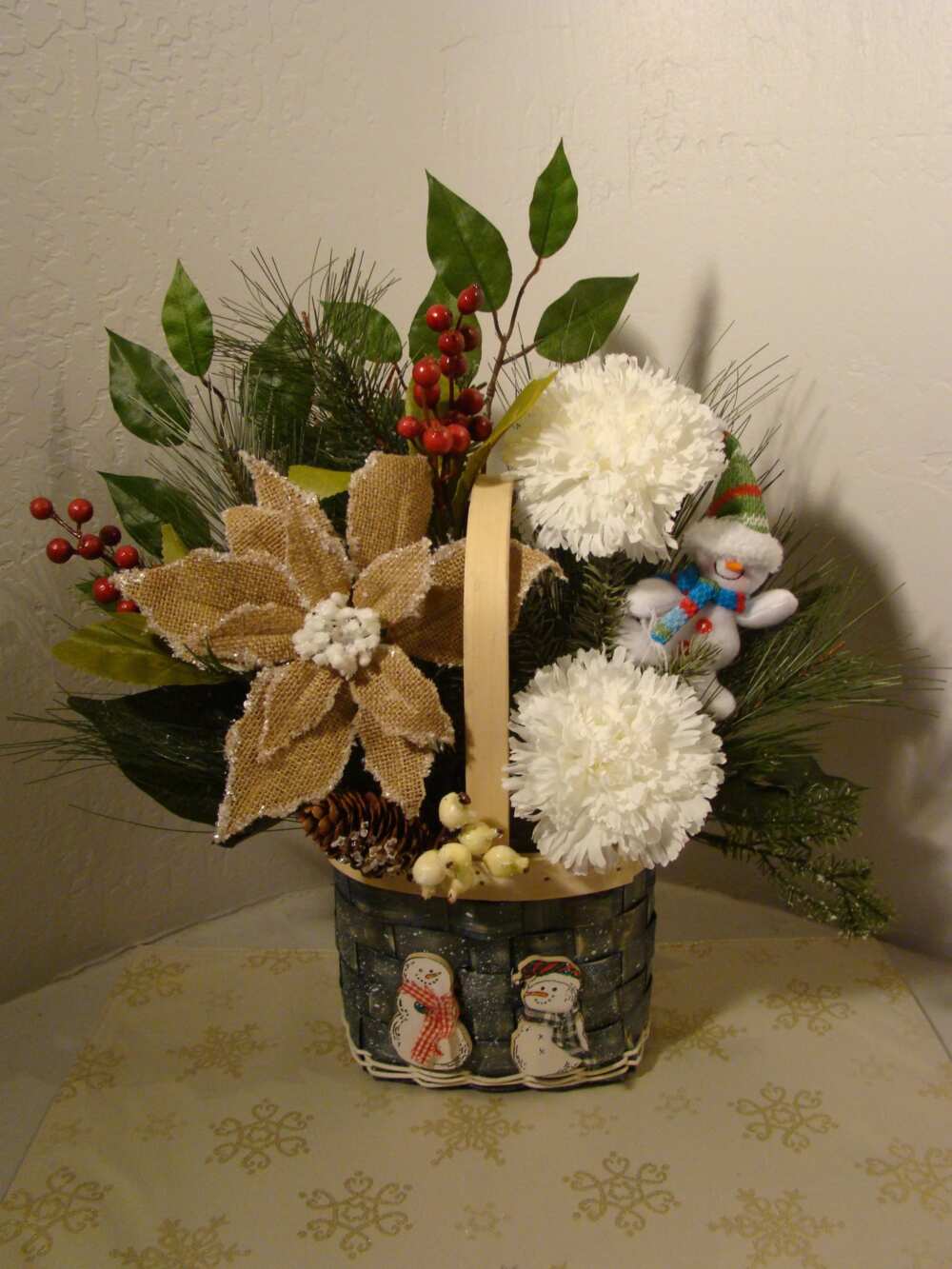 Step 3. Create a structure that will hold up your flowers. For this, you can use double-sided tape, playdough, a tin can with holes in the bottom or anything else that can fit in your vase of choice. If you are using something like a tin can, make sure that the amount of holes is enough for your flowers.
Step 4. Group your flowers. Try out different combinations and configurations of your flowers before placing them in your receptacle. At this step, you can also use some wire cutters to snip the stems that are too tall for your arrangement.
Step 5. Place your flowers into the receptacle. You should start with the middle and slowly make your way towards the sides. Add some additional element to the arrangement to make it look more festive. For instance, you can add some pinecones, holly or pine branches. Alternatively, you can use citrus fruits adorned with cloves, berries or even candy canes.
And your beautiful Christmas decoration is done! The guests will definitely love this little addition to your décor.
Tips on how to arrange artificial Christmas flowers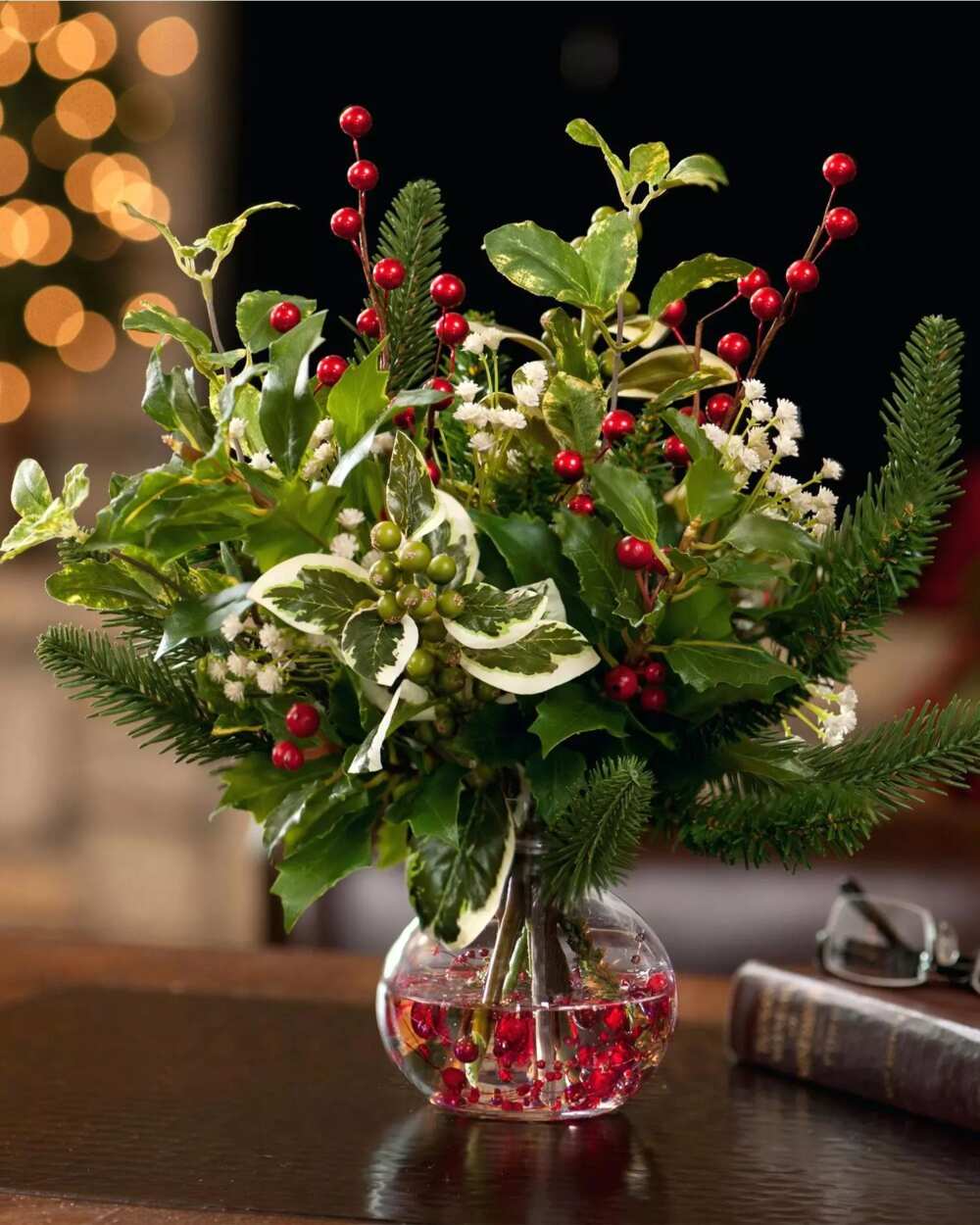 After we have told how you can assemble a Christmas decoration made out of artificial flowers, we would also like to give you some tips on how to make your arrangement even more beautiful.
Start designing even before you buy the flowers. Instead of buying random flowers and deciding what to do with them later, think of a basic design before your purchase. If you already have a receptacle, take it with you to the shop/market and find the flowers that go with it.
Make sure your centrepiece works. Choose what to put in the centre carefully. The rest of the arrangement should complement the centrepiece instead of overshadowing it. If you cannot decide, ditch the whole idea of the centrepiece and arrange the flowers whichever way you like.
Try not to make the whole thing too colourful. We get it, you want your arrangement to awaken the holiday spirit in people, but do not overdo it. If you go for too many colours at once, it might end up looking like something an overly excited kindergartener has made. It is best to stick to the basic reds, greens and whites and maybe add some neutrals to the mix.
Ideas for artificial flower arrangements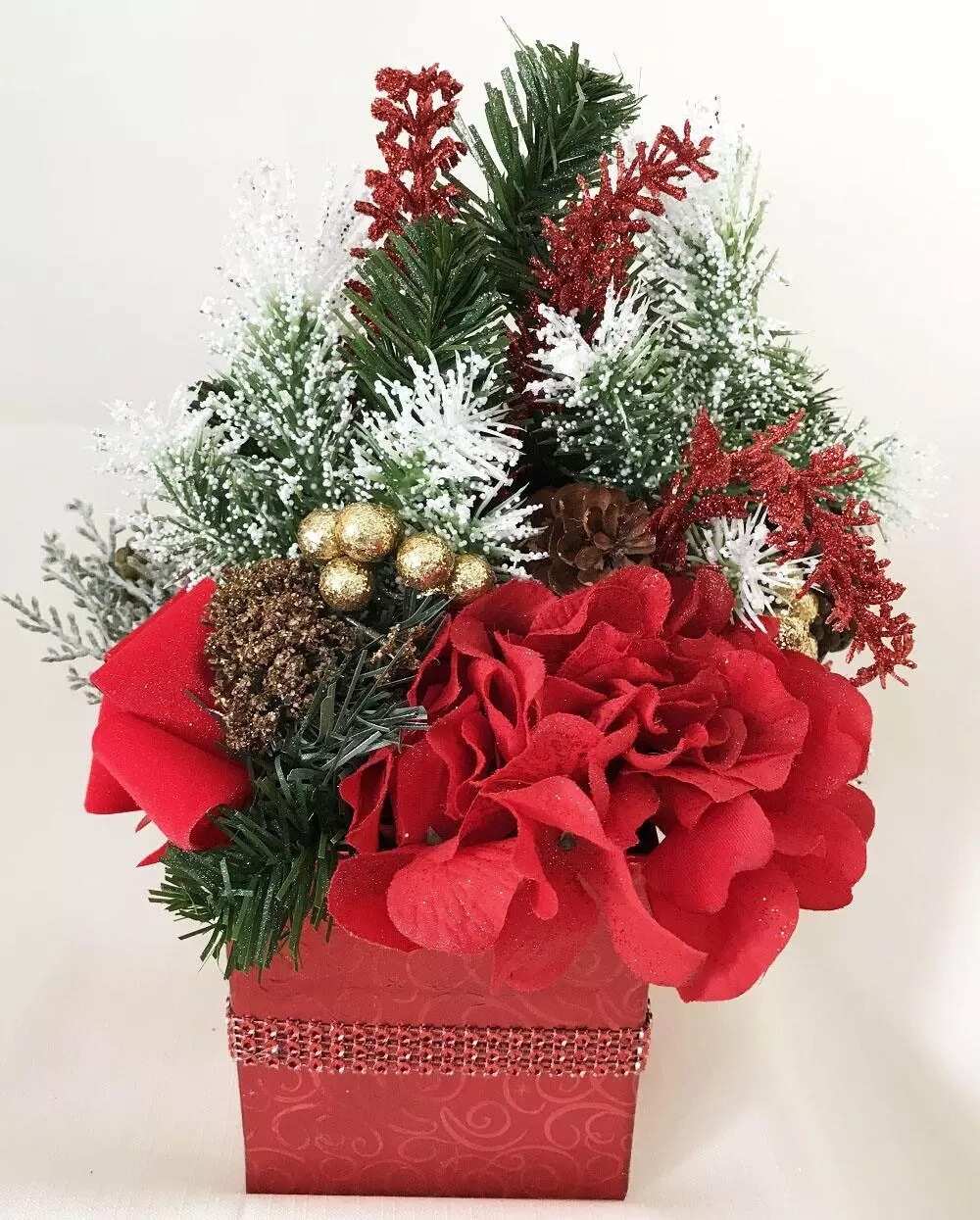 Now that you know how to arrange the artificial flowers for a Christmas decoration, you might want some inspiration for your own piece. In addition to the photos you have seen above, consider these seven images that can help you think of your own idea.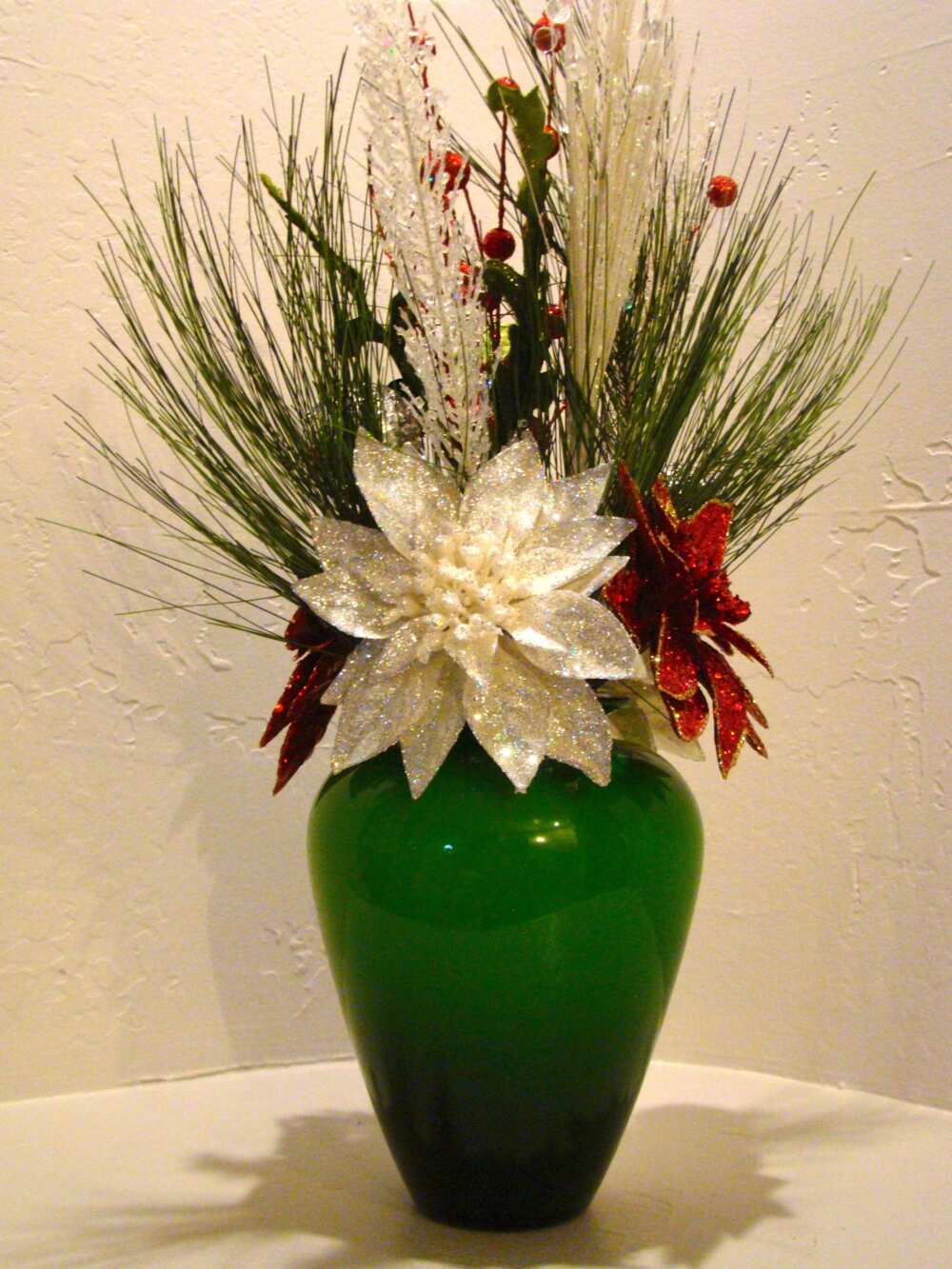 READ ALSO: Elegant Christmas cake designs in 2017-2018
For starters, you can go simple. Own the fact that your flowers are fake and throw some glitter on them! The green opaque vase is a perfect receptacle, as it is great for hiding the stems.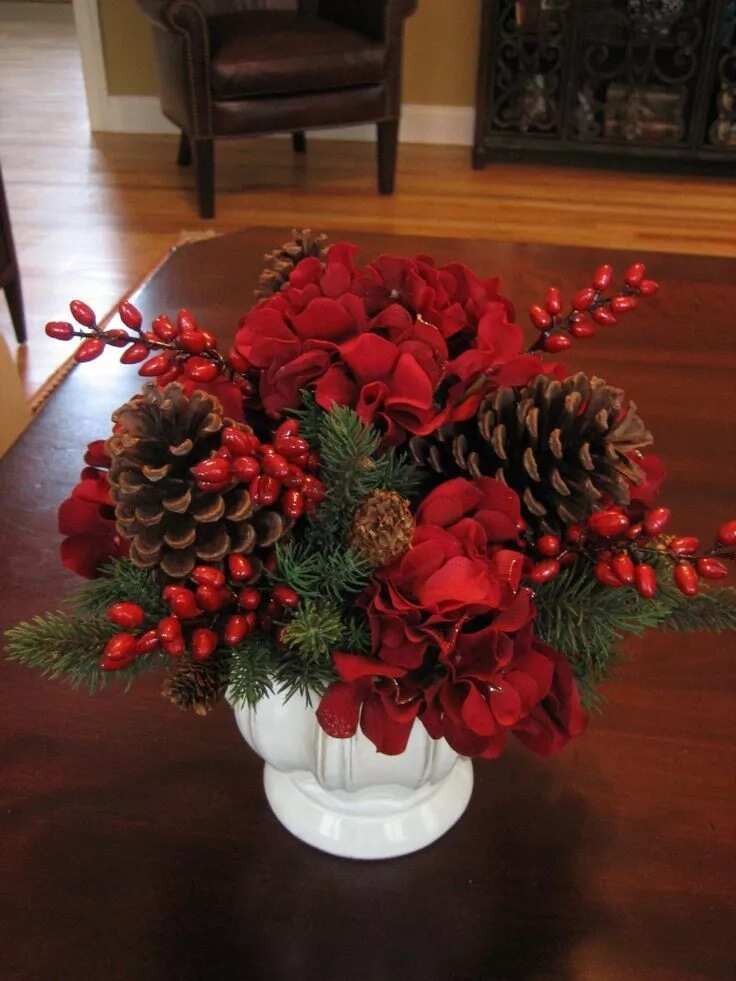 You can also try smaller vases or flower pots. This flower composition here is tastefully adorned with pinecones, pine branches and berries. Together, they create a beautiful ensemble.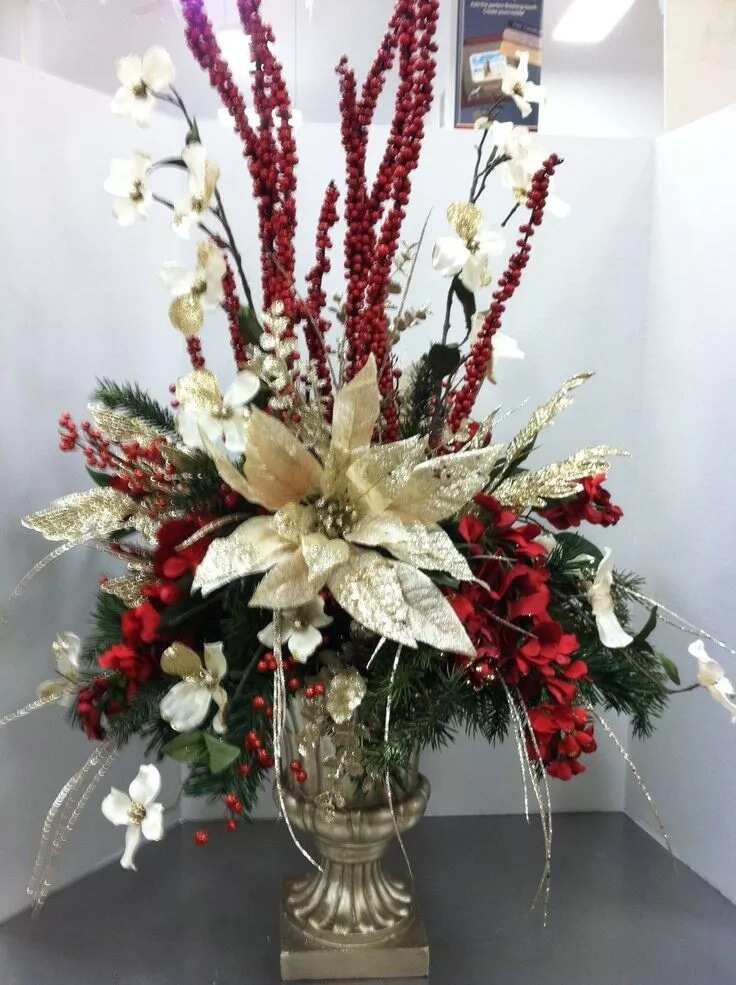 If your aim is to create a decoration for a large hall (for instance, a church hall), you can use a regular large flower pot and arrange your composition in it. While this particular arrangement might seem like too much at first, it is great for places where there is not much going on in terms of accessories.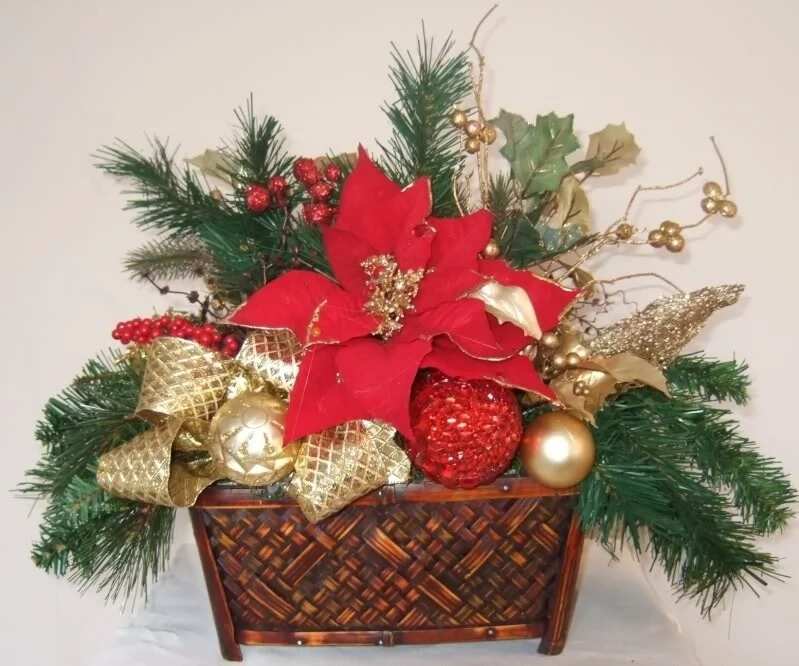 You cannot go wrong with a cute basket either. Not only is it great for hiding the stems, but it is also a beautiful decorative element in itself. Gold touches on the flower, berries and leaves work great as little accents.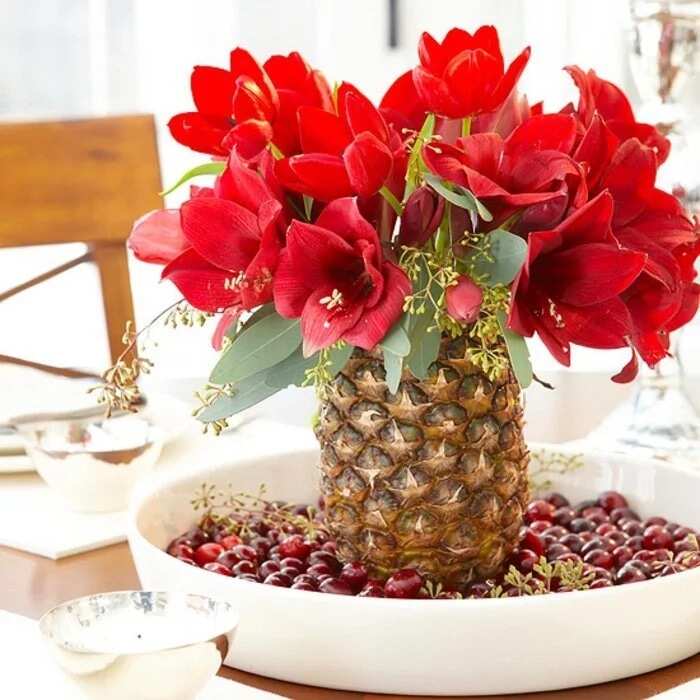 If you are feeling really wild, then why not use a pineapple as a receptacle? You can stick the flowers right in it and add little to nothing more. The pineapple alone can be a great conversation starter.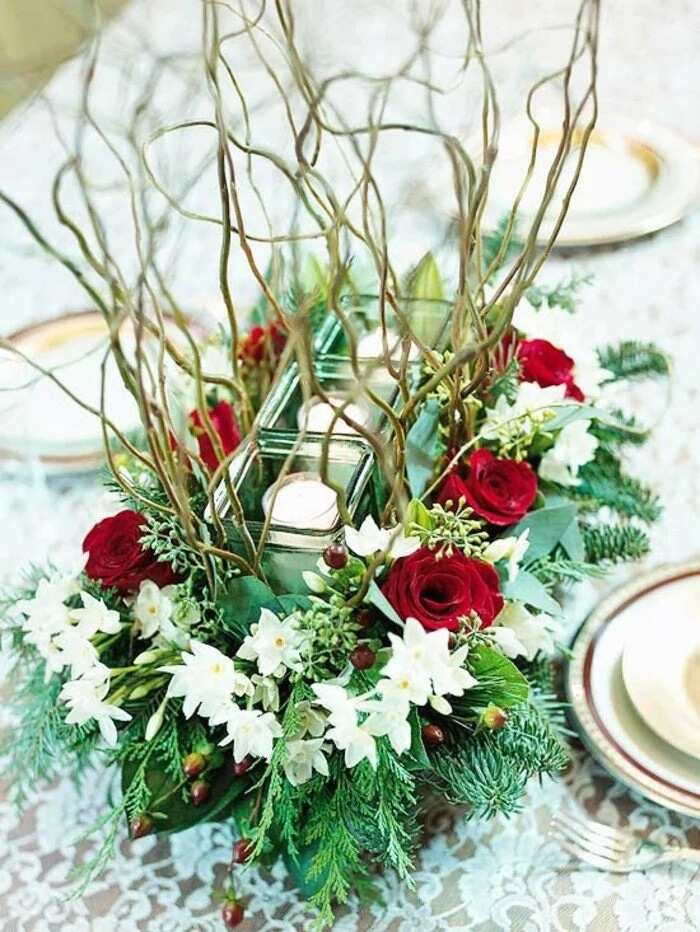 The beauty of most artificial flowers is the fact that they usually have very bendy stems. This makes them perfect for creating beautiful garlands that you can place around some candles. You will not even need a receptacle for it. However, make sure that the flowers are not too close to the fire, as they might ignite and ruin your perfect Christmas.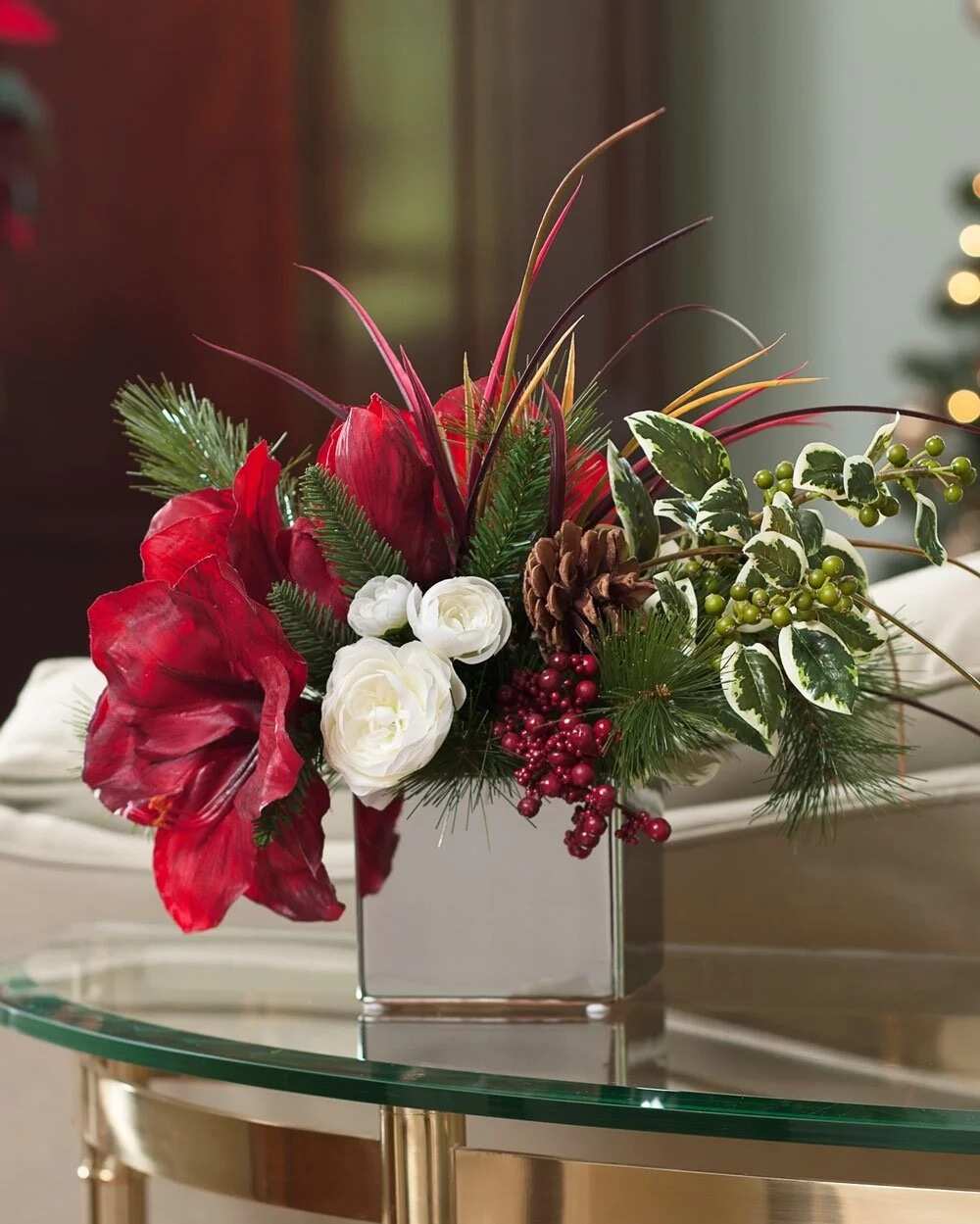 Last, but not least, you can try looking for a reflective vase, so that it looks like your flowers are floating. To be fair, if you manage to get one, the flower arrangement will not even matter all that much, because it will be flying! :)
Christmas is right around the corner, so do not take too long to make your own faux flower arrangements. After all, it is not as if the flowers are going to wilt, which is why you should get started soon., if you have not already. Good luck in assembling your own Christmas arrangement and happy holidays to you and your family!
READ ALSO: How to make a Christmas cap
Source: Legit.ng