Team LaunchPad wins Bounce Corruption hackathon competition in Abuja
- The Bounce Corruption #Hack4Good grand final was held on Saturday, December 9 in Abuja
- The competition gave opportunities to innovators to showcase their innovations and how it will be used to fight corruption
- The event was held at the Civic Innovation Lab in Abuja
A group of young Nigerians named Team LaunchPad have won the final of the Bounce Corruption #Hack4Good competition in Abuja.
Team LaunchPad defeated 9 other teams at the grand finale to emerge winner of a keenly contested competition which showcased the brilliant works of amazing innovators with technologically-driven innovations to track corruption cases, track asset declaration and educate Nigerians on anti-corruption.
Team Launchpad won the contest with their WikiRuption App pitch which can be used to get information about corruption and how the cases are being tackled.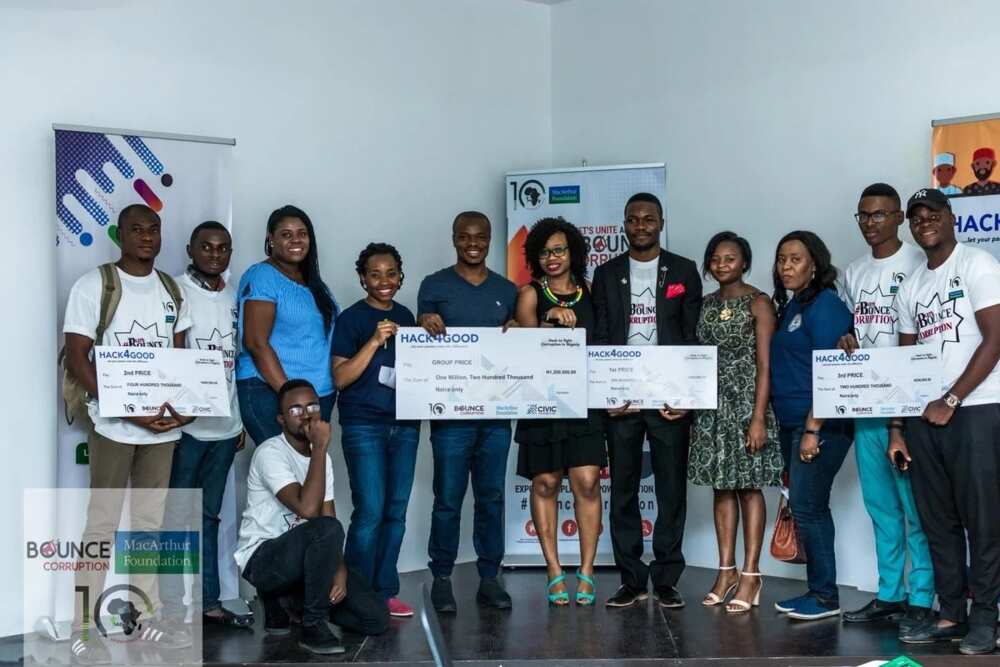 READ ALSO: Say No Campaign leads march against corruption to commemorate International Day of Anti-Corruption
They went home with the grand prize of N1.2million which will be shared into three individual prizes of 600,000 as First Prize, 400,000 as Second Prize, and 200,000 as the Third Prize.
The Influencers won the second place while WeCoders came third.
Legit.ng gathered that the winners will also get free co-working spaces for a month and a 3 weeks acceleration programme at Civic Innovation Lab.
The competition is also part of plans to commemorate this year's International Anti-Corruption Day with the theme, United against corruption for development, peace and security.
In her opening remarks at the event, the programs manager of Youth Initiative for Advocacy, Growth & Advancement (YIAGA), Cynthia Mbamalu, stated that its time to ensure citizen driven mechanism to fight corruption rather than wait for anti-corruption agency.
Speaking to Legit.ng afterwards, Mbamalu said: "Overtime, each time the issue of corruption comes up, it is always like one government comes in and say we have an agenda, one of it is to fight corruption.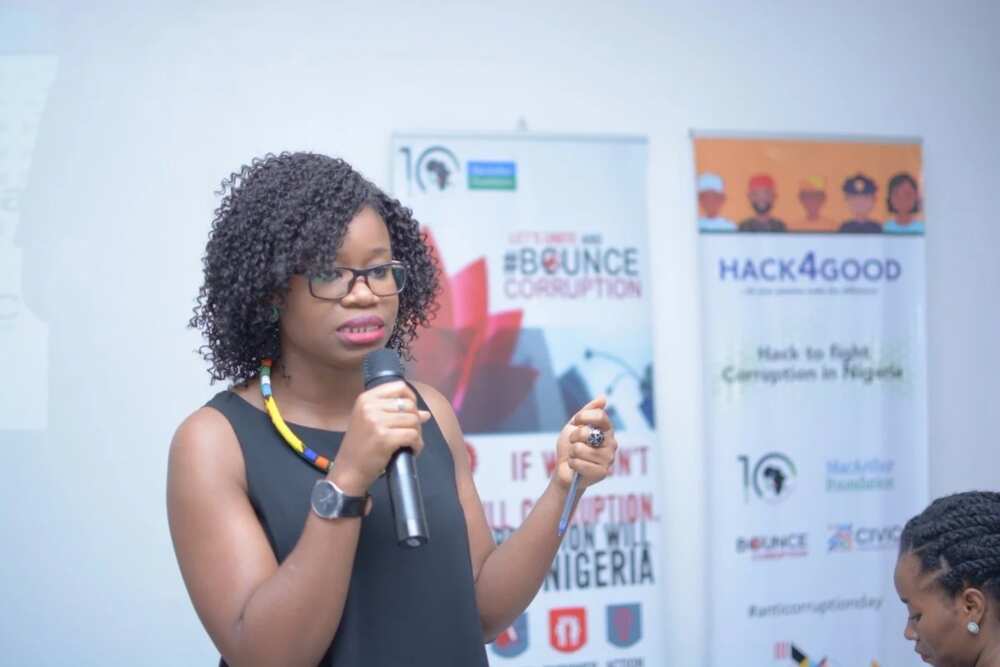 "We are saying, perhaps, that is why we have not gotten results that we want to see. What we need is to have citizens join the fight against corruption and what this does is that when the institutions start to lack or fail, citizens that have been following will keep them on their toes.
"That level of oversight is what have been lacking. There is no citizens oversight over the institutions that are fighting corruption, even over the government. If you have oversight for citizens, they can track cases for corruption.
"What we want to do now us to empower citizens to create that atmosphere where people are informed, aware and feel connected to the fight against corruption and take it personal to ensure that institutions that are created actually do perform their functions."
On their plans for the winners after the competition, Mbamalu said: "We don't want to just have a solution and not use it. We'll working with them to develop them and institutionalize it to create that bridge between institutions that they identified that we'll be working with.
"We want agencies to be able to use it and we want citizens to also know how to use it and getting more citizens engagement
"This is also an opportunity to build a network of young guys working on technology and all because there are other opportunities. As communities think of to use technology to solve problems, we are creating a data-base of young people that are creative because there are other opportunities and other problems that will need to be solved.
"We will have that constant engagement with them. That is why we are partnering with Civic Hub because this is what they are good at."
The Bounce Corruption project is aimed at exposing, amplifying, empowering and creating awareness on the fight against corruption as adopted by government agencies and citizens.
The hackathon, also known as Hack4Good will connect anti-corruption agencies and civil society organisations working on corruption with young application developers and programmers in the fight against corruption.
READ ALSO: Anti-corruption: Youths urged to create awareness about key social issues
Top 4 corruption cases: Maina back in the limelight on Legit.ng TV
Source: Legit.ng