- Cristiano Ronaldo has won the 2017 Ballon d'or award
- His girlfriend Georgina Rodriguez was also presented with a 'gift' on the night
- She was presented with a special Ballon d'or babyrow for their newborn baby Alana Martina
Cristiano Ronaldo was not the only one awarded during the just concluded Ballon d'Or award which he obviously won as his girlfriend Georgina Rodriguez was also gifted a Ballon d'or inspired baby grow.
Georgina and Ronaldo were handed a small gift in a rather fancy little bag which when the couple opened the bag they found a tiny babygrow - a present for the couple's first child together, Alana Martina.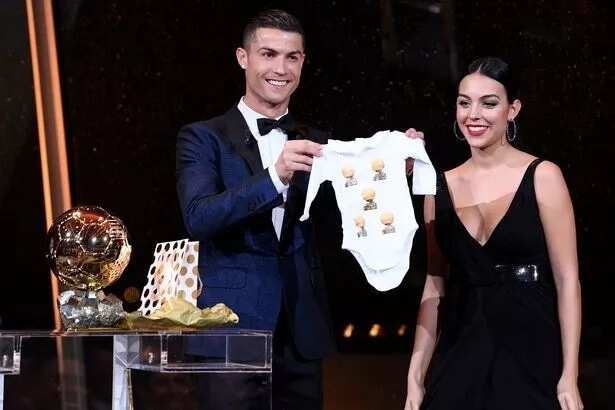 Ronaldo announced the birth of his daughter last month on Instagram, where he wrote: "Alana Martina is just born! Both Geo and Alana are doing great! We are all very happy!"
READ ALSO: Pele hails Ronaldo over Ballon d'or, wished he played with him
The babygrow featured five Ballon dOr trophies - the same amount Ronaldo has now won in his illustrious career.
More baby jokes filled the night as Ronaldo was asked, what would be his ultimate Christmas gift and he responded "Another baby... no it's a joke, we're going to enjoy the four of us, I want seven Gold Balls and seven children,"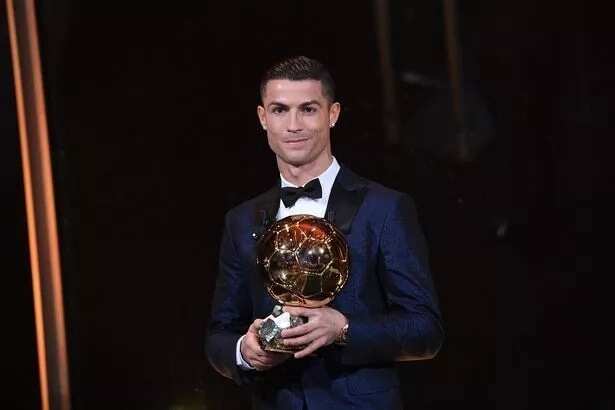 Speaking of his his Ballon D'or win, Ronaldo added: "I hope to play at this level for a few more years, I hope the battle with Messi continues, things happen for a reason.
PAY ATTENTION: Get the latest Nigeria sports new on Legit.ng sports page
"I feel good this season and we'll see what we win at the end of the year. Neymar has a lot of talent, a lot of potential, and I'm sure he'll have some chance to win in the future."
Legit.ng reported earlier that Brazillian football legend Pele has taken time to pay a glowing tribute to 2017 Ballon d'Or winner Cristiano Ronaldo saying that he 'would have loved to have played on the same team as him.'
Cristiano Ronaldo 'follows' Davido, Daddy Freeze shades Nathaniel Bassey - on Legit.ng TV