Editors' note: The writer, Buchi Obichie, questions the actions of Imo governor, Rochas Okorocha, lately, and wonders if the people of Imo state did something wrong in the past, to be saddled with such a leader. She advises them to ask questions and make amends, before the governor goes any further with an even more ludicrous action.
By nature, I am not a superstitious person. I don't believe that someone dear would die if an Owl hoots at night or that I would sweep away my family's prosperity if I use a broom just before midnight.
However, some members of my family are; and its always amusing watching them explain their rationale for such superstitious beliefs.
My late mum used to expect cash whenever her eye twitched (I actually liked that one); and then if something bad happens in his life, my elder brother tends to think that he may have done something in the past to deserve it.
Now, even though I don't subscribe to superstitious tendencies, lately, I have been tempted to reflect about the situation in Imo, and wonder just who the state's indigenes may have offended, to get saddled with a governor like Rochas Okorocha.
READ ALSO: OPINION: Why I think Atiku should give up his presidential ambition; what he should become instead by Buchi Obichie
Lately, Okorocha's actions have been incredible and bewildering, to say the least!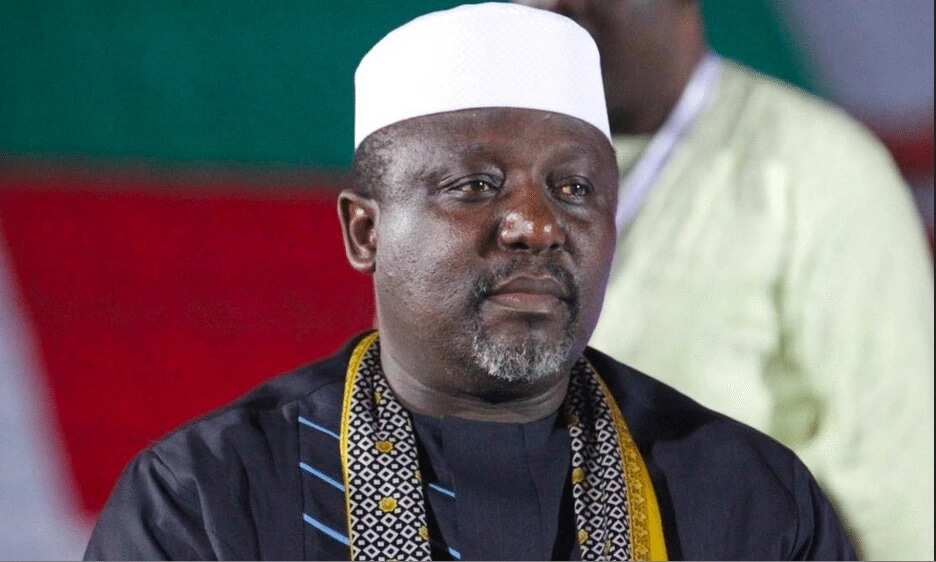 It has been one mischief to the other on the part of the Imo governor in recent times.
While we were still digesting the news of the Eke-Ukwu market demolition which reportedly claimed the life of a young boy, we were hit again by the governor's lavish birthday celebration in which he received 27 cakes from the women of the state.
We hadn't gotten over our amusement about the 'sugar-high' the governor would probably have experienced from all the savory treats; when all of a sudden, we were hit again with the 'statue of Zuma' controversy and its attendant shenanigans.
We were (and are) still guessing about which other personalities are underneath the remaining shrouded statues which undoubtedly would be unveiled in due time; and all of a sudden, Okorocha dropped his latest bomb on us – he appointed his sister as the Imo state commissioner for happiness and purpose fulfillment!
Like, what the heck is going on in Okorocha's mind?
It's almost like Imo state is a circus and Okorocha is the circus director. So, every morning, he wakes up and asks himself: "What new trick shall I entertain my viewers with today?"
It is mind-boggling that amidst the myriad of problems and challenges that his state faces, Okorocha's focus would be in creating an unnecessary position to be occupied by his family member!
Already, there are whispers, that he is allegedly making moves to install his son-in-law in as governor after he exits office…and now, this!
Does Rochas Okorocha think Imo state is a family business and generational heirloom? Is he even answerable to anyone, or has he simply designated himself as judge and jury; owing no one any explanation?
I shall also not cease to pass blame over this fiasco to the leadership of Okorocha's party, the All Progressives Congress (APC), which has failed to caution him over the multiple absurd actions.
Okorocha's wife recently had a lavish birthday celebration just like her husband previously, and Vice President Yemi Osinbajo decided to step away from pressing national issues for a bit and journey down to Owerri, to celebrate with her. Like, what?
Okorocha is also the chairman of the Progressive Governors Forum (PGF) of the APC; and apparently, no one can talk some sense to him!
So, with all this craziness, I will ask again, 'who did the people of Imo state offend to be saddled with a governor like Rochas'? I ask because this situation seems like something that extends deep beyond the physical realm…no jokes!
PAY ATTENTION: Install our latest app for Android, read best news on Nigeria's #1 news app
In the olden days, when a land experienced bad luck, its people would consult the deities, via the chief priest. I think the same thing needs to be done as soon as possible.
Did an ancestor commit an atrocity against a foreign king who swore that at some point, Imo would be given a leader who would become a source of ridicule?
Did someone sin against the gods? What happened?
Now would be a good time for deep soul-searching or for offering up sacrifices, before this situation becomes even more ridiculous.
Let me stress that i do not mean to be disrespectful to the indigenes of Imo state; I just think they need to look at all the ramifications of this situation, before Okorocha wakes up one day and maybe decides to use the state as collateral for a personal business venture!
Okay, scratch that, i'm probably letting my imagination run wild; but then again, it seems that with Rochas Okorocha, anything is possible!
This opinion piece was written by Buchi Obichie.
The views expressed in this article are the author's own and do not necessarily represent the editorial policy of Legit.ng.
Mass burial for our leaders - on Legit.ng TV:
Source: Legit.ng