- The young population of Nigeria has been instrumental to determine how elections swing in the past
- The Nigerian youths have now decided to take their own destiny into their own hands
- The #NotTooYoungTooRun bill is the first step towards achieving this goal
Promoters of the Not Too Young To Run bill are set to host a major political gathering in the Federal Capital Territory, Abuja.
The event which will hold on Monday, December 11, is tagged a Citizens Town Hall on Constitution Review.
Legit.ng gathered that the town hall is convened to provide a platform for interface between high-level policy makers and citizens on the ongoing constitution review process.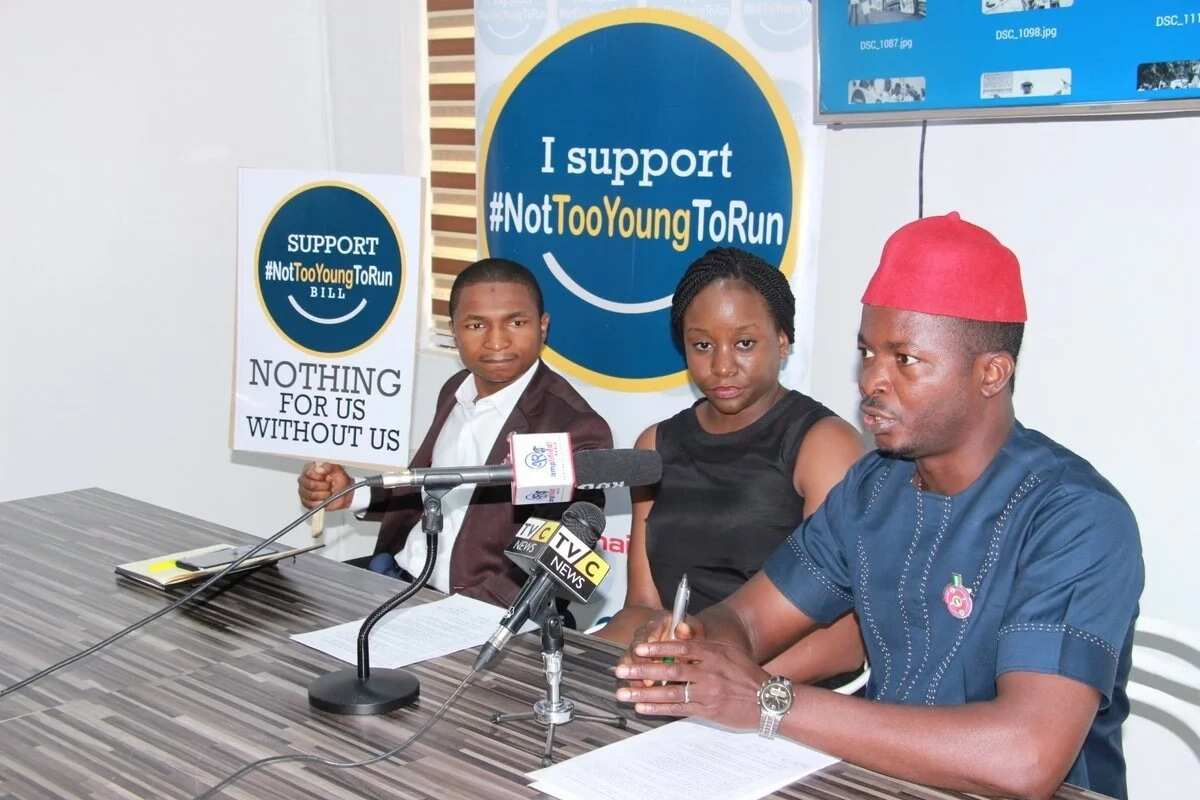 READ ALSO: Not Too Young To Run Bill and Independent Candidacy Bill: A challenge to the Nigerian Youth by Bamikole Omishore (Opinion)
Citizens are also expected to engage speakers of State Assemblies on pathways for ensuring the outcome of the constitution review meets the aspiration of the people.
As part of its efforts to expand the conversation, the promoters of the bill have already sent 991 personalized letters to legislators in the 36 state Houses of Assembly in Nigeria.
"We call on all citizens to contact their state lawmakers through phone calls, text messages, letters, visits and social media to vote yes to the age reduction bill," the group said.
"It is a platform for us to engage them at the national level and them to take the message to their colleagues," one of the promoters, Dr Laz Ude Eze said at a press conference held in Abuja on Thursday, December 7.
Dr Eze and other representatives of the movement; Chioma Agwuegbo and Hamzat Lawal detailed how the group have been ensuring that the bill sees the light of the day.
"Young people across the nation matched simultaneously to the state Houses of Assembly to demand for the bill to be passed.
"In Borno state alone, despite the insurgency, 6,000 youths marched to the Borno state House of Assembly for the bill to be passed and the speaker publicly gave assurances that the bill will be passed," Lawal said in response to Legit.ng on their activities outside social media.
He also revealed that the group have 36 state coordinators at the state level, even as he thanked the media for helping to amplify the campaign.
The National Assembly in a historic vote passed the Reduction of Age bill popularly known as the Not Too Young To Run bill to reduce the age for running for office in Nigeria in July 2017.
Following the transmission of the Not Too Young To Run bill to the 36 states House of Assemblies along with other bills for approval in line with the constitutional amendment procedure, a minimum of 24 states must approve it for it to become law.
READ ALSO: No old politician will leave stage for you - Obasanjo tells Nigerian youths
How Nigerian youths protest made the National Assembly pass the 'Not Too Young To Run' bill on Legit.ng TV
Source: Legit.ng