- The Nigerian police has accused one of the men behind the campaign to scrap SARS, Segun Awosanya, of being paid by politician to lead the protest
- The police said he has connections to politicians and his activities are not genuine
- The police pointed a picture of Awosanya with Yakubu Dogara, other politicians as one of their reason for doubting his call to end SARS isn't politically sponsored
The Nigeria Police Force on Tuesday, December 5, announced that it has started an investigation on Segun Awosanya, one of the Nigerians leading the campaign for the Special Anti-robbery Squad (SARS) to be scrapped.
Awosanya, who was the lead campaigner against the human right abuse by SARS officials, was accused by the police of getting paid by politicians to cause controversy.
Police spokesperson, Jimoh Moshood, in an interview with Premium Times, said: "When you see someone like that who regularly mingles with politicians now leading a campaign to scrap a critical department in the police, then you know his activities are not genuine."
Moshood emailed a picture which Awosanya took with speaker of the House of Representatives, Yakubu Dogara, and another one he took at a business forum as proof of his political ties.
But he said the police was not accusing the speaker of sponsoring Awosanya and other #EndSARS campaigners.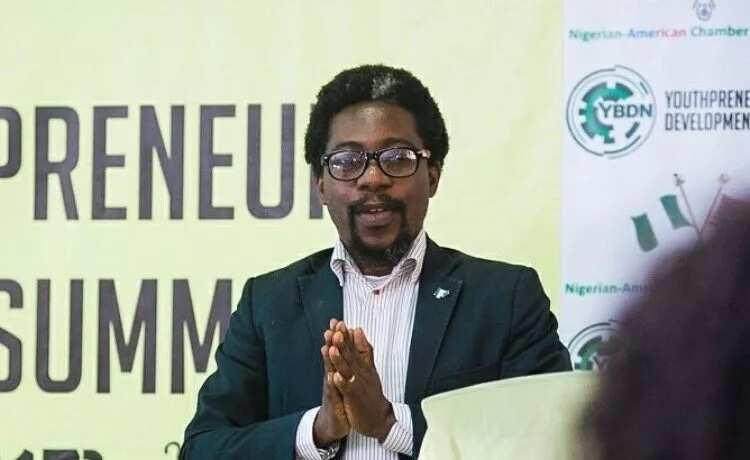 READ ALSO: Just in: Senate reads President Buhari's letter over crucial appointment
Moshood said the #EndSARS campaign online would not stop the police from investigating 'mischievous elements who cloak their agenda with popular causes'.
He said: "Our investigation does not mean we're trying to infringe on peoples' rights, but the quarters where some of the claims are coming from and those leading them should be looked into."
Moshood said Nigerians should ignore Awosanya and others who have allegedly politicised the #EndSARS campaign.
"Nigerians should reject any dubious attempt to paint the institution of police in a bad light," the spokesperson said.
Awosanya, however, said he took the picture with Dogara when his team submitted a petition for the scrapping of SARS to the speaker in September.
He added that he would not be intimidated by the police, saying: "Our campaign is for SARS to be scrapped so that the killing, maiming, beating and robbing of the citizens can stop.
"They're bringing up issues of pictures which I didn't take yesterday to divert attention from issues being raised by over 100,000 Nigerians.
"The excruciating facts are out there that demonstrate how vicious and uncivilised the conduct of SARS has been over the years.
"Nigerians have a right to decide if they want to continue to tolerate the criminalities of SARS officers into the future."
PAY ATTENTION: Read the news on Nigeria's #1 news app
Meanwhile, as the call for SARS to be scrapped continues, the Nigerian Senate on Tuesday, December 5, has ordered the investigation of the alleged human rights abuse and extra-judicial killing by the Special Anti-Robbery Squad.
Senator Isah Misau moved the motion while citing orders 42 and 52 and speaking on the recent happenings with the SARS and the public which according to him, needed urgent intervention.
Are Nigerian policemen the worst in the world? - on Legit.ng TV
Source: Legit.ng