- The Speaker of the House of Representatives, Yakubu Dogara has visited the head of the Catholic Church worldwide, Pope Francis
- The pope assured Dogara that he has been praying for peace and stability in Nigeria
- Speaker Dogara is in Italy for an international conference
The head of the Catholic Church worldwide, Pope Francis has revealed that he has been praying for the peace and stability of Nigeria.
This was disclosed by the speaker of the House of Representatives, Yakubu Dogara, who met the pope recently.
Dogara met with Pope Francis at Saint Peters Square, Vatican City in Rome, Italy.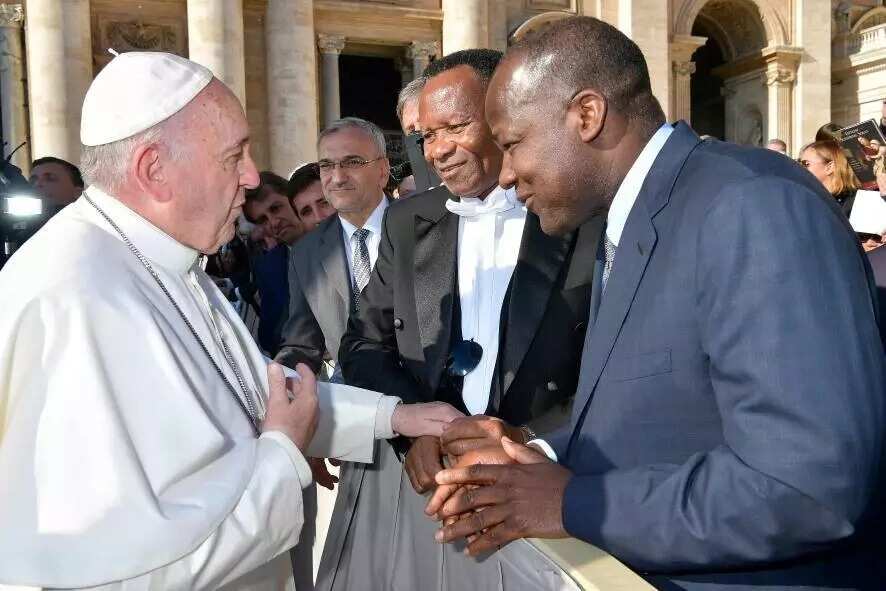 READ ALSO: President Buhari vows to stop looting in Nigeria
Legit.ng gathered that the speaker led a Nigerian delegation to the square for a morning mass where nationals and leaders from different countries of the world joined the pope for the devotion and to receive blessings from him.
Dogara said he was pleasantly surprised and delighted to know that the pontiff was well informed about the happenings in Nigeria.
"The moment I was introduced to him as the Speaker of the Nigerian Parliament, he said, "how is Nigeria and how are you working for the peace of Nigeria? Pray for me also," a statement from Dogara's media office stated.
Pope Francis then reportedly told the speaker that he always prays for the peace of Nigeria saying, "I pray for the peace of Nigeria and pray for me also."
The speaker was accompanied by the Nigerian Ambassador to the Vatican, George Umo, who disclosed that the Pope had held mass in honour of the 26 Nigerian girls that died in the Mediterranean sea while trying to enter Italy few weeks ago.
Dogara is in Italy on the invitation of the president of the Italian Chamber of Deputies, Laura Boldrini, for an international conference tagged "Human Trafficking and women empowerment: The Partnership between Nigeria and Italy."
Meanwhile, the National Inter-faith Thanksgiving Project for the Survival of President Muhammadu Buhari and Stability of Nigeria says it is moblising 5,000 Nigerians for thanksgiving in appreciation of God's restoration of the president's health.
Mr Okeme Emmanuel, chairman project planning committee, who briefed journalists on Wednesday, November 22 in Abuja, said the thanksgiving was also to appreciate God for Nigeria's stability, qualification for 2018 World Cup and for exiting recession.
He said that participants in the thanksgiving session which would be held on Tuesday, December 12 at the Eagles Square, Abuja, would be drawn from all states of the federation.
READ ALSO: APC's national unity cup football championship kicks off
Who is the most influential Nigerian pastor? on Legit.ng TV
Source: Legit.ng