- The stand-off between personnel of the Economic and Financial Crimes Commission (EFCC) and the Department of State Services (DSS) operatives has ended
- Officials of the EFCC have withdrawn from Mamman Nasir street, Asokoro, Abuja where the stand-off occurred on Tuesday, November 21
- The secret police had prevented the anti-graft agency from arresting its former boss, Ita Ekpeyong and sacked director-general of the National Intelligence Agency (NIA), Ayo Oke
A report by The Cable indicates that the stand-off between personnel of the Economic and Financial Crimes Commission (EFCC) and the Department of State Services (DSS) operatives has ended.
According to the report, officials of the EFCC have withdrawn from Mamman Nasir street, Asokoro, Abuja where the stand-off occurred on Tuesday, November 21.
The secret police had prevented the anti-graft agency from arresting its former boss, Ita Ekpeyong and sacked director-general of the National Intelligence Agency (NIA), Ayo Oke.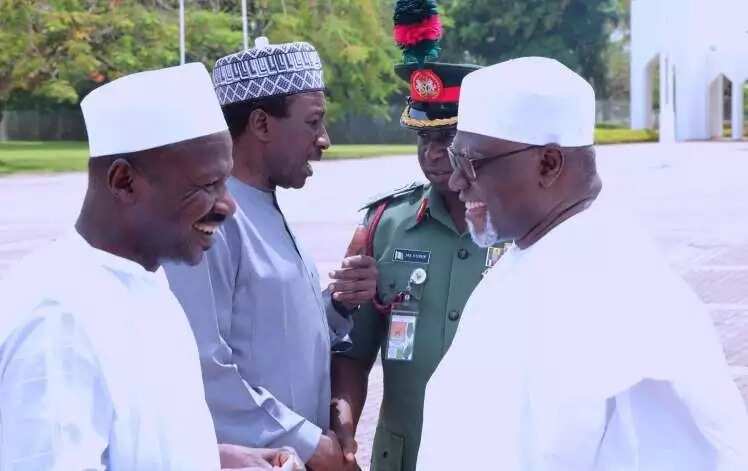 READ ALSO: Army introduces new language policy for officers and soldiers
The situation caused tension in the area and vehicular movements were restricted, as passers-by avoided the route.
Legit.ng gathered that the EFCC had invited Ekpeyong over his alleged role in the arms scam involving Sambo Dasuki, former National Security Adviser (NSA).
On his part, Oke was summoned over the $43 million discovered in an apartment in Ikoyi, Lagos.
Their refusal to honour the EFCC's invitation forced operatives of the anti-graft commission to storm their residences, but they were rebuffed by operatives of the DSS on ground.
While Oke resides at number 11 of the street, Ekpeyong has his residence on number 46.
After unsuccessfully gaining entrance into the compounds, the EFCC retreated and cordoned off all roads leading to the area.
The DSS operatives were still in the area as at this morning, Wednesday, November 22.
Legit.ng had reported that some of the DSS officials, who were heavily armed and masked claimed they were working based on 'orders from above' during the stand-off.
READ ALSO: General allegedly threatens to eliminate President Buhari
The EFCC stage a walk against corruption on Legit.ng TV
Source: Legit.ng