When you look at the name "Banga Soup," you can't help but wonder what that is and how it's made. There is no need to worry, because after reading this article you will not only learn how to cook this soup, but you will know how delicious it must taste and why anyone who likes healthy food has to know and try the Banga soup recipe.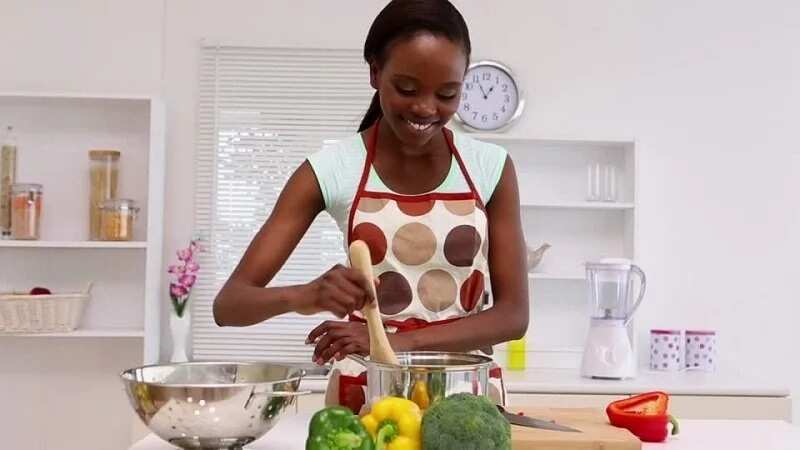 The Niger Delta people and those who live in the South-Eastern part of Nigeria are familiar with this Nigerian soup. In some parts of Nigeria, there is another name for Banga soup, which is Ofe Akwu. The word "Ofe" refers to soup or stew, and the word "Akwu" refers to palm fruit.
The palm oil extract, which is widely used in the cooking of Banga soup, may seem to be the same as the red palm oil, which is added to meals of a lot of Nigerian food recipes, but there is a difference. Palm fruit extract contains less fat than palm oil.
So, here are the ingredients you need for cooking a delicious pot of Banga Soup:
1 kg of palm fruits or 800g of canned palm fruit concentrate
Dry Fish
Beef
Vegetables: Scent leaves, or dried and crushed bitter leaves if you want to make this soup in Delta-style
2 tablespoons of ground crayfish
2 onions (of medium size)
1-2 stock cubes
Ogiri
Salt and chili pepper (to taste)
How to make Banga soup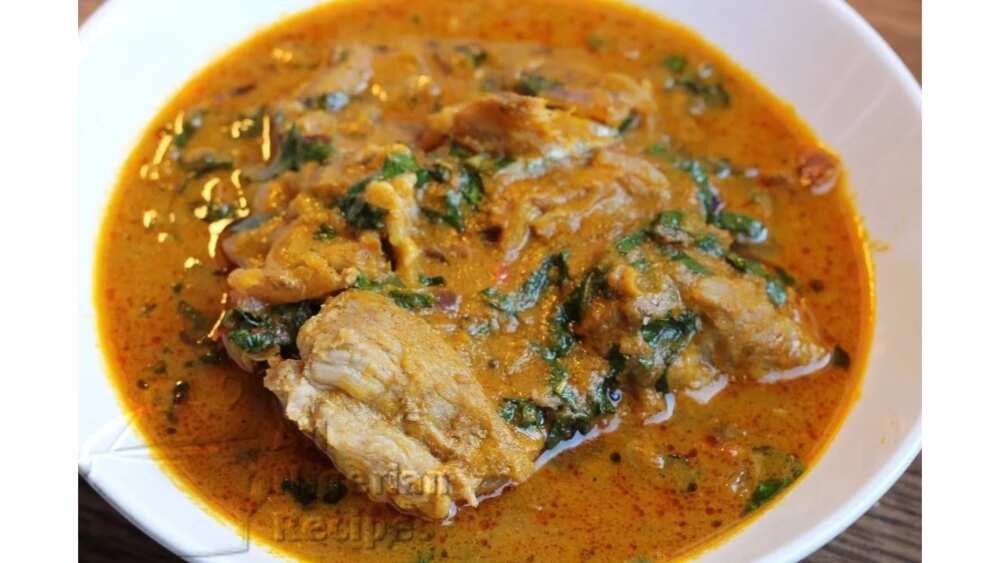 READ ALSO: How to prepare chicken pepper soup?
Firstly, the fruit concentrate needs to be extracted from the palm fruits. If you've decided to use canned palm fruit concentrate, then open the can and put it aside. Then, cook dry fish and beef with one bulb of sliced onion and stock cubes. Carefully wash the scent leaves and slice thinly.
The scent leaves add an incredible aroma to the Banga stew. If you do not live in Nigeria, it can be hard for you to find them, but you can use fluted pumpkin leaves (Ugwu) or some other vegetables instead of scent leaves. Delta-style Banga soup is prepared without adding any vegetables. Slice the remaining onion. Pound the pepper, ogiri and crayfish in a mortar (dry mill can be used also) and then set it aside.
Tips for cooking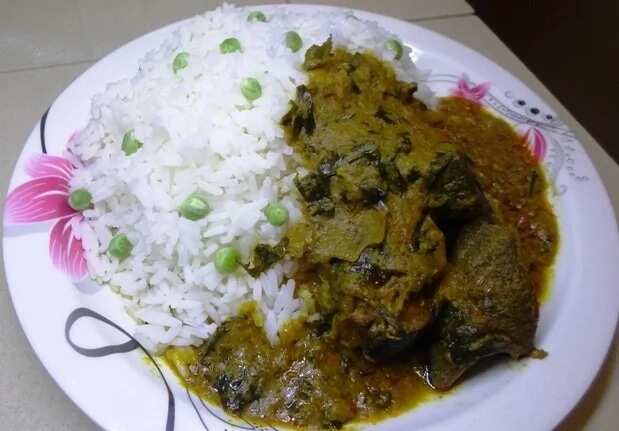 Put the pot of the palm fruit extract on the stove and begin cooking it at a high temperature. Leave it to boil until you see the red oil appearing on the surface of the Banga soup. If your soup seems to you a little bit watery, continue cooking till it thickens to the needed consistency.
Now, put in the cooked dry fish and beef, ground crayfish, and stock, as well as pepper and the onions, and leave it to boil.
Add the scent leaves or any other vegetable and add salt to taste. Let it cook for a couple of minutes. Your Banga soup is ready.
You can serve with boiled white rice or starch (as in Delta style).
Cooking tips for anyone who uses canned palm fruits concentrate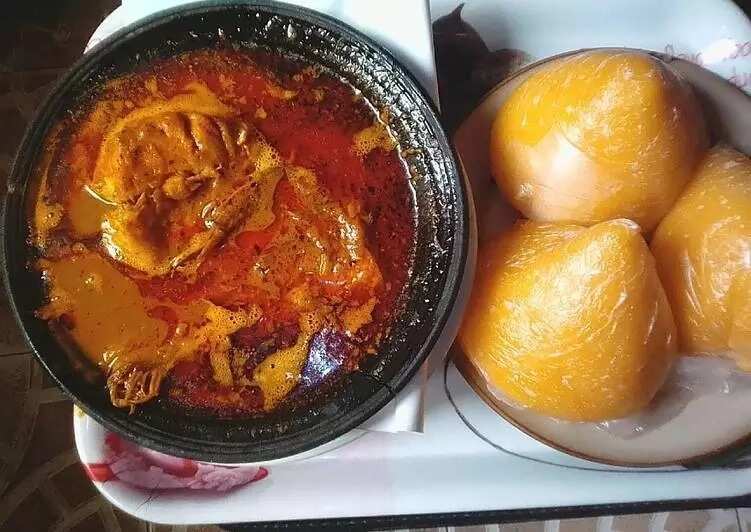 When the fish and beef are cooked, add the palm fruit concentrate and water and cook to desired consistency.
Add crayfish, onions, ogiri, and pepper, then let it boil until done.
After that, add the scent leaves or other vegetables and add salt to taste. Cook for a couple of minutes. Your Banga soup is ready.
If you have used the recipe with the bitter leaves, this can be served serve with fufu or starch. If you decided to use the scent leaves for cooking, then it is better to serve with boiled white rice.
READ ALSO: How to make poundo yam?