- A former governor of Ekiti state, Chief Olusegun Oni, recently declined a car gift from Ekiti state governor, Ayodele Fayose
- Oni's political campaign organisation has given reasons why the action was taken
- Oni, a former governor of the state, is gearing up to contest the governorship election in the state next year
Chief Olusegun Oni's political campaign organisation says Oni's rejection of a car gift from Ekiti state governor, Ayodele Fayose, was done in the interest of all Ekiti workers and pensioners.
The Director-General of Segun Oni Campaign Organisation (SOCO), Dr Ife Arowosoge, said on Tuesday, November 14 in Ado-Ekiti that the gift by Fayose was not only inappropriate but morally wrong.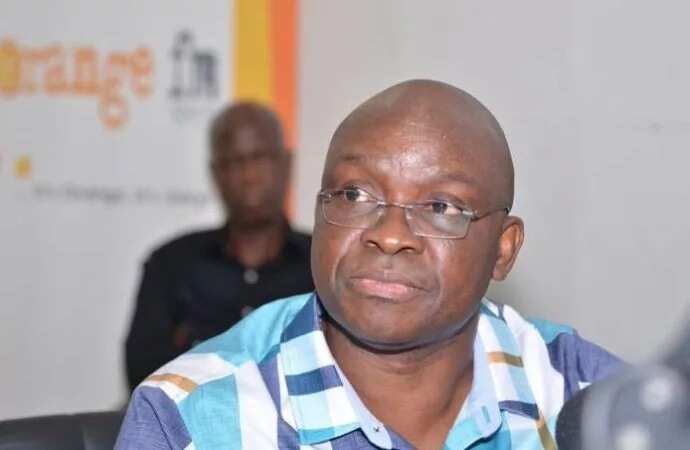 READ ALSO: El-Rufai schools Fayose over sack of teachers in Kaduna
"It is not appropriate for the governor (Fayose) to give out a jeep of about N52 million at this time the state and local government workers, as well as pensioners, were being owed for several months.
"There is more to the car gifts to former governors Niyi Adebayo and Segun Oni to the exclusion of former governor Kayode Fayemi by incumbent governor Ayo Fayose.
"Like other former governors in Nigeria, governors Adebayo, Oni and Fayemi are more or less pensioners, who are entitled to both gratuity and other benefits, according to the laws of the state.
"Governors are entitled not only to car but cars, replaceable every four years. They are also entitled to decent accommodation built for them at the federal and state capitals.
"That being the case, any such presentation to former Governor Adebayo and the one being proposed for former Governor Oni, when it is done, can't be regarded as gift from Governor Fayose.
"However, to the best of my knowledge and to place on record, no car has been presented to and received by Chief Olusegun Oni yet,'' Arowosoge said.
He however said the same could not be said of cars given to some teachers in the state on Teachers' Day, which he said were gifts and not entitlements.
"Some commentators have even called the cars given by Governor Fayose as `Governor's Greek gift'.
"It is now clear that the purported cars are part of the entitlements of the former governors and can therefore not be regarded as gifts from Governor Fayose.
"But it is important to ask why he is making the cars available to only two of the three former governors and not the three.
"And why is the timing now when elections are around the corner and after spending about three and a half years in office?'' the campaign team official said.
He went on to claim that during the first regime of Governor Fayose, he (Fayose) deprived his predecessor, Niyi Adebayo, of his entitlements.
"But when Segun Oni came into office, he treated Adebayo with all respect and dignity and paid him his entitlements.
"That's an example of how governors should treat each other and their predecessors, irrespective of political differences,'' he added.
Arowosoge disclosed that since Segun Oni left office on October 16, 2010, no entitlement has ever been paid to him, unlike he did for Adebayo.
His words: "As a matter of fact, he was not regarded and treated as a former governor, as his portraits were removed from the Government House in Ado-Ekiti in spite of administering Ekiti state for three and a half years.
"That's not a decent way to treat a governor who served his people diligently and meritoriously.
"The return of his portraits by Fayose was definitely not out of good gesture, since Fayose worked against Oni during the re-run election.
"But history now has it that Fayose was the first to show evidence in the Government House that Oni belongs to `the club of former governors we accept'.''
Arowosoge spoke during the inauguration of the organisation's advisory committee to ensure Oni's emergence at the primary election scheduled to hold in April 2018. (NAN)
Meanwhile, a youth summit convened in Enugu has announced that President Muhammadu Buhari, Alhaji Atiku Abubakar and Governor Ayo Fayose were too old to govern the nation.
The summit which ended on Friday, November 10 concluded that any politician above 50 should not rule the country again.
In a communique signed by its leaders, the summit said the aforementioned politicians have tried their best for the country but should not rule again. They advised youths to take over the leadership of the nation.
READ ALSO: Court orders Fayose to pay N234 million to disengaged state officials
2019 Presidency: Fayose versus Buhari, who will you vote for? on Legit.ng TV
Source: Legit.ng