- More stranded Nigerians are returning to the country from Libya
- This is after their misadventure to enter the shores of Europe via the Mediterranean sea
- Their return was facilitated by the International Organisation for Migration (IOM)
Eight days after 149 Nigerians voluntarily returned from Libya, another batch of 258 on Tuesday, November 14 came back home from the North African country where they had been stranded en-route Europe.
The News Agency of Nigeria (NAN) reports that the returnees were brought back aboard a Libyan Airlines aircraft with Registration Number 5A-LAU.
The Airbus 330-200 aircraft touched down at the Cargo Wing of the Murtala Muhammed International Airport, Lagos at about 8.45pm.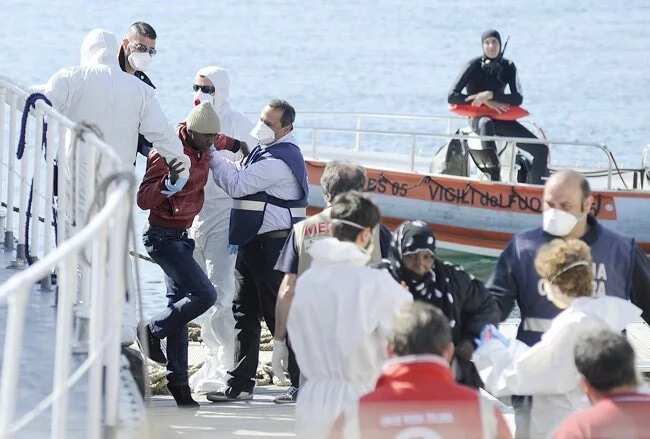 READ ALSO: I see people dying - 17-year-old Libya deportee narrates harrowing experience (photos)
The returnees, who were assisted back to Nigeria by the International Organisation for Migration (IOM), comprised of 238 female adults, seven teenage girls and one infant, while the male were seven adults, two teenage boys and three baby boys.
They were received by the Director General of the National Emergency Management Agency (NEMA), Alhaji Mustapha Maihajja, represented by the southwest zonal coordinator of the agency, Alhaji Suleiman Yakubu .
Also on ground to welcome the returnees back home were officials of the Edo state government, the Nigerian Immigration Service (NIS), the National Agency for the Prohibition of Trafficking in Persons (NAPTIP), the Federal Airports Authority of Nigeria (FAAN) and the police.
NAN reports that 149 Nigerians had on Friday, November 6 returned from Libya bringing the total of returnees who arrived the country within the last five weeks to 975.(NAN)
Meanwhile, two men, one of them an Egyptian and the other a Libyan, have been arrested and charged in Italy as investigators look into the deaths of 26 Nigerian women and girls, who are suspected to have been murdered while attempting to cross the Mediterranean.
The bodies of the women were brought to the southern Italian port of Salerno by the Spanish ship Cantabria on Sunday, and prosecutors opened an investigation over suspicions that the women, some as young as 14, may have been abused and killed them.
READ ALSO: Senate to probe death of 26 Nigerian women on Spanish warship
What do women really want from men? Nigerians speak on Legit.ng TV
Source: Legit.ng